Abstract
Understanding conservation and livelihood threats in park landscapes is important to informing conservation policy. To identify threats, we examined perceived risks of residents living near three national parks in Uganda. We used cross-sectional household data to document, rank, and measure severity of perceived risks. Three risk categories, grouped into protected area, climate, and health, were cited by 80 % of respondents and received the highest severity scores. Elevation, proximity to the park, local forest loss, recent population change, and measures of poverty were the most important variables in predicting whether or not an individual identified these risks as the most or second most severe risk. Health issues were cited throughout the landscape, while problems attributed to climate (mainly insufficient rainfall) were reported to be most severe farther from the park. Increased population density was associated with increased perceived risk of health challenges, but decreased perceived risks attributed to the park and climate. Participatory risk mapping provides the opportunity to make standardized comparisons across sites, to help identify commonalities and differences, as a first step to examining the degree to which conservation management might address some of these local challenges and where mitigation techniques might be transferable between different sites or conflict scenarios.
Access options
Buy single article
Instant access to the full article PDF.
US$ 39.95
Tax calculation will be finalised during checkout.
Subscribe to journal
Immediate online access to all issues from 2019. Subscription will auto renew annually.
US$ 79
Tax calculation will be finalised during checkout.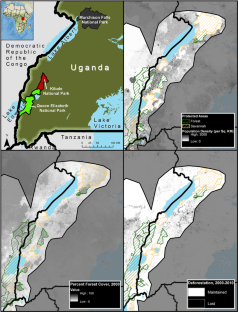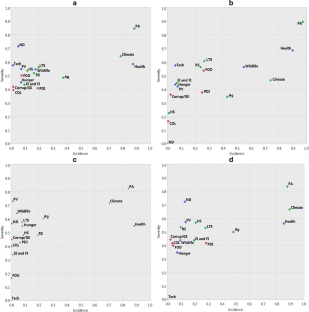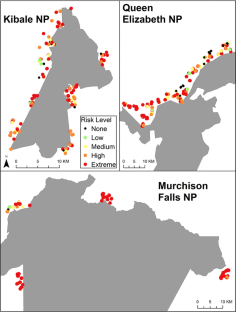 Notes
1.

Research results were communicated by C.A. MacKenzie to village chairpersons around KNP in 2012. This comment was made during one of those feedback meetings, although many chairpersons concurred that the climate for agriculture was better near the park.
References
Adams, W.M., R. Aveling, D. Brockington, B. Dickson, J. Elliot, J. Hutton, D. Roe, B. Vira, and W. Wolmer. 2004. Biodiversity conservation and the eradication of poverty. Science 306: 1146–1149.

Andam, K., P. Ferraro, A. Pfaff, A. Sanchez- Azofeifa, and J. Robalino. 2008. Measuring the effectiveness of protected area networks in reducing deforestation. Proceedings of the National Academy of Sciences 105: 16089–16094.

Baird, T.D., P.W. Leslie, and J.T. McCabe. 2009. The effect of wildlife conservation on local perceptions of risk and behavioral response. Human Ecology 37: 463–474.

Bennett, N.J., and P. Dearden. 2014. Why local people do not support conservation: Community perceptions of marine protected area livelihood impacts, governance and management in Thailand. Marine Policy 44: 107–116.

Breiman, L. 1996. Out-of-bag estimation. Technical report, Department of Statistics, University of California, Berkeley.

Brockington, D. 2002. Fortress conservation: the preservation of the Mkomazi Game Reserve, Tanzania. Bloomington: Indiana University Press.

Brockington, D., and D. Wilkie. 2015. Protected areas and poverty. Philosophical Transactions of the Royal Society B 370: 20140271.

Campbell, A., S. Clark, L. Coad, L. Miles, K. Bolt, and D. Roe. 2008. Protecting the future: Carbon, forests, protected areas and local livelihoods. Cambridge: UNEP World Conservation Monitoring Centre.

Chapman, C.A., B. van Bavel, J. Bleeker, C. Boodman, R.R. Ghai, J.F. Gogarten, T. Goldberg, J. Hartter, L.E. Mechak, P.A. Omeja, S. Poonawala, and C. Zastavniouk. 2014. Providing health care to promote people-park relations. Oryx. doi:10.1017/S0030605313001592.

Chiyo, P.I., and E.P. Cochrane. 2005. Population structure and behavior of crop-raiding elephants in Kibale National Park, Uganda. African Journal of Ecology 43: 233–241.

Cincotta, R.P., J. Wisnewski, and R. Engelman. 2000. Human population in the biodiversity hotspots. Nature 404: 990–992.

Davis, A. 2011. 'Ha! What is the benefit of living next to the park?' Factors limiting in-migration next to Tarangire National Park. Tanzania. Conservation and Society 9: 25–34.

DFID. 1999. Sustainable Livelihoods Guidance Sheets. Retrieved November 15, 2010, from National Strategies for Sustainable Development: http://www.nssd.net/references/SustLiveli/DFIDapproach.htm#Guidance.

DeFries, R., A. Hansen, B.L. Turner, R. Reid, and J. Liu. 2007. Land use change around protected areas: management to balance human needs and ecological function. Ecological Applications 17: 1031–1038.

Diem, J., J. Hartter, S.J. Ryan, and M. Palace. 2014a. Validation of satellite-based rainfall products for western Uganda. Journal of Hydrometeorology 15: 2030–2038.

Diem, J., S.J. Ryan, J. Hartter, and M.W. Palace. 2014b. A recent drying trend in Central Equatorial Africa. Climatic Change 126: 263–272.

Ferraro, P.J., and M.M. Hanauer. 2014. Quantifying causal mechanisms to determine how protected areas affect poverty through changes in ecosystem services and infrastructure. PNAS 111: 4332–4337.

Ferraro, P.J., M.M. Hanauer, and K.R.E. Sims. 2011. Conditions associate with protected area success in conservation and poverty reduction. PNAS 108: 13913–13918.

Fisher, B., and T. Christopher. 2007. Poverty and biodiversity: measuring the overlap of human poverty and the biodiversity hotspots. Ecological Economics 62: 93–101.

Gaston, K.J., S.F. Jackson, L. Cantú-Salazar, and G. Cruz-Piñón. 2008. The ecological performance of protected areas. Annual Review of Ecology Evolution and Systematics 39: 93–113.

Goldman, M.J. 2011. Strangers in their own land: Maasai and wildlife conservation in northern Tanzania. Conservation and Society 9: 65–79.

Hair, J.F., R.E. Anderson, R.L. Tatham, and W.C. Black. 1995. Multivariate data analysis: with readings. Englewood Cliffs: Prentice-Hall.

Hansen, A.J., and R. DeFries. 2007. Ecological mechanisms linking protected areas to surrounding lands. Ecological Applications 17: 974–988.

Hansen, M.C., P.V. Potapov, R. Moore, M. Hancher, S.A. Turubanova, A. Tyukavina, D. Thau, S.V. Stehman, S.J. Goetz, T.R. Loveland, A. Kommareddy, A. Egorov, L. Chini, C.O. Justice, and J.R.G. Tonshend. 2013. High-resolution global maps of 21st-century forest cover change. Science 342: 850–853.

Hartter, J., S.J. Ryan, C.A. MacKenzie, A. Goldman, N. Dowhaniuk, M.W. Palace, J.E. Diem, and C.A. Chapman. 2015. Now there is no land: A story of ethnic migration in a protected area landscape in western Uganda. Population and Environment 36: 452–479.

Hartter, J., and A. Goldman. 2011. Local responses to a forest park in western Uganda: Alternative narratives on fortress conservation. Oryx 45: 60–68.

Hatcher, M.J., J.T.A. Dick, and A.M. Dunn. 2012. Disease emergence and invasions. Functional Ecology 26: 1275–1287.

Hayes, T.M. 2006. Parks, people, and forest protection: an institutional assessment of the effectiveness of protected areas. World Development 34: 2064–2075.

Hoffman, D.M., D. Fay, and L. Joppa. 2011. Introduction: human migration to protected area edges in Africa and Latin America: Questioning large-scale statistical analysis. Conservation & Society 9: 1–7.

Hothorn, T., P. Buehlmann, S. Dudoit, A. Molinaro, and M. Van Der Laan. 2006. Survival ensembles. Biostatistics 7: 355–373.

Hutton, J., W.M. Adams, and J.C. Murombedzi. 2005. Back to the barriers? Changing narratives in biodiversity conservation. Forum for Development Studies 2: 341–370.

Jones, Z.M., Linder, F. 2015. edarf: Exploratory data analysis using random forests. R package version 0.1.

Kirtman, B., S.B. Power, J.A. Adedoyin, G.J. Boer, R. Bojariu, I. Camilloni, F.J. Doblas-Reyes, A.M. Fiore, M. Kimoto, G.A. Meehl, M. Prather, A. Sarr, C. Schär, R. Sutton, G.J. van Oldenborgh, G. Vecchi, and H.J. Wang. 2013. Near-term climate change: projections and predictability. In Climate change 2013: The physical science basis. Contribution of working group I to the fifth assessment report of the intergovernmental panel on climate change, ed. T.F. Stocker, D. Qin, G.-K. Plattner, M. Tignor, S.K. Allen, J. Boschung, A. Nauels, Y. Xia, V. Bex, and P.M. Midgley. Cambridge: Cambridge University Press.

Labbé, J., J.D. Ford, L. Berrang-Ford, B. Donnelly, S. Lwasa, D.B. Namanya, S. Twesigomwe, I.H.A.C.C. Research Team, and S.L. Harper. 2015. Vulnerability to the health effects of climate variability in rural southwestern Uganda. Mitigation and Adaptation Strategies for Global Change. doi:10.1007/s11027-015-9635-2.

Lafferty, K.D. 2009. The ecology of climate change and infectious diseases. Ecology 90: 888–900.

Lee, Eun Sul, and Ronald N. Forthofer. 2006. Analyzing complex survey data, 2nd ed. Thousand Oaks: Sage.

MacKenzie, C.A., and J. Hartter. 2013. Demand and proximity: Drivers of illegal forest resource extraction. Oryx 47: 288–297.

MacKenzie, C.A., and P. Ahabyona. 2012. Elephants in the garden: Financial and social costs of crop raiding. Ecological Economics 75: 72–82.

MacKenzie, C.A., R.R. Sengupta, and R. Kaoser. 2015. Chasing baboons or attending class: Protected areas and childhood education in Uganda. Environmental Conservation 42: 373–383.

MacKenzie, C.A. 2016. Filtered meaning: Appreciating linguistic skill, social position and subjectivity of interpreters in cross-language research. Qualitative Methods 16: 167–182. doi:10.1177/1468794115569564.

MacKenzie, C.A. 2012. Accruing benefit or loss from a protected area: Location matters. Ecological Economics 76: 119–129.

Maslow, A.H. 1943. A theory of human motivation. Psychological Review 50: 370–396.

Naimi, B. 2015. Usdm: Uncertainty analysis for species distribution models. R package version 1.1-15. https://CRAN.R-project.org/package=usdm.

Naughton-Treves, L., J. Alix-Garcia, and C.A. Chapman. 2011. Lessons about parks and poverty from a decade of forest loss and economic growth around Kibale National Park, Uganda. PNAS 108: 13919–13924.

Neumann, R.P. 1998. Imposing wilderness: struggles over livelihood and nature preservation in Africa. Berkeley: University of California Press.

Niang, I., Ruppel, O.C., Abdrabo, M.A., Essel, A., Lennard, C., Padgham, J., Urquhart, P. 2014. Africa. Climate Change 2014: Impacts, Adaptation and Vulnerability. Part B: Regional Aspects. In Contribution of working group II to the fifth assessment report of the Intergovernmental Panel on Climate Change, eds Field, C.B., Barros, V.R., Dokken, D.J., Mach, K.J., Mastrandrea, M.D., Bilir, T.E., Chatterjee, M., Ebi, K.L., Estrada, Y.O., Genova, R.C., Girma, B., Kissel, E.S., Levy, A.N., MacCracken, S., Mastrandrea, P.R., White, L.L. 1199-1265, Cambridge: Cambridge University Press.

Nicholson, S.E., and J.P. Grist. 2003. The seasonal evolution of the atmospheric circulation over West Africa and Equatorial Africa. Journal of Climate 16: 1013–1030.

Oates, J.F. 1999. Myth and reality in the rain forest. Berkeley: University of California Press.

Patz, J.A., P. Daszak, G.M. Tabor, A.A. Aguirre, A. Pearl, J. Epstein, N.D. Wolfe, A.M. Kilpatrick, J. Foufopoulos, D. Molyneux, and D.J. Bradley. 2004. Unhealthy landscapes: Policy recommendations on land use change and infectious disease emergence. Environmental Health Perspectives 112: 1092–1098.

Plumptre, A.J., T.R.B. Davenport, M. Behangana, R. Kityo, G. Eilu, P. Ssegawa, C. Ewango, D. Meirte, C. Kahindo, M. Herremans, J.K. Peterhans, J.D. Pilgrim, M. Wilson, M. Languy, and D. Moyer. 2007. The biodiversity of the Albertine Rift. Biological Conservation 134: 178–194.

Population Reference Bureau (PRB). 2012. 2012 World Population Data Sheet. Washington DC. http://www.prb.org/pdf09/09wpds_eng.pdf].

Quinn, C.H., M. Huby, H. Kiswala, and J.C. Lovett. 2003. Local perceptions to livelihood in semi-arid Tanzania. Journal of Environmental Management 68: 111–119.

R Core Team. 2015. R: A language and environment for statistical computing. R Foundation for Statistical Computing, Vienna, Austria. URL https://www.R-project.org/.

Salyer, S.J., T.R. Gillespie, I.B. Rwego, C.A. Chapman, and T.L. Goldberg. 2012. Epidemiology and molecular relationships of Cryptosporidium spp. in people, primates, and livestock from western Uganda. PLOS Neglected Tropical Diseases 6: e1597.

Schonewald-Cox, C.M., and J.W. Bayless. 1986. The boundary model: a geographic analysis of design and conservation of nature reserves. Biological Conservation 38: 305–322.

Schotthoefer, A.M., J.R. Rohr, R.A. Cole, A.V. Koehler, C.M. Johnson, L.B. Johnson, and V.R. Beasley. 2011. Effects of wetland versus landscape variables on parasite communities of Rana pipiens: Links to anthropogenic factors. Ecological Applications 21: 1257–1271.

Sitati, N.W., M.J. Walpole, R.J. Smith, and N. Leader-Williams. 2003. Predicting spatial aspects of human-elephant conflict. Journal of Applied Ecology 40: 667–677.

Smith, K., C.B. Barrett, and P.W. Box. 2000. Participatory risk mapping for targeting research and assistance: With an example from East African pastoralists. World Development 28: 1945–1959.

Strobl, C., A.L. Boulesteix, A. Zeileis, and T. Hothorn. 2007. Bias in random forest variable importance measures: Illustrations, sources and a solution. BMC Bioinformatics 8: 1.

Strobl, C., A.L. Boulesteix, T. Kneib, T. Augustin, and A. Zeileis. 2008. Conditional variable importance for random forests. BMC Bioinformatics 9: 1.

Terborgh, J., and C. van Schaik. 2002. Why the World Needs Parks. In Making parks work: Strategies for preserving tropical nature, ed. T. Terborgh, C. van Schaik, L. Davenport, and M. Rao, 3–14. Washington D.C.: Island Press.

Uganda Bureau of Statistics (UBoS). 2005. The 2002 Uganda population and housing census, main report. Kampala: Uganda Bureau of Statistics.

Uganda Bureau of Statistics (UBoS). 2014. National population and housing census 2014: Provisional results. Kampala: Uganda Bureau of Statistics.

Uganda and East Africa High Commission. 1961. Uganda census, 1959, African population. Nairobi: Statistics Branch, Ministry of Economic Affairs.

Uganda Wildlife Authority (UWA) 2012. UWA official website: Murchison Falls National Park: http://www.ugandawildlife.org/explore-our-parks/parks-by-name-a-z/murchisonfalls-national-park.

Venkatachalam, L. 2008. Behavioural economics for environmental policy. Ecological Economics 67: 640–645.

Webber, A.D., and C.M. Hill. 2014. Using participatory risk mapping (PRM) to identify and understand people's perceptions of crop loss to animals in Uganda. Plos One 9: e102912.

West, P., J. Igoe, and D. Brockington. 2006. Parks and people: the social impact of protected areas. Annual Review of Anthropology 35: 251–277.

Wittemyer, G., P. Elsen, W.T. Bean, A. Coleman, O. Burton, and J. Brashares. 2008. Accelerated human population growth at protected area edges. Science 321: 123–126.

Zommers, Z., and D.W. MacDonald. 2012. Protected areas as frontiers for human migration. Conservation Biology 26: 547–556.
Acknowledgements
This research was supported by the National Science Foundation (1114977) and National Geographic Committee on Research and Exploration grants. We are grateful to our Ugandan field assistants for their hard work and dedication, Irene Feretti and Brian Devine for data entry, and our study participants. The authors give a big shout out to Tim Baird for his assistance. Makerere University Biological Field Station, Uganda Wildlife Authority, Uganda National Council for Science and Technology, and many local officials provided useful assistance and granted permission for this research.
Electronic supplementary material
Below is the link to the electronic supplementary material.
About this article
Cite this article
Hartter, J., Dowhaniuk, N., MacKenzie, C.A. et al. Perceptions of risk in communities near parks in an African biodiversity hotspot. Ambio 45, 692–705 (2016). https://doi.org/10.1007/s13280-016-0775-8
Received:

Revised:

Accepted:

Published:

Issue Date:
Keywords
Risk perception

Protected areas

Population growth

Albertine Rift

Climate variability