Abstract
The achievement of global sustainable development goals subject to planetary boundaries will mostly be determined by cities as they drive cultures, economies, material use, and waste generation. Locally relevant, applied and quantitative methodologies are critical to capture the complexity of urban infrastructure systems, global inter-connections, and to monitor local and global progress toward sustainability. An urban monitoring (and communications) tool is presented here illustrating that a city-based approach to sustainable development is possible. Following efforts to define and quantify safe planetary boundaries in areas such as climate change, biosphere integrity, and freshwater use, this paper modifies the methodology to propose boundaries from a city's perspective. Socio-economic boundaries, or targets, largely derived from the Sustainable Development Goals are added to bio-physical boundaries. Issues such as data availability, city priorities, and ease of implementation are considered. The framework is trialed for Toronto, Shanghai, Sao Paulo, Mumbai, and Dakar, as well as aggregated for the world's larger cities. The methodology provides an important tool for cities to play a more fulsome and active role in global sustainable development.
Access options
Buy single article
Instant access to the full article PDF.
US$ 39.95
Tax calculation will be finalised during checkout.
Subscribe to journal
Immediate online access to all issues from 2019. Subscription will auto renew annually.
US$ 79
Tax calculation will be finalised during checkout.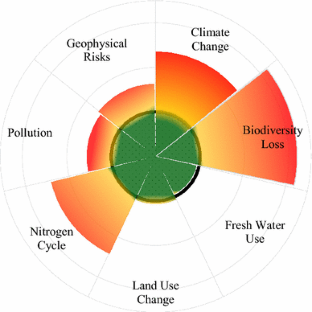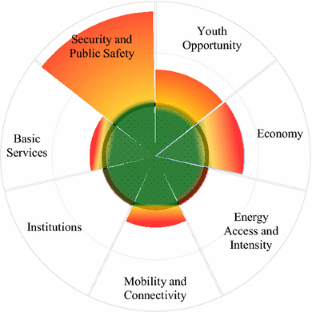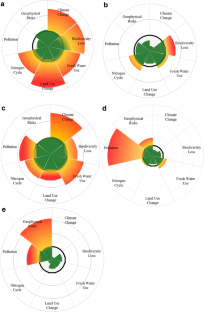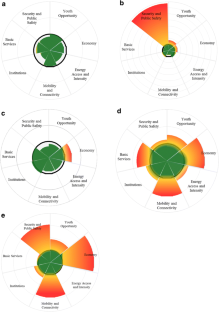 References
Ahern, J. 2013. Urban landscape sustainability and resilience: The promise and challenges of integrating ecology with urban planning and design. Landscape Ecology 28: 1203–1212.

Banister, D. 2012. Assessing the reality—transport and land use planning to achieve sustainability. The Journal of Transport and Land Use 5: 1–14.

Bechtel, M.M., and K.F. Scheve. 2013. Mass support for global climate agreements depends on institutional design. Proceedings of the National Academy of Sciences 110: 13763–13768.

Bettencourt, L., and G. West. 2010. A unified theory of urban living. Nature 467: 912–913.

Blackburn, S., and M. Pelling. 2014. Coastal megacities: Risks and opportunities. Global Change 82: 8–11.

Committee on Climate Change (CCC). 2014. Setting a target for emission reduction. Retrieved August 7, 2014, from http://www.theccc.org.uk/tackling-climate-change/the-science-of-climate-change/setting-a-target-for-emission-reduction/.

Dahl, A.L. 2012. Achievements and gaps in indicators for sustainability. Ecological Indicators 17: 14–19.

Dearing, J.A., R. Wang, K. Zhang, J.G. Dyke, H. Haberl, M.S. Hossain, P.G. Langdon, T.M. Lenton, et al. 2014. Safe and just operating spaces for regional social-ecological systems. Global Environmental Change 28: 227–238.

de Brito Jr., I., B.C. Kawasaki, A. Leiras, and H.T.Y. Yoshizaki. 2011. The profile of the population affected by natural disasters in Brazil. POMS 23rd Annual Conference, Report 025-1388.

Demographia 2006. World urban population density by country & area. Retrieved August, 28, 2014, from http://www.demographia.com/db-intlua-area2000.htm.

Duren, R.M., and C.E. Miller. 2012. Measuring the carbon emissions of megacities. Nature Climate Change 2: 560–562.

Gerst, M., P. Raskin, and J. Rockström. 2013. Contours of a resilient global future. Sustainability 6: 123–135.

Gnanapragasam, N.V., B.V. Reddy, and M.A. Rosen. 2010. A methodology for assessing the sustainability of hydrogen production from solid fuels. Sustainability 2: 1472–1491.

Grimm, N., S. Faeth, N. Golubiewski, C. Redman, J. Wu, X. Bai, and J. Briggs. 2008. Global change and the ecology of cities. Science 318: 756–760.

Guha-Sapir, D., and P. Hoyois. 2013. Disaster deaths: Proposed indicators for monitoring disaster-related mortality. In Disaster risk management in post-2015 development goals: Potential targets and indicators

Guha-Sapir, D., P. Hoyois, and R. Below. 2013. Annual disaster statistical review 2012: The numbers and trends. Centre for Research on the Epidemiology of Disasters (CRED).

Hoornweg, D., L. Sugar, and L.T. Gomez. 2011. Cities and greenhouse gas emissions: Moving forward. Environment & Urbanization 23(1): 207–228.

Hoornweg, D., and M. Freire. 2013. Building sustainability in an urbanizing world. The World Bank Urban Development Series Knowledge Papers, No. 17, Washington, USA.

Hoornweg, D., and K. Pope. 2013. Socioeconomic pathways and regional distribution of the world's 101 largest cities. Global Cities Institute Working Paper No. 04.

International Energy Agency (IEA). 2011. World energy outlook—energy for all. Organisation for Economic Co-operation and Development (OECD)/IEA, Paris, France.

International Finance Corporation (IFC). 2014. Economy rankings. Retrieved August, 14, 2014, from http://www.doingbusiness.org/rankings.

International Labour Organization (ILO). 2013. Global youth unemployment trends and projections from 2007 to 2013. Retrieved August, 14, 2014, from http://www.ilo.org/global/about-the-ilo/multimedia/maps-and-charts/WCMS_212430/lang–en/index.htm.

International Standardazation Organization (ISO). 2014. Sustainable development in communities: City indicators for service delivery and quality of life. ISO, Report 37120, Geneva, Switzerland.

International Union for Conservation of Nature (IUCN). 2014. The IUCN red list of threatened species. Retrieved August, 19, 2014, from http://www.iucnredlist.org/about/summary-statistics#Tables_1_2.

Internet Live Stats. 2014. Internet users. Retrieved August, 14, 2014, from http://www.internetlivestats.com/internet-users/.

Kennedy, C.A., A. Ramaswami, S. Carney, and S. Dhakal. 2011. Greenhouse gas emissions baseline for global cities and metropolitan regions. In Cities and climate change: Responding to an Urent Agenda.

Kennedy, C.A., N. Ibrahim, I. Stewart, A. Fachini, and R. Mele. 2014. An urban metabolism survey design for megacities. Toronto: University of Toronto and Enel Foundation.

MSW Management. 2014. Municipality waste management. Retrieved August, 14, 2014, from http://www.mswmanagement.com/MSW/MSWhome.aspx.

Newman, P., and I. Jennings. 2008. Cities as sustainable ecosystems: Principles and practices. Washington: Island Press.

Nordhaus, T., M. Shellenberger, and L. Blomqvist. 2012. The planetary boundaries hypothesis: A review of the evidence. Oakland: Breakthrough Institute.

Raworth, K. 2012. A safe and just space for humanity. Oxford: Oxfam International.

Rockstrom, J., W. Steffen, K. Noone, A. Persson, F.S. Chapin, E.F. Lambin, T.M. Lenton, M. Scheffer, et al. 2009. A safe operating space for humanity. Nature 461: 472–475.

Rosen, M.A. 2012. Engineering sustainability: A technical approach to sustainability. Sustainability 4: 2270–2292.

Steffen, W., K. Richardson, J. Rockström, S.E. Cornell, I. Fetzer, E.M. Bennett, R. Biggs, S.R. Carpenter, et al. 2015. Planetary boundaries: Guiding human development on a changing planet. Science 327: 6223.

Sustainable Development Knowledge Platform. 2014. Sustainable development goals. Retrieved August, 29, 2014, from http://sustainabledevelopment.un.org/?menu=1300.

Transparency International. 2014. Corruption perceptions index 2013.

UNICEF and World Health Organization (WHO). 2012. Progress on drinking water and sanitation 2012 update. UNICEF-WHO, New York, USA.

United Nations. 2010. The World's Women 2010: Trends and statistics. United Nations, New York, USA.

United Nations. 2013. The millennium development goals report. United Nations, Report 13-26318, New York, USA.

United Nations. 2014. World urbanization prospects. Department of Economic and Social Affairs.

United Nations. 2015. Sustainable development goals.

United Nations Office on Drugs and Crime (UNDOC). 2014. Global study on homicide 2013: Trends, contexts, data. United Nations Office on Drugs and Crime, Vienna, Austria

Valipour, M., M. Ahmadi, M. Raeini-Sarjaz, M. Sefidkouhi, A. Shahnazari, R. Fazlola, and A. Darzi- Naftchali. 2015. Agricultural water management in the world during past half century. Archives of Agronomy and Soil Science 61(5): 657–678.

Wang, H.G., M. Montoliu-Munoz, and N.F.D. Gueye. 2009. Preparing to manage natural hazards and climate change risks in Dakar, Senegal: A spatial and institutional approach. The World Bank.

World Bank. 2000. Senegal urban mobility improvement project. Report 20345-SE.

World Bank. 2010. World development report: Development and climate change.

World Bank. 2011. World development report: Gender equality and development.

World Resources Institute (WRI) and World Business Council for Sustainable Development (WBCSD). 2011a. Corporate value chain (scope 3) accounting and reporting standard. WRI and WBCSD, Conches-Geneva, Switzerland

World Resources Institute (WRI) and World Business Council for Sustainable Development (WBCSD). 2011b. Greenhouse gas protocol product standard adopted by the sustainability consortium. WRI and WBCSD, Conches-Geneva, Switzerland

World Wildlife Fund (WWF). 2014. Living planet report 2014. WWF, Gland, Switzerland
Acknowledgments
This work was supported by the Jeffery Boyce and Richard Marceau Research Chairs at University of Ontario Institute of Technology (UOIT). The approach was vetted by a Global Environment Facility working group meeting August, 2014 and the International Society of Industrial Ecology (ISIE) Conference, July 2015, Surrey, UK.
Electronic supplementary material
Below is the link to the electronic supplementary material.
About this article
Cite this article
Hoornweg, D., Hosseini, M., Kennedy, C. et al. An urban approach to planetary boundaries. Ambio 45, 567–580 (2016). https://doi.org/10.1007/s13280-016-0764-y
Received:

Revised:

Accepted:

Published:

Issue Date:
Keywords
Sustainability

Planetary boundaries

Bio-physical and socio-economic limits

Urbanization

Cities