Abstract
Like many small-scale fishing communities around the world, the community of Buen Hombre in the Dominican Republic is dealing with a set of challenges to reconcile its fishing activities with the ecology on which it depends. Also like many such communities, this case has been examined at a particular period in time by a group of social scientists, but not over substantial lengths of time in order to examine the longitudinal validity of the conclusions made during this period. In this paper we combine data from previous anthropological work with our own primary social and ecological data to conduct a longitudinal case study of the Buen Hombre fishery. Our over-time comparison focuses on a suite of mostly social and institutional variables to explain what we find to be a continued degradation of the fishery, and we conclude the analysis by presenting a causal-loop diagram, summarizing our inferences regarding the complex interactions among these variables. We find that a mix of factors, notably changes in gear and fishing sites used, the number of fishermen and their livelihood diversity, as well as an increased connectivity between Buen Hombre and its external environment, have contributed to the decline of the condition of Buen Hombre coral reef fishery. We conclude with a discussion of what may lie ahead for this particular case and others like it.
Access options
Buy single article
Instant access to the full article PDF.
USD 39.95
Price includes VAT (USA)
Tax calculation will be finalised during checkout.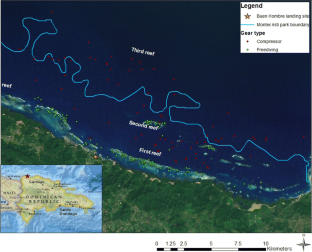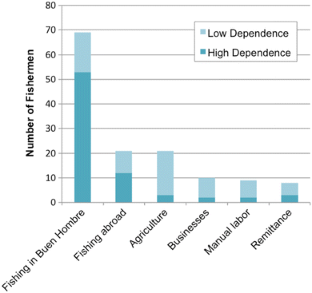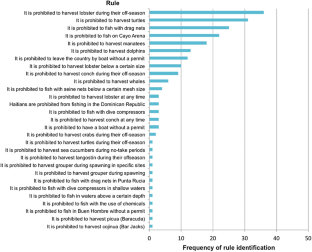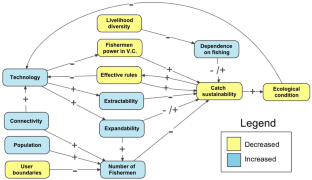 Notes
1.

Detailed questions regarding borrowing behaviors were only conducted with the 50 fishermen in the first round of surveys. Due to time constraints, they were not included in the second round of surveys.

2.

These questions were included in the rules questions that were only asked in the first survey round.
References
Andrew, N.L., C. Béne, S.J. Hall, E.H. Allison, S. Heck, and B.D. Ratner. 2007. Diagnosis and management of small-scale fisheries in developing countries. Fish and Fisheries 8: 227–240.

Basurto, X. 2008. Biological and ecological mechanisms supporting marine self-governance: The Seri callo de hacha fishery in Mexico. Ecology & Society 13: 20.

Basurto, X., and M. Nenadovic. 2012. A systematic approach to studying fisheries governance. Global Policy 3: 222–230.

Berkes, F., R. Mahon, P. McConney, R. Pollnac, and R. Pomeroy. 2001. Managing small-scale fisheries: Alternative directions and methods. Ottawa: IDRC.

Cinner, J.E. 2011. Social–ecological traps in reef fisheries. Global Environmental Change 21: 835–839.

Crona, B., M. Nyström, C. Folke, and N. Jiddawi. 2010. Middlemen, a critical social–ecological link in coastal communities of Kenya and Zanzibar. Marine Policy 34: 761–771.

Greenberg, J.B. 1997. A Political ecology of structural-adjustment policies: The case of the Dominican Republic. Culture & Agriculture 19: 85–93.

Gunderson, L., and C.S. Holling. 2002. Panarchy: Understanding transformations in human and natural systems. Washington, DC: Island Press.

Gutiérrez, N.L., R. Hilborn, and O. Defeo. 2011. Leadership, social capital and incentives promote successful fisheries. Nature 470: 386–389.

Hughes, T.P., C. Linares, V. Dakos, I.A. van de Leemput, and E.H. van Nes. 2013. Living dangerously on borrowed time during slow, unrecognized regime shifts. Trends in Ecology & Evolution 28: 149–155.

Jackson, J.B., M.X. Kirby, W.H. Berger, K.A. Bjorndal, L.W. Botsford, B.J. Bourque, R.H. Bradbury, and R. Cooke. 2001. Historical overfishing and the recent collapse of coastal ecosystems. Science 293: 629–637.

Johnson, A.E., J.E. Cinner, M.J. Hardt, J. Jacquet, T.R. McClanahan, and J.N. Sanchirico. 2013. Trends, current understanding and future research priorities for artisanal coral reef fisheries research. Fish and Fisheries 14: 281–292.

Lang, J.C., K.W. Marks, P.A. Kramer, P.R. Kramer, and R.N. Ginsburg. 2010. Atlantic and Gulf Rapid Reef Assessment Protocols, Version 5.4. http://www.agrra.org/method/AGRRA-V5.4_2010.pdf.

Lessios, H.A. 1988. Mass mortality of Diadema Antillarum in the Caribbean: What have we learned? Annual Review of Ecology and Systematics 19: 371–393.

Lopez, J., and M. Silva. 2012. Diagnostics of the social and ecologial situation of the coastal and marine zone of the Montecristi Provence. Santo Domingo: Ministerio de Medio Ambiente y Recursos Naturales (in Spanish).

Luczkovich, J.J. 1991. Marine Ecology of the Buen Hombre Coast. In Satellite monitoring of coastal marine ecosystems: A case from the Dominican Republic, ed. R.W. Stoffle, and D.B. Halmo, 93–140. Tucson, AZ: University of Arizona Press.

Luczkovich, J.J., T.W. Wagner, J.L. Michalek, and R.W. Stoffle. 1993. Discrimination of coral reefs, seagrass meadows, and sand bottom types from space: A Dominican Republic case study. Photogrammetric Engineering & Remote Sensing 59: 385–389.

MacNeil, M.A., N.A. Graham, J.E. Cinner, S.K. Wilson, I.D. Williams, J. Maina, S. Newman, A.M. Friedlander, et al. 2015. Recovery potential of the world's coral reef fisheries. Nature 520: 341–344.

McGoodwin, J.R. 2001. Understanding the cultures of fishing communities: A key to fisheries management and food security. No. 401. Rome: Food & Agriculture Organization.

Medina, E.C., M.A. Taveras, M.R. Santos, and M.R. Mayi. 2012. The governability of fishing activity in the Montecristi Provence. Santo Domingo: Ministerio de Medio Ambiente y Recursos Naturales (in Spanish).

Michalek, J.L., T.W. Wagner, J.J. Luczkovich, and R.W. Stoffle. 1993. Multispectral change vector analysis for monitoring coastal marine environments. Marine Biology 116: 381–388.

Mumby, P.J., C.P. Dahlgren, A.R. Harborne, C.V. Kappel, F. Micheli, D.R. Brumbaugh, K.E. Holmes, J.M. Mendes, et al. 2006. Fishing, trophic cascades, and the process of grazing on coral reefs. Science 311: 98–101.

Newman, M.J.H., G.A. Paredes, E. Sala, and J.B. Jackson. 2006. Structure of Caribbean coral reef communities across a large gradient of fish biomass. Ecology Letters 9: 1216–1227.

Ostrom, E. 2007. A diagnostic approach for going beyond panaceas. Proceedings of the National Academy of Sciences of the United States of America 104: 15181–15187.

Pandolfi, J.M., R.H. Bradbury, E. Sala, T.P. Hughes, K.A. Bjorndal, R.G. Cooke, D. McArdle, L. McClenachan, et al. 2003. Global trajectories of the long-term decline of coral reef ecosystems. Science 301: 955–958.

Poteete, A.R., M.A. Janssen, and E. Ostrom. 2010. Working together: Collective action, the commons, and multiple methods in practice. Princeton, N.J.: Princeton University Press.

Rubino, M.C., B. Epler, and C. Wilson. 1985. Preliminary economic feasibility of Mithrax Mariculture (Caribbean King Crab). Report to Marine Systems Laboratory, Smithsonian Institution. Washington, D.C.: Traverse Group Inc.

Rubino, M.C., and R.W. Stoffle. 1986. Caribbean Mithrax crab mariculture and traditional seafood distribution. Hamilton: Proceedings of the Gulf and Caribbean Fisheries Institute.

Samoilys, M.A., and G. Carlos. 2000. Determining methods of underwater visual census for estimating the abundance of coral reef fishes. Environmental Biology of Fishes 57: 289–304.

Sandin, S.A., J.E. Smith, E.E. DeMartini, E.A. Dinsdale, S.D. Donner, A.M. Friedlander, T. Konotchick, M. Malay, et al. 2008. Baselines and degradation of coral reefs in the Northern Line Islands. PLoS ONE 3: 1548.

Scheyvens, R. 1999. Ecotourism and the empowerment of local communities. Tourism Management 20: 245–249.

Steneck, R.S. 2009. Marine conservation: Moving beyond Malthus. Current Biology 19: 117–119.

Stoffle, R.W. 1986. Caribbean fishermen farmers: A social assessment of Smithsonian king crab mariculture. Ann Arbor, MI: Survey Research Center.

Stoffle, R.W. 2001. When fish is water: Food security and fish in a coastal community in the Dominican Republic. Rome: Food and Agriculture Organisation.

Stoffle, R.W., and D.B. Halmo. 1991. Satellite monitoring of coastal marine ecosystems: A case from the Dominican Republic. Tucson, AZ: University of Arizona Press.

Stoffle, R.W., D.B. Halmo, and B.W. Stoffle. 1991. Inappropriate management of an appropriate technology: A restudy of Mithrax crab mariculture in the Dominican Republic. In Small-scale fishery development: Sociocultural perspectives, ed. J.J. Poggie, and R.B. Pollnac, 131–157. Kingston, RI: International Center for Marine Resource Development, University of Rhode Island.

Stoffle, R.W., D.B. Halmo, B.W. Stoffle, and C.G. Burpee. 1993. An ecosystem approach to the study of coastal areas: A case study from the Dominican Republic. In Population–environment dynamics: Ideas and observations, ed. G.D. Ness, W.D. Drake, and S.R. Brechin, 253–282. Ann Arbor, MI: University of Michigan Press.

Stoffle, R.W., D.B. Halmo, T.W. Wagner, and J.J. Luczkovich. 1994. Reefs from space: Satellite imagery, marine ecology, and ethnography in the Dominican Republic. Human Ecology 22: 355–378.

Stoffle, B.W., D.B. Halmo, R.W. Stoffle, and C.G. Burpee. 1995. Folk management and conservation ethics among small-scale fishers of Buen Hombre, Dominican Republic. In Folk management in the world's fisheries, ed. C. Dyer, and J. McGoodwin, 115–138. Niwot, CO: University of Colorado Press.

Wyles, K.J., S. Pahl, and R.C. Thompson. 2014. Perceived risks and benefits of recreational visits to the marine environment: Integrating impacts on the environment and impacts on the visitor. Ocean and Coastal Management 88: 53–63.

Yin, R.K. 2014. Case study research: Design and methods. London: Sage.
Acknowledgments
This project was made possible by the collaboration of the Buen Hombre fishermen and community. The authors would like to specifically thank Dr. Frederick Payton of AgroFrontera and Dr. Anne Kapuscinski for their continued guidance and support. The authors would also like to thank Gillian A.O. Britton for her assistance with fieldwork. Funding was provided from the John Sloan Dickey Center for International Understanding, the Department of Undergraduate Advising & Research, and the Cramer Fund at Dartmouth College.
About this article
Cite this article
Wilson, M., Pavlowich, T. & Cox, M. Studying common-pool resources over time: A longitudinal case study of the Buen Hombre fishery in the Dominican Republic. Ambio 45, 215–229 (2016). https://doi.org/10.1007/s13280-015-0688-y
Received:

Revised:

Accepted:

Published:

Issue Date:
Keywords
Community-based natural resource management

Dominican Republic

Institutional analysis

Small-scale fisheries