Abstract
In many regions of the world, biodiversity surveys are not routinely conducted prior to activities that lead to land conversion, such as development projects. Here we use top-down methods based on global range maps and bottom-up methods based on macroecological scaling laws to illuminate the otherwise hidden biodiversity impacts of three large hydroelectric dams in the state of Sarawak in northern Borneo. Our retrospective impact assessment finds that the three reservoirs inundate habitat for 331 species of birds (3 million individuals) and 164 species of mammals (110 million individuals). A minimum of 2100 species of trees (900 million individuals) and 17 700 species of arthropods (34 billion individuals) are estimated to be affected by the dams. No extinctions of bird, mammal, or tree species are expected due to habitat loss following reservoir inundation, while 4–7 arthropod species extinctions are predicted. These assessment methods are applicable to any data-limited system undergoing land-use change.
Access options
Buy single article
Instant access to the full article PDF.
US$ 39.95
Tax calculation will be finalised during checkout.
Subscribe to journal
Immediate online access to all issues from 2019. Subscription will auto renew annually.
US$ 79
Tax calculation will be finalised during checkout.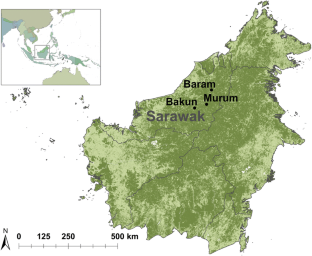 References
Ball, I., H. Possingham, and M. Watts. 2009. Marxan and relatives: Software for spatial conservation prioritisation. In Spatial conservation prioritisation: Quantitative methods and computational tools, ed. A. Moilanen, K. Wilson, and H. Possingham, 185–195. Oxford: Oxford University Press.

Basset, Y., R. Kitching, S. Miller, and V. Novotny, eds. 2003. Arthropods of tropical forests: Spatio-temporal dynamics and resource use in the canopy. Cambridge: Cambridge University Press.

Basset, Y., L. Cizek, P. Cuénoud, R.K. Didham, F. Guilhaumon, O. Missa, V. Novotny, F. Ødegaard, et al. 2012. Arthropod diversity in a tropical forest. Science 338: 1481–1484.

Beck, J., and C.M. Rüdlinger. 2014. Currently available data on Borneo geometrid moths do not provide evidence for a Pleistocene rainforest refugium. Raffles Bulletin of Zoology 62: 822–830.

Beck, J.A.N., I.A.N.J. Kitching, and K.E. Linsenmair. 2006. Effects of habitat disturbance can be subtle yet significant: Biodiversity of hawkmoth-assemblages (Lepidoptera: Sphingidae) in Southeast-Asia. Biodiversity and Conservation 15: 465–486.

Bellard, C., C. Leclerc, B. Leroy, M. Bakkenes, S. Veloz, W. Thuiller, and F. Courchamp. 2014. Vulnerability of biodiversity hotspots to global change. Global Ecology and Biogeography 23: 1376–1386.

Birdlife International. 2011. Distribution maps of Birds of the World. Cambridge: Birdlife International.

Bruno Manser Fonds. 2014. Bruno Manser Fonds—The Sarawak Geoportal.

Bruno Manser Fund. 2012. Sold down the river. How Sarawak Dam Plans compromise the 385 Future of Malaysia's Indigenous Peoples. Technical report.

Ceballos, G., and P.R. Ehrlich. 2002. Mammal population losses and the extinction crisis. Science 296: 904–907.

Condit, R., P.S. Ashton, P. Baker, S. Bunyavejchewin, S. Gunatilleke, N. Gunatilleke, S.P. Hubbell, R.B. Foster, et al. 2000. Spatial patterns in the distribution of tropical tree species. Science 288: 1414–1418.

de Bruyn, M., B. Stelbrink, R.J. Morley, R. Hall, G.R. Carvalho, C.H. Cannon, G. van den Bergh, E. Meijaard, et al. 2014. Borneo and Indochina are major evolutionary hotspots for Southeast Asian biodiversity. Systematic Biology 63: 879–901.

Dengler, J. 2009. Which function describes the species–area relationship best? A review and empirical evaluation. Journal of Biogeography 36: 728–744.

Dial, R.J., M.D.F. Ellwood, E.C. Turner, and W.A. Foster. 2006. Arthropod abundance, canopy structure, and microclimate in a Bornean lowland tropical rain forest. Biotropica 38: 643–652.

Drakare, S., J.J. Lennon, and H. Hillebrand. 2006. The imprint of the geographical, evolutionary and ecological context on species-area relationships. Ecology Letters 9: 215–227.

Ehrlich, P.R., and G.C. Daily. 1993. Population extinction and saving biodiversity. Ambio 22: 64–68.

Finer, M., C.N. Jenkins, S.L. Pimm, B. Keane, and C. Ross. 2008. Oil and gas projects in the Western Amazon: Threats to wilderness, biodiversity, and indigenous peoples. PLoS ONE 3: e2932.

Forister, M.L., V. Novotny, A.K. Panorska, L. Baje, Y. Basset, P.T. Butterill, L. Cizek, P.D. Coley, et al. 2014. The global distribution of diet breadth in insect herbivores. Proceedings of the National Academy of Sciences of the United States of America 112: 442–447.

Gaston, K.J., T.M. Blackburn, and K. Klein Goldewijk. 2003. Habitat conversion and global avian biodiversity loss. Proceedings of the Royal Society B 270: 1293–1300.

Gaveau, D.L.A., S. Sloan, E. Molidena, H. Yaen, D. Sheil, N.K. Abram, M. Ancrenaz, R. Nasi, et al. 2014. Four decades of forest persistence, clearance and logging on Borneo. PLoS ONE 9: e101654.

Goh, E. 2007. Developing the Mekong: Regionalism and Regional Security in China-Southeast Asian relations. London: The International Institute for Strategic Studies.

Harte, J. 2011. Maximum entropy and ecology: A theory of abundance, distribution, and energetics. Oxford: Oxford University Press.

Harte, J., and A.P. Kinzig. 1997. On the implications of species–area relationships for endemism, spatial rurnover, and food web patterns. Oikos 80: 417–427.

Harte, J., and J. Kitzes. 2015. Inferring regional-scale species diversity from small-plot censuses. PLoS ONE 10: e0117527.

Harte, J., T. Zillio, E. Conlisk, and A. Smith. 2008. Maximum entropy and the state-variable approach to macroecology. Ecology 89: 2700–2711.

Harte, J., A.B. Smith, and D. Storch. 2009. Biodiversity scales from plots to biomes with a universal species–area curve. Ecology Letters 12: 789–797.

He, F., and S.P. Hubbell. 2011. Species–area relationships always overestimate extinction rates from habitat loss. Nature 473: 368–371.

Hughes, J.B., G.C. Daily, and P.R. Ehrlich. 1997. Population diversity: Its extent and extinction. Science 278: 689–692.

IEA. 2013. Southeast Asia Energy Outlook. Paris: International Energy Agency.

IUCN. 2011. The IUCN Red List of Threatened Species. Version 2011.2.

Johnson, J.A. 2012. Assessing the Impact of Climate Change in Borneo. Technical report, World Wildlife Fund, Washington, D.C.

Jones, K.E., J. Bielby, M. Cardillo, S.A. Fritz, J. O'Dell, C.D.L. Orme, K. Safi, W. Sechrest, et al. 2009. PanTHERIA: A species-level database of life history, ecology, and geography of extant and recently extinct mammals. Ecology 90: 2648.

Keong, C.Y. 2005. Energy demand, economic growth, and energy efficiency—The Bakun dam-induced sustainable energy policy revisited. Energy Policy 33: 679–689.

Kinzig, A.P., and J. Harte. 2000. Implications of endemics–area relationships for estimates of species extinctions. Ecology 81: 3305–3311.

Kitching, R.L., D. Li, and N.E. Stork. 2001. Assessing biodiversity 'sampling packages': How similar are arthropod assemblages in different tropical rainforests ? Biodiversity and Conservation 10: 793–813.

Kitzes, J. A. 2012. Quantitative ecology and the conservation of biodiversity: Species richness, abundance, and extinction in human-altered landscapes. Doctoral dissertation, University of California, Berkeley.

Kitzes, J., and J. Harte. 2014. Beyond the species–area relationship: Improving macroecological extinction estimates. Methods in Ecology and Evolution 5: 1–8.

Koh, L.P., and J. Ghazoul. 2010. A matrix-calibrated species–area model for predicting biodiversity losses due to land-use change. Conservation Biology 24: 994–1001.

Koh, L.P., T.M. Lee, N.S. Sodhi, and J. Ghazoul. 2010. An overhaul of the species–area approach for predicting biodiversity loss: Incorporating matrix and edge effects. Journal of Applied Ecology 47: 1063–1070.

Koh, L. P., C. J. Kettle, D. Sheil, T. M. Lee, X. Giam, L. Gibson, and G. R. Clements. 2013. Biodiversity state and trends in southeast Asia. In Encyclopedia of biodiversity, ed. S.A. Levin, vol. 1, 509–527. Amsterdam: Elsevier.

Lee, T., T. Jalong, and W. Meng-Chuo. 2014. No consent to proceed: Indigenous Peoples' Rights Violations at the Proposed Baram Dam in Sarawak. Sarawak: Save Sarawak Rivers Network (SAVE Rivers).

Losos, E., and E.G. Leigh, Jr., eds. 2004. Tropical forest diversity and dynamism: Findings from a large-scale plot network. Chicago, IL: University of Chicago Press.

May, R.M., J.H. Lawton, and N.E. Stork. 1995. Assessing extinction rates. In Extinction rates, ed. J.H. Lawton, and R.M. May, chap. 1, 1–24. Oxford: Oxford University Press.

McGlinn, D.J., X. Xiao, and E.P. White. 2013. An empirical evaluation of four variants of a universal species–area relationship. PeerJ 1: e212.

Millennium Ecosystem Assessment. 2005. Ecosystems and human well-being: Synthesis. Washington, D.C.: Island Press.

Myers, N., R.A. Mittermeier, C.G. Mittermeier, G.A. da Fonseca, and J. Kent. 2000. Biodiversity hotspots for conservation priorities. Nature 403: 853–858.

Ney-Nifle, M., and M. Mangel. 2000. Habitat loss and changes in the species–area relationship. Conservation Biology 14: 893–898.

OECD. 2013. Economic Outlook for Southeast Asia, China and India 2014: Beyond the Middle Income Trap. Paris: OECD Publishing.

Rosenzweig, M.L. 1995. Species diversity in space and time. Cambridge: Cambridge University Press.

Sarkar, S., R.L. Pressey, D.P. Faith, C.R. Margules, T. Fuller, D.M. Stoms, A. Moffett, K.A. Wilson, et al. 2006. Biodiversity conservation planning tools: Present status and challenges for the future. Annual Review of Environment and Resources 31: 123–159.

Sodhi, N.S., L.P. Koh, R. Clements, T.C. Wanger, J.K. Hill, K.C. Hamer, Y. Clough, T. Tscharntke, et al. 2010. Conserving Southeast Asian forest biodiversity in human-modified landscapes. Biological Conservation 143: 2375–2384.

Sovacool, B.K., and L. Bulan. 2011. Behind an ambitious megaproject in Asia: The history and implications of the Bakun hydroelectric dam in Borneo. Energy Policy 39: 4842–4859.

Sovacool, B.K., and L. Bulan. 2012a. Energy security and hydropower development in Malaysia: The drivers and challenges facing the Sarawak Corridor of Renewable Energy (SCORE). Renewable Energy 40: 113–129.

Sovacool, B.K., and L.C. Bulan. 2012b. They 'll be dammed: the sustainability implications of the Sarawak Corridor of Renewable Energy (SCORE) in Malaysia. Sustainability Science 8: 121–133.

Stork, N. 2015. The composition of the arthropod fauna of Bornean lowland rain forest trees. Journal of Tropical Ecology 7: 161–180.

Struebig, M.J., A. Wilting, D.L. Gaveau, E. Meijaard, R.J. Smith, M. Fischer, K. Metcalfe, and S. Kramer-Schadt. 2015. Targeted conservation to safeguard a biodiversity hotspot from climate and land-cover change. Current Biology 25: 372–378.

Thomas, C.D., A. Cameron, R.E. Green, M. Bakkenes, L.J. Beaumont, Y.C. Collingham, B.F.N. Erasmus, M.F. De Siqueira, et al. 2004. Extinction risk from climate change. Nature 427: 145–148.

Whitmore, T. and I. Tantra. 1987. The flora of Indonesia: Draft checklist for Borneo. Technical report, Forest Research and Development Centre, Bogor, Indonesia.

Wilber, M.Q., J. Kitzes, and J. Harte. 2015. Scale collapse and the emergence of the power law species-area relationship. Global Ecology and Biogeography (Advance Online Publication).
Acknowledgments
We thank D. Kamman, J. Harte, and M. Potts for helpful comments on drafts of this manuscript. This work was supported in part by an Advancing Theory in Biology award from the National Science Foundation.
Electronic supplementary material
Below is the link to the electronic supplementary material.
About this article
Cite this article
Kitzes, J., Shirley, R. Estimating biodiversity impacts without field surveys: A case study in northern Borneo. Ambio 45, 110–119 (2016). https://doi.org/10.1007/s13280-015-0683-3
Received:

Revised:

Accepted:

Published:

Issue Date:
Keywords
Impact assessment

Population

Abundance

Land use

Landscape