Abstract
This paper estimates location-specific soil salinity in coastal Bangladesh for 2050. The analysis was conducted in two stages: First, changes in soil salinity for the period 2001–2009 were assessed using information recorded at 41 soil monitoring stations by the Soil Research Development Institute. Using these data, a spatial econometric model was estimated linking soil salinity with the salinity of nearby rivers, land elevation, temperature, and rainfall. Second, future soil salinity for 69 coastal sub-districts was projected from climate-induced changes in river salinity and projections of rainfall and temperature based on time trends for 20 Bangladesh Meteorological Department weather stations in the coastal region. The findings indicate that climate change poses a major soil salinization risk in coastal Bangladesh. Across 41 monitoring stations, the annual median projected change in soil salinity is 39 % by 2050. Above the median, 25 % of all stations have projected changes of 51 % or higher.
This is a preview of subscription content, log in to check access.
Access options
Buy single article
Instant access to the full article PDF.
US$ 39.95
Price includes VAT for USA
Subscribe to journal
Immediate online access to all issues from 2019. Subscription will auto renew annually.
US$ 99
This is the net price. Taxes to be calculated in checkout.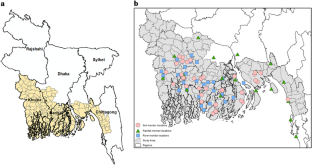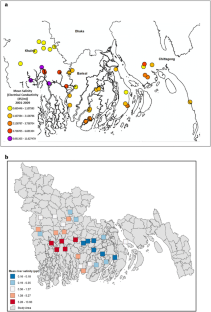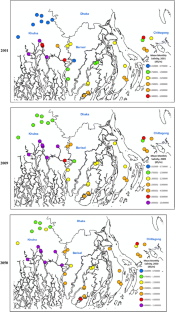 Notes
1.

2.

The data on soil salinity have not previously been available for empirical research.

3.

4.

5.

Monthly mean rainfall and maximum temperature in 1990 and 2001 for all 20 stations, as well as projections for 2050 are available from the authors upon request.

6.

Full results are available from the authors on request.

7.

The analysis excludes one geographically isolated station from Fig. 2 to make the clustered icons easier to view. This station, Patenga, is further south on the coast of Chittagong. It is Yellow in 2001 and 2009, and changes to Orange in 2050.

8.

Our findings coincide with the salinity threshold established by technical experimentation (Suryanarayanan 2010).
References
Aerts, L.J., A. Hassan, H. Savenije, and M. Khan. 2000. Using GIS tools and rapid assessment techniques for determining salt intrusion: STREAM—A river basin management instrument. Physics and Chemistry of the Earth, Part B: Hydrology, Oceans and Atmosphere 25: 265–273.

Anselin, L. 2001. Spatial effects in econometric practice in environmental and resource economics. American Journal of Agricultural Economics 83(3): 705–710.

Anselin, L. 2002. Under the hood: Issues in the specification and interpretation of spatial regression models. Agricultural Economics 27: 247–267.

Barrios, T., R. Diamond, G.W. Imbens and M. Kolesar. 2010. Clustering, Spatial Correlations and Randomization Interference. National Bureau of Economic Research Working Paper 15760. Cambridge, MA: NBER.

Belotti, F., G. Hughes, and A.P. Mortari. 2014. XSMLE: Stata module for spatial panel data models estimation. Boston: Statistical Software Components.

Bhuiyan, M.J.A.N., and D. Dutta. 2011. Assessing impacts of sea level rise on river salinity in the Gorai river network, Bangladesh. Estuarine, Coastal and Shelf Science 96(1): 219–227.

Brecht, H., S. Dasgupta, B. Laplante, S. Murray, and D. Wheeler. 2012. Sea-level rise and storm surges: High stakes for a small number of developing countries. The Journal of Environment & Development 21: 120–138.

Cameron, A.C., J.B. Gelbach, and D.L. Miller. 2011. Robust inference with multiway clustering. Journal of Business & Economic Statistics 29(2): 238–249.

CIESIN. 2010. Low-elevation coastal zone (LECZ) rural-urban estimates. Retrieved 10 June 2015 from http://sedac.ciesin.columbia.edu/gpw/lecz.jsp.

Dasgupta, S., B. Laplante, C. Meisner, D. Wheeler, and J. Yan. 2009. The impact of sea level rise on developing countries: A comparative analysis. Climatic Change 93(3–4): 379–388.

Dasgupta, S., F.A. Kamal, Z. H. Khan, S. Choudhury and A. Nishat. 2014a. River salinity and climate change: Evidence from coastal Bangladesh. Policy Research Working Paper No. 6817. Washington, DC: Development Research Group, World Bank.

Dasgupta, S., M. M. Hossain, M. Huq and D. Wheeler. 2014b. Climate change, soil salinity and the economics of high-yield rice production in coastal Bangladesh. Policy Research Working Paper No. 7140. Washington, DC: Development Research Group, World Bank.

Elhorst, P. 2010. Spatial panel data models. Spatial econometrics, 37–93. Berlin: Springer.

Hansen, J.E., and M. Sato. 2011. Paleoclimate implications for human-made climate change (2012). Vienna: Springer.

Haque, S.A. 2006. salinity problems and crop production in coastal regions of Bangladesh. Pakistan Journal of Botany 38(5): 1359–1365.

Hassan, A., and M.A.R. Shah. 2006. Impact of sea level rise on suitability of agriculture and fisheries. Dhaka: Center for Environmental and Geographic Information Services, Mimeo.

Kapoor, M., H.H. Kelejian, and I.R. Prucha. 2007. Panel data models with spatially correlated error components. Journal of Econometrics 140: 97–130.

Karim, Z., S.G. Hussain and M. Ahmed. 1990. Salinity problems and crop intensification in the coastal regions of Bangladesh. Soils publication No. 33. Bangladesh Agricultural Research Council (BARC). 13–32. Dhaka.

Kelejian, H., and I.R. Prucha. 1998. A generalized spatial two-stage least squares procedure for estimating a spatial autoregressive model with autoregressive disturbances. Journal of Real Estate Finance and Economics 17(1): 99–121.

Kelejian, H., and I.R. Prucha. 2006. Specification and estimation of spatial autoregressive models with autoregressive and heteroskedastic disturbances. Journal of Econometrics 157: 53–67.

Kelejian, H., I.R. Prucha, and Y. Yuzefovich. 2004. Instrumental variable estimation of a spatial autoregressive model with autoregressive disturbances: large and small sample results. In Spatial and spatiotemporal econometrics, advances in econometrics, vol. 18, ed. J. LeSage, and R.K. Pace, 163–198. New York: Elsevier.

Lee, L.F., and J. Yu. 2010. Estimation of spatial autoregressive panel data models with fixed effects. Journal of Econometrics 154: 165–185.

Mahmood, S.M.S., F. Najneen, K.S. Hoque, S. Rahman, and M. Shamim. 2010. Climate change: A study on impact and people's perception (a case study on Mongla Upazila, Bagerhat District, Bangladesh). Bangladesh Research Publications Journal 4(2): 153–164.

Nobi, N., and A. Das Gupta. 1997. Simulation of regional flow and salinity intrusion in an integrated stream-aquifer system in coastal region: Southwest region of Bangladesh. Ground Water 35(5): 786–796.

Petersen, L., and S. Shireen. 2001. Soil and water salinity in the coastal area of Bangladesh. Dhaka: Bangladesh Soil Resource Development Institute.

Pfeffer, W.T., J.T. Harper, and S. O'Neel. 2008. Kinematic constraints on glacier contributions to 21st-century sea-level rise. Science 321: 1340–1343.

Rahman, M.M., and M. Ahsan. 2001. Salinity constraints and agricultural productivity in coastal saline area of Bangladesh. Soil resources in Bangladesh: Assessment and utilization, 1–14. Dhaka: Soil Resources Development Institute.

Rahmstorf, S. 2007. A semi-empirical approach to projecting future sea-level rise. Science 315: 368–370.

Rhoades, J.D., F. Chanduvi and S. Lesch. 1999. Food and Agricultural Organization of the UN. Soil salinity assessment: Methods and interpretation of electrical conductivity measurements. FAO Irrigation and Drainage Paper No. 57.

SRDI. 1998a. Soil salinity map of Bangladesh (1973). Dhaka: Soil Resources Development Institute.

SRDI. 1998b. Soil salinity map of Bangladesh (1997). Dhaka: Soil Resources Development Institute.

SRDI. 2000. Soil salinity in Bangladesh 2000. Dhaka: Soil Resources Development Institute.

SRDI. 2010. Saline Soils of Bangladesh. Dhaka: Soil Resources Development Institute.

Suryanarayanan, S. 2010. Innovations and food security in Bangladesh. Strategic Foresight Group. Retrieved on 10 June 2015 Available online at http://www.strategicforesight.com/inner-articles.php?id=122#.U6BLcvldXh5.

Thomas, T. S., K. Mainuddin, C. Chiang, A. Rahman, A. Haque, N. Islam, S. Quasem and Y. Sun. 2013. Agriculture and adaptation in Bangladesh: Current and projected impacts of climate change. International Food Policy Research Institute (IFPRI) Discussion Paper 01281. July 2013. Washington.

Vermeer, M., and S. Rahmstorf. 2009. Global sea level linked to global temperature. Proceedings of the National Academy of Sciences 106(51): 21527–21532.

Wheeler, D. 2011. quantifying vulnerability to climate change: Implications for adaptation assistance. Washington: Center for Global Development Working Paper No. 240.
Acknowledgements
We would like to extend our special thanks to Dr. Md. Sher Ali for his help with the data and for his expert opinion. We are thankful to Mr. Brian Blankespoor for his help with the graphics. We are also grateful to Dr. Forhad Shilpi, Dr. Johannes Zutt, and Dr. Michael Toman for their comments and suggestions. The findings, interpretations, and conclusions expressed in this paper are entirely those of the authors. They do not necessarily represent the views of the International Bank for Reconstruction and Development/World Bank and its affiliated organizations, or those of the Executive Directors of the World Bank or the governments they represent.
About this article
Cite this article
Dasgupta, S., Hossain, M.M., Huq, M. et al. Climate change and soil salinity: The case of coastal Bangladesh. Ambio 44, 815–826 (2015). https://doi.org/10.1007/s13280-015-0681-5
Received:

Revised:

Accepted:

Published:

Issue Date:
Keywords
Climate change

Coastal areas

Soil salinity

Bangladesh