Abstract
This paper focusses on a conceptual overview of ways to address a comprehensive analysis of ecosystem services (ES) in a country as large and heterogeneous as Russia. As a first step, a methodology for assessing the services for the federal subjects of Russia was chosen, i.e., its constituent provinces and similar entities, in physical terms. Russia harbors a great diversity of natural conditions and ecosystems which are suppliers of ES, and likewise a variety of the socio-economic conditions that shape the demand for these services and their consumption. The methodological approach described permits several important tasks to be addressed: the evaluation of the degree of satisfaction of people's needs for ES, the identification of ecological donor and acceptor regions, and zoning of the country's territory for ES assessment. The next step is to prepare a prototype of a National Report on ES in Russia, for which we are presenting the planned structure.
This is a preview of subscription content, log in to check access.
Access options
Buy single article
Instant access to the full article PDF.
US$ 39.95
Price includes VAT for USA
Subscribe to journal
Immediate online access to all issues from 2019. Subscription will auto renew annually.
US$ 99
This is the net price. Taxes to be calculated in checkout.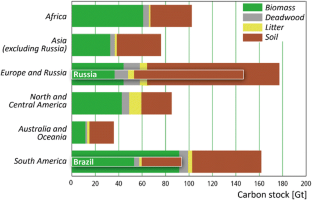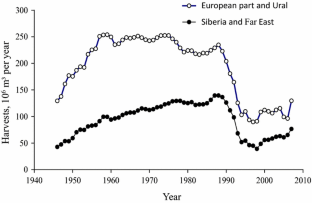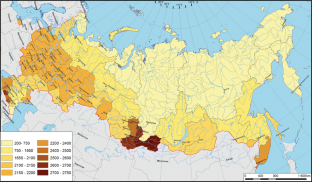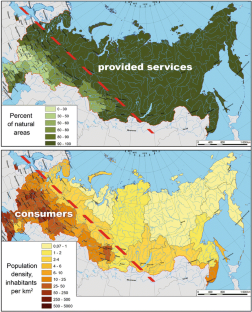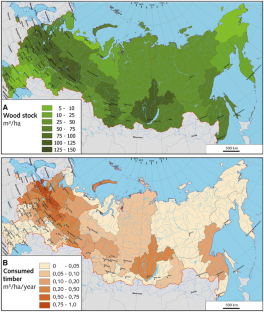 References
Antipov, A.N., V.V. Kravchenko, Y.M. Semenov, et al. 2006. Landscape planning: Tools and experiences in implementation. Bonn: V.B. Sochava Institute of Geography SB RAS Publishers.

Author Collective. 2012. Rio 20+ and new possibilities. Newsletter Sustainable Russia No. 61, Civil Chamber, Moscow, Russia (in Russian, English summary).

BAFU. 2011. Indicators of ecosystem services. Report published by the Swiss Federal Office for the Environment FOEN, Bern, Switzerland (in German, English summary). Retrieved 1 December, 2012, from http://www.environment-switzerland.ch/uw-1102-e.

Bagstad, K.J., D.J. Semmens, S. Waage, and R. Winthrop. 2013. A comparative assessment of decision-support tools for ecosystem services quantification and valuation. Ecosystem Services 5: 27–39.

Bartalev, S.A., A.S. Belvard, D.V. Ershov, and A.S. Isaev. 2004. Map of terrestrial ecosystems of the Northern Eurasia. Russian Academy of Sciences: Space Research Institute (Digital Map in Russian).

Bastian, O., K. Grunewald, and R.-U. Syrbe. 2012. Space and time aspects of ecosystem services, using the example of the European Water Framework Directive. International Journal of Biodiversity Science, Ecosystem Services and Management 8: 5–16.

Bastian, O., K. Grunewald, and A.V. Khoroshev. 2015. The significance of geosystem and landscape concepts for the assessment of ecosystem services—Exemplified in a case study in Russia. Landscape Ecology. doi:10.1007/s10980-015-0200-x.

Bazilevich, N. 1993. Biological productivity of Northern Eurasia ecosystems. Moscow: Science Publisher (in Russian, English summary).

Belelli Marchesini, L., D. Papale, M. Reichstein, N. Vuichard, N. Tchebakova, and R. Valentini. 2007. Carbon balance assessment of a natural steppe of southern Siberia by multiple constraint approach. Biogeosciences 4: 581–595.

Bobylev, S.N., E.N. Bukvareva, V.I. Grabovsky, A.A. Danilkin, Y.Y. Dgebuadze, A.V. Drozdov, D.G. Zamolodchikov, H.N. Kraev, et al. 2014. Analysis of the current knowledge about ecosystems and ecosystem services in Russia—A status-quo report. In TEEB-processes and ecosystem-assessment in Germany, Russia and other countries of Northern Eurasia, ed. K. Grunewald, O. Bastian, and A. Drozdov, 162–235. Bonn: BfN-Skripten 372 (in Russian and in German).

Bobylev, S.N., and V.M. Zakharov. 2009. Ecosystem services and economy. Moscow: Institute of Sustainable Development/Center for Russian Environmental Policy (in Russian).

Boyd, J., and S. Banzhaf. 2007. What are ecosystem services? The need for standardized environmental accounting units. Ecological Economics 63: 616–626.

Bukvareva, E.N. 2014. The global significance of Russian ecosystem functions and the problem of different scales of ecosystem services. In TEEB-processes and ecosystem-assessment in Germany, Russia and other countries of Northern Eurasia, ed. K. Grunewald, O. Bastian, and A. Drozdov, 92–125. Bonn: BfN-Skripten 372 (in Russian and in German).

Bukvareva, E.N., and G.M. Alecshenko. 2013. The principle of the optimal diversity of biosystems. Moscow: KMK-Fellowship of Scientific Publications (in Russian).

CBD—Convention on Biological Biodiversity. 2010. Global Biodiversity Outlook 3. Montreal: CBD Secretariat.

Chen, Q., R. Zhu, Q. Wang, and H. Xu. 2014. Methane and nitrous oxide fluxes from four tundra ecotopes in Ny-Ålesund of the High Arctic. Journal of Environmental Sciences 26: 1403–1410.

Chestnykh, O., D. Zamolodchikov, and D. Karelin. 1999. Resources of organic carbon in the soils of tundra and forest-tundra ecosystems in Russia. Russian Journal of Ecology 30: 392–398.

Chichilnisky, G., and G. Heal. 1998. Economic returns from the biosphere. Nature 391: 629–630.

Costanza, R. 2008. Ecosystem services: Multiple classification systems are needed. Biological Conservation 141: 350–352.

Costanza, R., R. d'Arge, R. de Groot, S. Farber, M. Grasso, B. Hannon, K. Limburg, S. Naeem, et al. 1997. The value of the world's ecosystem services and natural capital. Nature 387: 253–260.

Costanza, R., and I. Kubishewski. 2012. The authorship structure of "ecosystem services" as a transdisciplinary field of scholarship. Ecosystem Services 1: 16–25.

Crowley, T.J. 2000. Causes of climate change over the past 1000 years. Science 289: 270–277.

Daily, G. (ed.). 1997. Nature's services: Societal dependence on natural ecosystems. Washington, DC: Island Press.

Dolman, A.J., A. Shvidenko, D. Schepaschenko, P. Ciais, N. Tchebakova, T. Chen, M.K. van der Molen, L. Belelli Marchesini, et al. 2012. An estimate of the terrestrial carbon budget of Russia using inventory-based, eddy covariance and inversion method. Biogeosciences 9: 5323–5340. doi:10.5194/bg-9-5323-2012.

Dyakonov, K.N. 2007. Landscape studies in Moscow Lomonosov University: Development of scientific domains and education. In Landscape analysis for sustainable development. Theory and applications of landscape science in Russia, ed. K.N. Dyakonov, N.S. Kasimov, A.V. Khoroshev, and A.V. Kushlin, 11–20. Moscow: Alex Publishers.

DZZ. 2011. Ukraine and Russia—Agriculture in transition, dzz No. 4—July 2011. Retrieved 1 June, 2012, from http://www.club-aktiv.de/info.php?info_ID=201.

Fisher, B., R.K. Turner, and P. Morling. 2009. Defining and classifying ecosystem services for decision making. Ecological Economics 68: 643–653.

Forest Report. 1996. Forest utilization in the Russian Federation, 1946–1992. Report, Moscow, Russia (in Russian).

Goldman-Benner, R.L., S. Benitez, T. Boucher, A. Calbache, G. Daily, P. Kareiva, T. Kroeger, and A. Ramos. 2012. Water funds and payments for ecosystem services: Practice learns from theory and theory can learn from practice. Oryx 46: 55–63.

de Groot, R.S. 1992. Functions of nature: Evaluation of nature in environmental planning, management and decision making. Groningen: Wolters-Noordhoff.

Grunewald, K., and O. Bastian (eds.). 2015. Ecosystem services—Concept, methods and case studies. Heidelberg: Springer.

Grunewald, K., O. Bastian, and A. Drozdov (eds.). 2014a. TEEB-processes and ecosystem-assessment in Germany, Russia and other countries of Northern Eurasia. Bonn: BfN-Skripten 372 (in Russian and in German).

Grunewald, K., O. Bastian, A. Drozdov, and V. Grabowsky (eds.). 2014b. Ascertainment and assessment of ecosystem services (ES)—Experiences, especially from Germany and Russia. Bonn: BfN-Skripten 373 (in Russian and in German).

Haines-Young, R.H., and M.B. Potschin. 2010. Proposal for a common international classification of ecosystem goods and services (CICES) for integrated environmental and economic accounting (V1). Report to the European Environment Agency.

Hartley, I.P., M.H. Garnett, M. Sommerkorn, D.W. Hopkins, B.J. Fletcher, V.L. Sloan, G.K. Phoenix, and P.A. Wookey. 2012. A potential loss of carbon associated with greater plant growth in the European Arctic. Nature Climate Change 2: 875–879. doi:10.1038/nclimate1575.

Heikkinen, J.E.P., T. Virtanen, J.T. Huttunen, V. Elsakov, and P.J. Martikainen. 2004. Carbon dioxide and methane dynamics and annual carbon balance in tundra wetland in NE Europe, Russia. Global Biogeochemical Cycles 18: GB1023. doi:10.1029/2003GB002054.

Krever, V., M. Stishov, and I. Onufrenya. 2009. National protected areas of the Russian Federation: GAP-analysis and perspective framework. WWF-Russia, The Nature Conservancy. Moscow: MAVA.

Kurganova, I.N., V.O. Lopes de Gerenyu, J. Six, and Y. Kuzyakov. 2014. Carbon cost of collective farming collapse in Russia. Global Change Biology 20: 938–947. doi:10.1111/gcb.12379.

Lenton, T.M., H. Held, E. Kriegler, J.W. Hall, W. Lucht, S. Rahmstorf, and H.J. Schellnhuber. 2008. Tipping elements in the Earth's climate system. Proceedings of the National Academy of Sciences 105: 1786–1793.

Maes, J., A. Teller, M. Erhard, et al. 2014. Mapping and assessment of ecosystems and their services. Indicators for ecosystem assessment under Action 5 of the EU Biodiversity Strategy to 2020. Publications Office of the European Union, Luxembourg.

MEA-Millennium Ecosystem Assessment. 2005. Ecosystems and human well-being: Synthesis. Washington, DC: Island Press.

Merbold, L., W.L. Kutsch, C. Corradi, O. Kolle, C. Rebmann, P.C. Stoy, Z.A. Zimov, and E.-D. Schulze. 2009. Artificial drainage and associated carbon fluxes (CO2/CH4) in a tundra ecosystem. Global Change Biology 15: 2599–2614. doi:10.1111/j.1365-2426.2009.01962.x.

Minayeva, T., A. Sirin, and O. Bragg (eds.). 2009. A quick scan of peatlands in Central and Eastern Europe. Wageningen: Wetlands International.

Morozov, A. 2000. Survey of illegal forest felling activities in Russia (forms and methods of illegal cuttings). Moscow, Greenpeace Russia. Retrieved 1 July, 2014, from http://old.forest.ru/eng/publications/illegal/.

NEESPI. 2004. The Northern Eurasia earth science partnership initiative. Science Plan. 3.1. Terrestrial Ecosystem Dynamics. Retrieved 12 October, 2014, from http://www.neespi.org/.

NU-IHDP, and UNEP. 2014. Inclusive Wealth Report 2014. Measuring progress toward sustainability. Cambridge: Cambridge University Press.

Parish, F., A. Sirin, D. Charman, H. Joosten, T. Minayeva, M. Silvius, and L. Stringer (eds.). 2008. Assessment on peatlands, biodiversity and climate change: Main report. Wageningen: Global Environment Centre, Kuala Lumpur and Wetlands International.

Pavlov, D.S., and E.N. Bukvareva. 2012. Climate-regulating functions of terrestrial ecosystems and an "ecologocentric" concept of nature management. Biology Bulletin Reviews 2: 105–123.

Pavlov, D.S., B.R. Striganova, and E.N. Bukvareva. 2010. An environment-oriented concept of nature use. Herald of the Russian Academy of Sciences 80: 74–82.

Potschin, M., and R. Haines-Young. 2011. Ecosystem services: Exploring a geographical perspective. Progress in Physical Geography 35: 575–594.

Ptichnikov, A., and A. Kuritsyn. 2011. Systems of monitoring wood origins in Russia: Experience of timber companies and forest authorities. Analytical Report/WWF-Russia, Moscow (in Russian, English summary only on http://www.wwf.ru/resources/publ/book/eng/496).

Ruckelshaus, M., E. McKenzie, H. Tallis, A. Guerry, G. Daily, P. Kareiva, S. Polasky, T. Ricketts, et al. 2013. Notes from the field: Lessons learned from using ecosystem service approaches to inform real-world decisions. Ecological Economics. doi:10.1016/j.ecolecon.2013.07.009.

Salzman, J. 2005. Payments for ecosystem services. Notes from the field. New York University Law Review 80: 870.

Schröter, M., D.N. Barton, R.P. Remme, and L. Hein. 2014. Accounting for capacity and flow of ecosystem services: A conceptual model and a case study for Telemark, Norway. Ecological Indicators 36: 539–551.

Sirin, A., T. Minayeva, A. Vozbrannaya, and S. Bartalev. 2011. How to escape from peat fires? Science in Russia 2: 13–21 (in Russian).

Smelyanskiy, I. 2012. The role of Russian steppe ecosystems in carbon deposition. Steppe Bulletin 35: 4–8 (in Russian).

Smelansky, I., and A. Tishkov. 2012. The Steppe biome in Russia: Ecosystem services, conservation status, and actual challenges. In Eurasian Steppes. Ecological problems and livelihoods in a changing world, 45–102. New York: Springer.

Smith, L.C., G.M. MacDonald, A.A. Velichko, et al. 2004. Siberian peatlands a net carbon sink and global methane source since the early Holocene. Science 303: 353–356.

Sohngen, B., K. Andrasko, M. Gytarsky, et al. 2005. Stocks and flows. Carbon inventory and mitigation potential of the Russian forest and land base. World Resources Institute. Retrieved from http://pubs.wri.org.

Syrbe, R.-U., and U. Walz. 2012. Spatial relations and structural indicators for ecosystem services. Ecological Indicators 21: 80–88.

TEEB—The Economics of Ecosystems and Biodiversity. 2013. Guidance manual for TEEB country studies. Version 1.0.

Tishkov, A.A. 2005. Biosphere functions of natural ecosystems in Russia. Moscow: Nauka (in Russian).

UNDP. 2010. Millennium development goals in Russia: Looking into the future. National Human Development Report for the Russian Federation, ed. S. Bobylev, Moscow, Russia.

UNDP. 2011. Modernization and human development. National Human Development Report for the Russian Federation, ed. S. Bobylev, Moscow, Russia.

Wende, W., W. Wojtkiewicz, I. Marschall, S. Heiland, T. Lipp, M. Reinke, P. Schaal, and C. Schmidt. 2012. Putting the plan into practice: Implementation of proposals for measures of local landscape plans. Landscape Research 37: 483–500.

Wooller, M., J. Pohlman, B. Gaglioti, P. Langdon, M. Jones, K. Walter Anthony, K. Becker, K.U. Hinrichs, et al. 2012. Reconstruction of past methane availability in an Arctic Alaska wetland indicates climate influenced methane release during the past ~12,000 years. Journal of Paleolimnology 48: 27–42. doi:10.1007/s10933-012-9591-8.

Yablokov, A.V. 2010. The environment and politics in Russia. Russian Analytical Digest 79/10. Retrieved 7 November, 2014, from http://www.laender-analysen.de/russland/rad/pdf/Russian_Analytical_Digest_79.pdf.

Zakharov, V. (ed.). 2011. Towards a sustainable Russia, 2009–2011. Moscow: Institute of Sustainable Development, Civic Chamber of the Russian Federation (in Russian).

Zamolodchikov, D.G., and D. Karelin. 2001. An empirical model of carbon fluxes in Russian tundra. Global Change Biology 7: 147–162.

Zamolodchikov, D.G., A.I. Utkin, G.N. Korovin, and O.V. Chestnykh. 2005. Dynamics of carbon pools and fluxes in Russia's forest lands. Russian Journal of Ecology 36: 291–301.

Zamolodchikov, D.G., V.I. Grabovskii, and G.N. Kraev. 2011. 20 Years retrospective forest carbon dynamics in Russia. Contemporary Problems of Ecology 4: 706–715. doi:10.1134/S1995425511070022.

Zamolodchikov, D.G. 2012. The dynamics of the carbon balance of forests of Russia and its contribution to the change in atmospheric concentrations of carbon dioxide—Use and protection of natural resource of Russia. Scientific, Informative and Analytical Bulletin 5: 31–38 (in Russian).

Zavarzin, G.A., and V.N. Kudeyarov. 2006. Soils as the main source of carbon dioxide and a reservoir of organic carbon in Russia). Herald of the Russian Academy of Sciences 76: 14–29 (in Russian).
Acknowledgments
The following Russian colleagues helped prepare the initial draft of the Status Quo Report: Oleg F. Filenko, Vasiliy I. Grabovskiy, Aleksey A. Danilkin, Yury Y. Dgebuadze, Alexander V. Drozdov, Alexander V. Khoroshev, Gleb N. Kraev, Ilya N. Mordvintsev, Bella R. Striganova, Arkady A. Tishkov, and Armen R. Grigoryan. The German–Russian Project "Ecosystem Services Evaluation in Russia and other NIS Countries of Northern Eurasia: First Steps" is sponsored by the German Federal Agency for Nature Conservation (BfN), with funds from the Federal Ministry for the Environment, Nature Conservation, Building and Nuclear Safety (BMUB). We are particularly grateful to Heinrich Schmauder and Jürgen Nauber (BfN) for their commitment to the project, and three unknown reviewers for their advice, as well as to Phil Hill († 22. Dec. 2014), Berlin, for polishing the language.
About this article
Cite this article
Bukvareva, E.N., Grunewald, K., Bobylev, S.N. et al. The current state of knowledge of ecosystems and ecosystem services in Russia: A status report. Ambio 44, 491–507 (2015). https://doi.org/10.1007/s13280-015-0674-4
Received:

Revised:

Accepted:

Published:

Issue Date:
Keywords
Biodiversity

Climate regulation

Ecosystem functioning

Environment

National ecosystem assessment

Russia