Abstract
Invasive alien trees impact the environment and human livelihoods. The human dimensions of such invasions are less well understood than the ecological aspects, and this is hindering the development of effective management strategies. Semi-structured interviews were undertaken to investigate the knowledge and perceptions of Prosopis between different stakeholder groups. Chi-squared tests, Welch ANOVAs, and Principle Component Analyses were run. Factors such as land tenure and proximity to invasions were especially important for explaining differences in perceptions and practices relating to Prosopis among different stakeholder groups. Most respondents were aware of Prosopis and considered it to be invasive (i.e., spreading). Costs associated with Prosopis were perceived to exceed benefits, and most stakeholders wanted to see a reduction in the abundance of Prosopis stands. The mean total cost for the management of Prosopis was US$ 1914 year−1 per farm, where costs ranged from under US$ 10 to over UD$ 500 per ha based on invasion densities and objectives for control. The findings highlight the need for more effective management interventions.
Access options
Buy single article
Instant access to the full article PDF.
USD 39.95
Price excludes VAT (USA)
Tax calculation will be finalised during checkout.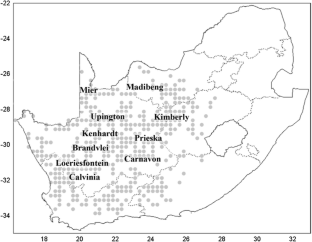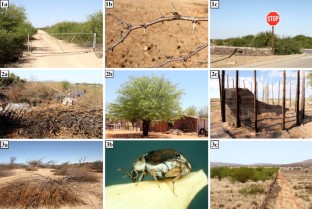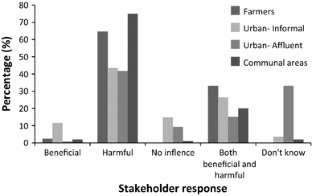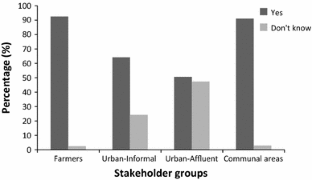 References
Australian Weeds Committee. 2012. Mesquite (Prosopis spp.) Strategic plan 2012-17. Weeds of National Significance, Australian Governmental Department of Agriculture, Fisheries and Forestry.

Choge, S.K. and B.N. Chikamai. 2004. Experiences of Prosopis utilization and management from outside Kenya. In Proceedings of the Workshop on Integrated Management of Prosopis Species in Kenya. Nairobi: KEFRI.

Chikuni, M.F., C.O. Dudley, and E.Y. Sambo. 2004. Prosopis glandulosa Torry (Leguminosae-Mimosoidae) at Swang'oma, Lake Chilwa plain: A blessing in disguise. Malawi Journal of Science and Technology 7: 10–16.

Dean, W.R.J., M.D. Anderson, S.J. Milton, and T.A. Anderson. 2002. Avian assemblages in native Acacia and alien Prosopis drainage line woodland in the Kalahari, South Africa. Journal of Arid Environments 51: 1–19.

Dangles, O., F.C. Carpio, M. Villares, and F. Yumisaca. 2010. Community-based participatory research helps farmers and scientists to manage invasive pests in the Ecuadorian Andes. AMBIO 39: 325–335.

Davis, M.A., M.K. Chew, R.J. Hobbs, A.E. Lugo, J.J. Ewell, G.J. Vermeij, J.H. Brown, M.L. Rosenzweig, et al. 2011. Don't judge species on their origins. Nature 474: 135–154.

de Neergaard, A., C. Saarnak, T. Hill, M. Khanyile, A.M. Berzosa, and T. Birch-Thomsen. 2005. Australian wattle species in the Drakensberg region of South Africa—And invasive alien or a natural resource? Agricultural systems 85: 216–233.

Dickie, I.A., B.M. Bennett, L.E. Burrows, M.A. Nuñez, D.A. Peltzer, A. Porté, D.M. Richardson, M. Rejmánek, et al. 2014. Conflicting values: Ecosystem services and invasive tree management. Biological Invasions 16: 705–719.

Dos Santos, L.L., A.L.B. Do Nascimento, F.J. Vieira, V.A. Da Silva, R. Voeks, and U.P. Albuquerque. 2014. The cultural value of invasive species: A case study from semi-arid northeastern Brazil. Economic Botany 68: 283–300.

Dzikiti, S., K. Schachtschneider, V. Naiken, M. Gush, G. Moses, and D.C. Le Maitre. 2013. Water relations and the effects of clearing invasive Prosopis trees on groundwater in an arid environment in the Northern Cape, South Africa. Journal of Arid Environments 90: 103–113.

Eiswerth, M.E., S.T. Yen, and G.C. van Kooten. 2011. Factors determining awareness and knowledge of aquatic invasive species. Ecological Economics 70: 1672–1679.

Foster, J., and L.A. Sandberg. 2004. Friends or foe? Invasive species and public green space in Toronto. Geographical Review 94: 178–198.

Gamtoos Water. 2013. Expression of Interest: Calling all farmers/land users interested in government-assistance with alien invasive clearing in St. Francis Bay and surrounding areas. Retrieved, from http://www.gamtooswater.co.za/eoi/eoi_4_2013.pdf. Accessed 22 October 2014.

García-Llorente, M., B. Martín-López, J.A. González, P. Alcorlo, and C. Montes. 2008. Social perceptions of the impacts and benefits of invasive alien species: Implications for management. Biological Conservation 141: 2969–2983.

García-Llorente, M., B. Martín-Lopes, P.A.L.D. Nunes, J.A. González, P. Alcorlo, and C. Montes. 2011. Analyzing the social factors that influence willingness to pay for invasive species management under two different strategies: Eradication and prevention. Environmental Management. doi:10.1007/s00267-011-9646-z.

Heger, T., A.T. Pahl, Z. Botta-Dukát, F. Gherardi, C. Hoppe, I. Hoste, K. Jax, L. Lindström, et al. 2013. Conceptual frameworks and methods for advancing invasion ecology. AMBIO 42: 527–540.

Kazmi, S.J.H., S. Shaikh, U.B. Zamir, H. Zafar, A. Rasool, F. Tariq, A. Afzal, and T. Arif. 2009. Ecological and socio-economic evaluation of the use of Prosopis juliflora for bio-char production in Pakistan. Pakistan: Drynet.

Kreuter, U.P., H.E. Amestoy, M.M. Kothmann, D.N. Ueckert, A. McGinty, and S.R. Cummings. 2005. The use of brush management methods: A Texas landowner survey. Rangeland Ecology and Management 58: 284–291.

Kull, C.A., C.M. Shackleton, P.J. Cunningham, C. Ducatillon, J. Dufour-Dror, K.J. Esler, J.B. Friday, A.C. Gouveia, et al. 2011. Adoption, use and perception of Australian acacias around the world. Diversity and Distributions 17: 822–836.

Low, T. 2012a. Australian acacias: Weeds or useful trees? Biological Invasions 14: 2217–2227.

Low, T. 2012b. In denial about dangerous aid. Biological Invasions 14: 22235–22236.

McNeely, J.A. (ed.). 2001. Human dimensions of invasive alien species. IUCN: Gland and Cambridge.

Maundu, P., S. Kibet, Y. Morimoto, M. Imbumi, and R. Adeka. 2009. Impacts of Prosopis juliflora on Kenya's semi-arid and arid ecosystems and local livelihoods. Biodiversity 10: 33–50.

McNeely, J.A. 2011. Xenophobia or conservation: some human dimensions. In Invasive and introduced plants and animals—Human perceptions, attitudes and approaches to management ed. I.D. Rotherham and R.A. Lambert. London: Earthscan.

Moran, V.C., J.H. Hoffmann, D. Donnelly, B.W. van Wilgen and H.G. Zimmermann. 2000. Biological control of alien, invasive pine trees (Pinus species) in South Africa. In International symposium on biological control of weeds. Montana: Montana State University.

Mwangi, M and B. Swallow. 2005. Invasion of Prosopis juliflora and local livelihoods: Case study from the Lake Baringo area of Kenya. ICRAF Working Paper—no. 3. Nairobi: World Agroforestry Centre.

Ndhlovu, T., S.J. Milton-Dean, and K.J. Esler. 2011. Impact of Prosopis (mesquite) invasion and clearing on the grazing capacity of semiarid Nama Karoo rangeland, South Africa. African Journal of Range and Forage Science 28: 129–137.

Pasiecznik, N.M., P. Felker, P.J.C. Harris, L.N. Harsh, G. Cruz, J.C. Tewari, K. Cadoret, and L.J. Maldonado. 2001. The Prosopis juliflora–Prosopis pallida complex: A Monograph. Coventry: HDRA.

Pasiecznik, N.M., S.K. Choge, G.M. Muthike, S. Chesang, C. Fehr, P. Bakewell-Stone, J. Wright, et al. 2006. Putting knowledge on Prosopis into use in Kenya—Pioneering advances in 2006. Nairobi and Coventry: KEFRI and HDRA.

Pimentel, D. 2002. Biological invasions: Economic and environmental costs of alien plant, animal and microbe species. New York: CRC.

Pyšek, P., and D.M. Richardson. 2010. Invasive species, environmental change and management, and health. Annual Review of Environment and Resources 35: 25–55.

Rai, R.K., H. Scarborough, N. Subedi, and B. Lamichane. 2012. Invasive plants—Do they devastate or diversify rural livelihoods? Rural farmers' perception of three invasive plants in Nepal. Journal for Nature Conservation 20: 170–176.

Rai, R.K., and H. Scarborough. 2014. Understanding the effects of invasive plants on rural forest-dependent communities. Small Scale Forestry. doi:10.007/s1184201492737.

Richardson, D.M. 1998. Commercial forestry and agroforestry as sources of invasive alien trees and shrubs. In Invasive species and biodiversity management, ed. O.T. Sandlund, P.J. Schei, and A. Viken, 237–257. Dordrecht: Kluwer Academic Publishers.

Richardson, D.M., C. Hui, M. Nunez, and A. Pauchard. 2014. Tree invasions—Patterns and processes, challenges & opportunities. Biological Invasions 16: 473–481.

Schachtschneider, K., and E.C. February. 2013. Impact of Prosopis invasion on a keystone tree species in the Kalahari Desert. Plant Ecology 214: 597–605.

Shackleton, C.M., D. McGarry, S. Fourie, J. Gambiza, S.E. Shackleton, and C. Fabricius. 2007. Assessing the effects of invasive alien species on rural livelihoods: Case examples and a framework from South Africa. Human Ecology 35: 113–127.

Shackleton, S.E., D. Kirby, and J. Gambiza. 2011. Invasive plants—Friends or foes? Contribution of prickly pear (Opuntia ficus-indica) to livelihoods in Makana Municipality, Eastern Cape, South Africa. Development Southern Africa 28: 177–193.

Shackleton, R.T., D.C. Le Maitre, N.M. Pasiecznik, and D.M. Richardson. 2014. Prosopis: A global assessment of the biogeography, benefits, impacts and management of one of the world's worst woody invasive plant taxa. AOB Plants 6: plu027. doi:10.1093/aobpla/plu027.

Shackleton, R.T., D.C. Le Maitre, and D.M. Richardson. 2015. Prosopis invasions in South Africa: Populations structures and impacts on native tree population stability. Journal of Arid Environments 114: 70–78.

Stave, J., G. Oba, I. Nordal, and N.C. Stenseth. 2007. Traditional ecological knowledge of a riverine forest in Turkana, Kenya: Implications for research and management. Biodiversity Conservation 16: 1471–1489.

Steenkamp, H.E., and S.L. Chown. 1996. Influence of dense stands of an exotic tree, Prosopis glandulosa BENSON, on savannah dung beetle (Coleoptera: Scarabaeinae) assemblage in Southern Africa. Biological Conservation 78: 305–311.

Van den Berg, E.C. 2010. Detection, quantification and monitoring Prosopis spp. in the Northern Cape Province of South Africa using remote sensing and GIS. MSc Science. Potchefstroom: North-West University.

van Klinken, R. 2012. Prosopis spp.—Mesquite. In Biological control of weeds in Australia, ed. M. Julien, R. McFadyen, and J. Cullen. Melbourne: CSIRO.

van Wilgen, B.W., C. Dyer, J.H. Hofmann, P. Ivey, D.C. Le Maitre, J.L. Moore, D.M. Richardson, et al. 2011. National-scale strategic approaches for managing introduced plants: Insights from Australian acacias in South Africa. Diversity and Distributions 17: 1060–1075.

van Wilgen, B.W., G.G. Forsyth, D.C. Le Maitre, A. Wannenburgh, D.F. Kotze, E. van den Berg, and L. Henderson. 2012. An assessment of the effectiveness of a large, national-scale invasive alien plant control strategy in South Africa. Biological Conservation 148: 28–38.

van Wilgen, B.W., and D.M. Richardson. 2014. Challenges and trade-offs in the management of invasive alien trees. Biological Invasions 16: 721–734.

Wise, R.M., B.W. van Wilgen, and D.C. Le Maitre. 2012. Costs, benefits and management options for an invasive alien tree species: The case of mesquite in the Northern Cape, South Africa. Journal of Arid Environments 84: 80–90.

Zachariades, C., J.H. Hoffmann, and A. Roberts. 2011. Biological control of mesquite (Prosopis species) (Fabaceae) in South Africa. African Entomology 19: 402–415.
Acknowledgments
Funding for this work was provided by the DST-NRF Centre of Excellence for Invasion Biology and the Working for Water program through their collaborative research project on "Integrated management of invasive alien species in South Africa." DMR acknowledges additional support from the National Research Foundation (grant 85417).
About this article
Cite this article
Shackleton, R.T., Le Maitre, D.C. & Richardson, D.M. Stakeholder perceptions and practices regarding Prosopis (mesquite) invasions and management in South Africa. Ambio 44, 569–581 (2015). https://doi.org/10.1007/s13280-014-0597-5
Received:

Revised:

Accepted:

Published:

Issue Date:

DOI: https://doi.org/10.1007/s13280-014-0597-5
Keywords
Biological invasions

Human perceptions

Indigenous knowledge

Management

Stakeholder perceptions

Tree invasions