Implications of climate and land-use change for landscape processes, biodiversity, ecosystem services, and governance
Abstract
This introduction to the Special Issue summarizes the results of 14 scientific articles from the interdisciplinary research program Ekoklim at Stockholm University, Sweden. In this program, we investigate effects of changing climate and land use on landscape processes, biodiversity, and ecosystem services, and analyze issues related to adaptive governance in the face of climate and land-use change. We not only have a research focus on the 22 650 km2 Norrström catchment surrounding lake Mälaren in south-central Sweden, but we also conduct research in other Swedish regions. The articles presented here show complex interactions between multiple drivers of change, as well as feedback processes at different spatiotemporal scales. Thus, the Ekoklim program highlights and deals with issues relevant for the future challenges society will face when land-use change interacts with climate change.
Keywords
Interdisciplinary research 
Drivers of change 
Spatiotemporal scales 
Feedback processes 
Complex interactions 
Introduction
Human population growth and the associated increase in resource use have been major drivers of global change since around the year 1800, causing the species' extinction rate to rise markedly above the background level (Millennium Ecosystem Assessment 2005; Steffen et al. 2007). In recent decades, climate change and consequent impacts on biodiversity and human societies have received much political and scientific interest. However, while climate change is projected to become the second most important driver of global biodiversity change in the twenty-first century, land use is projected to remain the most important driver (Sala et al. 2000). Biodiversity loss changes the structure and function of ecosystems, and this can in turn affect human societies through changes in ecosystem services delivery (Cardinale et al. 2012), i.e., ecosystem properties that societies require and make use of (Fisher et al. 2009).
To meet such challenges, research is needed to understand the interplay between multiple drivers, biodiversity, and ecosystem services at landscape to regional scales (Foley et al. 2011). Under the scientific program Ekoklim at Stockholm University, we have developed an interdisciplinary research environment focusing on the intersection between climate, land use, water use, biodiversity, and social–ecological studies at different spatiotemporal scales (www.zoologi.su.se/ekoklim/). The main objective of this collaboration is to generate new insights for improved management and governance of ecosystem services in dynamic landscapes.
In this Special Issue, we present 14 scientific articles based on results from Ekoklim. The research is structured around four closely interacting clusters: landscape processes, biodiversity responses, ecosystem services, and adaptive governance (Fig. 
1
).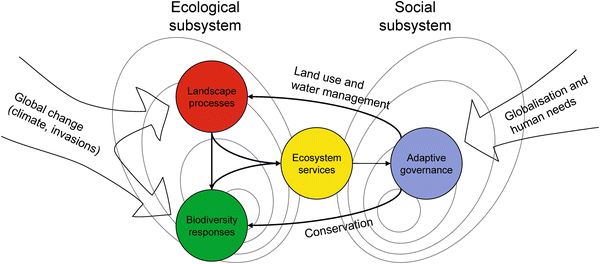 A rationale for the structure of the Ekoklim program, and a basic premise of the research, is that the complexities in how climate and land-use change affect ecological and social systems, as well as the complexities for society to handle and mitigate effects of these changes, necessitate research collaboration among scientists from multiple disciplines. There are several recent examples of such complexities dealt with by researchers from the Ekoklim program. Land-use change is often associated with water-use change, which in turn can have feedback effects on water circulation in the landscape as well as on the local and regional climates (Destouni et al. 2013). In the biotic environment, species can respond to change either through evolution, adapting to new conditions, or by tracking suitable conditions through dispersal. However, species with high dispersal rates may actually increase large-scale biodiversity loss in response to climate change as they may become invasive and drive other species to extinction through changed species interactions (Norberg et al. 2012). Furthermore, the impact of climate change on biodiversity should differ depending on the status of certain species in the ecosystem, which carry out regulating top-down ecosystem functions, while the strength of top-down effects can be modified by land use (Ripple et al. 2014). The effect of management actions aiming to preserve biodiversity can also vary due to local climate and biotic conditions (Sletvold et al. 2013). Finally, climate change effects on human societies will depend on their response strategies, which in turn rely on the quality of available information and the capacity to make informed decisions (Boyd et al. 2013).
Summary of articles in this Special Issue
Copyright information
© The Author(s) 2015
Open AccessThis article is distributed under the terms of the Creative Commons Attribution License which permits any use, distribution, and reproduction in any medium, provided the original author(s) and the source are credited.