Abstract
Reports of the damage from wolf attacks have increased considerably over the last decade in Georgia (in the Caucasus). We interviewed locals about this problem in two focal regions: the Lanchkhuti area (in western Georgia) and Kazbegi District (in eastern Georgia) where livestock numbers had increased by an order of magnitude owing to dramatic shifts in the local economies over the last decade. This coincided with expanding habitats for wolves (abandoned plantations, for example). We found that the perceived damage from wolves was positively correlated with a poor knowledge of wolf habits and inappropriate livestock husbandry practices. Our results suggest a loss of traditional knowledge contributes strongly to the wolf–human conflicts in Georgia. Restoring traditional, simple but good practices—such as protecting herds using shepherd dogs and introducing bulls into the herds—can help one solve this problem.
Access options
Buy single article
Instant access to the full article PDF.
US$ 39.95
Tax calculation will be finalised during checkout.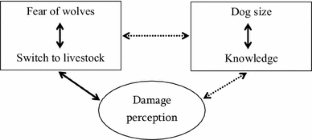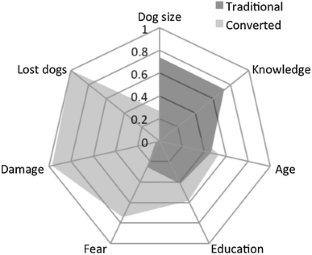 References
Balčiauskas, L. 2008. Wolf numbers and distribution in Lithuania and problems of species conservation. Annales Zoologici Fennici 45: 329–334.

Balčiauskas, L., T. Randveer, and H. Volodka. 2005. Influence of place of residence and possible property loss on large carnivore acceptance in Estonia and Lithuania. Acta Biologica Universitatis Daugavpiliensis 5: 47–53.

Bisi, J., S. Kurki, M. Svensberg, and T. Liukkonen. 2007. Human dimensions of wolf (Canis lupus) conflicts in Finland. European Journal of Wildlife Research 5: 304–314.

Ciucci, P., and L. Boitani. 1998. Wolf and dog depredation on livestock in central Italy. Wildlife Society Bulletin 26: 504–514.

Kopaliani, N., Z. Gurielidze, and G. Tevzadze. 2009. Human and wolf relations in Georgia: Real and ghostly problems in the region where wolves are still part of natural ecosystem, Project report. (In Georgian)

Kopaliani, N., M. Shakarashvili, Z. Gurielidze, T. Qurkhuli, and D. Tarkhnishvili. 2014. Gene flow between wolf and shepherd dog populations in Georgia (Caucasus). Journal of Heredity 105: 345–353.

Linnell, J.D., J. Odden, M.E. Smith, R. Aanes, and J.E. Swenson. 1999. Large carnivores that kill livestock: Do "problem individuals" really exist? Wildlife Society Bulletin 27: 698–705.

Linnell, J.D., E.J. Solberg, S. Brainerd, O. Liberg, H. Sand, P. Wabakken, and I. Kojola. 2003. Is the fear of wolves justified? A Fennoscandian perspective. Acta Zoologica Lituanica 13: 34–40.

Löe, J., and E. Röskaft. 2004. Large carnivores and human safety: A review. AMBIO 33: 283–288.

Meriggi, A., and S. Lovari. 1996. A review of wolf predation in southern Europe: does the wolf prefer wild prey to livestock? Journal of Applied Ecology 33: 1561–1571.

Pilot, M., M.J. Dąbrowski, V. Hayrapetyan, E.G. Yavruyan, N. Kopaliani, E. Tsingarska, B. Bujalska, S. Kamiński, et al. 2014. Genetic variability of the grey wolf Canis lupus in the Caucasus in comparison with Europe and the Middle East: Distinct or intermediary population? PloS One 9: e93828. doi:10.1371/journal.pone.0093828.

Røskaft, E., T. Bjerke, B. Kaltenborn, J.D. Linnell, and R. Andersen. 2003. Patterns of self-reported fear towards large carnivores among the Norwegian public. Evolution and Human Behavior 24: 184–198.

Røskaft, E., B. Händel, T. Bjerke, and B.P. Kaltenborn. 2007. Human attitudes towards large carnivores in Norway. Wildlife Biology 13: 172–185.

Stimson, R. (Ed). 2014. Handbook of research methods and applications in spatially integrated social science. Cheltenham: Elgar Publishing.

Tevzadze, G. 2009. Wolf attacks in Georgia (ecosociological survey). (In Georgian)

Wengraf, T. 2001. Qualitative research interviewing: Biographic narrative and semi-structured methods. London: Sage Publications.
Acknowledgments
The authors are grateful to the Georgian Rustaveli Foundation 2007 project "Human and Wolf Conflict in Georgia"; They offer their thanks to Natia Kopaliani and Zurab Gurielidze for valuable advices and participation in data collection and ecological surveys. Also, the authors thank Keti Rcheulishvili for her effective help in conducting interviews. We express special thanks to Jason Badridze, the pioneer of studies on wolf behaviour in Georgia; without his contribution and commitment to the wolves, our involvement would be impossible.
Electronic supplementary material
Below is the link to the electronic supplementary material.
About this article
Cite this article
Kikvidze, Z., Tevzadze, G. Loss of traditional knowledge aggravates wolf–human conflict in Georgia (Caucasus) in the wake of socio-economic change. Ambio 44, 452–457 (2015). https://doi.org/10.1007/s13280-014-0580-1
Received:

Revised:

Accepted:

Published:

Issue Date:
Keywords
Carnivore–human conflicts

Wolves

Livestock husbandry

Socio-ecological studies

Traditional knowledge

Georgia