Abstract
Local ecological knowledge (LEK) has been found to be one of the main bridges to manage biocultural diversity. We analyzed the factors affecting LEK maintenance and transmission in a Mediterranean watershed. We used a mixed methods approach to evaluate the agricultural LEK in three different dimensions: biological, soil and water management, and forecasting. We found that the main factors for its maintenance were the respondent's time living in the area and the social relationships established among farmers, which involved partner collaboration and farmer information exchanges. Protected areas also played a key role for maintaining the LEK associated with soil and water management. Finally, we found that outmigration and mechanization were the most important indirect drivers of change underlying LEK erosion. We suggest that environmental policies should focus on promoting this experiential knowledge, considering both intergenerational renewal and the gendered aspects of this knowledge.
Access options
Buy single article
Instant access to the full article PDF.
US$ 39.95
Tax calculation will be finalised during checkout.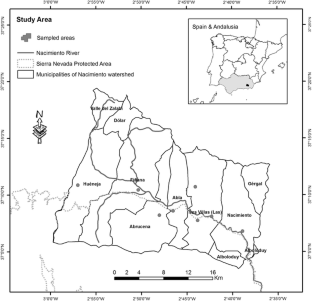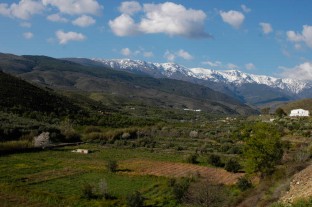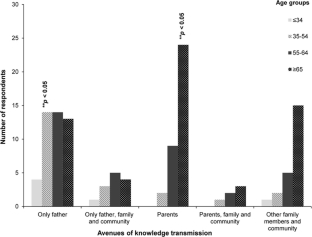 References
Altieri, M.A., and V.M. Toledo. 2005. Natural resource management among small-scale farmers in semi-arid lands: Building on traditional knowledge and agroecology. Annals of Arid Zone 44: 365–385.

Barthel, S., F. Carl, and C. Johan. 2010. Social–ecological memory in urban gardens—Retaining the capacity for management of ecosystem services. Global Environmental Change 20: 255–265.

Berkes, F. 2004. Rethinking community-based conservation. Conservation Biology 18: 621–630.

Berkes, F. 2008. Sacred Ecology, 2nd ed. London: Routledge.

Berkes, F., J. Colding, and C. Folke. 2000. Rediscovery of traditional ecological knowledge as adaptive management. Ecological Applications 10: 1251–1262.

Blanckaert, I., K. Vancraeynest, R.L. Swennen, F.J. Espinosa-García, D. Piñero, and R. Lira-Saade. 2007. Non-crop resources and the role of indigenous knowledge in semi-arid production of Mexico. Agriculture, Ecosystems & Environment 119: 39–48.

Blondel, J., J. Aronson, J.-Y. Bodiou, and G. Boeuf. 2010. The Mediterranean Region Biological Diversity in Space and Time. Oxford: Oxford University Press.

Brandth, B. 2002. Gender identity in European family farming: A literature review. Sociologia Ruralis 42: 181–200.

Brook, R.K., and S.M. McLachlan. 2008. Trends and prospects for local knowledge in ecological and conservation research and monitoring. Biodiversity and Conservation 17: 3501–3512.

Bugalho, M.N., M.C. Caldeira, J.S. Pereira, J. Aronson, and J.G. Pausas. 2011. Mediterranean cork oak savannas require human use to sustain biodiversity and ecosystem services. Frontiers in Ecology and the Environment 9: 278–286.

Camarero, L., and R. Sampedro. 2008. Why are women leaving? The mobility continuum as an explanation of rural masculinization process. Revista Española de Investigaciones Sociológicas 124: 73–105.

Carvalho, A.M., and A. Frazão-Moreira. 2011. Importance of local knowledge in plant resources management and conservation in two protected areas from Trás-os-Montes, Portugal. Journal of Ethnobiology and Ethnomedicine 7: 36.

Davidson-Hunt, I., and F. Berkes. 2003. Learning as you journey: Anishinaabe perception of social-ecological environments and adaptive learning. Conservation Ecology 8: article 5.

Davis, A., and K. Ruddle. 2010. Constructing confidence: Rational skepticism and systematic enquiry in local ecological knowledge research. Ecological Applications 20: 880–894.

Davis, A., and J.R. Wagner. 2003. Who knows? On the importance of identifying "experts" when researching local ecological knowledge. Human Ecology 31: 463–489.

Deda, P., and R. Rubian. 2004. Women and biodiversity: The long journey from users to policy-makers. Natural Resources Forum 28: 201–204.

Doré, T., D. Makowski, E. Malézieux, N. Munier-Jolain, M. Tchamitchian, and P. Tittonell. 2011. Facing up to the paradigm of ecological intensification in agronomy: Revisiting methods, concepts and knowledge. European Journal of Agronomy 34: 197–210.

EME—Evaluación de los Ecosistemas del Milenio de España. 2011. Ecosistemas y biodiversidad para el bienestar humano. Síntesis de los Resultados. Madrid: Fundación Biodiversidad.

Espín, R., E. Ortiz, and J.R. Guzmán. 2010. Manual del acequiero. Parques Nacional y Natural de Sierra Nevada. Agencia Andaluza del Agua. Consejería de Medio Ambiente. Junta de Andalucía.

EEA—European Environmental Agency. 2010. Europe's Ecological Backbone: Recognising the True Value of Our Mountains. Copenhagen.

Fernández-Giménez, M.E., and F. Fillat Estaque. 2012. Pyrenean Pastoralists' ecological knowledge: Documentation and application to natural resource management and adaptation. Human Ecology 40: 287–300.

Fischer, J., T. Hartel, and T. Kuemmerle. 2012. Conservation policy in traditional farming landscapes. Conservation Letters 5: 167–175.

Folke, C., A. Jansson, J. Rockstrom, P. Olsson, S.R. Carpenter, G. Daily, K. Danell, J. Ebbesson, et al. 2011. Reconnecting to the biosphere. AMBIO 40: 719–738.

García-Llorente, M., B. Martín-López, I. Iniesta-Arandia, C.A. López-Santiago, P.A. Aguilera, and C. Montes. 2012. The role of multi-functionality in social preferences toward semi-arid rural landscapes: An ecosystem service approach. Environmental Science & Policy 19–20: 136–146.

Gómez-Baggethun, E., and V. Reyes-García. 2013. Reinterpreting change in traditional ecological knowledge. Human Ecology 41: 643–647.

Gómez-Baggethun, E., S. Mingorría, V. Reyes-García, L. Calvet, and C. Montes. 2010. Traditional ecological knowledge trends in the transition to a market economy: Empirical study in the Doñana natural areas. Conservation Biology 24: 721–729.

Gómez-Baggethun, E., V. Reyes-García, P. Olsson, and C. Montes. 2012. Traditional ecological knowledge and community resilience to environmental extremes: A case study in Doñana, SW Spain. Global Environmental Change 22: 640–650.

Gorenflo, L.J., S. Romaine, R.A. Mittermeier, and K. Walker-Painemilla. 2012. Co-occurrence of linguistic and biological diversity in biodiversity hotspots and high biodiversity wilderness areas. Proceedings of the National Academy of Sciences 109: 8032–80376.

Hernández-Morcillo, M., J. Hoberg, E. Oteros-Rozas, T. Plieninger, E. Gómez-Baggethun, and V. Reyes-García. 2014. Traditional ecological knowledge in Europe: Status quo and insights for the Environmental Policy Agenda. Environment: Science and Policy for Sustainable Development 56: 3–17.

Huntington, H.P. 2000. Using traditional ecological knowledge in science: Methods and applications. Ecological Applications 10: 1270–1274.

Iniesta-Arandia, I., C. Piñeiro, C. Montes, and B. Martín-López. 2014. Women and the conservation of agroecosystems: An experiential analysis in the Río Nacimiento region of Almería (Spain)/Mujeres y conservación de agroecosistemas. Análisis de experiencias en la comarca almeriense del río Nacimiento. Psyecology: Revista Bilingüe de Psicología Ambiental/Bilingual Journal of Environmental Psychology: 1–17. doi:10.1080/21711976.2014.942516.

MARM—Ministerio de Medio Ambiente y Medio Rural y Marino. 2011. Diagnóstico de la Igualdad de Género en el Medio Rural. Madrid: Ministerio de Medio Ambiente y Medio Rural y Marino.

Martín-López, B., M. García-Llorente, I. Palomo, and C. Montes. 2011. The conservation against development paradigm in protected areas: Valuation of ecosystem services in the Doñana social–ecological system (southwestern Spain). Ecological Economics 70: 1481–1491.

Martín-López, B., I. Iniesta-Arandia, M. García-Llorente, I. Palomo, I. Casado-Arzuaga, D. García del Amo, E. Gómez-Baggethun, E. Oteros-Rozas, et al. 2012. Uncovering ecosystem services bundles through social preferences: Experimental evidence from Spain. PLoS ONE 7: e38970.

Naredo, J.M. 2004. La evolución de la agricultura en España (1940–2000). Granada: Universidad de Granada.

Ostrom, E. 1990. Governing the Commons: The Evolution of Institutions for Collective Action. Cambridge: Cambridge University Press.

Ostrom, E. 2009. A general framework for analyzing sustainability of social-ecological systems. Science 325: 419–422.

Oteros-Rozas, E., R. Ontillera-Sánchez, P. Sanosa, E. Gómez-Baggethun, V. Reyes-García, and J.A. González. 2013. Traditional ecological knowledge among transhumant pastoralists in Mediterranean Spain. Ecology and Society 18: 33.

Perrings, C., L. Jackson, K. Bawa, L. Brussaard, S. Brush, T. Gavin, R. Papa, U. Pascual, et al. 2006. Biodiversity in agricultural landscapes: Saving natural capital without losing interest. Conservation Biology 20: 263–264.

Pfeiffer, J.M., and R.J. Butz. 2005. Assessing cultural and ecological variation in ethnobiological research: The importance of gender. Journal of Ethnobiology 25: 240–278.

Pilgrim, S., D. Smith, and J. Pretty. 2007. A cross-regional assessment of the factors affecting ecoliteracy: Implications for policy and practice. Ecological Applications 17: 1742–1751.

Plieninger, T., F. Höchtl, and T. Spek. 2006. Traditional land-use and nature conservation in European rural landscapes. Environmental Science & Policy 9: 317–321.

Pretty, J., B. Adams, F. Berkes, S. Ferreira de Athayde, N. Dudley, E. Hunn, L. Maffi, K. Milton, et al. 2009. The intersections of biological diversity and cultural diversity: Towards integration. Conservation and Society 7: 100–112.

Pulido-Bosch, A., and Y. Ben Sbih. 1995. Centuries of artificial recharge on the southern edge of the Sierra Nevada (Granada, Spain). Environmental Geology 26: 57–63.

Rescia, A.J., B.A. Willaarts, M.F. Schmitz, and P.A. Aguilera. 2010. Changes in land uses and management in two Nature Reserves in Spain: Evaluating the social–ecological resilience of cultural landscapes. Landscape and Urban Planning 98: 26–35.

Reyes-García, V., S. Vila, L. Mata-Aceituno, L. Calvet-Mir, T. Garnatje, A. Jesch, J.J. Lastra, M. Parada, et al. 2010. Gendered homegardens: A study in three mountain areas of the Iberian Peninsula. Economic Botany 64: 235–247.

Sánchez-Picón, A., J.A. Aznar-Sánchez, and J. García-Latorre. 2011. Economic cycles and environmental crisis in arid southeastern Spain. A historical perspective. Journal of Arid Environments 75: 1360–1367.

Sevilla Guzmán, E. 1979. La evolución del campesinado en España: elementos para una sociología política del campesinado. Barcelona: Ediciones Península.

Tengö, M., E.S. Brondizio, T. Elmqvist, P. Malmer, and M. Spierenburg. 2014. Connecting diverse knowledge systems for enhanced ecosystem governance: The multiple evidence base approach. AMBIO 43: 579–591.

Toledo, V.M., and N. Barrera-Bassols. 2008. La memoria biocultural. La importancia ecológica de las sabidurías tradicionales. Barcelona: Editorial Icaria.
Acknowledgments
We thank all the people from the Nacimiento Comarca and Cecilio Oyonarte who kindly collaborated with us during fieldwork. We thank Erik Gómez-Baggethun for his help during the early stages of the research. We also thank two anonymous reviewers, the editors and Marina García-Llorente for their inspiring comments on a previous draft. This research was funded by the Spanish Ministry of Economy and Competitiveness (project CGL2011-30266).
Electronic supplementary material
Below is the link to the electronic supplementary material.
About this article
Cite this article
Iniesta-Arandia, I., del Amo, D.G., García-Nieto, A.P. et al. Factors influencing local ecological knowledge maintenance in Mediterranean watersheds: Insights for environmental policies. AMBIO 44, 285–296 (2015). https://doi.org/10.1007/s13280-014-0556-1
Received:

Revised:

Accepted:

Published:

Issue Date:
Keywords
Drivers of change

Gender

Protected area

Semi-arid areas

Traditional agriculture

Traditional ecological knowledge