Abstract
Improvements in human wellbeing are dependent on improving ecosystems. Such considerations are particularly pertinent for regions of high ecological, but also social and cultural importance that are facing rapid change. One such region is the Great Barrier Reef (GBR). Although the GBR has world heritage status for its 'outstanding universal value', little is known about resident perceptions of its values. We surveyed 1545 residents, finding that absence of visible rubbish; healthy reef fish, coral cover, and mangroves; and iconic marine species, are considered to be more important to quality of life than the jobs and incomes associated with industry (most respondents were dissatisfied with the benefits they received from industry). Highly educated females placed more importance on environmental non-use values than other respondents; less educated males and those employed in mining found non-market use-values relatively more important. Environmental non-use values emerged as the most important management priority for all.
Access options
Buy single article
Instant access to the full article PDF.
US$ 39.95
Tax calculation will be finalised during checkout.
Subscribe to journal
Immediate online access to all issues from 2019. Subscription will auto renew annually.
US$ 79
Tax calculation will be finalised during checkout.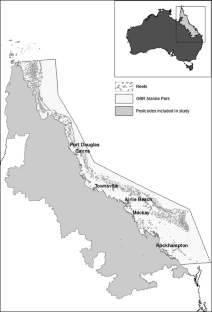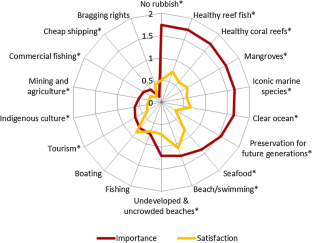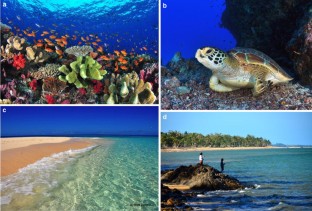 Notes
1.

The main aim of the project was to improve understanding of the relationship between the socioeconomic system and the GBRWHA, specifically, to improve understanding of resident views about the relative 'value' of key ecosystem services that are provided by the GBRWHA. Thus, the core sections of resident questionnaire included questions about: (1) The socio-demographic background of respondents; (2) Residents' activities and frequency of activities within the GBRWHA; (3) The importance of various values related to the GBRWHA to overall wellbeing and quality of life and satisfaction with the current state of these values; (4) Perceptions about the way in which overall quality of life would be affected by changes in various environmental and market factors; and (5) Willingness to pay (WTP) for improvements in various environmental attributes of the GBRWHA. Please refer to Stoeckl et al. (2013) for more details on the survey instrument and its development.
References
Access Economics. 2007. Measuring the economic and financial value of the Great Barrier Reef Marine Park, 2006–2007. Great Barrier Reef Marine Protection Authority, Research Publication 98, Townsville.

Bell, P.R.F., I. Elmetri, and B.E. Lapointe. 2014. Evidence of large-scale chronic eutrophication in the Great Barrier Reef: Quantification of chlorophyll a thresholds for sustaining coral reef communities. AMBIO 43(3): 361–376.

Blocker, T.J., and D.L. Eckberg. 1997. Gender and environmentalism: Results from the 1993 General Social Survey. Social Science Quarterly 78: 841–858.

Bohensky, E., J.R.A. Butler, R. Costanza, I. Bohnet, A. Delisle, K. Fabricius, M. Gooch, I. Kubiszewski, et al. 2011. Future makers or future takers? A scenario analysis of climate change and the Great Barrier Reef. Global Environmental Change 21: 876–893.

Bord, R.J., and R.E. O'Connor. 1997. The gender gap in environmental attitudes: The case of perceived vulnerability to risk: Research on the environment. Social Science Quarterly 78: 830–840.

Bowling, A. 1995. What things are important in people's lives? Social Science and Medicine 41: 1447–1462.

Brereton, F., J.P. Clinch, and S. Ferreira. 2008. Happiness, geography and the environment. Ecological Economics 65(2): 386–396.

Brodie, J.E., F.J. Kroon, B. Schaffelke, E.C. Wolanski, S.E. Lewis, M.J. Devlin, and A.M. Davis. 2012. Terrestrial pollutant runoff to the Great Barrier Reef: An update of issues, priorities and management responses. Marine Pollution Bulletin 654(9): 81–100.

Costanza, R., B. Fisher, S. Ali, C. Beer, L. Bond, R. Boumans, N.L. Danigelis, J. Dickinson, et al. 2007. Quality of life: An approach integrating opportunities, human needs and subjective wellbeing. Ecological Economics 61: 267–276.

Cummins, R.A., R. Eckersley, J. Pallant, J. Van Vugt, and R. Misajon. 2003. Developing a national index of subjective wellbeing: The Australian Unity Wellbeing Index. Social Indicators Research 64: 159–190.

Dale, A., K. Vella, R.L. Pressey, J. Brodie, H. Yorkston, and R. Potts. 2013. A method for risk analysis across governance systems: a Great Barrier Reef case study. Environmental Research Letters 8: 15–37. doi:10.1088/1748-9326/8/1/015037.

Day, J. 2008. The need and practice of monitoring, evaluating and adapting marine planning and management-lessons from the Great Barrier Reef. Marine Policy 32: 823–831.

Day, J.C., and K. Dobbs. 2013. Effective governance of a large and complex cross-jurisdictional marine protected area: Australia's Great Barrier Reef. Marine Policy 41: 14–24.

De'ath, G., K.E. Fabricius, H. Sweatman, and M. Puotinen. 2012. The 27-year decline of coral cover on the Great Barrier Reef and its causes. Proceedings of the National Academy of Sciences 10944: 17995–17999.

Deloitte Access Economics. 2013. Economic contribution of the Great Barrier Reef. Townsville: Great Barrier Reef Marine Park Authority.

Dietz, T., P.C. Stern, and G.A. Guagnano. 1998. Social structural and social psychological bases of environmental concern. Environment and Behavior 30: 450–471.

Dilman, D.A. 2007. Mail and internet surveys: The tailored design method. San Francisco: Wiley.

Ferrier, R.C. 2007. Science challenges to support diffuse pollution management in the Great Barrier Reef. CSIRO Water for a Healthy Country National Research Flagship, Flagship Fellow Report, Canberra, Australia.

Government Statistician. 2013. Queensland regional profiles: Resident profile for the SLA4 and SLA3. Brisbane: Queensland Treasury and Trade.

Iriarte, J.L., H.E. Gonzalez, and L. Nahuelhual. 2010. Patagonian Fjord ecosystems in Southern Chile as a highly vulnerable region: Problems and needs. AMBIO 39: 463–466.

Jones, R.E., and R.E. Dunlap. 1992. The social bases of environmental concern: Have they changed over time? Rural Sociology 57: 28–47.

Kaltenborn, B.P. 1998. Effects of sense of place on responses to environmental impacts. Applied Geography 18: 169–189.

Kroon, F.J., P.M. Kuhnert, B.L. Henderson, S.N. Wilkinson, A. Kinsey-Henderson, B. Abbott, J. Brodie, and R.D.R. Turner. 2012. River loads of suspended solids, nitrogen, phosphorus and herbicides delivered to the Great Barrier Reef lagoon. Marine Pollution Bulletin 65: 167–181.

Larson, S. 2009. Communicating stakeholder priorities in the Great Barrier Reef region. Society and Natural Resources 22(7): 650–664.

Larson, S. 2010a. Regional wellbeing in tropical Queensland, Australia: developing a dissatisfaction index to inform government policy. Environment and Planning A 42: 2972–2989.

Larson, S. 2010b. Understanding barriers to social adaptation: are we targeting the right concerns? In Transforming markets in the built environment: Adapting for climate change, ed. S. Roaf, 51–58. London: Earthscan.

Larson, S. 2011. From individual wellbeing to regional priorities: Concepts and measures to assist policy makers. Newcastle upon Tyne: Cambridge Scholars Publishing.

Larson, S., and S. Stone-Jovicich. 2011. Community perceptions of water quality and current institutional arrangements in the Great Barrier Reef Region of Australia. Water Policy 13: 411–424.

Larson, S., N. Stoeckl, B. Niel, and R. Welters. 2013a. Using resident perceptions of values associated with the Australian Tropical Rivers to identify policy and management priorities. Ecological Economics 94: 9–18.

Larson, S., D.M. De Freitas, and C.C. Hicks. 2013b. Sense of place as a determinant of people's attitudes towards the environment: Implications for natural resources management and planning in the Great Barrier Reef, Australia. Journal of Environmental Management 117: 226–234.

Layard, R. 2005. Happiness: Lessons from a new science. New York: Penguin.

Liu, X., A. Vedlitz, and L. Shi. 2014. Examining the determinants of public environmental concern: Evidence from national public surveys. Environmental Science & Policy 39: 77–94.

MA—Millennium Ecosystem Assessment. 2005. Millennium Ecosystem Assessment, ecosystems and human well-being: Global Assessment Reports. Washington, DC: Millennium Ecosystem Assessment.

Marans, R. 2003. Understanding environmental quality through quality of life studies: The 2001 DAS and its use of subjective and objective indicators. Landscape and Urban Planning 65: 73–83.

McCook, L.J., T. Ayling, M. Cappo, J.H. Choat, R.D. Evans, D.M. De Freitas, M. Heupel, T.P. Hughes, et al. 2010. Adaptive management of the Great Barrier Reef: A globally significant demonstration of the benefits of networks of marine reserves. Proceedings of the National Academy of Sciences 107: 18278–18285.

McStay, J., and R.E. Dunlap. 1983. Male–female differences in concern for environmental quality. International Journal of Women's Studies 6: 291–301.

Norgaard, R.B. 2010. Ecosystem services: from eye-opening metaphor to complexity blinder. Ecological Economics 69: 1219–1227.

Österblom, H., A. Merrie, M. Metian, W.J. Boonstra, T. Blenckner, J.R. Watson, R.R. Rykaczewski, Y. Ota, et al. 2013. Modelling social-ecological scenarios in marine systems. BioScience 63: 735–744.

Pantus, F., C.L. Barton, L. Bradford, and M. Stroet. 2011. Integrated science support for managing Australia's tropical rivers: a case study in the Daly River catchment. Darwin: Charles Darwin University Press.

Polishchuk, Y., and F. Rauschmayer. 2012. Beyond "benefits"? Looking at ecosystem services through the capability approach. Ecological Economics 81: 103–111.

Rolfe, J., D. Gregg, and G. Tucker. 2011. Valuing local recreation in the Great Barrier Reef. Canberra: Crawford School of Economics and Government, Australian National University.

Roy, E. D., J. F. Martin, E. G. Irwin, J. D. Conroy, and D. A. Culver. 2010. Transient social-ecological stability: the effects of invasive species and ecosystem restoration on nutrient management compromise in Lake Erie. Ecology and Society, 15: 20. Retrieved from http://www.ecologyandsociety.org/vol15/iss1/art20/.

Sagoff, M. 1998. Aggregation and deliberation in valuing environmental public goods: A look beyond contingent pricing. Ecological Economics 24: 213–230.

Satz, D., R.K. Gould, K.M.A. Chan, A. Guerry, B. Norton, T. Satterfield, B.S. Halpern, J. Levine, et al. 2013. The challenges of incorporating cultural ecosystem services into environmental assessment. AMBIO 42: 675–684.

Stoeckl, N., M. Farr, and H. Sakata. 2013. What do residents and tourists 'value' most in the GBRWHA? Reef and Rainforest Research Centre Limited, Report to the National Environmental Research Program, Cairns, Australia.

Summers, J.K., L.M. Smith, J.L. Case, and R.A. Linthurst. 2012. A review of the elements of human well-being with an emphasis on the contribution of ecosystem services. AMBIO 41: 327–340.

TEEB. 2010. The economics of ecosystems and biodiversity: Ecological and economic foundations. London: Earthscan.

Toropova, C., I. Meliane, D. Laffoley, E. Matthews, and M. Spalding ed. 2010. Global ocean protection: Present status and future possibilities. Brest: Agence des aires marines protégées.

UNESCO. 2013. Retrieved April 1, 2014 from http://whc.unesco.org/en/decisions/4959.

Van Liere, K.D., and R.E. Dunlap. 1980. The social bases of environmental concern: A review of hypotheses, explanations and empirical evidence. The Public Opinion Quarterly 44: 181–197.

Wilkinson, C. 2004. Status of coral reef of the world. Townsville: Australian Institute of Marine Science.

Zander, K.K., and A. Straton. 2010. An economic assessment of the value of tropical river ecosystem services: heterogeneous preferences among Aboriginal and non-Aboriginal Australians. Ecological Economics 69(12): 2417–2426.

Zeebari, Z., G. Shukur, and B. Kibria. 2012. Modified ridge parameters for seemingly unrelated regression model. Communications in Statistics-Theory and Methods 41: 1675–1691.
Acknowledgments
This study was funded by the Tropical Ecosystems Hub, part of the Australian Government's Commonwealth National Environmental Research Program. The NERP TE Hub is administered in North Queensland by the Reef and Rainforest Research Centre Limited (RRRC). The NERP Tropical Ecosystem Hub addresses issues of concern for the management, conservation and sustainable use of the World Heritage listed Great Barrier Reef (GBR) and its catchments, tropical rainforests including the Wet Tropics World Heritage Area (WTWHA), and the terrestrial and marine assets underpinning resilient communities in the Torres Strait, through the generation and transfer of world-class research and shared knowledge. We wish to thank Ms Hana Sakata, Mr Leon Appo, and others for their help with data collection and entry. We also wish to thank the focus group participants, interviewees, and hundreds of anonymous householders who took the time to complete our survey: without their contribution this study would not be possible.
Electronic supplementary material
Below is the link to the electronic supplementary material.
About this article
Cite this article
Larson, S., Stoeckl, N., Farr, M. et al. The role the Great Barrier Reef plays in resident wellbeing and implications for its management. AMBIO 44, 166–177 (2015). https://doi.org/10.1007/s13280-014-0554-3
Received:

Revised:

Accepted:

Published:

Issue Date:
Keywords
Australia

GBRWHA

IDS

Perceptions

Quality of life

Values