Abstract
Anthropogenically derived nitrogen (N) has a central role in global environmental changes, including climate change, biodiversity loss, air pollution, greenhouse gas emission, water pollution, as well as food production and human health. Current understanding of the biogeochemical processes that govern the N cycle in coupled human–ecological systems around the globe is drawn largely from the long-term ecological monitoring and experimental studies. Here, we review spatial and temporal patterns and trends in reactive N emissions, and the interactions between N and other important elements that dictate their delivery from terrestrial to aquatic ecosystems, and the impacts of N on biodiversity and human society. Integrated international and long-term collaborative studies covering research gaps will reduce uncertainties and promote further understanding of the nitrogen cycle in various ecosystems.
Access options
Buy single article
Instant access to the full article PDF.
USD 39.95
Price excludes VAT (USA)
Tax calculation will be finalised during checkout.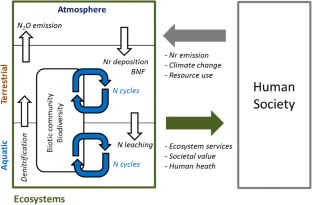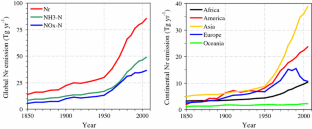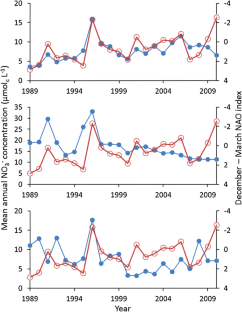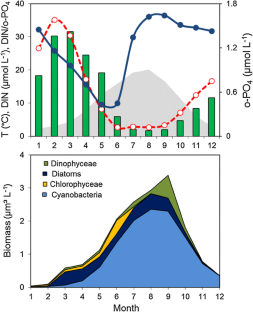 References
Aber, J., W. McDowell, K. Nadelhoffer, A. Magill, G. Berntson, M. Kamakea, S. McNulty, W. Currie, et al. 1998. Nitrogen saturation in temperate forest ecosystems: Hypotheses revisited. BioScience 48: 921–934.

Aber, J.D., S.V. Ollinger, C.T. Driscoll, G.E. Likens, R.T. Holmes, R.J. Freuder, and C.L. Goodale. 2002. Inorganic nitrogen losses from a forested ecosystem in response to physical, chemical, biotic, and climatic perturbations. Ecosystems 5: 648–658.

Anderson, C.B., J.L. Celis-Diez, B.J. Bond, G.M. Pastur, C. Little, J.J. Armesto, C. Ghersa, A. Austin, et al. 2012. Progress in creating a joint research agenda that allows networked long-term socio-ecological research in southern South America: Addressing crucial technological and human capacity gaps limiting its application in Chile and Argentina. Austral Ecology 37: 529–536.

Beier, C., B. Emmett, P. Gundersen, A. Tietema, J. Peñuelas, M. Estiarte, C. Gordon, A. Gorissen, et al. 2004. Novel approaches to study climate change effects on terrestrial ecosystems in the field: Drought and passive nighttime warming. Ecosystems 7: 583–597.

Bergström, A., and M. Jansson. 2006. Atmospheric nitrogen deposition has caused nitrogen enrichment and eutrophication of lakes in the northern hemisphere. Global Change Biology 12: 635–643.

Billen, G., V. Thieu, J. Garnier, and M. Silvestre. 2009. Modelling the N cascade in regional watersheds: The case study of the Seine, Somme and Scheldt rivers. Agriculture, Ecosystems and Environments 133: 234–246.

Blenckner, T., R. Adrian, D.M. Livingstone, E. Jennings, G.A. Weyhenmeyer, D.G. George, T. Jankowski, M. Järvinen, et al. 2007. Large-scale climatic signatures in lakes across Europe: A meta-analysis. Global Change Biology 13: 1314–1326.

Bobbink, R., and J.P. Hettelingh. 2011. Review and revision of empirical critical loads and dose-response relationships, Coordination Centre for Effects, National Institute for Public Health and the Environment (RIVM).

Bobbink, R., K. Hicks, J. Galloway, T. Spranger, R. Alkemade, M. Ashmore, M. Bustamante, S. Cinderby, et al. 2010. Global assessment of nitrogen deposition effects on terrestrial plant diversity: A synthesis. Ecological Applications 20: 30–59.

Boberg, J.B., R.D. Finlay, J. Stenlid, and B.D. Lindahl. 2010. Fungal C translocation restricts N-mineralization in heterogeneous environments. Functional Ecology 24: 454–459.

Bowman, W.D., C.C. Cleveland, L. Halada, L.J. Hresko, and J.S. Baron. 2008. Negative impact of nitrogen deposition on soil buffering capacity. Nature Geoscience 1: 767–770.

Boyer, E.W., and R.W. Howarth. 2002. The nitrogen cycle at regional to global scales. Dordrecht: Kluwer.

Camarero, L., and J. Catalan. 2012. Atmospheric phosphorus deposition may cause lakes to revert from phosphorus limitation back to nitrogen limitation. Nature Communications 3: 1118.

Campbell, J.L., M.J. Mitchell, P.M. Groffman, and L.M. Christenson. 2005. Winter in northeastern North America: An often overlooked but critical period for ecological processes. Frontiers in Ecology and the Environment 3: 314–322.

Cape, J.N., L.J.V.D. Eerden, L.J. Sheppard, I.D. Leith, and M.A. Sutton. 2009. Evidence for changing the critical level for ammonia. Environmental Pollution 157: 1033–1037.

Carpenter, S.R., J.J. Cole, J.R. Hodgson, J.F. Kitchell, M.L. Pace, D. Bade, K.L. Cottingham, T.E. Essington, J.N. Houser, et al. 2001. Trophic cascades, nutrients, and lake productivity: Whole-lake experiments. Ecological Monographs 71: 163–186.

Casson, N.J., M.C. Eimers, and J.M. Buttle. 2010. The Contribution of Rain-On-Snow Events to Nitrate Export in the Forested Landscape of South-Central Ontario, Canada. Hydrological Process 24: 1985–1993.

Chestnut, T.J., and W.H. McDowell. 2000. C and N dynamics in the riparian and hyporheic zones of a tropical stream, Luquillo mountains, Puerto Rico. Journal of the North American Benthological Society 19: 199–214.

Christopher, S.F., H. Shibata, M. Ozawa, Y. Nakagawa, and M.J. Mitchell. 2008. The effect of soil freezing on N cycling: Comparison of two headwater subcatchments with different vegetation and snowpack conditions in the northern Hokkaido Island of Japan. Biogeochemistry 88: 15–30.

Clark, C.M., and D. Tilman. 2008. Loss of plant species after chronic low-level nitrogen deposition to prairie grasslands. Nature 451: 712–715.

Collins, S.L., S.R. Carpenter, S.M. Swinton, D.E. Orenstein, D.L. Childers, T.L. Gragson, N.B. Grimm, J.M. Grove, et al. 2011. An integrated conceptual framework for long-term social–ecological research. Frontiers in Ecology and the Environment 9: 351–357.

Compton, J.E., J.A. Harrison, R.L. Dennis, T.L. Greaver, B.H. Hill, S.J. Jordan, H. Walker, and H.V. Campbell. 2011. Ecosystem services altered by human changes in the nitrogen cycle: A new perspective for US decision making. Ecological Letters 14: 804–815.

Curtis, C.J., T.E.H. Heaton, G.L. Simpson, C.D. Evans, J. Shilland, and S. Turner. 2012. Dominance of biologically produced nitrate in upland waters of Great Britain indicated by stable isotopes. Biogeochemistry 111: 535–554.

Curtis, C.J., R.W. Battarbee, D.T. Monteith, and E.M. Shilland. 2014. The future of upland water ecosystems of the UK in the 21st century: A synthesis. Ecological Indicators 37(Part B): 412–430.

Cusack, D.F., W.L. Silver, M.S. Torn, and W.H. McDowell. 2011. Effects of nitrogen additions on above- and belowground carbon dynamics in two tropical forests. Biogeochemistry 104: 203–225.

Davidson, E.A. 2009. The contribution of manure and fertilizer nitrogen to atmospheric nitrous oxide since 1860. Nature Geoscience 2: 659–662.

Davidson, E.A., J. Chorover, and D.B. Dail. 2003. A mechanism of abiotic immobilization of nitrate in forest ecosystems: The ferrous wheel hypothesis. Global Change Biology 9: 228–236.

De Wit, H.A., A. Hindar, and L. Hole. 2008. Winter climate affects long-term trends in stream water nitrate in acid-sensitive catchments in southern Norway. Hydrology and Earth System Sciences 12: 393–403.

Deegan, L.A., D.S. Johnson, R.S. Warren, B.J. Peterson, J.W. Fleeger, S. Fagherazzi, and W.M. Wollheim. 2012. Coastal eutrophication as a driver of salt marsh loss. Nature 490: 388–392.

Dias, T., S. Malveiro, M.A. Martins-Loução, L.J. Sheppard, and C. Cruz. 2011. Linking increased N-driven biodiversity changes with soil N availability in a Mediterranean-Type Ecosystem. Plant and Soil 341: 125–136.

Dise, N., and R. Wright. 1995. Nitrogen leaching from European forests in relation to nitrogen deposition. Forest Ecology and Management 71: 153–161.

Driscoll, C.T., D. Whitall, J. Aber, E. Boyer, M. Castro, C. Cronan, C.L. Goodale, P. Groffman, et al. 2003. Nitrogen Pollution in the Northeastern United States: Sources, Effects, and Management Options. BioScience 53: 357–374.

Driscoll, C.T., K.F. Lambert, F.S. Chapin III, D.J. Nowak, T.A. Spies, F.J. Swanson, D.B. Kittredge, and C.M. Hart. 2012. Science and society: The role of long-term studies in environmental stewardship. BioScience 62: 354–366.

Eimers, M.C., J.M. Buttle, and S.A. Watmough. 2007. The contribution of rain-on-snow events to annual no3-n export from a forested catchment in south-central Ontario, Canada. Applied Geochemistry 22: 1105–1110.

Evans, C.D., D.M. Cooper, D.T. Monteith, R.C. Helliwell, F. Moldan, J. Hall, E.C. Rowe, and B.J. Cosby. 2010. Linking monitoring and modelling: Can long-term datasets be used more effectively as a basis for large-scale prediction? Biogeochemistry 101: 211–227.

Fang, Y., P. Gundersen, R.D. Vogt, K. Koba, F. Chen, X.Y. Chen, and M. Yoh. 2011. Atmospheric deposition and leaching of nitrogen in Chinese forest ecosystems. Journal of Forest Research 16: 341–350.

Fernandez, I.J., M.B. Adams, M.D. SanClements, and S.A. Norton. 2010. Comparing decadal responses of whole-watershed manipulations at the Bear Brook and Fernow experiments. Environmental Monitoring and Assessment 171: 149–161.

Fowler, D., R. Smith, J. Muller, J.N. Cape, M. Sutton, J.W. Erisman, and H. Fagerli. 2007. Long term trends in sulphur and nitrogen deposition in Europe and the cause of non-linearities. Water, Air, & Soil Pollution: Focus 7: 41–47.

Freppaz, M., L. Ceili, M. Marcheilli, and E. Zanini. 2008. Snow removal and its influence on temperature and N dynamics in alpine soils (Vallée d'Aoste, northwest Italy). Journal of Plant Nutrition and Soil Science 171: 672–680.

Galloway, J.N., J.D. Aber, J.W. Erisman, S.P. Seitzinger, R.W. Howarth, E.B. Cowling, and B.J. Cosby. 2003. The nitrogen cascade. BioScience 53: 341–356.

Galloway, J.N., F.J. Dentener, D.G. Capone, E.W. Boyer, R.W. Howarth, S.P. Seitzinger, G.P. Asner, C.C. Cleveland, et al. 2004. Nitrogen Cycles: Past, Present and Future. Biogeochemistry 70: 153–226.

Galloway, J.N., A.R. Townsend, J.W. Erisman, M. Bekunda, Z. Cai, J.R. Freney, L.A. Martinelli, S.P. Seitzinger, et al. 2008. Transformation of the Nitrogen Cycle: Recent Trends, Questions, and Potential Solutions. Science 320: 889–892.

Gärdenäs, A.I., G.I. Ågren, J.A. Bird, M. Clarholm, S. Hallin, P. Ineson, T. Kätterer, H. Knicker, S.I. Nilsson, et al. 2011. Knowledge gaps in soil carbon and nitrogen interactions – From molecular to global scale. Soil Biology & Biochemistry 43: 702–717.

George, D.G., S.C. Maberly, and D.P. Hewitt. 2004. The influence of the North Atlantic Oscillation on the physical, chemical and biological characteristics of four lakes in the English Lake District. Freshwater Biology 49: 760–774.

Groffman, P., K. Butterbach-Bahl, R.W. Fulweiler, A.J. Gold, J.L. Morse, E.K. Stander, C. Tague, C. Tonitto, et al. 2009. Challenges to incorporating spatially and temporally explicit phenomena (hotspots and hot moments) in denitrification models. Biogeochemistry 92: 49–77.

Groffman, P.M., L.E. Rustad, P.H. Templer, J.L. Campbell, L.M. Christenson, N.K. Lany, A.M. Socci, M.A. Vadeboncoeur, et al. 2012. Long-term integrated studies show complex and surprising effects of climate change in the northern hardwood forest. BioScience 62: 1056–1066.

Gruber, N., and J.N. Galloway. 2008. An Earth-system perspective of the global nitrogen cycle. Nature 451: 293–296.

Gundersen, P., B.A. Emmett, O.J. Kjønaasc, C.J. Koopmansd, and A. Tietemad. 1998. Impact of nitrogen deposition on nitrogen cycling in forests: A synthesis of NITREX data. Forest Ecology and Management 101: 37–55.

Gupta, S.K., R.C. Gupta, and A.K. Seth. 2000. Methaemoglobinaemia in areas with high nitrate concentration in drinking water. National Medical Journal of India 13: 58–61.

Harris, T.D., F.M. Wilhelm, J.L. Graham, and K.A. Loftin. 2014. Experimental manipulation of TN:TP ratios suppress cyanobacterial biovolume and microcystin concentration in large-scale in situ microcosms. Lake Reserv Manag 30: 72–83.

Hedwall, P.O., A. Nordin, J. Strengbom, J. Brunet, and B. Olsson. 2013. Does background nitrogen deposition affect the response of boreal vegetation to fertilization? Oecologia 173: 615–624.

Hoben, J.P., R.J. Gehl, N. Millar, P.R. Grace, and G.P. Robertson. 2011. Nonlinear nitrous oxide (N2O) response to nitrogen fertilizer in on-farm corn crops of the US Midwest. Global Change Biology 17: 1140–1152.

Högberg, M.N., Y. Chen, and P. Högberg. 2007. Gross nitrogen mineralisation and fungi-to-bacteria ratios are negatively correlated in boreal forests. Biology and Fertility of Soils 44: 363–366.

Högberg, M.N., M.J.I. Briones, S.G. Keel, D.B. Metcalfe, C. Campbell, A.J. Midwood, B. Thornton, V. Hurry, et al. 2010. Quantification of effects of season and nitrogen supply on tree below-ground carbon transfer to ectomycorrhizal fungi and other soil organisms in a boreal pine forest. New Phytologist 187: 485–493.

Howarth, R.W., and R. Marino. 2006. Nitrogen as the limiting nutrient for eutrophication in coastal marine ecosystems: Evolving views over three decades. Limnology and Oceanography 51: 364–376.

Howarth, R., D. Swaney, G. Billen, J. Garnier, B. Hong, C. Humborg, P. Johnes, C.-M. Mörth, et al. 2011. Nitrogen fluxes from the landscape are controlled by net anthropogenic nitrogen inputs and by climate. Frontiers in Ecology and the Environment 10: 37–43.

IPCC. 2007. Climate Change 2007: The Physical Science Basis. Contribution of Working Group I to the Fourth Assessment Report of the Intergovernmental Panel on Climate Change. Cambridge: Cambridge University Press.

Jetten, M.S., I. Cirpus, B. Kartal, L. van Niftrik, K.T. van de Pas-Schoonen, O. Sliekers, S. Haaijer, W. van der Star, M. Schmid, et al. 2005. 1994-2004: 10 years of research on the anaerobic oxidation of ammonium. Biochemical Society Transactions 33: 119–123.

Johansson, O., K. Palmqvist, and J. Olofsson. 2012. Nitrogen deposition drives lichen community changes through differential species responses. Glob Chang Biol 18: 2626–2635.

Jovan, S., J. Riddell, P.E. Padgett, and T.H. Nash III. 2012. Eutrophic lichens respond to multiple forms of N: Implications for critical levels and critical loads research. Ecological Applications 22: 1910–1922.

Kaste, Ø., K. Austnes, L.S. Vestgarden, and R.F. Wright. 2008. Manipulation of snow in small headwater catchments at Storgama, Norway: Effects on leaching of inorganic nitrogen. AMBIO 37: 29–37.

Knorr, M., S.D. Frey, and P.S. Curtis. 2005. Nitrogen additions and litter decomposition: A meta-analysis. Ecology 86: 3252–3257.

Kopáček, J., and M. Posch. 2011. Anthropogenic nitrogen emissions during the Holocene and their possible effects on remote ecosystems. Global Biogeochemical Cycles 25: GB2017. doi:10.1029/2010GB003779.

Kopáček, J., J. Hejzlar, and M. Posch. 2013a. Factors controlling the export of nitrogen from agricultural land in a large central European catchment during 1900−2010. Environmental Science and Technology 47: 6400–6407.

Kopáček, J., J. Hejzlar, and M. Posch. 2013b. Quantifying nitrogen leaching from diffuse agricultural and forest sources in a large heterogeneous catchment. Biogeochemistry 115: 149–165.

Kopáček, J., B.J. Cosby, C.D. Evans, J. Hruška, F. Moldan, F. Oulehle, H. Šantrůčková, K. Tahovská, et al. 2013c. Nitrogen, organic carbon and sulphur cycling in terrestrial ecosystems: Linking nitrogen saturation to carbon limitation of soil microbial processes. Biogeochemistry 115: 33–51.

Kurian, L.M., L.K. Lautz, and M.J. Mitchell. 2012. Winter hydrology and NO3 − concentrations in a forested watershed: A detailed field study in the Adirondack Mountains of New York. Journal of the American Water Resources Association 49: 264–283.

Landberg, J.O., M. Carlstrom, F.J. Larsen, and E. Weitzberg. 2011. Roles of dietary inorganic nitrate in cardiovascular health and disease. Cardiovascular Research 89: 525–532.

Lassaletta, L., G. Billen, B. Grizzetti, J. Garnier, A.M. Leach, and J.N. Galloway. 2014. Food and feed trade as a driver in the global nitrogen cycle: 50-year trends. Biogeochemistry 118: 225–241.

Leach, A.M., J.N. Galloway, A. Bleeker, J.W. Erisman, R. Kohn, and J. Kitzes. 2012. A nitrogen footprint model to help consumers understand their role in nitrogen losses to the environment. Environmental Development 1: 40–66.

Likens, G.E., C.T. Driscoll, and D.C. Buso. 1996. Long-term effects of acid rain: Response and recovery of a forest ecosystem. Science 272: 244–246.

Löfgren, S., M. Aastrup, L. Bringmark, H. Hultberg, L. Lewin-Pihlblad, L. Lundin, G.P. Karlsson, and B. Thunholm. 2011. Recovery of Soil Water, Groundwater, and Streamwater from Acidification at the Swedish Integrated Monitoring Catchments. AMBIO 40: 836–856.

Maberly, S.C., L. King, M.M. Dent, R.I. Jones, and C.E. Gibson. 2002. Nutrient limitation of phytoplankton and periphyton growth in upland lakes. Freshwater Biology 47: 2136–2152.

Makoto, K., T. Kajimoto, L. Koyama, G. Kudo, H. Shibata, Y. Yanai, and J.H.C. Cornelissen. 2013 Winter climate change in plant–soil systems: Summary of recent findings and future perspectives. Ecological Research (in press).

Matson, P.A., W.H. McDowell, A.R. Townsend, and P.M. Vitousek. 1999. The globalization of N deposition: Ecosystem consequences in tropical environments. Biogeochemistry 46: 67–83.

Millennium Ecosystem Assessment Board. 2005. Ecosystems and human well-being: Current state and trends, Vol. 1. Washington D.C.: Island Press.

Mitchell, M.J. 2011. Nitrate dynamics of forested watersheds: Spatial and temporal patterns in North America, Europe and Japan. Journal of Forest Research 16: 333–340.

Mitchell, M.J., C.T. Driscoll, J.S. Kahl, G.E. Likens, P.S. Murdoch, and L.H. Pardo. 1996. Climatic control of nitrate loss from forested watersheds in the northeast United States. Environmental Science and Technology 30: 2609–2612.

Monson, R.K., D.L. Lipson, S.P. Burns, A.A. Turnipseed, A.C. Delany, M.W. Williams, and S.K. Schmidt. 2006. Winter forest soil respiration controlled by climate and microbial community composition. Nature 439: 711–714.

Monteith, D.T., C.D. Evans, and B. Reynolds. 2000. Are temporal variations in the nitrate content of UK upland freshwaters linked to the North Atlantic Oscillation? Hydrological Processes 14: 1745–1749.

Monteith, D.T., C.D. Evans, P.A. Henrys, G.L. Simpson, and I.A. Malcolm. 2014. Trends in the hydrochemistry of acid-sensitive surface waters in the UK 1988–2008. Ecological Indicators 37: 287–303.

Niu, S., M. Wu, Y. Han, J. Xia, Z. Zhang, H. Yang, and S. Wan. 2010. Nitrogen effects on net ecosystem carbon exchange in a temperate steppe. Global Chang Biol 16: 144–155.

Noe, G.B., and C.R. Hupp. 2005. Carbon, nitrogen, and phosphorus accumulation in floodplains of Atlantic coastal plain rivers, USA. Ecological Applications 15: 1178–1190.

Ochoa-Hueso, R., E.B. Allen, C. Branquinho, C. Cruz, T. Dias, M.E. Fenn, E. Manrique, M.E. Pérez-Corona, et al. 2011. Nitrogen deposition effects on Mediterranean-type ecosystems: An ecological assessment. Review. Environmental Pollution 159: 2265–2279.

Ohte, N., M.J. Mitchell, H. Shibata, N. Tokuchi, H. Toda, and G. Iwatsubo. 2001. Comparative evaluation on nitrogen saturation of forest catchments in Japan and northeastern United States. Water, Air, and Soil pollution 131: 649–654.

Oulehle, F., W.H. McDowell, J.A. Aitkenhead-Peterson, P. Krám, J. Hruška, T. Navrátil, F. Buzek, and D. Fottová. 2008. Long-Term Trends in Stream Nitrate Concentrations and Losses Across Watersheds Undergoing Recovery from Acidification in the Czech Republic. Ecosystems 11: 410–425.

Pardo, L.H., M.E. Fenn, C.L. Goodale, L.H. Geiser, C.T. Driscoll, E.B. Allen, J.S. Baron, R. Bobbink, et al. 2011. Effects of nitrogen deposition and empirical nitrogen critical loads for ecoregions of the United States. Ecological Applications 21: 3049–3082.

Park, J., M.J. Mitchell, P.J. McHale, S.F. Christopher, and T.P. Myers. 2003. Interactive effects of changing climate and atmospheric deposition on N and S biogeochemistry in a forested watershed of the Adirondack Mountains, New York State. Global Change Biology 9: 1602–1619.

Peñuelas, J., P. Prieto, C. Beier, C. Cesaraccio, P. De Angelis, G. De Dato, B.A. Emmett, M. Estiarte, et al. 2007. Response of plant species richness and primary productivity in shrublands along a north–south gradient in Europe to seven years of experimental warming and drought: Reductions in primary productivity in the heat and drought year of 2003. Glob Chang Biol 13: 2563–2581.

Pereira, H.M., S. Ferrier, M. Walters, G.N. Geller, R.H.G. Jongman, R.J. Scholes, M.W. Bruford, N. Brummitt, et al. 2013. Essential Biodiversity Variables. Science 339: 277–278.

Piatek, K.B., M.J. Mitchell, S.R. Silva, and C. Kendall. 2005. Sources of nitrate in snowmelt discharge: Evidence from water chemistry and stable isotopes of nitrate. Water, Air, and Soil pollution 165: 13–35.

Pinho, P., T. Dias, C. Cruz, Y.S. Tang, M.A. Sutton, M.-A. Martins-Loução, C. Máguas, and C. Branquinho. 2011. Using lichen functional-diversity to assess the effects of atmospheric ammonia in Mediterranean woodlands. Journal of Applied Ecology 48: 1107–1116.

Pinho, P., M.R. Theobald, T. Dias, Y.S. Tang, C. Cruz, M.A. Martins-Loucao, C. Maguas, M. Sutton, et al. 2012. Critical loads of nitrogen deposition and critical levels of atmospheric ammonia for semi-natural Mediterranean evergreen woodlands. Biogeosciences 9: 1205–1215.

Pregitzer, K.S., A.J. Burton, D.R. Zak, and A.F. Talhelm. 2008. Simulated chronic nitrogen deposition increases carbon storage in Northern Temperate forests. Global Change Biology 14: 142–153.

Rask, M., L. Arvola, M. Forsius, and J. Vuorenmaa. 2014. Preface to the special issue "Integrated monitoring in the Valkea-Kotinen catchment during 1990–2009: Abiotic and biotic responses to changes in air pollution and climate. Boreal Environment Research 19: 1–3.

Reay, D.S., E.A. Davidson, K.A. Smith, P. Smith, J.M. Melillo, F. Dentener, and P.J. Crutzen. 2012. Global agriculture and nitrous oxide emissions. Nature Climate Change 2: 410–416.

Rissanen, A., M. Tiirola, and A. Ojala. 2011. Spatial and temporal variation in denitrification and in the denitrifier community in a boreal lake. Aquatic Microbial Ecology 64: 27–40.

Robertson, G.P., E.A. Paul, and R.R. Harwood. 2000. Greenhouse Gases in Intensive Agriculture: Contributions of Individual Gases to the Radiative Forcing of the Atmosphere. Science 289: 1922–1925.

Robertson, G.P., S.L. Collins, D.R. Foster, N. Brokaw, H.W. Ducklow, T.L. Gragson, C. Gries, S.K. Hamilton, et al. 2012. Long-Term Ecological Research in a Human-Dominated World. BioScience 62: 342–353.

Rogora, M., C. Arese, R. Balestrini, and A. Marchetto. 2008. Climate control on sulphate and nitrate concentrations in alpine streams of Northern Italy along a nitrogen saturation gradient. Hydrology and Earth System Sciences 12: 371–381.

Sanchez, P., C. Palm, J. Sachs, G. Denning, R. Flor, R. Harawa, B. Jama, T. Kiflemariam, et al. 2007. The African millennium villages. Proceedings of the National Academy of Sciences of the United States of America 104: 16775–16780.

Schubert, H., and N. Wasmund. 2005. Das Phytoplankton des Strelasundes und des Kubitzer Boddens. Meer Museum 18: 83–92 (in Germany).

Schubert, H., N. Wasmund, and K. Sellner. 2010. Long-term investigations in brackish ecosystems. In Long-term ecological research, ed. F. Müller, C. Baessler, H. Schubert, and S. Klotz, 163–178: Dordrecht: Springer.

Shaver, G.R., L.C. Johnson, D.H. Cades, G. Murray, J.A. Laundre, E.B. Rastetter, K.J. Nadelhoffer, and A.E. Giblin. 1998. Biomass and CO2 flux in wet sedge tundras: Responses to nutrients, temperature, and light. Ecological Monographs 68: 75–97.

Shibata, H., O. Sugawara, H. Toyoshima, S.M. Wondzell, F. Nakamura, T. Kasahara, F.J. Swanson, and K. Sasa. 2004. Nitrogen dynamics in the hyporheic zone of a forested stream during a small storm, Hokkaido, Japan. Biogeochemistry 69: 83–104.

Shibata, H., Y. Hasegawa, T. Watanabe, and K. Fukuzawa. 2013. Impact of snowpack decrease on net nitrogen mineralization and nitrification in forest soil of northern Japan. Biogeochemistry 116: 69–82.

Skiba, A., and K.A. Smith. 2000. The control of nitrous oxide emissions from agricultural and natural soils. Chemosphere—Global Change Science 2: 379–386.

Spannhake, E.W., S.P.M. Reddy, D.B. Jacoby, X.Y. Yu, B. Saatian, and J. Tian. 2002. Synergism between rhinovirus infection and oxidant pollutant exposure enhances airway epithelial cell cytokine production. Environmental Health Perspectives 110: 665–670.

Stal, L.J., and J.P. Zehr. 2008. Cyanobacterial nitrogen fixation in the ocean: Diversity, regulation and ecology. In The cyanobacteria: Molecular biology, genomics and evolution, ed. A. Herrero, and E. Flores, 423–446. Caister: Academic Press.

Stoddard, J.L. 1994. Long-term changes in watershed retention of nitrogen: Its causes and aquatic consequences. In Environmental chemistry of lakes and reservoirs, ed. L.A. Bake, 223–284. Washington, DC: American Chemical Society.

Suddick, E.C., and E.A. Davidson. 2012. The Role of Nitrogen in Climate Change and the Impacts of Nitrogen-Climate Interactions on Terrestrial and Aquatic Ecosystems, Agriculture, and Human Health in the United States: A Technical Report Submitted to the US National Climate Assessment. North American Nitrogen Center of the International Nitrogen Initiative (NANC-INI), Woods Hole Research Center, 149 Woods Hole Road, Falmouth, MA.

Sutton, M.A., C.M. Howard, J.W. Erisman, G. Billen, A. Bleeker, P. Grennfelt, H. van Grinsven, and B. Grizzetti. 2011. The European Nitrogen Assessment. Cambridge: Cambridge University Press.

Thornton, P.E., S.C. Doney, K. Lindsay, J.K. Moore, N. Mahowald, J.T. Randerson, I. Fung, J.-F. Lamarque, et al. 2009. Carbon-nitrogen interactions regulate climate-carbon cycle feedbacks: Results from an atmosphere-ocean general circulation model. Biogeosciences 6: 2099–2120.

Tierney, G.T., T.J. Fahey, P.M. Groffman, J.P. Hardy, R.D. Fitzhugh, and C.T. Driscoll. 2001. Soil freezing alters fine root dynamics in a northern hardwood forest. Biogeochemistry 56: 175–190.

Urakawa, R., H. Toda, K. Haibara, and Y. Aiba. 2012. Long-term hydrochemical monitoring in an Oyasan Experimental Forest Watershed comprised of two small forested watersheds of Japanese cedar and Japanese cypress. Ecol Res (Data paper) 27: 245.

Van Groenigen, J.W., G.L. Velthof, O. Oenema, K.J. Van Groenigen, and C. Van Kessel. 2010. Towards an agronomic assessment of N2O emissions: A case study for arable crops. European Journal of Soil Science 61: 903–913.

Van Maanen, J.M.S., I.J. Welle, G. Hageman, J.W. Dallinga, P.L. Mertens, and J.C. Kleinjans. 1996. Nitrate contamination of drinking water: Relationship with HPRT variant frequency in lymphocyte DNA and urinary excretion of N- nitrosamines. Environmental Health Perspectives 104: 522–528.

Vermaat, J.E., S. Broekx, B. Van Eck, G. Engelen, F. Hellmann, J.L. De Kok, H. Van der Kwast, J. Maes, W. Salomons, et al. 2012. Nitrogen source apportionment for the catchment, estuary, and adjacent coastal waters of the river Scheldt. Ecology and Society 17: 30. doi:10.5751/ES-04889-170230.

Vitousek, P.M., R. Naylor, T. Crews, M.B. David, L.E. Drinkwater, E. Holland, P.J. Johnes, and J. Katzenberger. 2009. Nutrient imbalances in agricultural development. Science 324: 1519–1520.

Von Mutius, E. 2000. Current review of allergy and immunology. Journal of Allergy and Clinical Immunology 105: 9–19.

Wallenstein, M.D., D.D. Myrold, M. Firestone, and M. Voytek. 2006. Environmental controls on denitrifying communities and denitrification rates: Insights from molecular methods. Ecological Applications 16: 2143–2152.

Ward, M.H., S.D. Mark, K.P. Cantor, D.D. Weisenburger, A. Correa-Villaseñor, and S.H. Zahm. 1996. Drinking water nitrate and the risk of non-Hodgkin's lymphoma. Epidemiology 7: 465–471.

Weyer, P.J., J. Cerhan, B.C. Kross, G.R. Hallberg, J. Kantamneni, G. Breuer, M.P. Jones, W. Zheng, et al. 2001. Municipal drinking water nitrate level and cancer risk in older women: The Iowa Women's Health Study. Epidemiology 12: 327–338.

Wipf, S., and C. Rixen. 2010. A review of snow manipulation experiments in Arctic and alpine tundra ecosystems. Polar Research 29: 95–109.

Wrigit, R.F. 1998. Effect of increased carbon dioxide and temperature on runoff chemistry at a forested catchment in southern Norway (CLIMEX Project). Ecosystems 1: 216–225.

Zaehle, S., P. Ciais, A.D. Friend, and V. Prieur. 2011. Carbon benefits of anthropogenic reactive nitrogen offset by nitrous oxide emissions. Nature Geoscience 4: 601–605.
Acknowledgments
We thank the ILTER network for giving us this opportunity to develop the ILTER-N initiative, and for funding support to organize the workshop to develop the manuscript. We also thank all of the participants in the workshop for valuable discussions and helpful comments for this paper. This paper contributes to the synthesis of the Global Land Project (IGBP/IHDP). The synthesis activity was also partly supported by the Environmental research and technology development fund (S-9-3) of the Ministry of the Environment, Japan.
About this article
Cite this article
Shibata, H., Branquinho, C., McDowell, W.H. et al. Consequence of altered nitrogen cycles in the coupled human and ecological system under changing climate: The need for long-term and site-based research. AMBIO 44, 178–193 (2015). https://doi.org/10.1007/s13280-014-0545-4
Received:

Revised:

Accepted:

Published:

Issue Date:

DOI: https://doi.org/10.1007/s13280-014-0545-4
Keywords
Atmospheric deposition

Biogeochemistry

Water quality

N2O

Nitrogen leaching