Abstract
Night-time satellite imagery enables the measurement, visualization, and mapping of energy consumption in an area. In this paper, an index of the "sum of lights" as observed by night-time satellite imagery within national boundaries is compared with the emergy of the nations. Emergy is a measure of the solar energy equivalent used, directly or indirectly, to support the processes that characterize the economic activity in a country. Emergy has renewable and non-renewable components. Our results show that the non-renewable component of national emergy use is positively correlated with night-time satellite imagery. This relationship can be used to produce emergy density maps which enable the incorporation of spatially explicit representations of emergy in geographic information systems. The region of Abruzzo (Italy) is used to demonstrate this relationship as a spatially disaggregate case.
Access options
Buy single article
Instant access to the full article PDF.
USD 39.95
Price excludes VAT (USA)
Tax calculation will be finalised during checkout.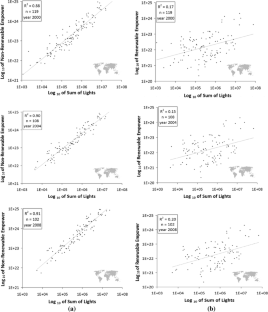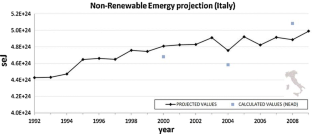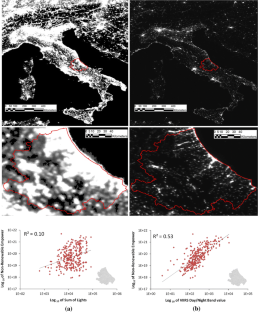 References
Bastianoni, S., S.N. Nielsen, N. Marchettini, and S.E. Jørgensen. 2005. Use of thermodynamic functions for expressing some relevant aspects of sustainability. International Journal of Energy Research 29: 53–64.

Bastianoni, S., F.M. Pulselli, S. Focardi, E.B.P. Tiezzi, and P. Gramatica. 2008. Correlations and complementarities in data and methods through principal components analysis (PCA) applied to the results of the SPIn-Eco project. Journal of Environmental Management 86: 419–426.

Bastianoni, S., F. Morandi, T. Flaminio, R.M. Pulselli, and E.B.P. Tiezzi. 2011. Emergy and emergy algebra explained by means of ingenuous set theory. Ecological Modelling 222: 2903–2907.

Brandt-Williams, S., and M. Brown. 2010. Renewable emergy in earth's biomes. In Emergy synthesis 6: Theory and applications of the emergy methodology, ed. M. Brown, 93–104. Gainesville, FL: University of Florida.

Brown, M.T., and S. Ulgiati. 1997. Emergy-based indices and ratios to evaluate sustainability: Monitoring economies and technology toward environmentally sound innovation. Ecological Engineering 9: 51–69.

Brown, M.T., M.J. Cohen, and S. Sweeney. 2009. Predicting national sustainability: The convergence of energetic, economic and environmental realities. Ecological Modelling 220: 3424–3438.

Burkhard, B., F. Kroll, S. Nedkov, and F. Müller. 2012. Mapping ecosystem service supply, demand and budgets. Ecological Indicators 21: 17–29.

Campbell, D.E., and A.S. Garmestani. 2012. An energy systems view of sustainability: Emergy evaluation of the San Luis Basin, Colorado. Journal of Environmental Management 95: 72–97.

Campbell, D.E., and A. Ohrt. 2009. Environmental accounting using emergy: Evaluation of Minnesota. USEPA Project Report, EPA/600/R-09/002.

Coscieme, L., F.M. Pulselli, S.E. Jørgensen, S. Bastianoni, and N. Marchettini. 2013. Thermodynamics-based categorization of ecosystems in a socio-ecological context. Ecological Modelling 258: 1–8.

Costanza, R., R. d'Arge, R. de Groot, S. Farber, M. Grasso, K. Limburg, S. Naeem, R.V. O'Neill, et al. 1997. The value of the world's ecosystem services and natural capital. Nature 387: 253–260.

Dobson, J.E., E.A. Bright, P.R. Coleman, R.C. Durfee, and B.A. Worley. 2000. LandScan: A global population database for estimating populations at risk. Photogrammetric Engineering & Remote Sensing 66: 849–857.

Doll, C.N.H. 2008. CIESIN thematic guide to night-time light remote sensing and its applications. Palisades, NY: Center for International Earth Science Information Network of Columbia University.

Elvidge, C.D., M.L. Imhoff, K.E. Baugh, V.R. Hobson, I. Nelson, J. Safran, J.B. Dietz, and B.T. Tuttle. 2001. Night-time lights of the world: 1994–1995. Photogrammetry & Remote Sensing 56: 81–99.

Elvidge, C.D., P. Cinzano, D.R. Pettit, J. Arvesen, P.C. Sutton, C. Small, R. Nemani, T. Longcore, et al. 2007. The Nightsat mission concept. International Journal of Remote Sensing 28: 2645–2670.

Elvidge, C.D., P.C. Sutton, B.T. Tuttle, T. Ghosh, and K.E. Baugh. 2009a. Global urban mapping based on night-time lights. In Global mapping of human settlement, ed. P. Gamba, and M. Herold, 129–144. Boca Raton, FL: CRC Press.

Elvidge, C.D., E.H. Erwin, K.E. Baugh, D. Ziskin, B.T. Tuttle, T. Ghosh, and P.C. Sutton. 2009b. Overview of DMSP nightime lights and future possibilities. In 2009 Joint urban remote sensing event 1–3, 1665–1669.

Frolking, S., T. Milliman, K.C. Seto, and M.A. Friedl. 2013. A global fingerprint of macro-scale changes in urban structure from 1999 to 2009. Environmental Research Letters 8: 1–10.

Ghosh, T., C.D. Elvidge, P.C. Sutton, K.E. Baugh, D. Ziskin, and B.T. Tuttle. 2010a. Creating a global grid of distributed fossil fuel CO2 emissions from nighttime satellite imagery. Energies 3: 1895–1913.

Ghosh, T., R.L. Powell, C.D. Elvidge, K.E. Baugh, P.C. Sutton, and S. Anderson. 2010b. Shedding light on the global distribution of economic activity. The Open Geography Journal 3: 147–160.

Henderson, V., A. Storeygard, and D.N. Weil. 2009. Measuring economic growth from outer space. Working Paper, Department of Economics, Brown University, 2009(8), 1–36.

Hubbert, M.K. 1956. Nuclear energy and the fossil fuels. Presentation to the spring meeting of the Southern District Division of Production. American Petroleum Institute, Texas, March 7–9.

Imhoff, M.L., W.T. Lawrence, C.D. Elvidge, T. Paul, E. Levine, M.V. Privalsky, and V. Brown. 1997. Using nighttime DMSP/OLS image of city lights to estimate the impact of urban land use on soil resources in the United States. Remote Sensing of Environment 59: 105–117.

Montanarella, L., and R. Vargas. 2012. Global governance of soil resources as a necessary condition for sustainable development. Current Opinion in Environmental Sustainability 4: 559–564.

Morandi, F., D.E. Campbell, and S. Bastianoni. 2014. Set theory applied to uniquely define the inputs to territorial systems in emergy analysis. Ecological Modelling 271: 149–157.

Oda, T., and S. Maksyutov. 2011. A very high-resolution (1 km × 1 km) global fossil fuel CO2 emission inventory derived using a point source database and satellite observations of nighttime lights. Atmospheric Chemistry and Physics 11: 543–556.

Odum, H.T. 1971. Environment, power and society. New York: Wiley.

Odum, H.T. 1988. Self organization, transformity and information. Science 242: 1132–1139.

Odum, H.T. 1991. Emergy and biogeochemical cycles. In Ecological physical chemistry, proceedings of an international workshop, 8–12 November 1990, eds. C. Rossi and E. Tiezzi. Amsterdam: Elsevier.

Odum, H.T. 1996. Environmental accounting. Emergy and environmental decision making. New York: Wiley.

Odum, H.T., and E.P. Odum. 2000. The energetic basis for valuation of ecosystem services. Ecosystems 3: 21–25.

Odum, H.T., E.C. Odum, and M. Blissett. 1987. Ecology and economy: Emergy analysis and public policy in Texas. L.B.J. School of Public Affairs and Texas Department of Agriculture, Policy Research Publication 78, University of Texas, Austin.

Oki, T., and S. Kanae. 2006. Global hydrological cycles and world water resources. Science 313: 1068–1072.

Pulselli, R.M. 2010. Integrating emergy evaluation and geographic information systems for monitoring resource use in the Abruzzo region (Italy). Journal of Environmental Management 91: 2349–2357.

Pulselli, R.M., G.C. Magnoli, and E.B.P. Tiezzi. 2004. Emergy flows and sustainable indicators: The strategic environmental assessment for a master plan. In The sustainable city III, urban regeneration and sustainability, ed. N. Marchettini, C.A. Brebbia, E. Tiezzi, and L.C. Wadhwa, 3–10. Southampton: WIT Press.

Pulselli, F.M., F. Ciampalini, C. Leipert, and E. Tiezzi. 2008a. Integrating methods for the environmental sustainability: The SPIn-Eco Project in the Province of Siena (Italy). Journal of Environmental Management 86: 332–341.

Pulselli, R.M., F.M. Pulselli, and M. Rustici. 2008b. Emergy accounting of the Province of Siena: Towards a thermodynamic geography for regional studies. Journal of Environmental Management 86: 342–353.

Pulselli, F.M., L. Coscieme, and S. Bastianoni. 2011. Ecosystem services as a counterpart of emergy flows to ecosystems. Ecological Modelling 222: 2924–2928.

Pulselli, R.M., P. Romano, M. Marchi, and S. Bastianoni. 2012. Carbon emission intensity and areal empower density: Combining two systemic indicators to inform the design and planning of sustainable energy landscapes. In Sustainable energy landscapes, ed. S. Stremke, and A. van den Dobbelsteen, 385–406. Boca Raton, FL: CRC Press.

Steele, J.H., J.J. Puschell, C.F. Schueler, S.W. Miller, K. Grant, and T.F. Lee. 2012. Expected performance of the Visible Infrared Imager Radiometer Suite (VIIRS) without detector sample aggregation. In Remote sensing system engineering IV, eds. P.E. Ardanuy, J.J. Puschell, and H.J. Bloom, 1–8. Proceedings of SPIE 8516.

Sutton, P.C., and R. Costanza. 2002. Global estimates of market and non-market values derived from night-time satellite imagery, land cover, and ecosystem service valuation. Ecological Economics 41: 509–527.

Sutton, P.C., S.J. Anderson, B.T. Tuttle, and L. Morse. 2012. The real wealth of nations: Mapping and monetizing the human ecological footprint. Ecological Indicators 16: 11–22.

Sweeney, S., M.J. Cohen, D. King, and M.T. Brown. 2007. Creation of a global emergy database for standardized national emergy synthesis. In Emergy synthesis 4: Theory and application of emergy methodology, ed. M. Brown, 23.1–23.15. Gainesville, FL: University of Florida.

Syrbe, R.-U., and U. Walz. 2012. Spatial indicators for the assessment of ecosystem services: Providing, benefiting and connecting areas and landscape metrics. Ecological Indicators 21: 80–88.

Tiezzi, E. 2003. The end of time. Southampton: Wit Press.

Tuttle, B.T., S.J. Anderson, P.C. Sutton, C.D. Elvidge, and K. Baugh. 2013. It used to be dark here: Geolocation calibration of the Defense Meteorological Satellite Program Operational Linescan System. Photogrammetric Engineering and Remote Sensing 79: 287–297.

Vorosmarty, C.J., P. Green, J. Salisbury, and R.B. Lammers. 2000. Global water resources: Vulnerability for climate and population growth. Science 289: 284–288.

Ward, J.D., S.H. Mohr, B.R. Myers, and W.P. Nel. 2012. High estimates of supply constrained emissions scenarios for long-term climate risk assessment. Energy Policy 51: 598–604.
Acknowledgments
We deeply thank two anonymous reviewers for their suggestions which contributed to improve the quality of the paper.
About this article
Cite this article
Coscieme, L., Pulselli, F.M., Bastianoni, S. et al. A Thermodynamic Geography: Night-Time Satellite Imagery as a Proxy Measure of Emergy. AMBIO 43, 969–979 (2014). https://doi.org/10.1007/s13280-013-0468-5
Received:

Revised:

Accepted:

Published:

Issue Date:

DOI: https://doi.org/10.1007/s13280-013-0468-5
Keywords
Emergy

Night-time lights

Geographic information systems

Territorial systems

Thermodynamic geography