Abstract
Over the centuries, governments and international agencies have developed a wide range of institutions to manage timber resources and conserve values provided by treed lands. Concerns regarding the sustainable supply of timber have provided opportunities for the development of substitute resources; however, bamboo and other non-timber forest resources have not been a part of the development of these institutions. Bamboo is a unique Non-Timber Forest Product, as it is often classified as forest or timber, and therefore must adhere to the same regulations as timber. Given the recent global expansion of bamboo, it is timely to examine the interplay between bamboo and the traditional institutions of forest governance. This paper aims to contribute to debates regarding cognitive institutional constraints on the development of substitute natural resources using bamboo as a case study, with specific focus on the applicability of Forest Stewardship Council certification, timber legality verification and Reducing Emissions from Deforestation and Forest Degradation to bamboos.
This is a preview of subscription content, log in to check access.
Access options
Buy single article
Instant access to the full article PDF.
US$ 39.95
Tax calculation will be finalised during checkout.
Subscribe to journal
Immediate online access to all issues from 2019. Subscription will auto renew annually.
US$ 99
Tax calculation will be finalised during checkout.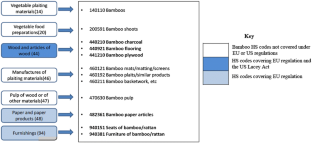 Notes
1.

Institutions can be divided into regulative, normative, and cognitive models (Scott 1995). Regulative aspects are based on legal sanctions; normative aspects are morally grounded and cognitive aspects of institutions refer to the collective construction of social reality embodied within public activity.

2.

The first certificate dates from 2008.

3.

The first certificate dates from 2011.

4.

EcoPlanet Bamboo has FSC-certified plantations in Nicaragua, however, these are currently not listed on the database.
References
Adamson, W.C., G.A. White, H.T. Derigo, and W.O. Hawley. 1978. Bamboo Production Research at Savannah, Georgia, 1956–77. USDA-ARS-S-176. U.S. Department of Agriculture, Agricultural Research Service, Savannah, Georgia.

Arts, B., and M. Buizer. 2009. Forests, discourses, institutions: A discursive-institutional analysis of global forest governance. Forest Policy and Economics 11: 340–347.

Baker, R. 2012. Andrex rolls out bamboo toilet tissue, Marketing Week. Retrieved 20 March, 2012, from http://www.marketingweek.co.uk/news/andrex-rolls-out-bamboo-toilet-tissue/4000724.article.

Bieri, M., and A. Nygren. 2011. The challenges of certifying tropical community forests: A case study from Honduras. The Journal of Environment and Development 20: 145.

Buckingham, K., P. Jepson, L. Wu, I.V. Rao, S. Jiang, W. Liese, Y. Lou, and M. Fu. 2011. The potential of bamboo is constrained by outmoded policy frames. AMBIO 40: 544–548.

Cashore, B., and M.W. Stone. 2012. Can legality verification rescue global forest governance? Analyzing the potential of public and private policy intersection to ameliorate forest challenges in Southeast Asia. Forest Policy and Economics 18: 13–22.

Cashore, B., G. Galloway, F. Cubbage, D. Humphreys, P. Katila, K. Levin, A. Maryundi, C. McDermott, et al. 2010. Chapter 23: Ability of institutions to address new challenges. In Forests and society—Responding to global drivers of change, ed. G. Mery, P. Katila, G. Galloway, R.I. Alfaro, M. Kanninen, M. Lobovikov, and J. Varjo. Vienna: IUFRO-WFSE Publication.

Crosby, A.W. 2004. Ecological imperialism: The biological expansion of Europe. Studies in Environment and History, 2nd ed, 900–1900. Cambridge: Cambridge University Press.

Cubbage, F., S. Koesbandana, P. MacDonagh, R. Rubilar, G. Balmelli, V.M. Olmos, R. De la Torre, M. Murara, et al. 2010. Global timber investments, wood costs, regulation, and risk. Biomass and Bioenergy 34: 1667–1678.

Eggleston, H.S., L. Buendia, et al. (eds.). 2006. 2006 IPCC Guidelines for National Greenhouse Gas Inventories Institute for Global Environmental Studies (IGES). Hayama, Japan: IGES.

FAO. 2009. Meeting the challenge of timber legality verification. FAO and VERIFOR.

FAO. 2011. State of the World's Forests. FAO, Rome.

Foucault, M. 1966. The order of things. London: Routledge.

FSC. 2005. Minutes of the 4th FSC General Assembly of the Forest Stewardship Council, Manaus, Brazil 7–9 December, 2005. Forest Stewardship Council, Bonn

FSC. 2010. FSC-DIR-20-007–FSC Directive on FSC Forest Management Evaluations. Forest Stewardship Council Report, Bonn

FSC. 2012. Retrieved February 21, 2013, from http://info.fsc.org/.

Fu, M., and Y.P. Lou. 2002. Prospects of research on sustainable management techniques of bamboo forests in China. In Bamboo for sustainable development, ed. A. Kumar, R. Rao, and C. Sastry. Zeist: INBAR/VSP.

Halsey, M. 1997. The wood for the paper: Old-growth forest, hemp and environmental harm Australian & New Zealand. Journal of Criminology 30: 121–148.

Head, L., and J. Atchinson. 2008. Cultural ecology: Emerging human–plant geographies. Progress in Human Geography 33(2): 236–245.

Hinrichs, A. 2011. Illegal logging and changing markets: The need for timber legality assurance systems, 2nd Sub-Regional Training Workshop on Timber Legality Assurance Kota Kinabalu, Malaysia, 25–27 October 2011.

Hobhouse, H. 2004. Seeds of wealth: Four plants that made men rich. London: Pan Publishing.

Hoffman, A.J., and M.J. Ventresca. 1999. The institutional framing of policy debates: Economics versus the environment. American Behavioral Scientist 42(8): 1368–1392.

Hunter, I.R. 2002. Bamboo—Solution to problems. Journal of Bamboo and Rattan 1(2): 101–107. doi:10.1163/156915902760181577.

INBAR. 2003. Greening Red Earth. Beijing: INBAR.

INBAR. 2012. Bamboo value chains and inclusive green growth. In World Bamboo Congress, ed. C. Hoogendorn, Antwerp, 12th April 2012.

James, N.D.G. 1990. A history of English forestry. Oxford: Basil Blackwell.

Jiang, Z. (ed.). 2007. Bamboo and rattan in the world, 86. Beijing: China Forestry Publishing House.

Kanowski, P.J., C.L. McDermott, and B.W. Cashore. 2011. Implementing REDD+: Lessons from analysis of forest governance. Environmental Science & Policy 14: 111–117.

Klooster, D. 2010. Standardizing sustainable development? The Forest Stewardship Council's plantation policy review process as neoliberal environmental governance. Geoforum 41: 117–129.

Kumar, A., and C. Sastry. 1999. The International Network for Bamboo and Rattan. Non-wood Forest Products and Income Generation (FAO), vol. 50, No. 198.

Li, Z.H., and M. Kobayashi. 2004. Plantation future of bamboo in China. Journal of Forestry Research 15: 233–242. (in Chinese).

Lobovikov, M., D. Schoene, and Y. Lou. 2012. Bamboo in climate change and rural livelihoods. Mitigation and Adaptation Strategies for Global Change 17: 261–276.

McClure, F.A. 1966. The bamboos: A fresh perspective. Cambridge: Harvard University Press.

North, D.C. 1990. Institutions, institutional change and economic performance. Cambridge: Cambridge University Press.

PR Newswire. 2013. Pendrell Acquires Majority Stake In Biosciences Innovator Booshoot. Retrieved February 2, 2013, from www.prnewswire.com/news-releases/pendrell-acquires-majority-stake-in-biosciences-innovator-booshoot-193019331.html.

Radkau, J. 1997. The wordy worship of nature and the tacit feeling for nature in the history of German forestry. In Nature and society in historical context, ed. M. Teich, R. Porter, and B. Gustafsson. Cambridge: Cambridge University Press.

Rao, I.V.R., B. Motukuri, and S. Karpe. 2009. Breaking barriers and creating capital: Sustainable development with bamboo in the Konkan Region. India: Maharashtra.

Schiebinger, L. 2004. Plants and empire: Colonial bioprospecting in the Atlantic World. Cambridge: Harvard University Press.

Scott, W.R. 1995. Institutions and organizations. Thousand Oaks: Sage.

Scott, J.C. 1998. Seeing like a state. New Haven: Yale University Press.

Sethi, N. 2011. It's a grass, not a tree Bamboo off-shoots. The Times of India, January 21.

Shananker, R.U., K.N. Ganeshaiah, K. Srinivasan, V.R. Rao, and L.T. Hong. 2004. Bamboos and rattans of the Western Ghats. Population Biology, Socio-economics and Conservation Strategies, Ashoka Trust for Research in Ecology and the Environment (ATREE).

Sutton, W.R.J. 1999. The need for planted forests and the example of radiate pine. New Forests 17: 95–109.

Williams, J.T. 1994. Introduction. In Priority species of bamboo and rattan, ed. A.N. Rao, V.R. Rao, and J.T. Williams. International Plant Genetic Resources Institute (IPGRI), International Network for Bamboo and Rattan (INBAR), Biodiversity International.

Woodridge, M. 2012. Booming bamboo: The next super-material? BBC News Magazine, BBC News, Nicaragua, 3 April 2012.

Xu, Q., and P. Jiang. 2008. Soil microbial functional diversity under intensively managed bamboo plantations in southern China. Journal of Soils and Sediments 8(3): 177–183.

Yang, Y., and C. Hui. 2010. China's Bamboo: Culture/Resources/Cultivation/Utilization; INBAR Technical Report No. 33. INBAR, Southwest Forestry University.

Young, E.M. 2005. Revival of industrial hemp: A systematic analysis of the current global industry to determine limitations and identify future potentials within the concept of sustainability. Master's Degree of International Environmental Science. Sweden: Lund University.
Acknowledgments
With thanks to Paul Jepson, Graeme Auld and Constance McDermott for their input into the DPhil thesis version of this article.
About this article
Cite this article
Buckingham, K.C., Wu, L. & Lou, Y. Can't See the (Bamboo) Forest for the Trees: Examining Bamboo's Fit Within International Forestry Institutions. AMBIO 43, 770–778 (2014). https://doi.org/10.1007/s13280-013-0466-7
Received:

Revised:

Accepted:

Published:

Issue Date:
Keywords
Bamboo

Forestry

Forest certification

REDD+

Timber legality verification

Institutions