Abstract
The Tonle Sap is the largest wetland in Southeast Asia and one of the world's most productive inland fisheries. The Mekong River inundates the Tonle Sap every year, shaping a mosaic of natural and agricultural habitats. Ongoing hydropower development, however, will dampen the flood pulse that maintains the Tonle Sap. This study established the current underlying relationship among hydrology, vegetation, and human use. We found that vegetation is strongly influenced by flood duration; however, this relationship was heavily distorted by fire, grazing, and rice cultivation. The expected flood pulse alteration will result in higher water levels during the dry season, permanently inundating existing forests. The reduction of the maximum flood extent will facilitate agricultural expansion into natural habitats. This study is the most comprehensive field survey of the Tonle Sap to date, and it provides fundamental knowledge needed to understand the underlying processes that maintain this important wetland.
Access options
Buy single article
Instant access to the full article PDF.
USD 39.95
Price excludes VAT (USA)
Tax calculation will be finalised during checkout.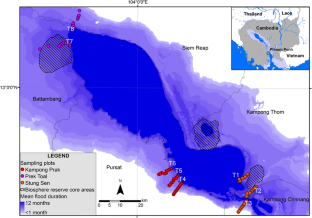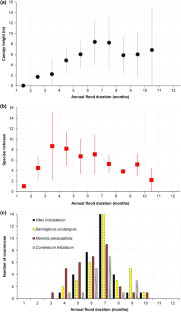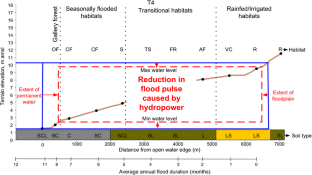 References
Araki, Y., Y. Hirabuki, and D. Powkhy. 2007. Influence of large seasonal water level fluctuations and human impact on the vegetation of the Lake Tonle Sap, Cambodia. In Forest Environments in the Mekong River Basin, ed. H. Sawada, M. Araki, N.A. Chappell, J.V. LaFrankie, and A. Shimizu, 281–294. Dordrecht: Springer.

Arias, M.E., T.A. Cochrane, M. Kummu, T.J. Killeen, T. Piman, and B.S. Caruso. 2012. Quantifying changes in flooding and habitats in the Tonle Sap Lake (Cambodia) caused by water infrastructure development and climate change in the Mekong Basin. Journal of Environmental Management 112: 53–66.

Bowman, D.M.J.S., and L. McDonough. 1991. Tree species distribution across a seasonally flooded elevation gradient in the Australian monsoon tropics. Journal of Biogeography 18: 203–212.

Campbell, I., C. Poole, W. Giesen, and J. Valbo-Jorgensen. 2006. Species diversity and ecology of Tonle Sap Great Lake, Cambodia. Aquatic Sciences—Research Across Boundaries 68: 355–373.

Chave, J., C. Andalo, S. Brown, M.A. Cairns, J.Q. Chambers, D. Eamus, H. Fölster, F. Fromard, N. Higuchi, T. Kira, J.-P. Lescure, B.W. Nelson, H. Ogawa, H. Puig, B. Riéra, and T. Yamakura. 2005. Tree allometry and improved estimation of carbon stocks and balance in tropical forests. Oecologia 145: 87–99.

Cochrane, T.T., and T.A. Cochrane. 2010. Amazon forest and Savanna lands: A guide to the climates, vegetation, landscapes and soils of central tropical South America. Scotts Valley, CA: CreateSpace.

Costa-Cabral, M.C., J.E. Richey, G. Goteti, D.P. Lettenmaier, C. Feldkötter, and A. Snidvongs. 2007. Landscape structure and use, climate, and water movement in the Mekong River basin. Hydrological Processes 22: 1731–1746.

Davidson, P.J. 2006. The biodiversity of the Tonle Sap biosphere reserve: 2005 status review. Phnom Penh: Wildlife Conservation Society.

Dy Phon, P. 2000. Dictionary of plants used in Cambodia, 1st ed. Phnom Penh: Imprimerie Olympic.

FAO. 2006. Guidelines for soil description. Rome: FAO.

Ferreira, L.V., and T.J. Stohlgren. 1999. Effects of river level fluctuation on plant species richness, diversity, and distribution in a floodplain forest in Central Amazonia. Oecologia 120: 582–587.

Finlayson, C.M. 2005. Plant ecology of Australia's tropical floodplain wetlands: A review. Annals of Botany 96: 541–555.

Foti, R., M. del Jesus, A. Rinaldo, and I. Rodriguez-Iturbe. 2012. Hydroperiod regime controls the organization of plant species in wetlands. Proceedings of the National Academy of Sciences of the United States of America 109: 19596–19600.

Furch, K. 1997. Chemistry of Várzea and Igapó soils and nutrient inventory of their floodplain forest. In The central Amazon floodplain: Ecology of a pulsing system, ed. W.J. Junk, 47–67. Berlin: Springer.

Grumbine, R.E., and J. Xu. 2011. Mekong hydropower development. Science 332: 178.

Hellsten, S., E. Jarvenpaa, and T. Dubrorin. 2003. Preliminary observations of floodplain habitats and their relations to hydrology and human impact, modelling of the flow regime and water quality of the Tonle Sap. MRCS/WUP-FIN.

Hortle, K.G. 2007. Consumption and the yield of fish and other aquatic animals from the Lower Mekong Basin (No. MRC Technical Paper No. 16). Vientiane, Lao PDR: Mekong River Commission.

Inomata, H., and K. Fukami. 2008. Restoration of historical hydrological data of Tonle Sap Lake and its surrounding areas. Hydrological Processes 22: 1337–1350.

JICA. 1999. Cambodia reconnaissance survey digital data. Phnom Penh: Japan International Cooperation Agency.

Junk, W.J., and M.T.F. Piedade. 1997. Plant life in the floodplain with special reference to herbaceous plants. In The central Amazon floodplain: Ecology of a pulsing system, ed. W.J. Junk, 147–186. Berlin: Springer.

Junk, W.J., P.B. Bayley, and R.E. Sparks. 1989. The flood pulse concept in river-floodplain systems. In International large river symposium, 110–127. Ottawa: Canadian Special Publication of Fisheries and Aquatic Sciences.

Junk, W.J., M.T. Brown, I.C. Campbell, C.M. Finlayson, B. Gopal, L. Ramberg, and B.G. Warner. 2006. The comparative biodiversity of seven globally important wetlands: A synthesis. Aquatic Sciences—Research Across Boundaries 68: 400–414.

Junk, W.J., S. An, C.M. Finlayson, B. Gopal, J. Květ, S.A. Mitchell, W.J. Mitsch, and R.D. Robarts. 2013. Current state of knowledge regarding the world's wetlands and their future under global climate change: A synthesis. Aquatic Sciences 75: 151–167.

Keskinen, M. 2006. The Lake with floating villages: Socio-economic analysis of the Tonle Sap Lake. International Journal of Water Resources Development 22: 463–480.

Keskinen, M., and O. Varis. 2012. Institutional cooperation at a basin level: For what, by whom? Lessons learned from Cambodia's Tonle Sap Lake. Natural Resources Forum 36: 50–60.

Kummu, M., and J. Sarkkula. 2008. Impact of the Mekong River flow alteration on the Tonle Sap flood pulse. AMBIO 37: 185–192.

Kummu, M., J. Sarkkula, J. Koponen, and J. Nikula. 2006. Ecosystem Management of the Tonle Sap Lake: An integrated modelling approach. International Journal of Water Resources Development 22: 497–519.

Kummu, M., X.X. Lu, J.J. Wang, and O. Varis. 2010. Basin-wide sediment trapping efficiency of emerging reservoirs along the Mekong. Geomorphology 119: 181–197.

Lamberts, D. 2006. The Tonle Sap Lake as a productive ecosystem. International Journal of Water Resources Development 22: 481–495.

Lauri, H., H. de Moel, P.J. Ward, T.A. Räsänen, M. Keskinen, and M. Kummu. 2012. Future changes in Mekong River hydrology: Impact of climate change and reservoir operation on discharge. Hydrology and Earth System Sciences 16: 4603–4619.

Lepš, J., and P. Šmilauer. 2003. Multivariate analysis of ecological data using CANOCO. Cambridge: Cambridge University Press.

McDonald, J.A., P. Bunnat, P. Virak, and L. Bunton. 1997. Plant communities of the Tonle Sap floodplain. UNESCO/IUCN/WI.

Milzow, C., V. Burg, and W. Kinzelbach. 2010. Estimating future ecoregion distributions within the Okavango Delta Wetlands based on hydrological simulations and future climate and development scenarios. Journal of Hydrology 381: 89–100.

MRC. 2005. Overview of the hydrology of the Mekong Basin. Vientiane: MRC.

MRC. 2010. Impacts on the Tonle Sap Ecosystem (No. Technical Note 10), assessment of basin-wide development scenarios. Basin Development Plan Programme, Phase 2. Vientiane, Lao PDR: Mekong River Commission.

Mubyana, T., M. Krah, O. Totolo, and M. Bonyongo. 2003. Influence of seasonal flooding on soil total nitrogen, organic phosphorus and microbial populations in the Okavango Delta, Botswana. Journal of Arid Environments 54: 359–369.

Murray-Hudson, M. 2009. Floodplain vegetation responses to flood regime in the seasonal Okavango Delta, Botswana. PhD thesis. University of Florida, Environmental Engineering Sciences, Gainesville, FL, USA.

Murray-Hudson, M., F. Combs, P. Wolski, and M.T. Brown. 2011. A vegetation-based hierarchical classification for seasonally pulsed floodplains in the Okavango Delta, Botswana. African Journal of Aquatic Science 36: 223–234.

Parolin, P., and F. Wittmann. 2010. Struggle in the flood: Tree responses to flooding stress in four tropical floodplain systems. AoB Plants 2010. doi:10.1093/aobpla/plq003.

Parolin, P., L.V. Ferreira, A.L.K.M. Albernaz, and S.S. Almeida. 2004. Tree species distribution in Várzea forests of Brazilian Amazonia. Folia Geobotanica 39: 371–383.

Ter Braak, C.J.F. 1986. Canonical correspondence analysis: A new eigenvector technique for multivariate direct gradient analysis. Ecology 67: 1167–1179.

Todd, M.J., R. Muneepeerakul, D. Pumo, S. Azaele, F. Miralles-Wilhelm, A. Rinaldo, and I. Rodriguez-Iturbe. 2010. Hydrological drivers of wetland vegetation community distribution within Everglades National Park, Florida. Advances in Water Resources 33: 1279–1289.

Warfe, D.M., N.E. Pettit, P.M. Davies, B.J. Pusey, S.K. Hamilton, M.J. Kennard, S.A. Townsend, P. Bayliss, D.P. Ward, M.M. Douglas, M.A. Burford, M. Finn, S.E. Bunn, and I.A. Halliday. 2011. The "wet–dry" in the wet–dry tropics drives river ecosystem structure and processes in northern Australia. Freshwater Biology 56: 2169–2195.

Worbes, M. 1997. The forest ecosystem of the floodplains. In The central Amazon floodplain: Ecology of a pulsing system, ed. W.J. Junk, 223–266. Berlin: Springer.

Xu, J., R.E. Grumbine, A. Shrestha, M. Eriksson, X. Yang, Y. Wang, and A. Wilkes. 2009. The Melting Himalayas: Cascading effects of climate change on water, biodiversity, and livelihoods. Conservation Biology 23: 520–530.

Ziv, G., E. Baran, S. Nam, I. Rodriguez-Iturbe, and S.A. Levin. 2012. Trading-off fish biodiversity, food security, and hydropower in the Mekong River Basin. Proceedings of the National Academy of Sciences of the United States of America 109: 5609–5614.
Acknowledgments
Funding was provided by the University of Canterbury International Student Doctoral Scholarship and a grant by the Critical Ecosystem Partnership Fund entitled "River at Risk: Modeling and monitoring the potential impacts from large-scale disruptions to the hydrological cycles of the Mekong River Basin." Special thanks also to Conservation International-Cambodia for providing in-country coordination, Cambodia Ministry of Environment for field support, and Mariana Esteves, Phanny Sros, Thanapon Piman, and Taber Hand for field assistance. Comments from peer reviewers were also extremely helpful in improving this paper.
Electronic supplementary material
Below is the link to the electronic supplementary material.
About this article
Cite this article
Arias, M.E., Cochrane, T.A., Norton, D. et al. The Flood Pulse as the Underlying Driver of Vegetation in the Largest Wetland and Fishery of the Mekong Basin. AMBIO 42, 864–876 (2013). https://doi.org/10.1007/s13280-013-0424-4
Received:

Revised:

Accepted:

Published:

Issue Date:

DOI: https://doi.org/10.1007/s13280-013-0424-4
Keywords
Cambodia

Ecohydrology

Wetlands

Tropical floodplain vegetation