Abstract
In many regions around the world, wildlife impacts on people (e.g., crop raiding, attacks on people) engender negative attitudes toward wildlife. Negative attitudes predict behaviors that undermine wildlife management and conservation efforts (e.g., by exacerbating retaliatory killing of wildlife). Our study (1) evaluated attitudes of local people toward the globally endangered tiger (Panthera tigris) in Nepal's Chitwan National Park; and (2) modeled and mapped spatial clusters of attitudes toward tigers. Factors characterizing a person's position in society (i.e., socioeconomic and cultural factors) influenced attitudes toward tigers more than past experiences with tigers (e.g., livestock attacks). A spatial cluster of negative attitudes toward tigers was associated with concentrations of people with less formal education, people from marginalized ethnic groups, and tiger attacks on people. Our study provides insights and descriptions of techniques to improve attitudes toward wildlife in Chitwan and many regions around the world with similar conservation challenges.
This is a preview of subscription content, log in to check access.
Access options
Buy single article
Instant access to the full article PDF.
US$ 39.95
Price includes VAT for USA
Subscribe to journal
Immediate online access to all issues from 2019. Subscription will auto renew annually.
US$ 99
This is the net price. Taxes to be calculated in checkout.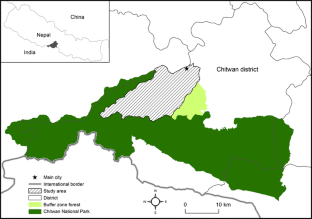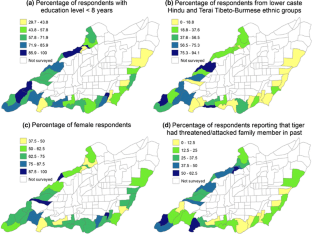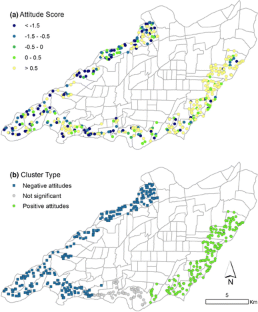 References
Agrawal, A., and E. Ostrom. 2001. Collective action, property rights, and decentralization in resource use in India and Nepal. Politics & Society 29: 485.

Aguilar, G.D., and M.J. Farnworth. 2012. Stray cats in Auckland, New Zealand: Discovering geographic information for exploratory spatial analysis. Applied Geography 34: 230–238.

Arjunan, M., C. Holmes, J.P. Puyravaud, and P. Davidar. 2006. Do developmental initiatives influence local attitudes toward conservation? A case study from the Kalakad–Mundanthurai Tiger Reserve, India. Journal of Environmental Management 79: 188–197.

Axinn, W.G., and D.J. Ghimire. 2007. Social organization, population, and land use. Population Studies Center, Institute for Social Research, University of Michigan, MI, USA.

Barber, J.S., G.P. Shivakoti, W.G. Axinn, and K. Gajurel. 1997. Sampling strategies for rural settings: A detailed example from the Chitwan Valley Family Study, Nepal. Nepal Population Journal 6: 193–203.

Bearer, S., M. Linderman, J. Huang, L. An, G. He, and J. Liu. 2008. Effects of fuelwood collection and timber harvesting on giant panda habitat use. Biological Conservation 141: 385–393.

Biddlecom, A.E., W.G. Axinn, and J.S. Barber. 2005. Environmental effects on family size preferences and subsequent reproductive behavior in Nepal. Population and Environment 26: 583–621.

Bjerke, T., J. Vitterso, and B.P. Kaltenborn. 2000. Locus of control and attitudes toward large carnivores. Psychological Reports 86: 37–46.

Bohra, P., and D.S. Massey. 2009. Processes of internal and international migration from Chitwan, Nepal. International Migration Review 43: 621–651.

Bowman, J.L., B.D. Leopold, F.J. Vilella, D.A. Gill, and H.A. Jacobson. 2001. Attitudes of landowners toward American black bears compared between areas of high and low bear populations. Ursus 12: 153–160.

Bowman, J.L., B.D. Leopold, F.J. Vilella, and D.A. Gill. 2004. A spatially explicit model, derived from demographic variables, to predict attitudes toward black bear restoration. Journal of Wildlife Management 68: 223–232.

Carter, N.H., S.J. Riley, and J. Liu. 2012a. Utility of a psychological framework for carnivore conservation. Oryx 46: 525–535.

Carter, N.H., B.K. Shrestha, J.B. Karki, N.M.B. Pradhan, and J. Liu. 2012b. Coexistence between wildlife and humans at fine spatial scales. Proceedings of the National Academy of Sciences of the United States of America 109: 15360–15365.

Chardonnet, P., B. Soto, H. Fritz, W. Crosmary, N. Drouet-Hoguet, P. Mésochina, M. Pellerin, D. Mallon, L. Bakker, and H. Boulet. 2010. Managing the conflicts between people and lion: Review and insights from the literature and field experience. Food and Agriculture Organization of the United Nations. Wildlife Management Working Paper 13.

Cronbach, L.J. 1951. Coefficient alpha and the internal structure of tests. Psychometrika 16: 297–334.

Dickman, A.J., E.A. Macdonald, and D.W. Macdonald. 2011. A review of financial instruments to pay for predator conservation and encourage human–carnivore coexistence. Proceedings of the National Academy of Sciences of the United States of America 108: 13937–13944.

Dirgha, J., and W.G. Axinn. 2006. Family change in Nepal: Evidence from western Chitwan. Contributions to Nepalese Studies 33: 177–201.

Eagly, A.H., and S. Chaiken. 1993. The psychology of attitudes. Fort Worth, TX: Harcourt Brace Jovanovich College Publishers.

Ericsson, G., and T.A. Heberlein. 2003. Attitudes of hunters, locals, and the general public in Sweden now that the wolves are back. Biological Conservation 111: 149–159.

Fulton, D.C., M.J. Manfredo, and J. Lipscomb. 1996. Wildlife value orientations: A conceptual and measurement approach. Human Dimensions of Wildlife 1: 24–47.

Gadd, M.E. 2005. Conservation outside of parks: Attitudes of local people in Laikipia, Kenya. Environmental Conservation 32: 50–63.

Getis, A., and J. Ord. 1992. The analysis of spatial association by use of distance statistics. Geographical Analysis 24: 189–206.

Gillingham, S., and P.C. Lee. 1999. The impact of wildlife-related benefits on the conservation attitudes of local people around the Selous Game Reserve, Tanzania. Environmental Conservation 26: 218–228.

Government of Nepal. 1993. Fourth amendment to the national parks and wildlife conservation act (2029). Nepal Gazette, 43(Suppl.).

Gurung, B., J.L.D. Smith, C. McDougal, J.B. Karki, and A. Barlow. 2008. Factors associated with human-killing tigers in Chitwan National Park, Nepal. Biological Conservation 141: 3069–3078.

Gurung, B., K.C. Nelson, and J.L.D. Smith. 2009. Impact of grazing restrictions on livestock composition and husbandry practices in Madi Valley, Chitwan National Park, Nepal. Environmental Conservation 36: 338–347.

Heinen, J.T. 1993. Park-people relations in Kosi Tappu Wildlife Reserve, Nepal: A socio-economic analysis. Environmental Conservation 20: 25–34.

Inskip, C., and A. Zimmermann. 2009. Human-felid conflict: A review of patterns and priorities worldwide. Oryx 43: 18–34.

Karlsson, J., and M. Sjöström. 2007. Human attitudes towards wolves, a matter of distance. Biological Conservation 137: 610–616.

Karlsson, J., and M. Sjöström. 2011. Subsidized fencing of livestock as a means of increasing tolerance for wolves. Ecology and Society 16: 16.

Kellert, S.R., and J.K. Berry. 1987. Attitudes, knowledge, and behaviors toward wildlife as affected by gender. Wildlife Society Bulletin 15: 363–371.

Kissui, B.M. 2008. Livestock predation by lions, leopards, spotted hyenas, and their vulnerability to retaliatory killing in the Maasai steppe, Tanzania. Animal Conservation 11: 422–432.

Laurie, A. 1982. Behavioural ecology of the Greater one horned rhinoceros (Rhinoceros unicornis). Journal of Zoology 196: 307–341.

Lepczyk, C.A., C.H. Flather, V.C. Radeloff, A.M. Pidgeon, R.B. Hammer, and J. Liu. 2008. Human impacts on regional avian diversity and abundance. Conservation Biology 22: 405–416.

Linderman, M.A., L. An, S. Bearer, G. He, Z. Ouyang, and J. Liu. 2005. Modeling the spatio-temporal dynamics and interactions of households, landscapes, and giant panda habitat. Ecological Modelling 183: 47–65.

Liu, J., T. Dietz, S.R. Carpenter, M. Alberti, C. Folke, E. Moran, A.N. Pell, P. Deadman, et al. 2007. Complexity of coupled human and natural systems. Science 317: 1513–1516.

Liu, J., V. Hull, A.T. Morzillo, and J.A. Wiens (eds.). 2011. Sources, sinks and sustainability. New York: Cambridge University Press.

Massey, D.S., N. Williams, W.G. Axinn, and D.J. Ghimire. 2010. Community services and out-migration. International Migration 48: 1–41.

McCullagh, P., and J.A. Nelder. 1989. Generalized linear models. Boca Raton, FL: Chapman & Hall/CRC.

Mehta, J.N., and S.R. Kellert. 1998. Local attitudes toward community-based conservation policy and programmes in Nepal: A case study in the Makalu-Barun Conservation Area. Environmental Conservation 25: 320–333.

Milliken, T., R.H. Emslie, and B. Talukdar. 2009. African and Asian Rhinoceroses—Status, conservation and trade. IUCN Species Survival Commission Report (CoP15 Doc. 45.1 Annex).

Moran, P.A.P. 1950. Notes on continuous stochastic phenomena. Biometrika 37: 17–23.

Morzillo, A.T., and M.D. Schwartz. 2011. Landscape characteristics affect animal control by urban residents. Ecosphere 2. doi:10.1890/ES1811-00120.00121.

Morzillo, A.T., A.G. Mertig, N. Garner, and J. Liu. 2007. Spatial distribution of attitudes toward proposed management strategies for a wildlife recovery. Human Dimensions of Wildlife 12: 15–29.

Morzillo, A.T., A.G. Mertig, J.W. Hollister, N. Garner, and J. Liu. 2010. Socioeconomic factors affecting local support for black bear recovery strategies. Environmental Management 45: 1299–1311.

Muter, B.A., M.L. Gore, and S.J. Riley. 2013. Social contagion of risk perceptions in environmental management networks. Risk Analysis. doi:10.1111/j.1539-6924.2012.01936.x.

Naughton-Treves, L., and A. Treves. 2005. Socio-ecological factors shaping local support for wildlife: Crop-raiding by elephants and other wildlife in Africa. In People and wildlife: Conflict or co-existence?, ed. R. Woodroffe, S. Thirgood, and A. Rabinowitz, 252–277. New York: Cambridge University Press.

Naughton-Treves, L., R. Grossberg, and A. Treves. 2003. Paying for tolerance: Rural citizens' attitudes toward wolf depredation and compensation. Conservation Biology 17: 1500–1511.

Nepal Central Bureau of Statistics. 2012. Nepal census information site. https://sites.google.com/site/nepalcensus. Accessed 1 Aug 2011.

Nepal, S.K., and K.E. Weber. 1995. Prospects for coexistence: Wildlife and local people. AMBIO 24: 238–245.

Nepal Survey Department. 1996. Ministry of land reform and management. Survey Department. http://www.dos.gov.np. Accessed 15 May 2012.

Newmark, W.D., N.L. Leonard, H.I. Sariko, and D.-G.M. Gamassa. 1993. Conservation attitudes of local people living adjacent to five protected areas in Tanzania. Biological Conservation 63: 177–183.

Nyhus, P.J., S.A. Osofsky, P. Ferraro, F. Madden, and H. Fischer. 2005. Bearing the costs of human–wildlife conflict: The challenges of compensation schemes. In People and wildlife: Conflict or co-existence?, ed. R. Woodroffe, S. Thirgood, and A. Rabinowitz, 107–121. New York: Cambridge University Press.

O'Brien, R.M. 2007. A caution regarding rules of thumb for variance inflation factors. Quality & Quantity 41: 673–690.

Ogada, M.O., R. Woodroffe, N.O. Oguge, and L.G. Frank. 2003. Limiting depredation by African carnivores: The role of livestock husbandry. Conservation Biology 17: 1521–1530.

Riley, S.J., and D.J. Decker. 2000a. Risk perception as a factor in wildlife stakeholder acceptance capacity for cougars in Montana. Human Dimensions of Wildlife 5: 50–62.

Riley, S.J., and D.J. Decker. 2000b. Wildlife stakeholder acceptance capacity for cougars in Montana. Wildlife Society Bulletin 28: 931–939.

Romañach, S.S., P.A. Lindsey, and R. Woodroffe. 2007. Determinants of attitudes towards predators in central Kenya and suggestions for increasing tolerance in livestock dominated landscapes. Oryx 41: 185–195.

Saberwal, V.K., J.P. Gibbs, R. Chellam, and A.J.T. Johnsingh. 1994. Lion–human conflict in the Gir forest, India. Conservation Biology 8: 501–507.

Sharma, U.R. 1990. An overview of park–people interactions in Royal Chitwan National Park, Nepal. Landscape and Urban Planning 19: 133–144.

Sirkin, R.M. 2005. Statistics for the social sciences. Thousand Oaks, CA: SAGE.

Sitati, N.W., M.J. Walpole, R.J. Smith, and N. Leader Williams. 2003. Predicting spatial aspects of human–elephant conflict. Journal of Applied Ecology 40: 667–677.

UNDP. 2007. Final evaluation: Landscape-scale conservation of the endangered tiger and rhino populations in and around Chitwan National Park. United Nations Development Programme.

United Nations. 2010. World population prospects: The 2010 revision. http://esa.un.org/wpp/unpp/panel_population.htm. Accessed 1 Aug 2012.

Walston, J., J.G. Robinson, E.L. Bennett, U. Breitenmoser, G.A.B. da Fonseca, J. Goodrich, M. Gumal, L. Hunter, A. Johnson, and K.U. Karanth. 2010. Bringing the tiger back from the brink—The six percent solution. PLoS Biology 8: 493–506.

Wang, S.W., J.P. Lassoie, and P.D. Curtis. 2006. Farmer attitudes towards conservation in Jigme Singye Wangchuck National Park, Bhutan. Environmental Conservation 33: 148–156.

Wikramanayake, E., E. Dinerstein, J. Seidensticker, S. Lumpkin, B. Pandav, M. Shrestha, H. Mishra, J. Ballou, et al. 2011. A landscape based conservation strategy to double the wild tiger population. Conservation Letters 4: 219–227.

Williams, C.K., G. Ericsson, and T.A. Heberlein. 2002. A quantitative summary of attitudes toward wolves and their reintroduction (1972–2000). Wildlife Society Bulletin 30: 575–584.

Woodroffe, R. 2001. Strategies for carnivore conservation: Lessons from contemporary extinctions. In Carnivore conservation, ed. J.L. Gittleman, S. Funk, D.W. Macdonald, and R.K. Wayne, 61–92. New York: Cambridge University Press.

Woodroffe, R., and J.R. Ginsberg. 1998. Edge effects and the extinction of populations inside protected areas. Science 280: 2126–2128.

Woodroffe, R., S. Thirgood, and A. Rabinowitz (eds.). 2005. People and wildlife: Conflict or co-existence?. New York: Cambridge University Press.

World Bank. 2011. World development report 2012: Gender equality and development. The International Bank for Reconstruction and Development/The World Bank.

Yabiku, S.T. 2005. The effect of non-family experiences on age of marriage in a setting of rapid social change. Population Studies 59: 339–354.

Zimmermann, A., N. Baker, C. Inskip, J.D.C. Linnell, S. Marchini, J. Odden, G. Rasmussen, and A. Treves. 2010. Contemporary views of human–carnivore conflicts on wild rangelands. In Wild rangelands: Conserving wildlife while maintaining livestock in semi-arid ecosystems, eds. J. du Toit, R. Kock, and J. Deutsch, 129. Oxford: Wiley-Blackwell.

Zimmermann, A., M. Walpole, and N. Leader-Williams. 2005. Cattle ranchers' attitudes to conflicts with jaguars in the Pantanal of Brazil. Oryx 39: 1–7.

Zinn, H.C., M.J. Manfredo, and J.J. Vaske. 2000. Social psychological bases for stakeholder acceptance capacity. Human Dimensions of Wildlife 5: 20–33.
Acknowledgments
We acknowledge our colleagues in the Center for Systems Integration and Sustainability at Michigan State University and the Institute for Social and Environmental Research-Nepal in Chitwan for their contributions to this article. Research was supported by a grant from the US Fish and Wildlife Service Rhinoceros and Tiger Conservation Fund, National Science Foundation (Partnerships in International Research and Education, Dynamics of Coupled Natural and Human Systems Program), and fellowships from Michigan State University and NASA's Earth and Space Science program. We thank two anonymous reviewers for helpful comments on earlier drafts of this paper.
About this article
Cite this article
Carter, N.H., Riley, S.J., Shortridge, A. et al. Spatial Assessment of Attitudes Toward Tigers in Nepal. AMBIO 43, 125–137 (2014). https://doi.org/10.1007/s13280-013-0421-7
Received:

Revised:

Accepted:

Published:

Issue Date:
Keywords
Coexistence

Conservation

Coupled human and natural systems

Human dimensions

Human–wildlife conflict