Abstract
Interdisciplinary scientific knowledge is necessary but not sufficient when it comes to addressing sustainable transformations, as science increasingly has to deal with normative and value-related issues. A systems perspective on coupled human–environmental systems (HES) helps to address the inherent complexities. Additionally, a thorough interaction between science and society (i.e., transdisciplinarity = TD) is necessary, as sustainable transitions are sometimes contested and can cause conflicts. In order to navigate complexities regarding the delicate interaction of scientific research with societal decisions these processes must proceed in a structured and functional way. We thus propose HES-based TD processes to provide a basis for reorganizing science in coming decades.
Access options
Buy single article
Instant access to the full article PDF.
USD 39.95
Price excludes VAT (USA)
Tax calculation will be finalised during checkout.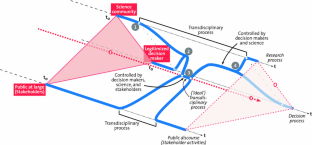 Notes
There are several other notions of science–society interaction, for instance action research, consultancy, and participatory research; for an overview cf. chapter 15 of Scholz (2011).
References
Barth, M., J. Godemann, M. Rieckmann, and U. Stoltenberg. 2007. Developing key competencies for sustainable development in higher education. International Journal of Sustainability in Higher Education 8: 416–430. doi:10.1108/14676370710823582.

Clark, W.C., and N.M. Dickson. 2003. Sustainability science: The emerging research program. Proceedings of the National Academy of Sciences of the United States of America 100: 8059–8061. doi:10.1073/pnas.1231333100.

Cundill, G., and R. Rodela. 2012. A review of assertions about the processes and outcomes of social learning in natural resource management. Journal of Environmental Management 113: 7–14. doi:10.1016/j.jenvman.2012.08.021.

Folke, C. 2006. Resilience: The emergence of a perspective for social–ecological systems analyses. Global Environmental Change-Human and Policy Dimensions 16: 253–267. doi:10.1016/j.gloenvcha.2006.04.002.

Funtowicz, S.O., and J.R. Ravetz. 2001. Global risk, uncertainty, and ignorance. In Global environmental risks, ed. J.X. Kasperson, and R.E. Kasperson, 173–194. London: Earthscan.

Gibbons, M. 1999. Science's new social contract with society. Nature 402: C81–C84.

Gibbons, M., H. Nowotny, and C. Limoges. 1994. The new production of knowledge: The dynamics of science and research in contemporary societies. London: Sage.

Gunderson, L., and C.S. Holling. 2002. Panarchy: Understanding transformations in human and natural systems. Washington, DC: Island Press.

Guston, D.H. 2001. Boundary organizations in environmental policy and science: An introduction. Science, Technology and Human Values 26: 399–408.

Haberl, H., M. Fischer-Kowalski, F. Krausmann, H. Weisz, and V. Winiwarter. 2004. Progress towards sustainability? What the conceptual framework of material and energy flow accounting (MEFA) can offer. Land Use Policy 21: 199–213. doi:10.1016/j.landusepol.2003.10.013.

Habermas, J. 1984. The theory of communicative action (Vol. 1: Reason and the rationalization of society). Boston: Beacon Press.

Hukkinen, J., L. Müller-Wille, P. Aikio, H. Heikkinen, O. Jääskö, A. Laakso, H. Magga, S. Nevalainen, et al. 2006. Development of participatory institutions for reindeer management in Finland: A diagnosis of deliberation, knowledge integration and sustainability. In Reindeer Management in northernmost Europe. Ecological Studies 184, ed. B. Forbes, M. Bölter, L. Müller-Wille, J. Hukkinen, F. Müller, N. Gunslay, and Y. Konstantinov, 47–71. Berlin: Springer.

Jantsch, E. 1970. Inter- and transdisciplinary university: A systems approach to education and innovation. Higher Education Quarterly 1: 7–37. doi:10.1007/BF00145222.

Krütli, P., T. Flüeler, M. Stauffacher, A. Wiek, and R.W. Scholz. 2010a. Technical safety vs. public involvement? A case study on the unrealized project for the disposal of nuclear waste at Wellenberg (Switzerland). Journal of Integrative Environmental Sciences 7: 229–244. doi:10.1080/1943815x.2010.506879.

Krütli, P., M. Stauffacher, T. Flüeler, and R.W. Scholz. 2010b. Functional-dynamic public participation in technological decision-making: Site selection processes of nuclear waste repositories. Journal of Risk Research 13: 861–875. doi:10.1080/13669871003703252.

Leshner, A. 2002. Science and sustainability. Science 297: 897. doi:10.1126/science.297.5583.897.

Liu, J., T. Dietz, S.R. Carpenter, C. Folke, M. Alberti, C.L. Redman, S.H. Schneider, E. Ostrom, et al. 2007a. Coupled human and natural systems. AMBIO 36: 639–649.

Liu, J.G., T. Dietz, S.R. Carpenter, M. Alberti, C. Folke, E. Moran, A.N. Pell, P. Deadman, et al. 2007b. Complexity of coupled human and natural systems. Science 317: 1513–1516. doi:10.1126/science.1144004.

Martens, P., N. Roorda, and R. Cörvers. 2010. Sustainability, science, and higher education—The need for new paradigms. Sustainability 3: 294–303. doi:10.1089/SUS.2010.9744.

McMichael, A.J., C.D. Butler, and C. Folke. 2003. New visions for addressing sustainability. Science 302: 1919–1920. doi:10.1126/science.1090001.

Mostashari, A., and J. Sussman. 2009. Framework for analysis, design and management of complex large-scale interconnected open socio-technological systems. International Journal of Decision Support System Technology 52–68. doi:10.4018/jdsst.2009040104.

Nowotny, H. 2003. Democratising expertise and socially robust knowledge. Science and Public Policy 30: 151–156. doi:10.3152/147154303781780461.

Ostrom, E. 2009. A general framework for analyzing sustainability of social–ecological systems. Science 325: 419–422. doi:10.1126/science.1172133.

Raven, P.H. 2002. Science, sustainability, and the human prospect. Science 297: 954–958. doi:10.1126/science.297.5583.954.

Reid, L., P. Sutton, and C. Hunter. 2010a. Theorizing the meso level: The household as a crucible of pro-environmental behaviour. Progress in Human Geography 34: 309–327. doi:10.1177/0309132509346994.

Reid, W.V., D. Chen, L. Goldfarb, H. Hackmann, Y.T. Lee, K. Mokhele, E. Ostrom, K. Raivio, et al. 2010b. Earth system science for global sustainability: Grand challenges. Science 330: 916–917. doi:10.1126/science.1196263.

Rowe, D. 2007. Education for a sustainable future. Science 317: 323–324. doi:10.1126/science.1143552.

Ruddiman, W.F. 2003. The anthropogenic greenhouse era began thousands of years ago. Climatic Change 61: 261–293. doi:10.1023/B:CLIM.0000004577.17928.fa.

Ruddiman, W.F. 2007. The early anthropogenic hypothesis: Challenges and responses. Reviews of Geophysics 45: 1–37. doi:10.1029/2006RG000207.

Scholz, R.W. 2011. Environmental literacy in science and society: From knowledge to decisions. Cambridge: Cambridge University Press.

Scholz, R.W., D.J. Lang, A. Wiek, A.I. Walter, and M. Stauffacher. 2006. Transdisciplinary case studies as a means of sustainability learning. International Journal of Sustainability in Higher Education 7: 226–251. doi:10.1108/14676370610677829.

Scholz, R. W., A. Roy, F. S. Brand, D. T. Hellums, and A. E. Ullrich (eds.). in preparation. In Sustainable phosphorus management: A transdisciplinary roadmap. New York: Springer.

Scholz, R.W., and M. Stauffacher. 2007. Managing transition in clusters: Area development negotiations as a tool for sustaining traditional industries in a Swiss prealpine region. Environment and Planning A 39: 2518–2539. doi:10.1068/a38318.

Scholz, R.W., and O. Tietje. 2002. Embedded case study methods: Integrating quantitative and qualitative knowledge. Thousand Oaks: Sage.

Seidl, R., and Q.B. Le. 2012. Modelling human–environment systems in transdisciplinary processes. In International Congress on Environmental Modelling and Software: Managing Resources of a Limited Planet. International Environmental Modelling and Software Society (iEMSs), Sixth Biennial Meeting, Leipzig, Germany, ed. R. Seppelt, A.A. Voinov, S. Lange, and D. Bankamp, 1811–1818.

Stauffacher, M., T. Flüeler, P. Krütli, and R.W. Scholz. 2008. Analytic and dynamic approach to collaboration: A transdisciplinary case study on sustainable landscape development in a Swiss Prealpine region. Systemic Practice and Action Research 21: 409–422. doi:10.1007/s11213-008-9107-7.

Stauffacher, M., A. Walter, D.J. Lang, A. Wiek, and R.W. Scholz. 2006. Learning to research environmental problems from a functional socio-cultural constructivism perspective: The transdisciplinary case study approach. International Journal of Sustainability in Higher Education 7: 252–275. doi:10.1108/14676370610677838.

Steffen, W., Å. Persson, L. Deutsch, J. Zalasiewicz, M. Williams, K. Richardson, C. Crumley, P. Crutzen, et al. 2011. The Anthropocene: From global change to planetary stewardship. AMBIO 40: 739–761. doi:10.1007/s13280-011-0185-x.

Thompson Klein, J., W. Grossenbacher-Mansuy, R. Häberli, A. Bill, R.W. Scholz, and M. Welti (eds.). 2001. Transdisciplinarity: Joint problem solving among science, technology, and society. An effective way for managing complexity. Basel: Birkhäuser.

Walter, A.I., S. Helgenberger, A. Wiek, and R.W. Scholz. 2007. Measuring societal effects of transdisciplinary research projects: Design and application of an evaluation method. Evaluation and Program Planning 30: 325–338. doi:10.1016/j.evalprogplan.2007.08.002.

Westley, F., P. Olsson, C. Folke, T. Homer-Dixon, H. Vredenburg, D. Loorbach, J. Thompson, M. Nilsson, et al. 2011. Tipping toward sustainability: Emerging pathways of transformation. AMBIO 40: 762–780. doi:10.1007/s13280-011-0186-9.

Wiek, A., B. Ness, P. Schweizer-Ries, F.S. Brand, and F. Farioli. 2012. From complex systems analysis to transformational change: A comparative appraisal of sustainability science projects. Sustainability Science 7: 5–24. doi:10.1007/s11625-011-0148-y.

Wiek, A., L. Withycombe, and C.L. Redman. 2011. Key competencies in sustainability: A reference framework for academic program development. Sustainability Science 1–16. doi:10.1007/s11625-011-0132-6.
Acknowledgments
The authors thank Ralf Seppelt and Ulli Vilsmaier for comments on an earlier draft and Sandro Bösch for developing the figures in their current form. We thank Heather Murray for English language editing.
About this article
Cite this article
Seidl, R., Brand, F.S., Stauffacher, M. et al. Science with Society in the Anthropocene. AMBIO 42, 5–12 (2013). https://doi.org/10.1007/s13280-012-0363-5
Received:

Revised:

Accepted:

Published:

Issue Date:

DOI: https://doi.org/10.1007/s13280-012-0363-5
Keywords
Transdisciplinarity

Human–environment systems

Science and society

Local–global scales