Abstract
A coastal community vulnerability index (CCVI) was constructed to evaluate the vulnerability of coastal communities (Buhangin, Pingit, Reserva, Sabang, and Zabali) in the municipality of Baler, Aurora, Philippines. This index was composed of weighted averages of seven vulnerability factors namely geographical, economic and livelihood, food security, environmental, policy and institutional, demographic, and capital good. Factor values were computed based on scores that described range of conditions that influence communities' susceptibility to hazard effects. Among the factors evaluated, economic and livelihood, policy and institutional and food security contributed to CCVI across communities. Only small variations on CCVI values (i.e., 0.47–0.53) were observed as factor values cancelled out one another during combination process. Overall, Sabang received the highest CCVI, which was contributed mainly by geographical and demographic factors. This technique to determine factors that influenced communities' vulnerability can provide information for local governments in enhancing policies on risk mitigation and adaptation.
Access options
Buy single article
Instant access to the full article PDF.
USD 39.95
Price excludes VAT (USA)
Tax calculation will be finalised during checkout.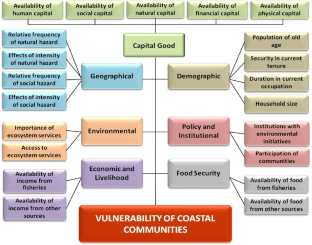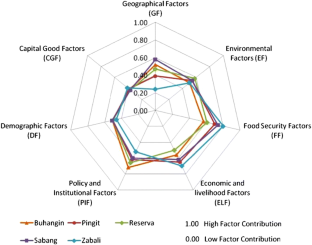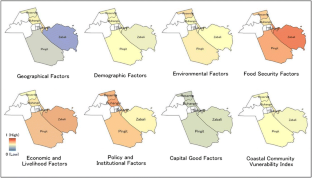 References
Adger, W.N., T. Hughes, C. Folke, S.R. Carpenter, and J. Rockstrom. 2005. Social-ecological resilience to coastal disasters. Science 309: 1036–1039.

Birkmann, J. (ed.). 2006. Measuring vulnerability to natural hazards: Towards disaster resilient societies. Tokyo: United Nations University Press.

Boesch, D.F., J.C. Field, and D. Scavia, eds. 2000. The potential consequences of climate variability and change on coastal areas and marine resources: Report of the Coastal Areas and Marine Resources Sector Team, US National Assessment of the Potential Consequences of Climate Variability and Change, US Global Change Research Program. NOAA Coastal Ocean Program Decision Analysis Series No. # 21. NOAA Coastal Ocean Program, Silver Spring, MD, 163 pp.

Brooks, N., W.N. Adger, and P.M. Kelly. 2005. The determinants of vulnerability and adaptive capacity at the national level and the implications for adaptation. Global Environmental Change 15: 151–163.

Buckle, P., G. Marsh, and S. Smale. 2001. Assessing resilience and vulnerability: Principles, strategies and actions. Emergency Management Australia: Project 15/2000.

Creel, L. 2003. Ripple effects: Population and coastal regions. Making the link. Population Reference Bureau. Washington, DC 20009 USA, 8 pp.

Cutter, S.L. 1996. Societal vulnerability to environmental hazards. International Social Science Journal 47: 525–536.

Cutter, S.L., and C. Finch. 2008. Temporal and spatial changes in social vulnerability to natural hazards. Proceedings of the National Academy of Sciences of the United States of America 105: 2301–2306.

Cutter, S.L., B.J. Boruff, and W.L. Shirley. 2003. Social vulnerability to environmental hazards. Social Science 84: 242–261.

DFID. 2000. Sustainable livelihoods—current thinking and practice. London: Department for International Development.

Dwyer, A., C. Zoppou, O. Nielsen, S. Day, and S. Roberts. 2004. Quantifying social vulnerability: A methodology for identifying those at risk to natural hazards. Geoscience Australia Record 2004/14.

Eakin, H., and A.L. Luers. 2006. Assessing the vulnerability of social–environmental systems. Annual Review of Environment and Resources 31: 365–394.

Fekete, A., M. Damm, and J. Birkmann. 2009. Scales as a challenge for vulnerability assessment. Natural Hazards 55: 729–747.

Fussel, H.-M. 2009. Review and quantitative analysis of indices of climate change exposure, adaptive capacity and impacts. Development and climate change: Background Note to the World Development Report 2010, 35 pp.

Fussel, H.-M., and R.J.T. Klein. 2006. Climate change vulnerability assessments: An evolution of conceptual thinking. Climatic Change 75: 301–329.

Garatwa, W., and C. Bolin. 2002. Disaster risk management: Working concept. Eschborn: Deutsche Gesselschaft fur Technische Zusammenarbeit (GTZ). Retrieved April 2012 from http://www2.gtz.de/dokumente/bib/02-5001.pdf.

Grant, F., J. Young, P. Harrison, M. Sykes, M. Skourtos, M. Rounsevell, T. Kluvánková-Oravská, J. Settele et al. 2008. Ecosystem services and drivers of biodiversity change. Report of the RUBICODE E-Conference, April 2008.

Gravley, D. 2001. Risk, hazard and disaster, University of Canterbury. Retrieved April 2012 from http://homepages.uc.edu/~huffwd/Volcanic_HazardRisk/Gravley.pdf.

Hahn, M., A. Reiderer, and S. Foster. 2009. The livelihood vulnerability index: A pragmatic approach to assessing risks from climate variability and change—a case study in Mozambique. Global Environmental Change 19: 74–88.

Hiete, M., and M. Merz. 2009. An indicator framework to assess the vulnerability of industrial sectors against indirect disaster losses. In Proceedings of the 6th International ISCRAM Conference—Gothenburg, Sweden.

Hufschmidt, G. 2011. A comparative analysis of several vulnerability concepts. Natural Hazards 58: 621–643.

Kelly, P.M., and W.N. Adger. 2000. Theory and practice in assessing vulnerability to climate change and facilitating adaptation. Climatic Change 47: 325–352.

Kumpulainen, S. 2006. Vulnerability concepts in hazard and risk assessment. Natural and technological hazards and risks affecting the spatial development of European Regions. Geological Survey of Finland, Special Paper 42: 65–74.

Luers, A.L., D.B. Lobell, L.S. Skar, C.L. Addams, and P.A. Matson. 2003. A method for quantifying vulnerability, applied to the agricultural system of the Yaqui Valley, Mexico. Global Environmental Change 13: 255–267.

Marshall, N.A., P.A. Marshall, J. Tamelander, D. Obura, D. Malleret-King, and J.E. Cinner. 2010. A framework for social adaptation to climate change: Sustaining tropical coastal communities and industries. Gland, Switzerland, IUCN, v + 36 pp.

McCarthy, J.J., O.F. Canziani, N.A. Leary, D.J. Dokken, and K.S. White, eds. 2001. Climate change 2001: Impacts, adaptation and vulnerability. Contribution of Working Group II to the Third Assessment Report of the Intergovernmental Panel on Climate Change. Cambridge, UK and New York, USA, 1032 pp.

McLaughlin, S., and J.A.G. Cooper. 2010. A multi-scale coastal vulnerability index: A tool for coastal managers? In Coastal hazards and vulnerability. Environmental hazards 9, ed. McFadden, L., 233–248 (3-Special Issue).

Mitchell, J.K., N. Devine, and K. Jagger. 1989. A contextual model of natural hazard. Geographical Review 79: 391–409.

Mohanty, S. 2005. Multi-sector contributions in reducing vulnerability to natural disaster: A case study of Baler, Aurora Province, Philippines. Master's Thesis. Diliman, Quezon City: University of the Philippines.

Nicholls, R.J., P.P. Wong, V.R. Burkett, J.O. Codignotto, J.E. Hay, R.F. McLean, S. Ragoonaden, and C.D. Woodroffe. 2007. Coastal systems and low-lying areas. In Climate change 2007: Impacts, adaptation and vulnerability. Contribution of Working Group II to the Fourth Assessment Report of the Intergovernmental Panel on Climate Change, ed. M.L. Parry, O.F. Canziani, J.P. Palutikof, P.J. van der Linden, and C.E. Hanson, 315–357. Cambridge: Cambridge University Press.

O'Brien, K., S. Eriksen, A. Schjolden, and L. Nygaard. 2004. What's in word? Conflicting interpretations of vulnerability in climate change research, CICERO Working Paper 2004:04, Oslo, Norway.

Orencio, P. 2011. Developing a composite index for vulnerability of coastal communities in Baler, Aurora, Philippines. Master's Thesis. Sapporo, Japan: Hokkaido University.

Provincial Land Use Committee. 2004. Provincial physical framework plan/comprehensive provincial land use plan of Aurora (2005–2015). Provincial Planning and Development Office. Aurora, Philippines.

Save the Children Fund (UK). 1997. User's Guide: Risk Map, Version 1.2.

Selman, P.H. 2000. Environmental planning: The conservation and development of biophysical resources, 2nd ed. London: SAGE. xii, 308 pp.

Sharples, C. 2006. Indicative mapping of Tasmanian coastal vulnerability to climate change and sea-level rise: Explanatory report, 2nd ed. Consultant Report to Department of Primary Industries & Water, Tasmania, 173 pp, plus accompanying electronic (GIS) maps.

Smith, K. 2000. Environmental hazards: Assessing risk and reducing disaster, 3rd ed, 381. London: Routledge.

Sullivan, C.A. 2002. Calculating a water poverty index. World Development 30: 1195–1210.

Sullivan, C.A., and J.R. Meigh. 2005. Targeting attention on local vulnerabilities using an integrated index approach: The example of the climate vulnerability index. Water Science and Technology 51: 69–78.

Technical Working Group. 2005. Comprehensive land use plan of Baler, Aurora (2005–2015). Municipal Planning and Development Office. Baler, Aurora, Philippines.

Turner, B., R. Kasperson, P. Matson, J. McCarthy, R. Corell, L. Christensen, N. Eckley, J. Kasperson, et al. 2003. A framework for vulnerability analysis in sustainability science. Proceedings of the National Academy of Sciences of the United States of America 100: 8074–8079.

United Nations Environmental Programme. 2002. Assessing human vulnerability due to environmental change: Concepts, issues, methods and case studies, 55. Nairobi: UNEP.

United Nations International Strategy for Disaster Reduction (UNISDR). 2004. Living with risk: A global review of disaster reduction activities, 429. Geneva: United Nations Publications.

US Indian Ocean Tsunami Warning System Program. 2007. How resilient is your coastal community? A guide for evaluating coastal community resilience to Tsunamis and other coastal hazards. US Indian Ocean Tsunami Warning System Program supported by the United States Agency for International Development, Bangkok, Thailand, 144 pp.

Varnes, D.J. 1984. Landslides hazard zonation: A review of principles and practice, 63. Paris: UNESCO.
Acknowledgments
This research was funded by a Japanese Government (Monbukagakusho) Scholarship. The authors would like to acknowledge Professors Michio Kishi and Noriyuki Tanaka for their valuable insights and suggestions, and Hokkaido University's Sustainable Low Carbon Society Project, Aurora State College of Technology and Aurora Marine Research Development Institute for logistics and manpower support.
Electronic supplementary material
Below is the link to the electronic supplementary material.
About this article
Cite this article
Orencio, P.M., Fujii, M. An Index to Determine Vulnerability of Communities in a Coastal Zone: A Case Study of Baler, Aurora, Philippines. AMBIO 42, 61–71 (2013). https://doi.org/10.1007/s13280-012-0331-0
Received:

Revised:

Accepted:

Published:

Issue Date:

DOI: https://doi.org/10.1007/s13280-012-0331-0
Keywords