Abstract
Marine protected areas (MPAs) are critical to the well-being of threatened ecosystems and thus can be highly beneficial to humans, especially to those residing nearby. We explore the qualities of 117 MPAs in the Mediterranean basin and develop a taxonomy of their characteristics. We relate the spatial distribution of the MPAs to the various characteristics of the taxonomy (size, distance from shore, protection levels, management regimes, etc.) and to areas of high human impact and influence levels. To do this we use information on biogeographic regions and information from two different human influence models; one model developed for the marine environment and one covering the littoral terrestrial environment. Our analysis provides insights to planners and managers working in a regional capacity and trying to build MPA networks. Generally, current MPAs have not been established in high impact areas despite their being close to shores containing intense human activity. Decision-makers wishing to design and establish new MPAs may seek out areas of high cumulative human impacts (near the marine–terrestrial interface) or avoid them depending on marine conservation objectives, including the desire to vary types of MPAs within a network. Limitations of our analysis and methodology indicate areas for further research.
Access options
Buy single article
Instant access to the full article PDF.
US$ 39.95
Tax calculation will be finalised during checkout.
Subscribe to journal
Immediate online access to all issues from 2019. Subscription will auto renew annually.
US$ 79
Tax calculation will be finalised during checkout.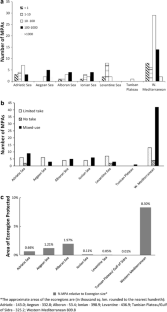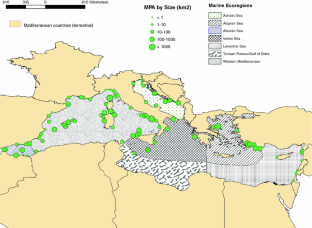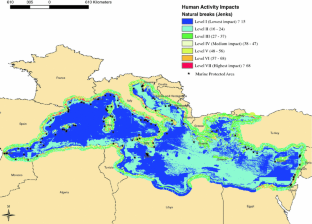 Notes
1.

Due to the variability of MPA definitions inventories of MPAs in the Mediterranean as in the world over are highly variable. Abdulla et al. (2009) recognizes a total of 94 MPAs while a recent publication of the IUCN (Anonymous 2011) describes 750 Specially Protected Areas in the Mediterranean of which "two-thirds are marine protected areas covering approximately 97 000 km2 or roughly 4 % of the marine environment".
References
Abdulla, A., M. Gomei, E. Maison, and C. Piante. 2008. Status of marine protected areas in the Mediterranean Sea. Malaga, Spain; Paris, France: IUCN; WWF.

Abdulla, A., M. Gomei, D. Hyrenbach, G. Notarbartolo-di-Sciara, and T. Agardy. 2009. Challenges facing a network of representative marine protected areas in the Mediterranean. ICES Journal of Marine Science 66: 22–28.

Agardy, T. 2000. Information needs for marine protected areas: Scientific and societal. Bulletin of Marine Science 66: 875–888.

Amos, J. 2012. 'Mobile marine reserves' needed. BBC News. Retrieved 22 Feb 2012, from http://www.bbc.co.uk/news/science-environment-17070993.

Anonymous. 2011. Mediterranean Sea: Better management for more biodiversity. Marine News - IUCN Global Marine and Polar Programme Newsletter 2010–2011 8: 16–17.

Bianchi, C.N., and C. Morri. 2000. Marine biodiversity of the Mediterranean Sea: Situation, problems and prospects for future research. Marine Pollution Bulletin 40: 367–376.

Bishop, K., N. Dudley, A. Phillips, and S. Stolton. 2004. Speaking a common language: The uses and performance of the IUCN system of management categories for protected areas. Cambridge: Cardiff University, IUCN.

British Oceanographic Data Centre. 2011. General Bathymetric Chart of the Ocean (Gridded Bathymetry data). Retrieved 11 Feb 2011, from https://www.bodc.ac.uk/data/online_delivery/gebco/.

Broquere, M. 2005. How many marine protected areas exist in the West Mediterranean? Gland, Switzerland: IUCN Center for Mediterranean Cooperation.

Canese, S., A. Cardinali, C.M. Fortuna, M. Giusti, G. Lauriano, E. Salvati, and S. Greco. 2006. The first identified winter feeding ground of fin whales (Balaenoptera physalus) in the Mediterranean Sea. Journal of the Marine Biological Association of the UK 86: 1–5.

Chape, S., S. Blyth, L. Fish, P. Fox, and M. Spalding. 2003. 2003 United Nations list of protected areas. Gland, Switzerland; Cambridge: IUCN; UNEP.

Coll, M., C. Piroddi, C. Albouy, F.B.R. Lasram, W.W.L. Cheung, V. Christensen, V.S. Karpouzi, F. Guilhaumon, et al. 2011. The Mediterranean Sea under siege: spatial overlap between marine biodiversity, cumulative threats and marine reserves. Global Ecology and Biogeography 20: 1–16.

Davis, J.E. 2009. Re-examining the role of MPAs in ecosystem-based management. MPA News 10: 1–3.

Dudley, N. (ed.). 2008. Guidelines for applying protected area management categories. Gland, Switzerland: IUCN, World Conservation Union.

Friedlander, A., J. Sladek Nowlis, J.A. Sanchez, R. Appeldoorn, P. Usseglio, C. McCormick, S. Bejarano, and A. Mitchell-Chui. 2003. Designing effective marine protected areas in Seaflower Biosphere Reserve, Colombia, based on biological and sociological information. Conservation Biology 17: 1769–1784.

Gaines, S.D., C. White, M.H. Carr, and S.R. Palumbi. 2010. Designing marine reserve networks for both conservation and fisheries management. Proceedings of the National Academy of Sciences 107: 18286–18293.

Guarderas, A.P., S.D. Hackerm, and J. Lubchenco. 2008. Current status of marine protected areas in Latin America and the Caribbean. Conservation Biology 22: 1630–1640.

Halpern, B.S., S. Walbridge, K.A. Selkoe, C.V. Kappel, F. Micheli, C. D'Agrosa, J.F. Bruno, K.S. Casey, et al. 2008. A global map of human impact on marine ecosystems. Science 319: 948–952.

Halpern, B.S., and R.R. Warner. 2003. Matching marine reserve design to reserve objectives. Proceedings of the Royal Society of London Series B-Biological Sciences 270: 1871–1878.

Hassan, R., R. Scholes, and N. Ash (eds.). 2005. Millennium Ecosystem Assessment 2005. Washington, DC: Island Press.

Hinrichsen, D. 1998. Coastal waters of the world: Trends, threats, and strategies. Washington, DC: Island Press.

Jennings, M.D. 2000. Gap analysis: Concepts, methods, and recent results. Landscape Ecology 15: 5–20.

Laubier, L. 2005. Mediterranean Sea and humans: Improving a conflictual partnership. In The handbook of environmental chemistry, ed. A. Saliot, 3–28. Berlin: Springer.

López-Ornat, A., A. Pons-Reynés, and M. Noguera. 2007. Use of IUCN protected area management categories in the Mediterranean region. Gland, Switzerland; Sevilla, Spain and Malaga, Spain: IUCN and Consejería de Medio Ambient of Junta de Andalucía.

Lubchenco, J., and N. Sutley. 2010. Proposed U.S. policy for ocean, coast, and Great Lakes stewardship. Science 328: 1485–1486.

Mackelworth, P., D. Halcer and C. Fortuna. 2008. Multiple use marine protected areas as complex commons. The 12th Biennial Conference of the International Association for the Study of Commons, Cheltenham, England, University of Gloucestershire.

Maiorano, L., V. Bartolino, F. Collaca, A. Abella, A. Belluscio, P. Carpentieri, A. Criscoli, G.J. Lasin, et al. 2009. Systematic conservation planning in the Mediterranean: A flexible tool for the identification of no-take marine protected areas. ICES Journal of Marine Science 66: 137–146.

MedPan. 2010. How to support the development of alternative livelihoods and/or income-generating activities in the Mediterranean Marine Protected Areas? MedPAN Network Regional Experiance Sharing Workshop Proceedings of December 12–14, 2010. Korba, Tunisia, MedPAN Network.

Myers, N., R.A. Mittermeier, C.G. Mittermeier, G.A.B. da Fonseca, and J. Kent. 2000. Biodiversity hotspots for conservation priorities. Nature 403: 853–858.

NCEAS. 2008. A global map of human impacts to marine ecosystems. Retrieved 10 March 2011, from http://www.nceas.ucsb.edu/globalmarine/impacts.

NOAA. 2011. State coastal zone boundaries. Retrieved 31 July 2011, from http://coastalmanagement.noaa.gov/mystate/docs.

Olsen, S., E. Olsen, and N. Schaefer. 2011. Governance baselines as a basis for adaptive marine spatial planning. Journal of Coastal Conservation 15: 313–322.

Planes, S., R. Galzin, A. Garcia Rubies, R. Goni, J.G. Harmelin, L.L.E. Direach, P. Lenfant, A. Quetglas, et al. 2000. Effects of marine protected areas on recruitment processes with special reference to Mediterranean littoral ecosystems. Environmental Conservation 27: 126–143.

Policy Research Corporation. 2011. Exploring the Potential of Marine Spatial Planning in the Mediterranean Sea. Brussels: Directorate-General for Maritime Affairs and Fisheries of the European Commission.

Portman, M.E., and I. Fishhendler. 2011. Towards integrated coastal zone management: Approaches and tools. Jerusalem, Israel: Hebrew University.

Rogers, A. D., and D. d'A. Laffoley. 2011. International Earth system expert workshop on ocean stresses and impacts. Summary report. International Program on the State of the Ocean, IPSO, Oxford.

Sanderson, E.W., M. Jaiteh, M.A. Levy, K.H. Redford, A.V. Wannebo, and G. Woolmer. 2002. The human footprint and the last of the wild. BioScience 52: 891–904.

Spalding, M.D., H.E. Fox, G.R. Allen, N. Davidson, Z.A. Ferdaña, M. Finlayson, B.S. Halpern, M.A. Jorge, et al. 2007. Marine ecoregions of the world: A bioregionalization of coastal and shelf areas. BioScience 57: 573–583.

Vella, P., R.E. Bowen, and A. Frankic. 2009. An evolving protocol to identify key stakeholder-influenced indicators of coastal change: the case of marine protected areas. ICES Journal of Marine Science 66: 203–213.

VLIZ. 2009. Maritime boundaries Geodatabase (Version 5). Retrieved 9 Feb 2011, from http://www.vliz.be/vmdcdata/marbound.

WCS. 2011. The last of the wild version two. Retrieved 20 June 2011, from http://www.ciesin.columbia.edu/wild_areas/.

Weeks, R., G.R. Russ, A.C. Alcala, and A.T. White. 2010. Effectiveness of marine protected areas in the Philippines for biodiversity conservation. Conservation Biology 24: 531–540.

Wood, L. J. 2007. MPA global: A database of the world's marine protected areas. Sea Around Us Project, UNEP-WCMC and WWF. Retrieved 11 Sept 2011, from http://www.mpaglobal.org/home.html.
Acknowledgments
The authors gratefully acknowledge the support of the Marie Curie International Reintegration Grant Program for funding this research through the Designation and Management of Marine Reserve Networks project (European Commission, FP7, Grant 268115). Also, we thank MPA managers for information on MPAs in their respective countries: Marko Pećarević (Croatia), Ruti Yahel (Israel), Patrick Schembri, Darrin Stevens and Christopher Cousin (Malta), Novak Cadjenovic (Montenegro), Leonardo Tunesi (Italy), Marta García Pérez (Spain).
About this article
Cite this article
Portman, M.E., Nathan, D. & Levin, N. From the Levant to Gibraltar: A Regional Perspective for Marine Conservation in the Mediterranean Sea. AMBIO 41, 670–681 (2012). https://doi.org/10.1007/s13280-012-0298-x
Received:

Revised:

Accepted:

Published:

Issue Date:
Keywords
Marine protected areas

Mediterranean

Protection levels

Spatial distribution

Human activity

Human impacts