Abstract
Non-point source (NPS) pollution has been increasingly serious in China since the 1990s. The increases of agricultural NPS pollution in China is evaluated for the period 2000−2008 by surveying the literature on water and soil pollution from fertilizers and pesticides, and assessing the surplus nitrogen balance within provinces. The main causes for NPS pollution were excessive inputs of nitrogen fertilizer and pesticides, which were partly the result of the inadequate agricultural extension services and the rapid expansion of intensive livestock production with little of waste management. The annual application of synthetic nitrogen fertilizers and pesticides in China increased by 50.7 and 119.7%, respectively, during 1991−2008. The mitigation measures to reduce NPS pollution include: correct distortion in fertilizer prices; improve incentives for the recycling of organic manure; provide farmers with better information on the sound use of agro-chemicals; and tighten the regulations and national standards on organic waste disposal and pesticides use.
Access options
Buy single article
Instant access to the full article PDF.
USD 39.95
Price excludes VAT (USA)
Tax calculation will be finalised during checkout.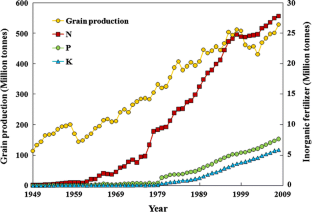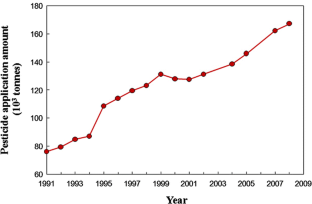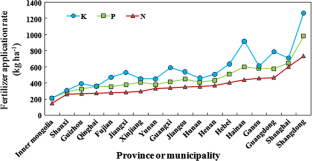 Notes
There are five grades in the national environmental quality standards for surface water (MEP 2002). There are 24 items to evaluate the water quality, such as pH, COD, BOD, N, P, heavy metal, petroleum, Faecal Coliform Bacteria, etc. From Grades I to IV, the threshold value for total N is 0.2, 0.5, 1.0, 1.5 and 2.0 mg L−1, respectively. The standards also set limits for the content of different pesticide in surface water with the highest value of 0.08 mg L−1 for dimethoate.

Conventional treatment for water includes physical and biological treatments. The solid pollutants are removed first by sand sedimentation; then the colloidal and dissolved organic pollutants (BOD, COD) are removed by biological treatment including the biological filter biofilm, biological dial, bio-contact oxidation and fluidized bed. Advanced treatment is to remove the refractory organic matter, nitrogen and phosphorus by biological nutrient removal, coagulation precipitation, sand filtration, activated carbon adsorption, ion exchange and electrodialysis method.

ND = Not detected at or above the method detection limit.

The census includes 1 963 624 discharge sources from medium to large intensive units and do not include discharges from small producers.

Insecticides mainly include parathion, parathion_methyl, trichlorfon, dichlorvos, dimethoate, omethoate, ethamidophos, isocarbophos, carbamate, pyrethroid, disosultap and chlordimeform. Fungicides mainly include copper sulphate, carbendazim, benodanil, kitazin (EBP), iprobenfos (Kitazin P), zineb, tricyclazole and jiangangmycin. Herbicides mainly include nitrofen, butachlor, 2,4-d butylate, chlortoluron, MCPA, glyphosate, atrazine, prometryn and trifluralin.

The Ministry of Agriculture implemented the subsidy programme to enhance soil organic matter in 287 counties of 21 provinces (municipalities) in 2009, covering an area of 1.03 million ha. The state give 300 CNY (Chinese Yuan) ha−1 (1 USD is equal to about 6.4 CNY) subsidy to the farmers for application of 30 kg ha−1 rice straw decomposition agent in the South region and for application of 1500 kg ha−1 commercial organic fertilizer in the northern region.

In China, there was 23.27 million ha of farmland certified to produce innoxious food (green food) with the rational use of synthetic fertilizers and organic manure in 2006, accounting for 19.1% of the total arable land (121.7 million ha). There was only 3.3 million ha of farmland certified to produce organic food without synthetic fertilizers and pesticides.

Taihu Lake Water Pollution Prevention Regulations of Jiangsu Province was implemented in 2008. The most closely protected areas include the body of Taihu Lake; a 5-km wide band of land around the lake; and 1 km of land bordering the river for 10 km upstream of the lake. In this area, the construction of new centralized livestock and poultry farms is prohibited.

Ministry of Agriculture of the People's Republic of China, 2000. Pesticide application guideline for green food production, NY/T 393-2000.
References
Cai, Q.Y., C.H. Mo, Q.R. Wu, A. Katsoyiannisc, and Q.Y. Zeng. 2008. The status of soil contamination by semi-volatile organic chemicals (SVOCs) in China: A review. The Science of the Total Environment 389: 209–224.

Cao, Z.H., J.F. Huang, C.S. Zhang, and A.F. Li. 2004. Soil quality evolution after land use change from paddy soil to vegetable land. Environmental Geochemistry and Health 26: 97–103.

Chanda, B., R. Katie, and L. Bao. 2009. China-Peoples Republic of Fertilizer. GAIN (Global Agricultural Information Network) Report Number: CH9082.

Conway, G. 1994. Sustainable agriculture for a food secure world. Washington: CGIAR.

Conway, G. 1997. The Doubly Green Revolution: Food for all in the 21st century. London: Penguin Books.

Editorial Committee of China Environment Yearbook (ECCEY). 2003. China environment yearbook. Beijing: China Environment Yearbook Press (in Chinese).

Editorial Committee of China Pesticide Development Report (ECCPDR). 2005. China pesticide development report. Beijing: Science Press of China (in Chinese).

Editorial Office of China Agriculture Statistical Yearbook (EOCASY). 2002–2009. China agriculture statistical yearbook. Beijing: China Agriculture Publication House (in Chinese).

Editorial Office of China State Statistical Bureau (EOCSSB). 2009. China statistical yearbook, Beijing: China Statistical Publication House (in Chinese).

Food and Agricultural Organization of the United Nations (FAO). 2008. FAOSTAT-Agriculture database. http://www.fao.org/corp/statistics/en/. Accessed 10 June 2011.

Fu, B.J. 2008. Blue skies for China. Science 321: 611.

Gao, C., and T.L. Zhang. 2010. Eutrophication in a Chinese context: Understanding various physical and socio-economic aspects. Ambio 39: 385–393.

Gao, J., L. Liu, X. Liu, J. Lu, H. Zhou, S. Huang, Z. Wang, and P.A. Spear. 2008. Occurrence and distribution of organochlorine pesticides-lindane, p,p′-DDT, and heptachlor epoxide in surface water of China. Environment International 34: 1097–1103.

Ge, G.F., Z.J. Li, J. Zhang, L.G. Wang, M.G. Xu, J.B. Zhang, J.K. Wang, X.L. Xie, et al. 2009. Geographical and climatic differences in long-term effect of organic and inorganic amendments on soil enzymatic activities and respiration in field experimental stations of China. Ecological Complexity. doi:10.1016/j.ecocom.2009.02.001.

Guo, J.H., X.J. Liu, Y. Zhang, J.L. Shen, W.X. Han, W.F. Zhang, P. Christie, K.W.T. Goulding, et al. 2010. Significant acidification in major Chinese croplands. Science 327: 1008.

Huang, J.K., F.B. Qiao, L.X. Zhang, and S. Rozelle. 2001. Farm Pesticides, rice production, and human health. EEPSEA Research Report, ISSN 1608-5434, No. 2001-RR3.

Ju, X.T., G.X. Xing, X.P. Chen, S.L. Zhang, L.J. Zhang, X.J. Liu, Z.L. Cui, B. Yin, et al. 2009. Reducing environmental risk by improving N management in intensive Chinese agricultural systems. Proceedings of the National Academy of Sciences of the United States of America 106(9): 3041–3046.

Li, J., H.D. Zhang, J.H. Gon, Y. He, and D. Norse. 2006. Agrochemical use and nitrate pollution of groundwater in typical crop production areas of China-case studies in Hubei, Hunan, Shangdong and Hebei provinces. In Policy for Reducing Non-Point Pollution from Crop Production in China, ed. Z.L. Zhu, D. Norse, and B. Sun, 173–188. Beijing: China Environmental Science Press.

Li, M.T., K.Q. Xu, M. Watanabe, and Z.Y. Chen. 2007. Long-term variations in dissolved silicate, nitrogen, and phosphorus flux from the Yangtze River into the East China Sea and impacts on estuarine ecosystem. Estuarine, Coastal and Shelf Science 71: 3–12.

Lin, Y.S., R.Z. Gong, and Z.L. Zhu. 2000. Pesticide and eco-environmental protection. Beijing: Chemical and Industrial Press (in Chinese).

Lu, F., X. Wang, B. Han, Z. Ouyang, X. Duan, H. Zheng, and H. Miao. 2009. Soil carbon sequestrations by nitrogen fertilizer application, straw return and no-tillage in China's cropland. Global Change Biology 15: 281–305.

Ma, W.Q., D.R. Mao, and F.S. Zhang. 2000. The problems in fertilization and measurements of preventing them in protective vegetable ground in Shandong. In: Fertilizing for sustainable production of high quality vegetables, ed. X.L. Li, F.S. Zhang, and G.H. Mi, 41–47. Beijing: Chinese Agricultural University Press (in Chinese).

Ministry of Environmental Protection of the People's Republic of China (MEP). 2002. Environmental quality standards for surface water. GB 3838-2002. Standards Press of China.

Ministry of Environmental Protection of the People's Republic of China (MEP), National Bureau of Statistics of the People's Republic of China (NBS), Ministry of Agriculture of the People's Republic of China (MOA). 2010. The first national survey of pollution sources Bulletin (in Chinese). http://www.gov.cn/jrzg/2010-02/10/content_1532174.htm. Accessed 10 June 2011.

Norse, D., J. Li, L. Jin, and Z. Zhang. 2001. Environmental costs of rice production in China: Lessons from Hunan and Hubei. Bethesda: Aileen International Press.

Qin, B.Q., P.Z. Xu, Q.L. Wu, L.C. Luo, and Y.L. Zhang. 2007. Environmental issues of Lake Taihu, China. Hydrobiologia 581: 3–14.

Shao, Z.Q., and Q. Zhao. 2004. Improving pesticide utilization ratio by renovating machinery and improving spraying technique. China Plant Protection 24: 36–37. (in Chinese).

Shen, R.P., B. Sun, and Q.G. Zhao. 2005. Spatial and temporal variability of N, P and K balances in agroecosystems in China. Pedosphere 15: 347–355.

Smil, V. 1997. China's environment and security: Simple myths and complex realities. SAIS Review 17: 107–126.

State Environment Protection Agency (SEPA). 2000–2008. Report on the State Environment in China. http://www.sepa.gov.cn/. Accessed 01 August 2010 (in Chinese).

Tu, Y.Q., H.Z. Yuan, S.H. Qi, D.B. Yang, and Q.L. Huang. 2003. Use efficiency and adverse effect of pesticide in China. World Pesticides 25: 1–4. (in Chinese).

Wu, S.X. 2005. The spatial and temporal change of nitrogen and phosphorus produced by livestock and poultry and their effects on agricultural non-point source pollution in China. PhD Thesis. Beijing: Chinese Agriculture Academy of Sciences (in Chinese).

Xing, G.X., and Z.L. Zhu. 2002. Regional nitrogen budgets for China and its major watersheds. Biogeochemistry 57: 405–427.

Yang, L.Z., and B. Sun. 2008. Cycling, balance and management of nutrients in agroecosystems in China. Beijing: Science Press of China (in Chinese).

Yu, T., W. Meng, O. Edwin, Z. Li, and J. Chen. 2010. Long-term variations and causal factors in nitrogen and phosphorus transport in the Yellow River, China. Estuarine, Coastal and Shelf Science 86: 345–351.

Yuan, X.Y. 2000. Primary appraisal of pollution for lakes of China. Volcanology and Mineral Resources 21: 128–136. (in Chinese).

Zhang, F.S. 1999. Some consideration to the improvement of nutrient resources utilization efficiency. In: Soil science towards 21st century. Proceedings of 9th National Congress of Soil Science Society of China. Nanjing, China: Soil Science Society of China (in Chinese).

Zhang L.X., J.K. Huang, F.B. Qiao, and S. Rozelle. 2006. Economic evaluation and analysis of fertilizer overuse by China's farmers. In: Policy for reducing Non-point pollution from crop production in China, ed. Z.L. Zhu, D. Norse, and B. Sun, 233–258. Beijing: China Environmental Science Press.

Zhang, W., Z. Tian, N. Zhang, and Z. Li. 1996. Nitrate pollution of groundwater in Northern China. Agriculture, Ecosystems & Environment 59: 223–231.

Zhang, Z.H., and L.R. Li. 2004. Groundwater resources of China. Beijing: SinoMaps Press.

Zhu, Z.L., and D.L. Chen. 2002. Nitrogen fertilizer use in China—Contributions to food production, impacts on the environment strategies. Nutrient Cycling Agroecosystems 63: 117–127.

Zhu, Z.L., Q.X. Wen, and J.R. Freney. 1997. Nitrogen in soils of China. Dordrecht: Kluwer.
Acknowledgment
Financial support was provided by the National Natural Science Foundation of China (40871123), the Chinese Academy of Sciences (KZCX2-YW-407, KSCX2-YW-N-038), the Beijing and Vancouver Secretariats of the China Council for International Cooperation on Environment and Development (CCICED) and the Canadian International Development Agency (CIDA).
About this article
Cite this article
Sun, B., Zhang, L., Yang, L. et al. Agricultural Non-Point Source Pollution in China: Causes and Mitigation Measures. AMBIO 41, 370–379 (2012). https://doi.org/10.1007/s13280-012-0249-6
Received:

Revised:

Accepted:

Published:

Issue Date:

DOI: https://doi.org/10.1007/s13280-012-0249-6
Keywords