Abstract
This article examines key issues in operationalizing a registry of nationally appropriate mitigation actions (NAMAs) undertaken by developing countries party to the United Nations framework convention on climate change. It analyzes goals, outcomes, and institutional prerequisites underlying various proposals to determine how a NAMA mechanism could work in international climate cooperation. The different proposals for how NAMA shall be designed relate to three basic effort-sharing arrangements in a future climate regime: binding commitments for all Parties, purely voluntary commitments for all, and legally binding commitments for Annex I countries but voluntary ones for others. We conclude that a NAMA registry could be designed so as initially to suit all three types of effort-sharing regimes. The article identifies three areas of potential common ground in a registry irrespective of effort-sharing type: the principle of common but differentiated responsibilities, the sustainable development objectives of the Convention, and the need for a systemic transition toward low-carbon energy technologies.
Access options
Buy single article
Instant access to the full article PDF.
USD 39.95
Price excludes VAT (USA)
Tax calculation will be finalised during checkout.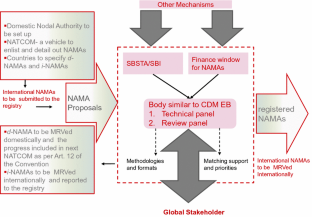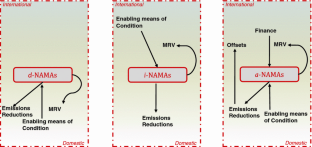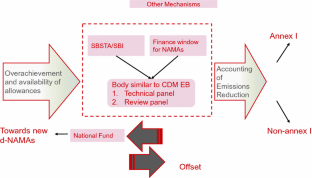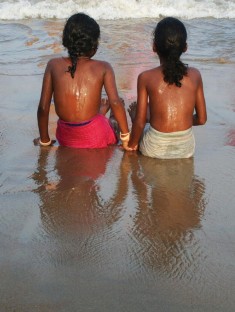 References
Bakker, S., and C. Huizenga. 2010. Making climate instruments work for sustainable transport in developing countries. Natural Resources Forum 34: 314–326.

Breidenich, C., and D. Bodansky. 2009. Measurement, reporting and verification in a post-2012 climate agreement. Arlington: Pew Center on Global Climate Change.

CAN International. 2011. Submission to the AWG-LCA1: views on new market-based mechanisms. 21 February 2011. www.unfccc.int. Accessed 2 June 2011.

CCAP. 2009. NAMAs and NAMA registry. Washington: Center for Clean Air Policy.

Chen, H.-T. 2005. Practical program evaluation: Assessing and improving planning, implementation, and effectiveness. Thousand Oaks: SAGE.

Cheng, C.C. 2010. A new NAMA framework for dispersed energy end-use sectors. Energy Policy 38: 5614–5624.

Cox, G. 2010. The clean development mechanism as a vehicle for technology transfer and sustainable development—myth or reality? Law, Environment and Development Journal 6: 179–199.

Ellis, J., and S. Moarif. 2009. GHG mitigation actions: MRV issues and options. OECD working paper. http://www.oecd.org/dataoecd/36/45/42492615.pdf. Accessed 1 Sept 2009.

Erickson, P., and M. Lazarus. 2011. The implications of international greenhouse gas offsets on global climate mitigation. SEI working paper. http://sei-international.org/mediamanager/documents/Publications/SEI-WorkingPaper-Erickson-ImplicationsOfInternationalGreenhouseGasOffsets-2011.pdf. Accessed 20 June 2011.

European Community. 2009. Enhanced action on mitigation (1bi, 1bii of the Bali Action Plan), 30 March 2009. FCCC/AWGLCA/2009/MISC.1/Add.4.

Fransen, T., H. McMahon, and S. Nakhooda. 2008. Measuring the way to a new global climate agreement. Washington: World Resources Institute.

Fukuda, K., and K. Tamura. 2010. An analysis of non-Annex I parties NAMAs: Challenges for designing international support and implementing an effective MRV framework. IGES working paper. http://enviroscope.iges.or.jp/modules/envirolib/upload/3040/attach/cc-working-paper2010-001.pdf. Accessed 24 June 2011.

Glemarec, Y. 2010. Financing the transition to a low-carbon society. Journal of Renewable and Sustainable Energy 2: 031013.

Höhne, N., C. Michelsen, S. Moltmann, H. Ott, W. Sterk, S. Thomas, and R. Watanabe. 2008. Proposals for contributions of emerging economies to the climate regime under the UNFCCC post 2012. Dessau-Roßlau: Umweltbundesamt.

Karlsson, C., C. Parker, M. Hjerpe, and B. Linnér. 2012. The legitimacy of leadership in international climate change negotiations. Ambio. 41(S1). doi: 10.1007/s13280-011-0240-7.

Kim, J.A., J. Corfee-Morlot, and P. de T'Serclaes. 2009. Linking mitigation actions in developing countries with mitigation action support: A conceptual framework. Paris: OECD.

Levina, E., and N. Helme. 2009. Nationally appropriate mitigation actions by developing countries: Architecture and key issues. Washington: Center for Clean Air Policy.

Linnér, B.-O. 2006. Authority through synergism: The roles of climate change linkages. European Environment 16: 278–289.

Linnér, B. -O., and M. Hjerpe. 2011. The day after Kyoto: Toward an investment based regime. Paper presented at The R&D management conference 2011 R&D, sustainability & innovation, 28–30 June 2011, in Norrköping, Sweden.

Linnér, B.-O., and M. Jacob. 2005. From Stockholm to Kyoto and beyond: A review of the globalisation of global warming policy and north-south relations. Globalizations 2: 403–415.

Lövbrand, E., J. Nordqvist, and T. Rindefjäll. 2009. Closing the legitimacy gap in global environ-mental governance: Examples from the emerging CDM market. Global Environmental Politics 9: 74–100.

McMahon, H., and R. Moncel. 2009. Keeping track: National positions and design elements of an MRV framework. World Resources Institute, working paper, Washington.

Mickwitz, P. 2006. Environmental policy evaluation: Concepts and practice. Commentationes Scientiarum Socialium 66/2006. Helsinki: The Finnish Society of Sciences and Letters.

Mintzer, I., J.A. Leonard, and I.D. Valencia. 2010. Counting the gigatonnes: Building trust in greenhouse gas inventories from the United States and China. Washington: World Wildlife Fund.

Muller, B., and L. Gomez-Echeverri. 2009. The reformed financial mechanism of the UNFCCC. Part I: Architecture and governance. Oxford: Oxford Institute for Energy Studies.

Pahuja, N., and B.-O. Linnér. 2010. A global registry for NAMAs: Linking mitigation, technology, finance and sustainable development. TERI and CSPR working paper, December 2010.

Pielke, R. 2010. The climate fix: What scientists and politicians won't tell you about global warming. Philadelphia: Basic Books.

Sterk, W. 2010. Nationally appropriate mitigation actions: Definitions, issues and options Wuppertal. Wuppertal: Wuppertal Institute for Climate, Environment and Energy.

Teng, F., Y. Wang, A. Gu, and R. Xu. 2009. Mitigation actions in China: Measurement, reporting and verification. Washington: World Resources Institute.

UNFCCC. 2007. Bali Action Plan, FCCC/CP/2007/6/Add.1

UNFCCC. 2009. Ideas and proposals on paragraph 1 of the Bali Action Plan: revised note by the Chair. UNFCCC document (15 January 2009). FCCC/AWGLCA/2008/16/REV.1 http://unfccc.int/resource/docs/2008/awglca4/eng/16r01.pdf. Accessed Retrieved 8 June 2010.

UNFCCC. 2010a. Outcome of the work of the Ad Hoc Working Group on long-term cooperative action under the convention. Draft decision-/CP.16.

UNFCCC. 2010b. Negotiating text. UNFCCC document FCCC/AWGLCA/2010/14. http://unfccc.int/resource/docs/2010/awglca12/eng/14.pdf. Accessed 5 Apr 2011.

UNFCCC. 2011. Report of the Conference of the Parties on its sixteenth session, held in Cancun from 29 November to 10 December 2010. Addendum. Part two: Action taken by the Conference of the Parties at its sixteenth session. FCCC/CP/2010/7/Add.1. http://unfccc.int/resource/docs/2010/cop16/eng/07a01.pdf#page=2. Accessed 11 Jan 2012.

United Nations. 2000. United Nations Millennium Declaration. UN General Assembly Fifty-fifth session, Agenda item 60 (b), 18 September 2000. A/RES/55/2.

United Nations. 2002. Plan of implementation of the World Summit on Sustainable Development: Report of the World Summit on Sustainable Development, Johannesburg, South Africa, 26 Au–4 Sept 2002, United Nations General Assembly.

Upadhyaya, P. 2010. Is emission trading a possible policy option for India? Climate Policy 10: 560–574.

van Asselt, H., J. Berseus, J. Gupta, and C. Haug. 2010. Nationally appropriate mitigation actions (NAMAs) in developing countries: challenges and opportunities. Netherlands Environmental Assessment Agency, Scientific Assessment and Policy Analysis (WAB) for Climate Change Report 500102 035. Bilthoven.

Vedung, E. 1997. Public policy and program evaluation. New Brunswick: Transaction Publishers.

Weiss, C. H. 2000. Which links in which theories shall we evaluate? In Program Theory in evaluation: Challenges and opportunities—New directions for evaluation, no. 87, eds. Rogers Patricia J., Hacsi T. A., Petrosino A. and Huebner T. A., 35–45. San Francisco: Jossey-Bass.

World Resources Institute. 2010. Summary of UNFCCC Submissions (November, 2010). http://www.wri.org/publication/summary-of-unfccc-submissions. Accessed 17 Jan 2011.
Acknowledgments
This research was supported by the Foundation for Strategic Environmental Research (Mistra) through the Climate Policy Research Programme, Clipore (Grant no. 2003-194) and the Swedish Energy Agency. Special thanks for comments from panellists and participants at UNFCCC side event on NAMA registry at COP 16, Clipore colleagues as well as Mathias Friman, Mattias Hjerpe, Naghmeh Nasiritousi, and Eva Lövbrand.
About this article
Cite this article
Linnér, BO., Pahuja, N. A Registry of Nationally Appropriate Mitigation Actions: Goals, Outcomes, and Institutional Requisites. Ambio 41 (Suppl 1), 56–67 (2012). https://doi.org/10.1007/s13280-011-0241-6
Published:

Issue Date:

DOI: https://doi.org/10.1007/s13280-011-0241-6
Keywords
Registry

NAMA

Climate policy

Effort sharing

Sustainable development