Abstract
Leadership is an essential ingredient in reaching international agreements and overcoming the collective action problems associated with responding to climate change. In this study, we aim at answering two questions that are crucial for understanding the legitimacy of leadership in international climate change negotiations. Based on the responses of three consecutive surveys distributed at COPs 14–16, we seek first to chart which actors are actually recognized as leaders by climate change negotiation participants. Second, we aim to explain what motivates COP participants to support different actors as leaders. Both these questions are indeed crucial for understanding the role, importance, and legitimacy of leadership in the international climate change regime. Our results show that the leadership landscape in this issue area is fragmented, with no one clear-cut leader, and strongly suggest that it is imperative for any actor seeking recognition as climate change leader to be perceived as being devoted to promoting the common good.
Access options
Buy single article
Instant access to the full article PDF.
USD 39.95
Price excludes VAT (USA)
Tax calculation will be finalised during checkout.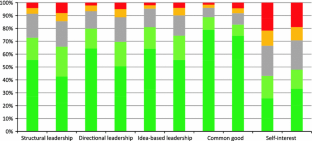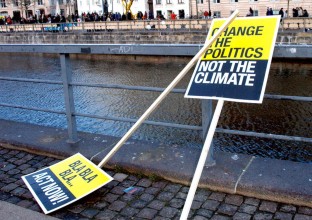 References
AFP. 2009. Obama pledges US lead on climate change. http://www.google.com/hostednews/afp/article/ALeqM5i-sLNr8cB0J-fjcMJZnzcrE-X5yw. Accessed 5 Apr 2009.

Bodansky, D. 1999. The legitimacy of international governance: A coming challenge for international environmental law? The American Journal of International Law 93: 596–624.

Buchanan, A., and R.O. Keohane. 2006. The legitimacy of global governance institutions. Ethics and International Affairs 20: 405–437.

Carin, B., and A. Mehlenbacher. 2010. Constituting global leadership: Which countries need to be around the summit table for climate change and energy security? Global Governance 16: 21–37.

Christoff, P. 2010. Cold climate in Copenhagen: China and the United States at COP15. Environmental Politics 19: 637–656.

Council of the European Union. 2007. Presidency Conclusions. Brussels, 9 March.

Elgström, O. 2007. The European Union as a leader in international multilateral negotiations—a problematic aspiration? International Relations 21: 445–458.

Groenleer, M.L.P., and L.G. Van Schaik. 2007. United we stand? The European Union's international actorness in the cases of the international criminal court and the Kyoto protocol. Journal of Common Market Studies 45: 969–998.

Gupta, J., and L. Ringius. 2001. The EU's climate leadership: Reconciling ambition and reality. International Environmental Agreements: Politics, Law and Economics 1: 281–299.

Gupta, J., and N. van der Grijp. 1999. Leadership in the climate change regime: The European Union in the looking glass. International Journal of Sustainable Development 2: 303–322.

Gupta, J., and N. van der Grijp. 2000. Perceptions of the EU's role. In Climate change and European leadership: A sustainable role for Europe?, ed. J. Gupta, and M. Grubb, 67–82. Dordrecht: Kluwer Academich Publishers.

Karlsson, C. 2001. Democracy, legitimacy and the European Union. Uppsala: Acta Universitatis Upsaliensis.

Karlsson, C., C. Parker, M. Hjerpe, and B. Linnér. 2011. Looking for leaders: Perceptions of climate change leadership among climate change negotiation participants. Global Environmental Politics 14: 89–107.

Kilian, B., and O. Elgström. 2010. Still a green leader: The European Union's role in international climate negotiations. Cooperation and Conflict 45: 255–273.

Malnes, R. 1995. "Leader" and "Entrepreneur" in international negotiations: A conceptual analysis. European Journal of International Relations 1: 87–112.

Mitchell, R.B. 2010. International politics and the environment. London: Sage.

Nye, J.S. 2010. The future of American power. Foreign Affairs 89: 2–12.

Parker, C., and C. Karlsson. 2010. Climate change and the European Union's leadership moment: An inconvenient truth? Journal of Common Market Studies 48: 923–943.

Ringius, L. 1999. Differentiation, leaders and fairness: Negotiating climate commitments in the European community. International Negotiation 4: 133–166.

Schirm, S.A. 2009. Leaders in need of followers: Emerging powers in global governance. European Journal of International Relations 16: 197–221.

Schreurs, M., and Y. Tiberghien. 2007. Multi-level reinforcement: Explaining European Union leadership in climate change mitigation. Global Environmental Politics 7: 19–46.

Sjöstedt, G. 1994. Negotiating the Uruguay round of the general agreement on tariffs and trade. In International multilateral negotiation: Approaches to the management of complexity, ed. W.I. Zartman, 44–69. San Francisco: Jossey–Bass Publishers.

Tallberg, J. 2006. Leadership and negotiation in the European Union. Cambridge: Cambridge University Press.

Underdal, A. 1994. Leadership theory: Rediscovering the arts of management. In International multilateral negotiation: Approaches to the management of complexity, ed. W.I. Zartman, 178–197. San Francisco: Jossey–Bass Publishers.

Vogler, J. 2005. The European contribution to global environmental governance. International Affairs 81: 835–850.

Vogler, J. 2009. Climate change and EU foreign policy: The negotiation of burden sharing. International Politics 46: 469–490.

Weiler, J.H.H. 1991. The transformation of Europe. Yale Law Journal 100: 2405–2483.

Young, O. 1991. Political leadership and regime formation: On the development of institutions in international society. International Organization 45: 281–309.
Acknowledgment
We gratefully acknowledge the support for this research from Mistra—the Foundation for Strategic Environmental Research, through the Climate Policy Research Program, Clipore.
About this article
Cite this article
Karlsson, C., Hjerpe, M., Parker, C. et al. The Legitimacy of Leadership in International Climate Change Negotiations. Ambio 41 (Suppl 1), 46–55 (2012). https://doi.org/10.1007/s13280-011-0240-7
Published:

Issue Date:

DOI: https://doi.org/10.1007/s13280-011-0240-7
Keywords
Climate change

Leadership

Legitimacy

Followers

Views on leadership

COP