Abstract
Climate change incurs costs, but government adaptation budgets are limited. Beyond a certain point, individuals must bear the costs or adapt to new circumstances, creating political-economic tipping points that we explore in three examples. First, many Alaska Native villages are threatened by erosion, but relocation is expensive. To date, critically threatened villages have not yet been relocated, suggesting that we may already have reached a political-economic tipping point. Second, forest fires shape landscape and ecological characteristics in interior Alaska. Climate-driven changes in fire regime require increased fire-fighting resources to maintain current patterns of vegetation and land use, but these resources appear to be less and less available, indicating an approaching tipping point. Third, rapid sea level rise, for example from accelerated melting of the Greenland ice sheet, will create a choice between protection and abandonment for coastal regions throughout the world, a potential global tipping point comparable to those now faced by Arctic communities. The examples illustrate the basic idea that if costs of response increase more quickly than available resources, then society has fewer and fewer options as time passes.
Access options
Buy single article
Instant access to the full article PDF.
USD 39.95
Price includes VAT (USA)
Tax calculation will be finalised during checkout.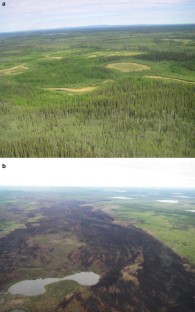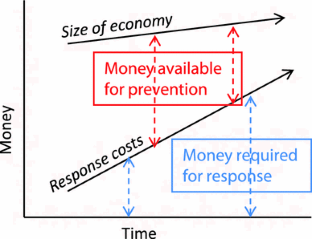 References
Balshi, M.S., A.D. McGuire, P. Duffy, M. Flannigan, D.W. Kickligher, and J. Melillo. 2009. Vulnerability of carbon storage in North American boreal forests to wildfire during the 21st century. Global Change Biology 15: 1491–1510.

Case, D.S. 1984. Alaska Natives and American laws. Fairbanks: University of Alaska Press.

Chapin III, F.S., T.S. Rupp, A.M. Starfield, L. DeWilde, E.S. Zavaleta, N. Fresco, and A.D. McGuire. 2003. Planning for resilience: modeling change in human-fire interactions in the Alaskan boreal forest. Frontiers in Ecology and the Environment 1: 255–261.

Chapin III, F.S., S.F. Trainor, O. Huntington, A.L. Lovecraft, E. Zavaleta, D.C. Natcher, A.D. McGuire, J.L. Nelson, et al. 2008. Increasing wildfire in Alaska's boreal forest: Pathways to potential solutions of a wicked problem. Bioscience 58: 531–540.

Climate Progress. 2011. Australia to cut, delay $500 million of clean-energy funding. Seriously! Climate Progress, 27 January 2011. Retrieved 23 August 2011, from http://climateprogress.org/2011/01/27/australia-cut-delay-clean-energy-funding-after-record-warming-floods/.

Diamond, J. 2005. Collapse: how societies choose to fail or succeed. New York: Penguin.

Flannigan, M., B. Stocks, M. Turetsky, and M. Wotton. 2009. Impacts of climate change on fire activity and fire management in the circumboreal forest. Global Change Biology 5: 549–560.

Freudenburg, W., R. Gramling, S. Laska, and K. Erikson. 2009. Catastrophe in the making: the engineering of Katrina and the disasters of tomorrow. Washington, DC: Island Press.

GAO. 2003. Alaska Native villages: most are affected by flooding and erosion, but few qualify for federal assistance. Report to Congressional Committees GAO-04-142. Washington, DC: United States General Accounting Office. Retrieved 23 August 2011, from http://www.gao.gov/new.items/d04142.pdf.

Goldsmith, S., and E. Larson. 2003. Federal spending and revenues in Alaska. Anchorage, Alaska: Institute of Social and Economic Research, University of Alaska Anchorage. Retrieved 23 August 2011, from http://www.iser.uaa.alaska.edu/Publications/federalspendingak.pdf.

Goodstein, E., H.P. Huntington, and E. Euskirchen. 2010. An initial estimate of the cost of lost climate regulation services due to changes in the Arctic cryosphere. Washington, D.C.: Pew Environment Group. Retrieved 23 August 2011, from http://www.oceansnorth.org/arctic-treasure.

Gray, S. 2011. Vanishing city: the story behind Detroit's shocking population decline. Time NewsFeed, 24 March 2011. Retrieved 23 August 2011, from http://newsfeed.time.com/2011/03/24/vanishing-city-the-story-behind-detroit%E2%80%99s-shocking-population-decline/.

Greene, D.F., S.E. Macdonald, S. Haeussler, S. Domenicano, J. Noel, K. Jayen, I. Charron, S. Gauthier, et al. 2007. The reduction of organic-layer depth by wildfire in the North American boreal forest and its effect on tree recruitment by seed. Canadian Journal of Forest Research 37: 1012–1023.

Hamilton, L.C., B.C. Brown, and R.O. Rasmussen. 2003. West Greenland's cod-to-shrimp transition: local dimensions of climatic change. Arctic 56: 271–282.

Hastings, A., and D.B. Wysham. 2010. Regime shifts in ecological systems can occur with no warning. Ecology Letters 13: 464–472. doi:10.1111/j.1461-0248.2010.01439.x.

Huntington, H.P., and S. Fox. 2005. The changing Arctic: Indigenous perspectives. In Arctic climate impact assessment, ACIA. Cambridge: Cambridge University Press. 61–98.

Johnstone, J.F., T.N. Hollingsworth, F.S. Chapin III, and M.C. Mack. 2010. Changes in fire regime break the legacy lock on successional trajectories in Alaskan boreal forest. Global Change Biology 16: 1281–1295.

Kasischke, E.S., D.L. Verbyla, S. Rupp, A.D. McGuire, K.A. Murphy, R. Jandt, J.L. Barnes, E.E. Hoy, et al. 2010. Alaska's changing fire regime–implications for the vulnerability of its boreal forests. Canadian Journal of Forest Research 40: 1313–1324.

Kavanagh, J. 2011. 2011: Year of billion-dollar disasters. CNN Online, 20 August 2011. Retrieved 23 August 2011, from http://articles.cnn.com/2011-08-20/us/weather.disasters_1_tornadoes-southern-states-weather-disasters?_s=PM:US.

Nicholls, R.J., S. Hanson, C. Herweijer, N. Patmore, S. Hallegatte, J. Corfee-Morlot, J. Château, and R. Muir-Wood. 2008. Ranking port cities with high exposure and vulnerability to climate extremes: Exposure estimates. OECD Environment Working Paper 1. Paris: OECD.

Nicholls, R.J., N. Marinova, J.A. Lowe, S. Brown, P. Vellinga, D. de Gusmão, J. Hinkel, and R.S. Tol. 2011. Sea-level rise and its possible impacts given a 'beyond 4°C world' in the twenty-first century. Philosophical Transactions of the Royal Society 369(1934): 161–181.

New York Times. 2011. Population decline in New Orleans. New York Times, 3 Feb 2011. Retrieved 23 Aug 2011, from http://www.nytimes.com/interactive/2011/02/03/us/0203-nat-census-orleans.html.

Randerson, J.T., H. Liu, M.G. Flanner, S.D. Chambers, Y. Jin, P.G. Hess, G. Pfister, M.C. Mack, et al. 2006. The impact of boreal forest fire on climate warming. Science 314: 1130–1132. doi:10.1126/science.1132075.

Scheffer, M., J. Bascompte, W.A. Brock, V. Brovkin, S.R. Carpenter, V. Dakos, H. Held, E.G. van Nes, et al. 2009. Early-warning signals for critical transitions. Nature 461: 53–59. doi:10.1038/nature08227.

Stern, N. 2007. The economics of climate change: the Stern review. Cambridge, UK: Cambridge University Press.

Tripati, A.K., C.D. Roberts, and R.A. Eagle. 2009. Coupling of CO2 and ice sheet stability over major climate transitions of the last 20 million years. Science 326: 1394–1397. doi:10.1126/science.1178296.
Acknowledgments
We thank the Pew Environment Group/Oceans North for funding the initial research that led to this paper, and Arctic Frontiers and Paul Wassmann in particular for encouraging us to explore the topics discussed herein. We are also grateful for the constructive comments of two anonymous reviewers.
About this article
Cite this article
Huntington, H.P., Goodstein, E. & Euskirchen, E. Towards a Tipping Point in Responding to Change: Rising Costs, Fewer Options for Arctic and Global Societies. AMBIO 41, 66–74 (2012). https://doi.org/10.1007/s13280-011-0226-5
Keywords
Climate change costs

Prevention

Response

Politics

Economics

Village relocation

Forest fires

Sea level rise

Arctic