Feedbacks and Interactions: From the Arctic Cryosphere to the Climate System
Abstract
Changes in the Arctic's climate are a result of complex interactions between the cryosphere, atmosphere, ocean, and biosphere. More feedbacks from the cryosphere to climate warming are positive and result in further warming than are negative, resulting in a reduced rate of warming or cooling. Feedbacks operate at different spatial scales; many, such as those operating through albedo and evapotranspiration, will have significant local effects that together could result in global impacts. Some processes, such as changes in carbon dioxide (CO2) emissions, are likely to have very small global effects but uncertainty is high whereas others, such as subsea methane (CH4) emissions, could have large global effects. Some cryospheric processes in the Arctic have teleconnections with other regions and major changes in the cryosphere have been largely a result of large-scale processes, particularly atmospheric and oceanic circulation. With continued climate warming it is highly likely that the cryospheric components will play an increasingly important climatic role. However, the net effect of all the feedbacks is difficult to assess because of the variability in spatial and temporal scales over which they operate. Furthermore, general circulation models (GCMs) do not include all major feedbacks while those included may not be accurately parameterized. The lack of full coupling between surface dynamics and the atmosphere is a major gap in current GCMs.
Keywords
Feedbacks 
Ocean circulation 
Atmospheric circulation 
Cryosphere 
Teleconnections 
Introduction
Feedback processes are responses to a driving mechanism that subsequently accelerate (positive feedback) or retard (negative feedback) the original driving process. At the end of the nineteenth century, Arrhenius (Bolin 2007) described the classic feedback whereby increased air temperature leads to an increase in the amount of water vapor in the atmosphere, which in turn leads to additional atmospheric warming. More recent studies detailed more feedbacks (e.g., Francis et al. 2009). However, a new comprehensive assessment of changes in the cryosphere and their consequences (SWIPA—snow, water, ice, permafrost in the Arctic: AMAP 2011) has enabled a new assessment of feedbacks from the cryosphere to the atmosphere to be made (Callaghan et al. 2011a). This article distills the key findings from the feedbacks portion of the SWIPA report.
There are many feedbacks from the cryosphere to the climate system: some are direct, but others are complex and indirect. Some of the complexity and variety of interactions between the atmosphere, ocean, and cryosphere are illustrated in Fig. 
1
. Further complexity arises owing to scaling issues: individual feedbacks operate over different time scales and their effects can vary from local to global spatial scales. Furthermore, some feedbacks to climate warming are negative and result in reduced rates of climate warming or climate cooling whereas others are positive and lead to warming. An overall assessment of the net effect of many different potential feedbacks on climate change has yet to be achieved. This article summarizes the feedbacks associated with a changing Arctic cryosphere presented in AMAP (
2011
), describes other feedbacks and interactions that span the various cryospheric components, and provides a preliminary assessment of their relative magnitudes. However, the calculation of the net effects of all feedbacks requires complex modeling that remains a priority for future research.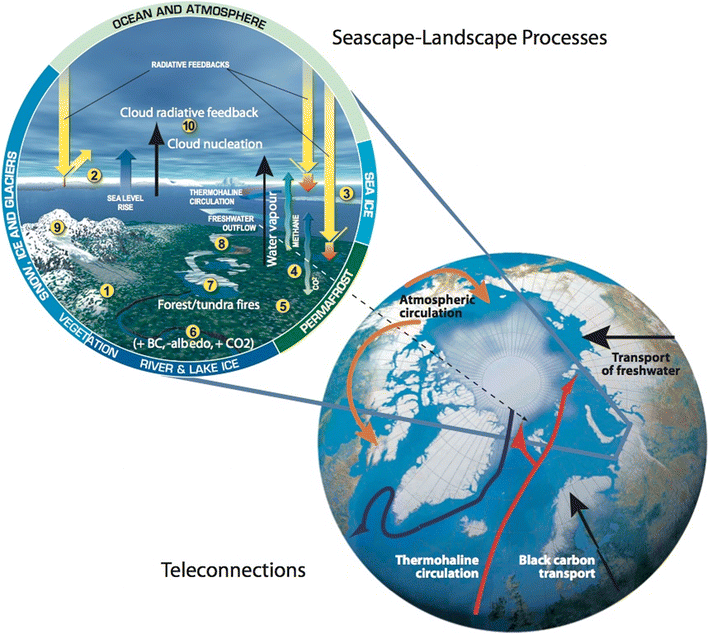 Feedbacks
Transfer of Heat and Energy Between the Cryosphere, Atmosphere, and Ocean
Albedo
A continued and increased melt of mountain glaciers and ice caps, the Greenland Ice Sheet, sea ice, an earlier melt of river and lake ice, and a decrease in snow cover will all impact the Arctic radiation budget. Albedo will decrease and more solar radiation will be absorbed by the ground or open water, leading to additional warming. Furthermore, a decrease in albedo resulting from a decrease in snow cover over land may result in a further change in albedo through a change in the vegetation in response to surface warming (Chapin et al. 2005; Euskirchen et al. 2009). Permafrost thaw is also expected to lead to changes in albedo as areas dry out or become waterlogged. Indirectly, changes in surface albedo can modify large-scale atmospheric circulation (Dethloff et al. 2006).
For the Arctic glaciers (including those in Greenland surrounding the ice sheet), projected volume loss ranges between 12 and 32% of their current volume by 2100 depending on the GCM (Radić and Hock 2010). Any translation of ice volume losses into decreased areal extent will reduce albedo due to increases of bare ground. The thinning of the ice pack, earlier melt onset, and increased open water will contribute to a reduction in albedo. However, some recent research suggests that the ice-albedo feedback is potentially less efficient than previously thought (e.g., Graverson and Wang 2009). For example, the annual sea-ice minimum is reached in September at a time when incoming solar radiation is already weak.
The albedo of terrestrial snow-covered surfaces in the Arctic is a major feedback to climate over a large area (Fernandes et al. 2009), and an important feedback to climate globally through atmospheric and oceanic teleconnections. Recent observations show a general decrease in snow-cover extent and duration (AMAP 2011; Callaghan et al. 2011b [this issue]) that has led to decreases in the albedo feedback. Warming resulting from black carbon deposition on snow is equivalent to that resulting from a doubling of atmospheric CO2 in Eurasia (Flanner et al. 2008; AMAP 2011).
The reflective properties of snow are strongly modified by vegetation (e.g., Essery et al. 2008; AMAP 2011; Callaghan et al. 2011b [this issue]). While new snow typically absorbs around 10% of thermal radiation incident on it, black spruce (Picea mariana) can absorb 95% of thermal radiation leading to a significant positive feedback (Juday et al. 2005). The snow feedback will be decreased as vegetation height increases above the snow pack during the ongoing and projected process of shrub and tree range extensions into the Arctic (Sturm et al. 2001; Tape et al. 2006). Although, increases in shrub advance in the Alaskan Arctic have not yet resulted in warming, it is predicted that an increase of shrubs could increase summer heating of the atmosphere by 3.7 W m−2, which is equivalent to a doubling of CO2 (Chapin et al. 2005). In the Barents region, changes in albedo through forest advance could increase temperatures by 1°C in spring (Gottel et al. 2008), although increased evapotranspiration and draw-down of atmospheric CO2 in summer would result in cooling. Thus, feedbacks arising from changes in vegetation are complex, operating in different directions, through different mechanisms and over different periods of time.
Cloud Feedbacks
The cloud-radiation feedback in a warming climate is uncertain. Clouds both reflect solar radiation and absorb long-wave (terrestrial) radiation, the magnitudes of which depend on cloud amount, height, particle phase and size, and thickness. Some satellite studies (Wang and Key 2003; Liu et al. 2007) have shown that wintertime cloud amount in the Arctic appears to have been generally decreasing since the early 1980s, but springtime cloud amount has been increasing. While wintertime clouds in the Arctic have a warming effect, springtime cloud can have either a net warming or cooling effect. The overall radiative impact of these cloud cover changes on the surface is one of increased cooling. Therefore, changes in cloud cover may have actually suppressed Arctic warming to some degree (Wang and Key 2003).
The influence of changes in cloud cover on sea-ice extent and vice versa is an important part of the feedback process, but has not been studied yet extensively. On the time scale of a single season, changes in cloud amount may have minimal influence on summer sea-ice melt although there are clearly interdependencies between trends in cloud cover, surface temperature, and sea-ice extent. Over the past few decades, >80% of the observed surface warming in the western Arctic Ocean during autumn is attributable to decreasing sea ice. Similarly, over 80% of the winter surface cooling in the central Arctic is a result of changes in cloud cover. In spring, only about half of the surface warming is a result of changes in cloud cover (Liu et al. 2009).
Satellite and reanalysis data have shown that sea-ice retreat is linked to a decrease in low-level cloud amount and an increase in mid-level clouds (Schweiger et al. 2008). This is in contrast to the common notion that a warming ocean surface will increase surface evaporation and lead to more low clouds. While the response of cloud cover to sea-ice loss plays a minor role in regulating the summertime ice-albedo feedback, its role in the cloud-ice feedback in autumn is potentially larger (Kay and Gettelman 2009).
Atmospheric Circulation
Overall, the atmosphere is a driver of change in the Arctic (Francis et al. 2009). It primarily forces rather than responds to changes in the cryosphere, a good example being changes in atmospheric wind patterns over the past decade that have contributed to recent reductions in summer Arctic sea-ice extent (Ogi et al. 2010). However, the increase in late summer open water area has, in turn, directly contributed to a modification of large-scale atmospheric circulation patterns. With a reduction in sea-ice cover in late summer, additional heat that was stored in the ocean is then released to the atmosphere in autumn. In years with reduced sea-ice cover the lower-tropospheric thickness is greater. This has a large-scale impact, even into the northern mid-latitudes, as the pressure fields and therefore winds are directly related to the atmospheric thickness. Responses can be complex, as the loss of sea ice north of Eurasia may result in a cooling effect over eastern Asia.
There is also a relationship between snow cover and atmospheric circulation. Recent observational studies show that above-normal winter snow depth over western Russia and a corresponding below-normal snow depth over central Siberia—the east–west snow dipole—are associated with reduced Indian monsoon rainfall and above-normal sea-surface temperatures (SSTs) over the eastern and central tropical Pacific Ocean during subsequent winters (e.g., Peings and Douville 2010). Similarly, below-normal winter snow depth over European Russia and a corresponding above-normal snow depth over central Siberia are associated with increased monsoon rainfall and below-normal SSTs.
The large-scale effect of changes in snow cover through the snow albedo feedback (SAF) has recently been examined. For example, Fletcher et al. (2009) demonstrated a non-local influence of SAF on the summertime circulation in the extratropical Northern Hemisphere. In models with stronger SAF, increased land surface warming is associated with large-scale sea level pressure anomalies over the northern oceans and a poleward intensified subtropical jet. This would result in a change in heat and moisture fluxes into/out of the Arctic, although the feedback on snow cover and the impact on sea ice are not clear.
Ice sheets and ice caps change the elevation and form of the Earth's surface. This changes the air temperature and deforms the atmospheric circulation, forming a "wave shadow". For this reason, the Icelandic Low exists throughout the entire year, with the Greenland Ice Sheet to the west, as opposed to the Aleutian Low, which disappears in summer. Recent modeling supports the influence of the Greenland Ice Sheet on atmospheric circulation (Lunt et al. 2004). Due to the cooling effect of the Greenland Ice Sheet, the air temperature drops as much as 5–10°C in the atmospheric layer several 100 m above it. Over smaller ice caps and large mountain glaciers, the cooling is about 2–3°C and spreads upward to 200–250 m. This may affect the cyclone trajectories ("storm tracks") and the life cycle of pressure systems (Krenke 1982).
A retreating sea-ice margin may enhance melting over the Greenland Ice Sheet. Rennermalm et al. (2009) explored the spatial and temporal covariance of sea-ice extent and ice sheet surface-melt around Greenland from 1979 to 2007. Significant covariance was found in western Greenland. An examination of wind direction patterns and a lag analysis of ice retreat/advance and surface-melt event timings suggested that a change in sea-ice extent is a potential driver of ice-sheet melt, in that late summer wind directions bring onshore advection of ocean heat, enhanced by reductions in offshore sea ice. There is also a strong linkage between sea-ice loss and terrestrial permafrost temperature. Lawrence et al. (2008) found that the accelerated warming signal of rapid sea-ice loss penetrates up to 1500 km inland and substantially increases ground heat accumulation.
Interactions Between the Cryosphere and the Freshwater Budget of the Arctic
All of the cryospheric components play, to varying degrees, roles in the freshwater budget of the Arctic. Changes in the cryosphere can affect the strength of the Atlantic Meridional Overturning Circulation (AMOC), and hence, global climate. Assessing the magnitude of these effects requires not only an understanding of how the thermohaline circulation responds to freshwater inputs, but also the sources, locations, distributions, and pathways of freshwater into and out of the Arctic (Randall et al. 2007; On-line supplementary material).
In general, the Arctic Ocean receives freshwater inputs from direct precipitation, Pacific water through the Bering Strait (referenced to a particular salinity), terrestrial ice masses, and runoff from river basins. Importantly, the major river basins contributing flow to the Arctic Ocean are of a nival regime (runoff is dominated by snowmelt). Within the Arctic Ocean, freshwater amounts also change due to losses from evaporation and to the growth (−) and ablation (+) of sea ice. Very large volumes of freshwater can also be "stored" in deep basins with highly variable residence times. Freshwater export from the Arctic Ocean occurs primarily through Fram Strait and the Canadian Archipelago to the Atlantic Ocean, where it plays a role in the formation of deep water in the Greenland-Iceland-Norwegian (GIN) Seas.
It is the export of freshwater that has been identified within paleo-records as weakening the thermohaline circulation and causing major cooling events over the North Atlantic. For example, an Arctic Ocean pathway fed by freshwater flows from the Mackenzie River-Beaufort Gyre, instead of the previously supposed Great Lakes-St. Lawrence routing, has been recently identified as being responsible for the shutting down of the North Atlantic thermohaline circulation, resulting in major cooling associated with the Younger Dryas Period (e.g., Murton et al. 2010).
Since publication of the Arctic Climate Impact Assessment in 2005 (ACIA 2005), a number of updates have been made concerning the relative size of the overall freshwater budget terms and of the cryospheric components that contribute to them. These are summarized here and considered in the "On-line supplementary material", gleaned from the SWIPA Assessment (AMAP 2011) and related literature.
Recent Budget Estimates
Total freshwater inputs to the Arctic Ocean are dominated by river flow, inflow through the Bering Strait, and precipitation–evaporation directly occurring on the Arctic Ocean (Serreze et al. 2006; On-line supplementary material). Importantly, their estimate is an order of magnitude smaller than the total amount stored in the Arctic Ocean. Freshwater exports from the Arctic Ocean occur principally through the straits of the Canadian Arctic Archipelago and via Fram Strait as liquid and sea ice. Serreze et al. (2006) noted a larger freshwater inflow through Bering Strait and larger liquid freshwater outflow through Fram Strait than earlier estimates by others.
Peterson et al. (2006) conducted an analysis of changes in freshwater budget components for a broader "Arctic region" including the additional large land–ocean catchment of Hudson Bay in North America as well as the Nordic Seas and North Atlantic subpolar basins. Increasing precipitation–evaporation over the marine environments and larger river flow, probably also tied to increases in high-latitude precipitation, was estimated to have contributed ~20 000 km3 of freshwater to the total region from lows in the 1960s to highs in the 1990s (On-line supplementary material).
Freshwater Budget Components and Changes
Synthesis
This review and analysis has substantiated and quantified many of the linkages between the cryosphere and climate identified by earlier recent studies (e.g., Francis et al.
2009
). Figure 
2
synthesizes the major feedbacks on climate mediated by cryospheric processes, where the impacts of changes in various forcing variables (e.g., albedo) and processes (e.g., atmospheric circulation) on elements of the cryosphere are depicted. The surface or near-surface air temperature is the variable primarily used to drive changes in the cryospheric component and then to assess the magnitude of warming or cooling. The box colors indicate the expected future impact of a change in the variable or process on the climate, where red indicates warming and blue indicates cooling. The colors also indicate the type of feedback, where red is a positive feedback from current climate warming to future temperature and blue is a negative feedback. The color does not, however, indicate the direction of change between the two variables alone. For example, a decrease in sea-ice cover increases atmospheric water vapor, which in turn may decrease sea-ice cover even further because water vapor is a greenhouse gas. This is a positive feedback, but the change in sea-ice cover and water vapor are in opposite directions. The intensity of the colors indicates, at least qualitatively, the relative magnitude of the impact. For example, warming caused by a decrease in albedo through a loss of sea ice is expected to be greater than that due to changes in glacier extent. The feedbacks presented in Fig. 
2
represent a relatively simple synthesis of many complex processes. This synthesis is intended to stimulate a better understanding of the processes rather than give a definitive analysis.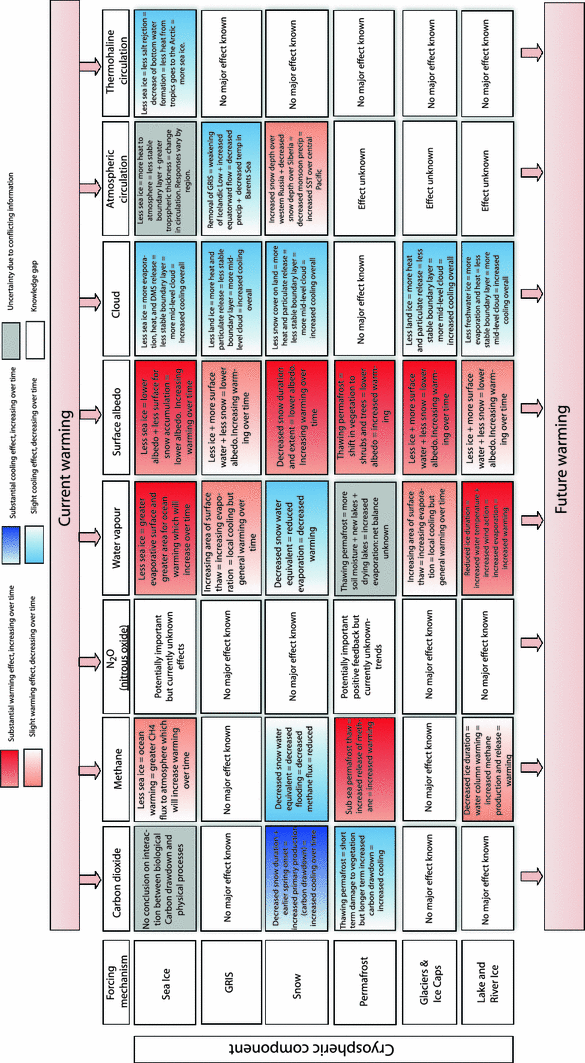 The impacts, interactions, and feedbacks in Fig. 2 are not necessarily independent. In particular, cloud formation is strongly dependent upon the available water vapor, which may be from local sources or transported from lower latitudes (atmospheric circulation). In addition, changes in one part of the cryosphere may cause changes in others.
Conclusions
Despite their potential importance, most of the terrestrial feedbacks are poorly quantified over large areas although considerable detail is available for a few specific locations. Generalization of the impacts is difficult at best. Large uncertainties exist in cloud feedbacks and subsea permafrost in particular; these topics require enhanced and sustained research. General circulation models currently include few feedbacks while the lack of full coupling between surface dynamics and the atmosphere is a major gap in current GCMs.
The primary source of uncertainty regarding the atmosphere as a driver of change in the Arctic is precipitation. Future changes in its spatial and seasonal distribution are unclear, as are its effects on the sea-ice mass budget, marine primary productivity, and vegetation. A better understanding of precipitation effects will only be gained through developing and sustaining a more robust observing network.
There remains considerable controversy about the degree to which current levels of freshwater within the Arctic Ocean can affect the strength of the AMOC. There is therefore, a need to evaluate the potential for the cumulative production and release of large amounts of freshwater from all contributing components, including all components of the cryosphere, and particularly the ultimate freshwater export to the North Atlantic where it could produce a significant effect on the AMOC and global climate.
Notes
Acknowledgments
We thank Sebastian Gerland, Mats Granskog, and two reviewers for comments on the manuscript. We also wish to thank the various national funding agencies that made this review possible, specifically the Swedish Environmental Protection Agency (grant number 08/210) and the Swedish Research Council FORMAS (grant number 204-2009-45) who helped directly support this publication together with Environment Canada. Prof. F. Wrona kindly facilitated and encouraged this publication. We also gratefully acknowledge the Arctic Monitoring and Assessment Program Secretariat and the SWIPA Integration Team in helping to produce the original SWIPA report and the various contributing SWIPA chapter authors.
Copyright information
© Royal Swedish Academy of Sciences 2012