Abstract
The impact of universities on social networks has been widely studied, especially on Facebook and Twitter. However, there is a clear lack of research on YouTube, despite an overwhelming presence of universities on this online video platform. The objective of this work is to analyse similarities in the dynamics of views and likes between the YouTube channel of a university, Polytechnic University of Valencia and an educational channel, the saurabhschool (Saurabh and Gautam 2019). This is the first work that analyses the dynamics of online video impact of a university on YouTube, which are subsequently compared to those of an educational channel to find common patterns. The time series of views and likes are obtained for both channels; their seasonal components are calculated and compared. Observation is subsequently supported by an analysis of correlations and the Euclidean distance. Results suggest that the video impact dynamics of a university channel behave similarly to those of an educational channel. These results can help universities anticipate the behaviour pattern of their videos in order to maximize the impact of their content through YouTube.
Access options
Buy single article
Instant access to the full article PDF.
US$ 39.95
Tax calculation will be finalised during checkout.
Subscribe to journal
Immediate online access to all issues from 2019. Subscription will auto renew annually.
US$ 79
Tax calculation will be finalised during checkout.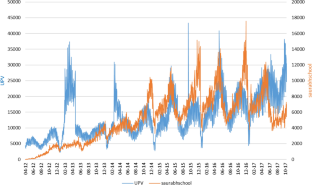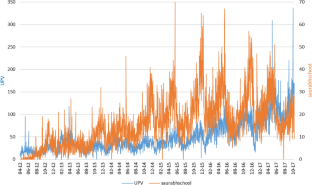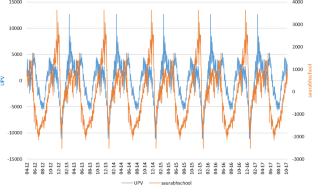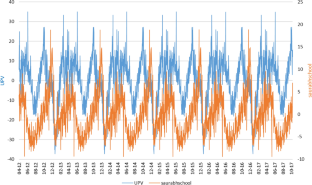 References
Academic Ranking of World Universities ARWU (2018). http://www.shanghairanking.com/ARWU2018.html. Accessed 12 November 2019

Alexa Internet Inc (2019) Top sites. http://www.alexa.com/topsites. Accessed 23 September 2019

Arroyo-Barrigüete JL, López-Sánchez JI, Minguela-Rata B, et al (2019) Use patterns of educational videos: a quantitative study among university students. WPOM Work Papers Oper Manage 10:1–19. https://doi.org/10.4995/wpom.v10i2.12625

Bärtl M (2018) YouTube channels, uploads and views: a statistical analysis of the past 10 years. Convergence 24:16–32. https://doi.org/10.1177/1354856517736979

Beckers SFM, van Doorn J, Verhoef PC (2018) Good, better, engaged? The effect of company-initiated customer engagement behavior on shareholder value. J Acad Mark Sci 46:366–383. https://doi.org/10.1007/s11747-017-0539-4

Borghol Y, Mitra S, Ardon S et al (2011) Characterizing and modelling popularity of user-generated videos. Perform Eval 68:1037–1055. https://doi.org/10.1016/j.peva.2011.07.008

Cleveland RB, Cleveland WS, McRae, et al (1990) STL: A seasonal-trend decomposition. J Official Stat 6:3–73

Djerf-Pierre M, Lindgren M, Budinski MA (2019) The role of journalism on YouTube audience engagement with Superbug reporting. Media Commun 7:235–247

Eigenraam AW, Eelen J, Lin AV et al (2018) A consumer-based taxonomy of digital consumer engagement Practices. J Interact Market 44:102–121. https://doi.org/10.1016/j.intmar.2018.07.002

Feroz Khan G, Vong S (2014) Virality over YouTube: an empirical analysis. Intern Res 24:629–647. https://doi.org/10.1108/IntR-05-2013-0085

Guzmán AP, Moral MED (2014) Tendencias de uso de YouTube: optimizando la comunicación estratégica de las universidades iberoamericanas. Observatorio (OBS) 8:69–94

Hovden R (2013) Bibliometrics for Internet media: applying the h-index to YouTube. J Assoc Inf Sci Technol 64:2326–2331. https://doi.org/10.1002/asi.22936

Khan ML (2017) Social media engagement: what motivates user participation and consumption on YouTube? Comput Hum Behav 66:236–247. https://doi.org/10.1016/j.chb.2016.09.024

Ksiazek TB, Peer L, Lessard K (2016) User engagement with online news: Conceptualizing interactivity and exploring the relationship between online news videos and user comments. New Media Soc 18:502–520. https://doi.org/10.1177/1461444814545073

Martín-González Y, Llarena RS (2017) Universidades españolas en Youtube : gestión de canales institucionales y de sus contenidos. Cuadernos de Documentación Multimedia 28:147–169. https://doi.org/10.5209/CDMU.57970

Meseguer-Martinez A, Ros-Galvez A, Rosa-Garcia A (2017) Satisfaction with online teaching videos: A quantitative approach. Innov Edu Teach Int 54:62–67. https://doi.org/10.1080/14703297.2016.1143859

Meseguer-Martinez A, Ros-Galvez A, Rosa-Garcia A (2019) Linking YouTube and university rankings: Research performance as predictor of online video impact. Telemat Inform 43:101264. https://doi.org/10.1016/j.tele.2019.101264

Montero P, Vilar JA (2014) TSclust: an R package for time series clustering. J Stat Softw 62:1–43

Mwenda AB, Sullivan M, Grand A (2019) How do Australian universities market STEM courses in YouTube videos? J Mark Higher Educ 29:191–208. https://doi.org/10.1080/08841241.2019.1633004

Pan X, Yan E, Hua W (2016) Science Communication and Dissemination in Different Cultures: An Analysis of the Audience for TED Videos in China and Abroad. J Assn Inf Sci Tec 67:1473–1486. https://doi.org/10.1002/asi.23461

Paolillo JC (2008) Structure and Network in the YouTube Core. Proceedings of the 41st Annual Hawaii International Conference on System Sciences (HICSS 2008). Waikoloa, HI, pp 156–156. https://doi.org/10.1109/HICSS.2008.415

Pham HH, Farrell K, Vu HM, Vuong QH (2017) Using YouTube videos to promote universities: a content analysis. Technics Technol Educ Manage 12:58–72

Saurabh S (2018) Data for: Modelling and Statistical Analysis of YouTube's Educational Videos: A Channel Owner's Perspective. Mendeley Data, v1. Accessed 07 June 2019

Saurabh S, Gautam S (2019) Modelling and statistical analysis of YouTube's educational videos: a channel Owner's perspective. Comput Educ 128:145–158. https://doi.org/10.1016/j.compedu.2018.09.003

Shoufan A (2019) What motivates university students to like or dislike an educational online video? a sentimental framework. Comput Educ 134:132–144. https://doi.org/10.1016/j.compedu.2019.02.008

Statista (2019) Most popular social networks worldwide as of October 2019, ranked by number of active users (in millions). https://www.statista.com/statistics/272014/global-social-networks-ranked-by-number-of-users/ Accessed 22 November 2019

Sugimoto CR, Thelwall M (2013) Scholars on soap boxes: science communication and dissemination in TED videos. J Am Soc Inf Sci Tec 64:663–674. https://doi.org/10.1002/asi.22764

Sugimoto CR, Thelwall M, Larivière V et al (2013) Scientists popularizing science: characteristics and impact of ted talk presenters. PLoS ONE 8:e62403. https://doi.org/10.1371/journal.pone.0062403

Tafesse W (2020) YouTube marketing: how marketers' video optimization practices influence video views. Intern Res 30:1689–1707. https://doi.org/10.1108/INTR-10-2019-0406

Tellis GJ, MacInnis DJ, Tirunillai S et al (2019) What drives virality (sharing) of online digital content? the critical role of information, emotion and brand prominence. J Mark 83:1–20. https://doi.org/10.1177/0022242919841034

ten Hove P, van der Meij H (2015) Like it or not. what characterizes YouTube's more popular instructional videos? Tech Commun 62:48–62

Thelwall M, Mas-Bleda A (2018) YouTube science channel video presenters and comments: female friendly or vestiges of sexism? Aslib J Info Mgmt 70:28–46. https://doi.org/10.1108/AJIM-09-2017-0204

Valerio-Ureña G, Herrera-Murillo D, Madero-Gómez S (2020) Analysis of the presence of most best-ranked universities on social networking sites. Informatics 7:9. https://doi.org/10.3390/informatics7010009

Veletsianos G, Kimmons R, Larsen R et al (2018) Public comment sentiment on educational videos: Understanding the effects of presenter gender, video format, threading and moderation on YouTube TED talk comments. PLoS ONE 13:e0197331. https://doi.org/10.1371/journal.pone.0197331

Welbourne DJ, Grant WJ (2016) Science communication on YouTube: factors that affect channel and video popularity. Public Underst Sci 25:706–718. https://doi.org/10.1177/0963662515572068

Xiao C, Xue Y, Li Z et al (2015) Measuring User Influence Based on Multiple Metrics on YouTube. 2015 seventh international symposium on parallel architectures, algorithms and programming (PAAP). IEEE, Nanjing, pp 177–182

Xu WW, Park JY, Park HW (2017) Longitudinal dynamics of the cultural diffusion of Kpop on YouTube. Qual Quant 51:1859–1875. https://doi.org/10.1007/s11135-016-0371-9

YouTube (2020) Cifras sobre YouTube. https://www.youtube.com/about/press/ Accessed 15 January 2020
Acknowledgements
The authors want to acknolwedge the Universitat Politècnica de València's ASIC (Área de Sistemas de Información y Comunicaciones) for the data of their institutional YouTube channel. We also acknowledge the support from Juan Antonio Marín-García and Ignacio Despujol-Zabala.
Additional information
Publisher's Note
Springer Nature remains neutral with regard to jurisdictional claims in published maps and institutional affiliations.
About this article
Cite this article
Ros-Gálvez, A., Meseguer-Martínez, Á. & López-Buenache, G. The dynamics of the university impact on YouTube: a comparative analysis. Soc. Netw. Anal. Min. 11, 9 (2021). https://doi.org/10.1007/s13278-020-00716-w
Received:

Revised:

Accepted:

Published:
Keywords
Impact

University

Time series

Seasonality

YouTube