Abstract
In this paper, we study the problem of predicting personality with features based on social behavior. While network position and text analysis are often used in personality prediction, the use of social behavior is fairly new. Often studies of social behavior either concentrate on a single behavior or trait, or simply use behavior to predict ties that are then used in analysis of network position. To study this problem, we introduce novel features based on a person's social actions in general, towards specific individuals in particular. We also compute the variation of these actions among all the social contacts of a person as well as the actions of friends. We show that social behavior alone, without the help of any textual or network position information, provides a good basis for personality prediction. We then provide a unique comparative study that finds the most significant features based on social behavior in predicting personality for three different communication mediums: Twitter, SMS and phone calls. These mediums offer us with social behavior from public and private contexts, containing messaging and voice call type exchanges. We find behaviors that are distinctive and normative among the ones we study. We also illustrate how behavioral features relate to different personality traits. We also show the various similarities and differences between different mediums in terms of social behavior. Note that all behavioral features are based on statistical properties of the number and the time of social actions and do not consider the textual content. As a result, they can be applied in many different settings. Furthermore, our findings show us how behavioral features can be customized to a specific medium and personality trait.
Access options
Buy single article
Instant access to the full article PDF.
USD 39.95
Price excludes VAT (USA)
Tax calculation will be finalised during checkout.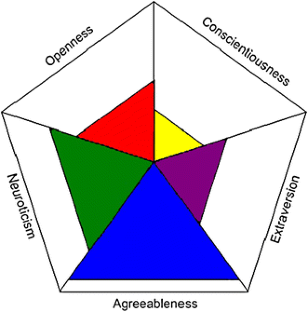 References
Adalı S, Escriva R, Goldberg M, Hayvanovych M, Magdon-Ismail M, Szymanski BK, Wallace WA., Williams GM (2010) Measuring behavioral trust in social networks. In: Proc. Intl. Conf. on Intelligence and Security Informatics, pp 150–152

Adalı S, Magdon-Ismail M, Sisenda F (2012) Actions speak as loud as words: predicting relationships from social behavior data. In: Proceedings of the WWW Conference

Aharony N, Pan W, Ip C, Khayal I, Pentland A (2011) Socialfmri: investigating and shaping social mechanisms in the real world. Pervasive Mobile Comput 7(6):643–659

Asendorpf J, Wilpers S (1998) Personality effects on social relationship. J Personal Soc Psychol 74(6): 1531–1544

Barrick MR, Mount MK (1991) The big five personality dimensions and job performance: a meta-analysis. Personnel Psychol 44(1):1–26

Burt RS, Jannotta JE, Mahoney JT (1998) Personality correlates of structural holes. Soc Netw 20(1):63 – 87

Catanese S, Ferrara E, Fiumara G (2013) Forensic analysis of phone call networks. Soc Netw Anal Min 3(1):15–33. doi:10.1007/s13278-012-0060-1

Center P (2012) Americans and text messaging. http://pewinternet.org/Reports/2011/Cell-Phone-Texting-2011.aspx.. Accessed 29 Nov 2012

De Raad B (2000) The big five personality factors: the psycholexical approach to personality. Hogrefe & Huber, Göttingen

Digman J (1990) Personality structure: emergence of the five-factor model. Annu Rev Psychol 41(1):417–440

Eagle N (2008) Behavioral inference across cultures Using telephones as a cultural lens. Intell Syst IEEE 23(4):62–64 (2008)

Eagle N, Pentland A, Lazer D (2009a) Inferring friendship network structure by using mobile phone data. Proc Natl Acad Sci 106(36):15274–15278

Eagle N, Pentland A, Lazer D (2009b) Inferring social network structure using mobile phone data. Proc Natl Acad Sci (PNAS) 106(36):15274–15278

Ferri F, Grifoni P, Guzzo T (2012) New forms of social and professional digital relationships: the case of facebook. Soc Netw Anal Min 2(2):121–137 doi:10.1007/s13278-011-0038-4

Golbeck J, Robles C, Edmondson M, Turner K (2011) Predicting personality from twitter. In: Proceedings of the 3rd IEEE Intl. Conf. on Social Computing, pp 149–156

Golbeck J, Robles C, Turner K (2011) Predicting personality with social media. In: Proceedings of the 2011 annual conference extended abstracts on Human factors in computing systems, CHI EA '11, pp 253–262

Goldberg L (1982) From Ace to Zombie: some explorations in the language of personality. Adv Personal Assess 1:203–234

Hall M, Frank E, Holmes G, Pfahringer B, Reutemann P, Witten I (2009) The WEKA data mining software: an update. ACM SIGKDD Explor Newsl 11(1):10–18

Hansen MT (1999) The search-transfer problem: the role of weak ties in sharing knowledge across organization subunits. Adm Sci Quart 44(1):82 – 111

John O. (1990) The "Big Five" factor taxonomy: dimensions of personality in the natural language and in questionnaires. Handb Personal: Theory Res 14:66–100

John O, Donahue E, Kentle R (1991) The big five inventoryversions 4a and 54. University of California, Berkeley, Institute of Personality and Social Research

Klein K, Lim B, Saltz J, Mayer DM (2004) How do they get there? an examination of the antecedents of centrality in team networks. Acad Manag J 47(6):952–963

Kosinski M, Stillwell D, Graepel T (2013) Private traits and attributes are predictable from digital records of human behavior. Proc Natl Acad Sci 110(15):5802–5805. doi:10.1073/pnas.1218772110. http://www.pnas.org/content/110/15/5802.abstract

Mairesse F, Walker M, Mehl M, Moore R (2007) Using linguistic cues for the automatic recognition of personality in conversation and text. J Artif Intell Res 30(1):457–500

McCrae R (1989) Why I advocate the five-factor model: joint factor analyses of the NEO-PI with other instruments. Personality psychology: recent trends and emerging directions, pp 237–245. doi:10.1007/978-1-4684-0634-4_18

McCrae R, Costa P (1990) Personality in adulthood: a five-factor theory perspective. The Guilford Press, New York

McCrae R., John O. (1992) An introduction to the five-factor model and its applications. J Personal 60(2):175–215

McPherson M, Smith-Lovin L, Cook JM (2001) Birds of a feather: homophily in social networks. Annu Rev Sociol 27:415–444

Moskowitz DC, Zuroff DC (2005) Robust predictors of flux, pulse, and spin. J Res Personal 39:130147

Moskowitz DS, Zuroff DC (2004) Flux, pulse, and spin: dynamic additions to the personality lexicon. J Personal So Psychol 86(6):880893

Peabody D, De Raad B (2002) The substantive nature of psycholexical personality factors: a comparison across languages. J Personal Soc Psychol 83(4):983–997

Pennebaker J, Francis M, Booth R (2001) Linguistic inquiry and word count: LIWC 2001. Lawrence Erlbaum Associates, Mahway

Pennebaker J, King L (1999) Linguistic styles: language use as an individual difference. J Personal Soc Psychol 77(6):1296–1312

Quercia D, Kosinski M, Stillwell D, Crowcroft J (2011) Our twitter profiles, our selves: predicting personality with twitter. In: Privacy, security, risk and trust (passat), 2011 ieee third international conference on and 2011 ieee third international conference on social computing (socialcom), IEEE, pp 180–185

Schmitt D, Allik J, McCrae R, Benet-Martinez V (2007) The geographic distribution of Big Five personality traits: patterns and profiles of human self-description across 56 nations. J Cross Cult Psychol 38(2):173

Sheldon KM, Ryan RM, Rawsthorne LJ, Ilardi B (1997) Trait self and true self: cross-role variation in the big-five personality traits and its relations with psychological authenticity and subjective well-being. J Personal Soc Psychol 73(6):1380–1393

Sherman RA, Nave CS, Funder DC (2012) Properties of persons and situations related to overall and distinctive personality-behavior congruence. J Res Personal 46(1):87 – 101

Staiano J, Lepri B, Aharony N, Pianesi F, Sebe N, Pentland A (2012) Friends don't lie: inferring personality traits from social network structure. In: Proceedings of the 2012 ACM Conference on Ubiquitous Computing, UbiComp '12, pp 321–330. ACM, New York, NY, USA. doi:10.1145/2370216.2370266

Staiano J, Lepri B, Aharony N, Pianesi F, Sebe N, Pentland S (2012) Friends don't lie—inferring personality traits from social network structure. In: Proceedings of UbiComp'12

Tchuente D, Canut MF, Jessel N, Peninou A, Sèdes F (2013) A community-based algorithm for deriving users' profiles from egocentrics networks: experiment on facebook and dblp. Soc Netw Anal Min, pp 1–17. doi:10.1007/s13278-013-0113-0

Tett RP, Burnett DD (2003) A personality trait-based interactionist model of job performance. J Appl Psychol 88(3):500 –517

Tupes E, Christal R (1992) Recurrent personality factors based on trait ratings. J Personal 60(2):225–251

Wang C, Lizardo O, Hachen D, Strathman A, Toroczkai Z, Chawla NV (2012) A dyadic reciprocity index for repeated interaction networks. Netw Sci 1:31–48

Wuchty S, Uzzi B (2011) Human communication dynamics: a study of the agreement between self-reported and email derived social networks. PLoS One 6(11):e26972. doi:10.1371/journal.pone.0026972
Acknowledgments
Research was sponsored by the Army Research Laboratory and was accomplished under Cooperative Agreement Number W911NF-09-2-0053. The views and conclusions contained in this document are those of the authors and should not be interpreted as representing the official policies, either expressed or implied, of the Army Research Laboratory or the US Government. The US Government is authorized to reproduce and distribute reprints for Government purposes notwithstanding any copyright notation here on.
About this article
Cite this article
Adalı, S., Golbeck, J. Predicting personality with social behavior: a comparative study. Soc. Netw. Anal. Min. 4, 159 (2014). https://doi.org/10.1007/s13278-014-0159-7
Received:

Revised:

Accepted:

Published:

DOI: https://doi.org/10.1007/s13278-014-0159-7
Keywords
Personality Trait

Social Behavior

Broadcast Message

Social Circle

Voice Call