Abstract
Advances in Web 2.0 technologies have led to unstructured information overload in the complex and multidimensional datasets that originate in social networks. This overload can diminish the quality of web-related services such as recommender systems in the social web and can overwhelm users with irrelevant information. Such overload indicates the need to design and develop efficient and accurate information management and retrieval systems in social networks and anticipate recommendations in the semantic context of user interest. Community detection in social networks can help identify higher-order structures that unveil insight into networks and their functional organization and reduce irrelevant information received by the user. In this study, the application of community detection in online social networks is investigated within the framework of topic discovery-based user link identification and is consequently used to uncover implicit user communities (ad hoc communities). In the proposed approach, we use a graph-based information extraction technique that provides for a personalized information retrieval (recommender) system. We hypothesize that the ad hoc communities of users sharing similar interests embedded in a folksonomy-based social network can be identified by overlapping tag clusters in the tag concept hierarchy. Our methodology incorporates the novel information extraction techniques of topic modeling for topic extraction (feature extraction), user profile modeling for user profile extraction, and community extraction from the social graph, modeled in a framework to derive relevant ad hoc user communities of social interest from folksonomy data. Our experimental results demonstrate an accuracy of 70–98 % in community detection using data obtained from CiteULike®.
Access options
Buy single article
Instant access to the full article PDF.
USD 39.95
Price excludes VAT (USA)
Tax calculation will be finalised during checkout.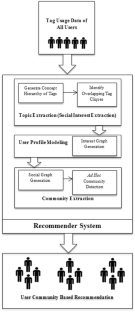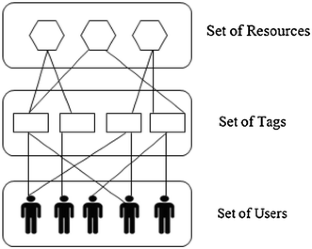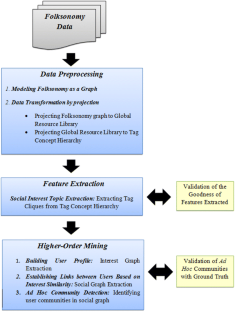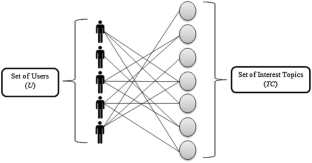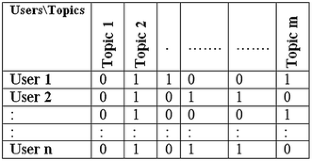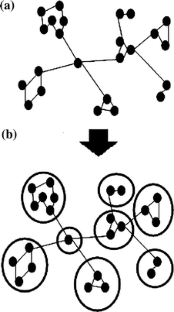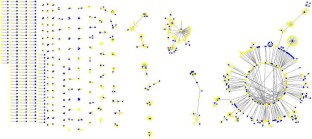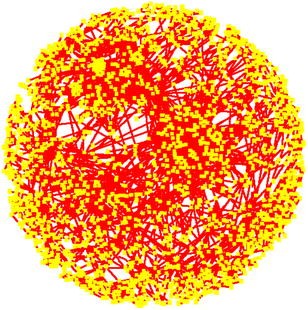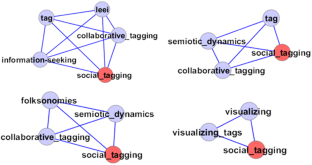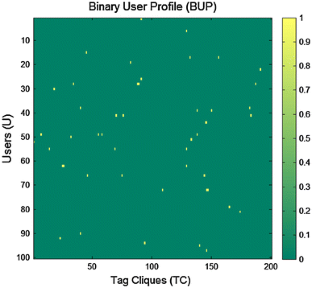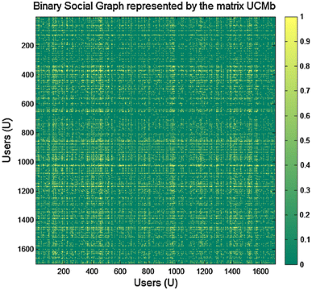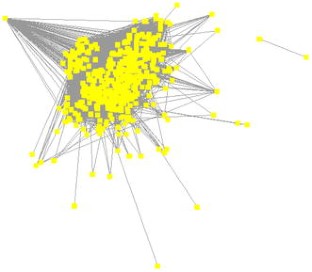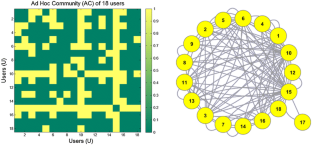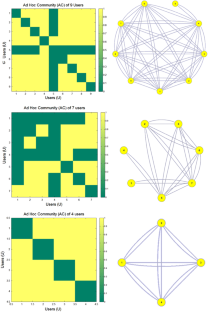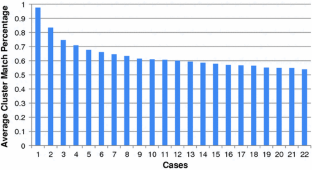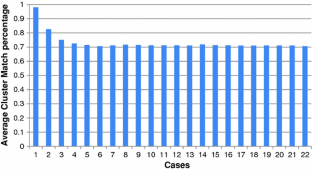 References
Anand D, Bharadwaj KK (2012) Pruning trust–distrust network via reliability and risk estimates for quality recommendations. Social Network Analysis and Mining (SNAM) 1869–5450:1–20

Arazy O, Kumar N, Shapira B (2009) Improving social recommender systems. IEEE IT Professional 11:38–44

Au Yeung CM, Gibbins N, Shadbolt N (2009) Contextualising tags in collaborative tagging systems. In: Proceedings of the 20th ACM conference on hypertext and hypermedia, pp 251–260

Barragáns-Martínez AB, Rey-López M, Costa Montenegro E, Mikic-Fonte FA, Burguillo JC, Peleteiro A (2010) Exploiting social tagging in a web 2.0 recommender system. IEEE Internet Comput 14:23–30

Begelman G, Keller P, Smadja F (2006) Automated tag clustering: improving search and exploration in the tag space. In: Proceedings of the collaborative web tagging workshop at WWW, vol 6

Blondel VD, Guillaume J, Lambiotte R, Lefebvre E (2008) Fast unfolding of communities in large networks. J Stat Mechanics P10008:1–2. doi:10.1088/1742-5468/2008/10/P10008

Brodka P, Saganowski S, Kazienko P (2012) GED: The method for group evolution discovery in social networks. Social Netw Anal Min (SNAM) 1–14. doi:10.1007/s13278-012-0058-8

Brooks CH, Montanez N (2006) Improved annotation of the blogosphere via autotagging and hierarhcical clustering. In: 15th International World Wide Web Conference, Edinburgh, Scotland, May 23–26. http://www.cs.usfca.edu/~brooks/papers/brooks-montanez-www06.pdf. Accessed Jan 11, 2012

Cha M, Pérez JAN, Haddadi H (2011) The spread of media content through blogs. Social Netw Anal Min 1–16. doi:10.1007/s13278-011-0040-x

Dua S, Du X (2011) Data mining and machine learning in cybersecurity. CRC Press, Boca Ratan

Farooq U, Song Y, Carroll JM, Giles CL (2007) Social bookmarking for scholarly digital libraries. IEEE Internet Comput 11:29–35

Fortunato S (2010) Community detection in graphs. Physics Reports 486:75–174. http://arxiv.org/PS_cache/arxiv/pdf/0906/0906.0612v2.pdf. Accessed Jan 11, 2012

Gemmell J, Shepitsen A, Mobasher B, Burke R (2008) Personalizing navigation in folksonomies using hierarchical tag clustering. Data Warehous Knowl Discov 5182:196–205

Giannakidou E, Koutsonikola VA, Vakali A, Kompatsiaris Y (2008) Co-clustering tags and social data sources. In: Proceedings of WAIM 2008: 9th International Conference on Web-Age Information Management, pp 317–324

Golder SA, Huberman BA (2005) The structure of collaborative tagging systems. arXiv:cs/0508082v1 [cs.DL]. Accessed Jan 11, 2012

Guangying H, Dominique H (2012) A network analysis of an online expertise sharing community. Social Netw Anal Min (SNAM). doi:10.1007/s13278-012-0047-y

Guibahce N, Lehmann S (2008) The art of community detection. BioEssays 30:934–938

Hotho A, Jaschke R, Schmitz C, Stumme G (2006) Information retrieval in folksonomies: search and ranking. Proc ESWC 4011:411–426

Huizhi L, Yue X, Yuefeng L (2010) Mining users' opinions based on item folksonomy and taxonomy for personalized recommender systems. In: ICDMW '10 Proceedings of the 2010 IEEE international conference on data mining workshops, pp 1128–1135

Kas M, Carley K, Carley LR (2012) Trends in science networks: understanding structures and statistics of scientific networks. Soc Netw Anal Min (SNAM) 1869–5450:1–19

Kashoob S, Caverlee J (2012) Temporal dynamics of communities in social bookmarking systems. Social Netw Anal Min (SNAM) 1869–5450. doi:10.1111/j.1467-8659.2011.01955.x

Li X, Guo L, Zhao Y (2008) Tag-based social interest discovery. In: Proceedings of ACM World Wide Web (WWW) conference, pp 675–684. http://www2008.org/papers/pdf/p675-liA.pdf. Accessed Jan 11, 2012

Lindstaedt S, Morzinger R, Sorschag R, Pammer V, Thallinger G (2009) Automatic image annotation using visual content and folksonomies. Multimedia Tools Appl 42:97–113

McPherson M, Smith-Lovin L, Cook JM (2001) Birds of a feather: homophily in social networks. Ann Rev Sociol 27:415–444

Mika P (2007) Ontologies are us: a unified model of social networks and semantics. Int Semantics Web Conf Sci Serv Agents World Wide Web 5:522–536

Min HS, Choi JY, De Neve W, Ro YM, Plataniotis KN (2009) Semantic annotation of personal video content using an image folksonomy. In: Proceedings of the 16th IEEE international conference on image processing, pp 257–260

Missen MMS, Boughanem M, Cabanac G (2012) Opinion mining: reviewed from word to document level. Social Netw Anal Min (SNAM) 2:1–19

Newman MEJ (2004) Fast algorithm for detecting community structure in networks. Phys Rev E 69. http://arxiv.org/PS_cache/cond-mat/pdf/0309/0309508v1.pdf. Accessed Jan 1, 2012

Palla G, Derenyi I, Farkas I, Vicsek T (2005) Uncovering the overlapping community structure of complex networks in nature and society. Nature 435:814–818. doi:10.1038/nature03607

Papadopoulos S, Kompatsiaris Y, Vakali A (2010) A graph-based clustering scheme for identifying related tags in folksonomies. In: Bach Pedersen T, Mohania M, Tjoa A (eds) Lecture notes in computer science, data warehousing and knowledge discovery, vol 6263. Springer, Berlin/Heidelberg, pp 65–76

Plangprasopchok A, Lerman K, Getoor L (2010) Growing a tree in the forest: Constructing Folksonomies by integrating structured metadata. In: Proceedings of 16th ACM SIGKDD international conference on knowledge discovery and data mining (KDD '10), pp 949–958

Rees BR, Gallagher KB (2012) Overlapping community detection using a community optimized graph swarm. Social Netw Anal Min (SNAM) (Springer), pp 1–13

Schmitz C, Hotho A, Jaschke R, Stumme G (2006) Mining association rules in folksonomies. In: Data Science and Classification: Proceedings of the 10th IFCS conference, studies in classification, data, analysis, and knowledge organization, pp 261–270. http://www.kde.cs.uni-kassel.de/hotho/pub/2006/schmitz2006asso_ifcs.pdf. Accessed Jan 11, 2012

Simpson E (2008) Clustering tags in enterprise and web folksonomies. HP Labs, Technical Report. http://www.hpl.hp.com/techreports/2007/HPL-2007-190.html. Accessed 27 April 2008

Wang X, Tang L, Liu H (2010) Discovering overlapping groups in social media. In: Proceedings of the 2010 IEEE international conference on data mining, pp 569–578

Wu X, Zhang l, Yu Y (2006) Exploring social annotations for the semantic web. In: WWW'06: 15th international World Wide Web conference, Edinburgh Scotland, May 23–26. http://www2006.org/programme/files/xhtml/4071/4071_wu/4071-wu.html. Accessed Jan 11, 2012

Zhang L, Wu X, Yu Y (2006) Emergent semantics from folksonomies: a quantitative study. J Data Semantics 6:168–186

Zhou D, Bian J, Zheg S, Zha H, Giles CL (2008) Exploring social annotations for information retrieval. In: Proceedings of the 17th international conference on World Wide Web, pp 115–118, doi:10.1109/WIIAT.2008.267
Acknowledgments
This material is based on work supported in part by Air Force Office of Sponsored Research (AFOSR) under Award No. FA9550-10-1-0289. Any opinions, findings, and conclusions or recommendations expressed in this publication are those of the author(s) and do not necessarily reflect the views of the AFOSR.
About this article
Cite this article
Nair, V., Dua, S. Folksonomy-based ad hoc community detection in online social networks. Soc. Netw. Anal. Min. 2, 305–328 (2012). https://doi.org/10.1007/s13278-012-0081-9
Received:

Revised:

Accepted:

Published:

Issue Date:

DOI: https://doi.org/10.1007/s13278-012-0081-9
Keywords
Social networks

Community detection

Recommender systems

Information retrieval

Feature extraction

Information extraction