Abstract
Ellagic acid (EA) has been proposed as a promising candidate for therapeutic use in colon cancer. Investigation of the effectiveness of EA in a leptin-enriched model might have been given a little interest. Here in, we investigated the anti-tumor effect of EA in the presence of leptin to reflect on therapeutic use of EA in obesity-linked colon cancer. Proven effective in leptin-enriched microenvironment, EA inhibited cell proliferation of HCT-116 and CaCo-2 cell lines, modulated cell cycle, translocated Bax to the mitochondrial fraction of cells, activated caspase-8, and reduced PCNA expression. The current study findings cast a beam of light on the potential therapeutic use of EA in obesity-related colon carcinogenesis.
Access options
Buy single article
Instant access to the full article PDF.
USD 39.95
Price excludes VAT (USA)
Tax calculation will be finalised during checkout.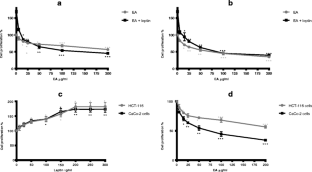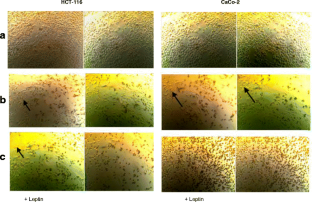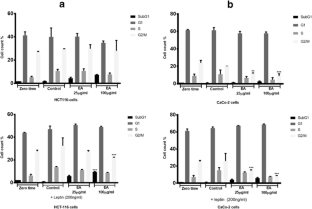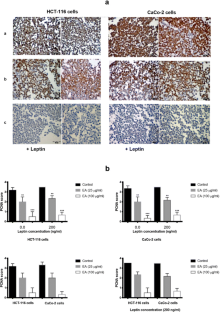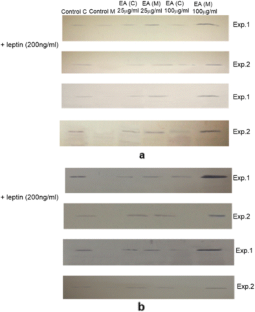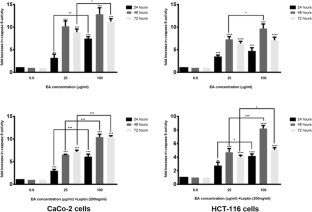 References
Ferlay J, Steliarova-Foucher E, Lortet-Tieulent J, Rosso S, Coebergh JW, Comber H, et al. Cancer incidence and mortality patterns in Europe: estimates for 40 countries in 2012. Eur J Cancer. 2013;49(6):1374–403. doi:10.1016/j.ejca.2012.12.027.

Siegel R, Ma J, Zou Z, Jemal A. Cancer statistics, 2014. CA Cancer J Clin. 2014;64(1):9–29. doi:10.3322/caac.21208.

Alexander J, Rodríguez CM, Paz-Filho G. Leptin as a risk factor for the development of colorectal cancer. Transl Gastrointest Cancer. 2013;2(4):211–22.

Kershaw EE, Flier JS. Adipose tissue as an endocrine organ. J Clin Endocrinol Metab. 2004;89(6):2548–56. doi:10.1210/jc.2004-0395.

Renehan AG, Tyson M, Egger M, Heller RF, Zwahlen M. Body-mass index and incidence of cancer: a systematic review and meta-analysis of prospective observational studies. Lancet. 2008;371(9612):569–78. doi:10.1016/S0140-6736(08)60269-X.

Bardou M, Barkun AN, Martel M. Obesity and colorectal cancer. Gut. 2013;62(6):933–47. doi:10.1136/gutjnl-2013-304701.

Douillard JY, Oliner KS, Siena S, Tabernero J, Burkes R, Barugel M, et al. Panitumumab-FOLFOX4 treatment and RAS mutations in colorectal cancer. N Engl J Med. 2013;369(11):1023–34. doi:10.1056/NEJMoa1305275.

Tveit KM, Guren T, Glimelius B, Pfeiffer P, Sorbye H, Pyrhonen S, et al. Phase III trial of cetuximab with continuous or intermittent fluorouracil, leucovorin, and oxaliplatin (Nordic FLOX) versus FLOX alone in first-line treatment of metastatic colorectal cancer: the NORDIC-VII study. J Clin Oncol. 2012;30(15):1755–62. doi:10.1200/JCO.2011.38.0915.

Naccarati A, Polakova V, Pardini B, Vodickova L, Hemminki K, Kumar R, et al. Mutations and polymorphisms in TP53 gene—an overview on the role in colorectal cancer. Mutagenesis. 2012;27(2):211–8. doi:10.1093/mutage/ger067.

Paz-Filho G, Lim EL, Wong ML, Licinio J. Associations between adipokines and obesity-related cancer. Front Biosci. Landmark Ed2011;16:1634–50.

Drew JE. Molecular mechanisms linking adipokines to obesity-related colon cancer: focus on leptin. Proc Nutr Soc. 2012;71(1):175–80. doi:10.1017/S0029665111003259.

Paz-Filho G, Mastronardi C, Franco CB, Wang KB, Wong ML, Licinio J. Leptin: molecular mechanisms, systemic pro-inflammatory effects, and clinical implications. Arq Bras Endocrinol Metabol. 2012;56(9):597–607.

Fazeli MS, Dashti H, Akbarzadeh S, Assadi M, Aminian A, Keramati MR, et al. Circulating levels of novel adipocytokines in patients with colorectal cancer. Cytokine. 2013;62(1):81–5. doi:10.1016/j.cyto.2013.02.012.

Chibaudel B, Tournigand C, Andre T, de Gramont A. Therapeutic strategy in unresectable metastatic colorectal cancer. Ther Adv Med Oncol. 2012;4(2):75–89. doi:10.1177/1758834011431592.

Zhang HM, Zhao L, Li H, Xu H, Chen WW, Tao L. Research progress on the anticarcinogenic actions and mechanisms of ellagic acid. Cancer Biol Med. 2014;11(2):92–100. doi:10.7497/j.issn.2095-3941.2014.02.004.

Gonzalez-Sarrias A, Nunez-Sanchez MA, Tome-Carneiro J, Tomas-Barberan FA, Garcia-Conesa MT, Espin JC. Comprehensive characterization of the effects of ellagic acid and urolithins on colorectal cancer and key-associated molecular hallmarks: MicroRNA cell specific induction of CDKN1A (p21) as a common mechanism involved. Mol Nutr Food Res. 2016;60(4):701–16. doi:10.1002/mnfr.201500780.

Kong YW, Ferland-McCollough D, Jackson TJ, Bushell M. microRNAs in cancer management. Lancet Oncol. 2012;13(6):e249–58. doi:10.1016/S1470-2045(12)70073-6.

Umesalma S, Sudhandiran G. Ellagic acid prevents rat colon carcinogenesis induced by 1, 2 dimethyl hydrazine through inhibition of AKT-phosphoinositide-3 kinase pathway. Eur J Pharmacol. 2011;660(2–3):249–58. doi:10.1016/j.ejphar.2011.03.036.

Ramirez de Molina A, Vargas T, Molina S, Sanchez J, Martinez-Romero J, Gonzalez-Vallinas M, et al. The ellagic acid derivative 4,4′-di-O-methylellagic acid efficiently inhibits colon cancer cell growth through a mechanism involving WNT16. J Pharmacol Exp Ther. 2015;353(2):433–44. doi:10.1124/jpet.114.221796.

Larrosa M, Tomas-Barberan FA, Espin JC. The dietary hydrolysable tannin punicalagin releases ellagic acid that induces apoptosis in human colon adenocarcinoma Caco-2 cells by using the mitochondrial pathway. J Nutr Biochem. 2006;17(9):611–25. doi:10.1016/j.jnutbio.2005.09.004.

Lei F, Zhang XN, Wang W, Xing DM, Xie WD, Su H, et al. Evidence of anti-obesity effects of the pomegranate leaf extract in high-fat diet induced obese mice. Int J Obes. 2007;31(6):1023–9. doi:10.1038/sj.ijo.0803502.

Wang L, Li L, Ran X, Long M, Zhang M, Tao Y, et al. Ellagic acid reduces adipogenesis through inhibition of differentiation-prevention of the induction of Rb phosphorylation in 3 T3-L1 adipocytes. Evid Based Complement Alternat Med. 2013;2013:287534. doi:10.1155/2013/287534.

Marin M, Maria Giner R, Rios JL, Recio MC. Intestinal anti-inflammatory activity of ellagic acid in the acute and chronic dextrane sulfate sodium models of mice colitis. J Ethnopharmacol. 2013;150(3):925–34. doi:10.1016/j.jep.2013.09.030.

Adams LS, Seeram NP, Aggarwal BB, Takada Y, Sand D, Heber D. Pomegranate juice, total pomegranate ellagitannins, and punicalagin suppress inflammatory cell signaling in colon cancer cells. J Agric Food Chem. 2006;54(3):980–5. doi:10.1021/jf052005r.

Vanella L, Di Giacomo C, Acquaviva R, Barbagallo I, Li Volti G, Cardile V, et al. Effects of ellagic acid on angiogenic factors in prostate cancer cells. Cancers (Basel). 2013;5(2):726–38. doi:10.3390/cancers5020726.

Yousef AI, El-Masry OS, Abdel Mohsen MA. Impact of cellular genetic make-up on colorectal cancer cell lines response to ellagic acid: implications of small interfering RNA. Asian Pac J Cancer Prev. 2016;17(2):743–8.

Sartippour MR, Seeram NP, Rao JY, Moro A, Harris DM, Henning SM, et al. Ellagitannin-rich pomegranate extract inhibits angiogenesis in prostate cancer in vitro and in vivo. Int J Oncol. 2008;32(2):475–80.

Viladomiu M, Hontecillas R, Lu P, Bassaganya-Riera J. Preventive and prophylactic mechanisms of action of pomegranate bioactive constituents. Evid Based Complement Alternat Med. 2013;2013:789764. doi:10.1155/2013/789764.

Padidar S, Farquharson AJ, Williams LM, Kelaiditi E, Hoggard N, Arthur JR, et al. Leptin up-regulates pro-inflammatory cytokines in discrete cells within mouse colon. J Cell Physiol. 2011;226(8):2123–30. doi:10.1002/jcp.22546.

Ok E, Do GM, Lim Y, Park JE, Park YJ, Kwon O. Pomegranate vinegar attenuates adiposity in obese rats through coordinated control of AMPK signaling in the liver and adipose tissue. Lipids Health Dis. 2013;12:163. doi:10.1186/1476-511X-12-163.

Fenton JI, Lavigne JA, Perkins SN, Liu H, Chandramouli GV, Shih JH, et al. Microarray analysis reveals that leptin induces autocrine/paracrine cascades to promote survival and proliferation of colon epithelial cells in an Apc genotype-dependent fashion. Mol Carcinog. 2008;47(1):9–21. doi:10.1002/mc.20357.

Yehuda-Shnaidman E, Nimri L, Tarnovscki T, Kirshtein B, Rudich A, Schwartz B. Secreted human adipose leptin decreases mitochondrial respiration in HCT116 colon cancer cells. PLoS One. 2013;8(9):e74843. doi:10.1371/journal.pone.0074843.

El-Masry OS, Al-Sakkaf K, Brown BL, Dobson PR. Differential crosstalk between the AMPK and PI3K/Akt pathways in breast cancer cells of differing genotypes: leptin inhibits the effectiveness of AMPK activation. Oncol Rep. 2015;34(4):1675–80. doi:10.3892/or.2015.4198.

Pantuck AJ, Pettaway CA, Dreicer R, Corman J, Katz A, Ho A, et al. A randomized, double-blind, placebo-controlled study of the effects of pomegranate extract on rising PSA levels in men following primary therapy for prostate cancer. Prostate Cancer Prostatic Dis. 2015;18(3):242–8. doi:10.1038/pcan.2015.32.
Ethics declarations
Conflicts of interest
None
About this article
Cite this article
Yousef, A.I., El-Masry, O.S. & Yassin, E.H. The anti-oncogenic influence of ellagic acid on colon cancer cells in leptin-enriched microenvironment. Tumor Biol. 37, 13345–13353 (2016). https://doi.org/10.1007/s13277-016-5284-7
Received:

Accepted:

Published:

Issue Date:

DOI: https://doi.org/10.1007/s13277-016-5284-7
Keywords
Ellagic acid

Colon

Leptin

Cellular genetics