Abstract
Cancer stem cells (CSCs) in hepatocellular carcinoma (HCC) possess tumor-initiating, metastatic, and drug resistance properties. This study was conducted to evaluate the effects of PEGylated interferon-α2a (PEG-IFN-α2a) and 5-fluorouracil (5-FU) on the expression of CSC markers and on specific pathways that contribute to the propagation of CSCs in HCC. HCC was initiated in rats using a single intraperitoneal dose of diethylnitrosamine (DENA) (200 mg/kg) and promoted by weekly subcutaneous injections of carbon tetrachloride (CCl4) for 6 weeks. After the appearance of dysplastic nodules, the animals received PEG-IFN-α2a or 5-FU for 8 weeks. CSC markers (OV6, CD90) and molecules related to transforming growth factor β (TGF-β) and other signaling pathways were assessed in hepatic tissues. The PEG-IFN-α2a treatment effectively suppressed the hepatic expression of OV6 and CD90, ameliorated the diminished hepatic expression of TGF-β receptor II (TGF-βRII) and β2-spectrin (β2SP), and significantly reduced the elevated hepatic expression of TGF-β1, interleukin6 (IL6), signal transducer and activator of transcription3 (STAT3), and vascular endothelial growth factor (VEGF). In contrast, the 5-FU treatment failed to reduce the overexpression of CSC markers and barely affected the disrupted TGF-β signaling. Furthermore, it had no effect on angiogenesis or nitrosative stress. PEG-IFN-α2a, but not 5-FU, could reduce the propagation of CSCs during the progression of HCC by upregulating the disrupted TGF-β signaling, suppressing the IL6/STAT3 pathway and reducing angiogenesis.
This is a preview of subscription content,
to check access.
Access this article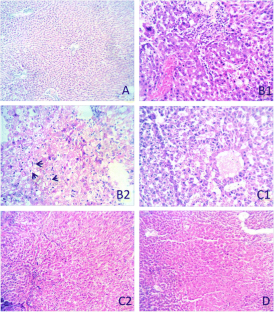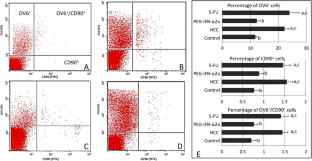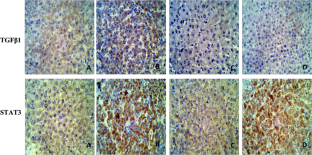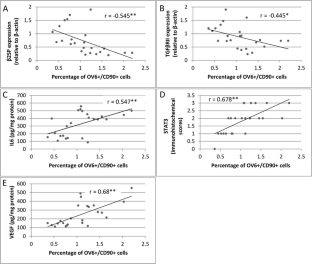 References
Yamashita T, Wang XW. Cancer stem cells in the development of liver cancer. J Clin Invest. 2013;123(5):1911–8. doi:10.1172/JCI66024.

Oishi N, Wang XW. Novel therapeutic strategies for targeting liver cancer stem cells. Int J Biol Sci. 2011;7(5):517–35.

Amin R, Mishra L. Liver stem cells and tgf-Beta in hepatic carcinogenesis. Gastrointest Cancer Res GCR. 2008;2(4 Suppl):S27–30.

Mishra L, Banker T, Murray J, Byers S, Thenappan A, He AR, et al. Liver stem cells and hepatocellular carcinoma. Hepatology. 2009;49(1):318–29. doi:10.1002/hep.22704.

Tang Y, Kitisin K, Jogunoori W, Li C, Deng CX, Mueller SC, et al. Progenitor/stem cells give rise to liver cancer due to aberrant TGF-beta and IL-6 signaling. Proc Natl Acad Sci U S A. 2008;105(7):2445–50. doi:10.1073/pnas.0705395105.

Subramaniam A, Shanmugam MK, Perumal E, Li F, Nachiyappan A, Dai X, et al. Potential role of signal transducer and activator of transcription (STAT)3 signaling pathway in inflammation, survival, proliferation and invasion of hepatocellular carcinoma. Biochim Biophys Acta. 2013;1835(1):46–60. doi:10.1016/j.bbcan.2012.10.002.

Jonasch E, Haluska FG. Interferon in oncological practice: review of interferon biology, clinical applications, and toxicities. Oncologist. 2001;6(1):34–55.

Qu LS, Jin F, Huang XW, Shen XZ. Interferon-alpha therapy after curative resection prevents early recurrence and improves survival in patients with hepatitis B virus-related hepatocellular carcinoma. J Surg Oncol. 2010;102(7):796–801. doi:10.1002/jso.21741.

Kusano H, Akiba J, Ogasawara S, Sanada S, Yasumoto M, Nakayama M, et al. Pegylated interferon-alpha2a inhibits proliferation of human liver cancer cells in vitro and in vivo. PLoS ONE. 2013;8(12):e83195. doi:10.1371/journal.pone.0083195.

Heidelberger C, Ansfield FJ. Experimental and clinical use of fluorinated pyrimidines in cancer chemotherapy. Cancer Res. 1963;23:1226–43.

Ardalan B, Glazer R. An update on the biochemistry of 5-fluorouracil. Cancer Treat Rev. 1981;8(3):157–67.

Longley DB, Harkin DP, Johnston PG. 5-fluorouracil: mechanisms of action and clinical strategies. Nat Rev Cancer. 2003;3(5):330–8. doi:10.1038/nrc1074.

Ocker M, Alajati A, Ganslmayer M, Zopf S, Luders M, Neureiter D, et al. The histone-deacetylase inhibitor SAHA potentiates proapoptotic effects of 5-fluorouracil and irinotecan in hepatoma cells. J Cancer Res Clin Oncol. 2005;131(6):385–94. doi:10.1007/s00432-004-0664-6.

MT A a, El Asmar MF, Atta HM, Mahfouz S, Fouad HH, Roshdy NK, et al. Efficacy of mesenchymal stem cells in suppression of hepatocarcinorigenesis in rats: possible role of Wnt signaling. J Exp Clin Cancer Res CR. 2011;30:49. doi:10.1186/1756-9966-30-49.

Smith Jr JB, Ghayad PY, Dhabuwala CB, Drelichman A, Pierce Jr JM. The effects of cyclophosphamide, ketoconazole, aclacinomycin-A, methotrexate, and scheduled methotrexate-5-fluorouracil combination chemotherapy on the transplantable R-3327 prostatic adenocarcinoma in the F1 hybrid male rat. Cancer. 1985;56(5):1045–8.

Hagiwara S, Kudo M, Nakatani T, Sakaguchi Y, Nagashima M, Fukuta N, et al. Combination therapy with PEG-IFN-alpha and 5-FU inhibits HepG2 tumour cell growth in nude mice by apoptosis of p53. Br J Cancer. 2007;97(11):1532–7. doi:10.1038/sj.bjc.6604058.

Shaarawy SM, Tohamy AA, Elgendy SM, Elmageed ZY, Bahnasy A, Mohamed MS, et al. Protective effects of garlic and silymarin on NDEA-induced rats hepatotoxicity. Int J Biol Sci. 2009;5(6):549–57.

Laemmli UK. Cleavage of structural proteins during the assembly of the head of bacteriophage T4. Nature. 1970;227(5259):680–5.

Lira FS, Rosa JC, Pimentel GD, Tarini VA, Arida RM, Faloppa F, et al. Inflammation and adipose tissue: effects of progressive load training in rats. Lipids Health Dis. 2010;9:109. doi:10.1186/1476-511X-9-109.

Lowry OH, Rosebrough NJ, Farr AL, Randall RJ. Protein measurement with the Folin phenol reagent. J Biol Chem. 1951;193(1):265–75.

Nims RW, Darbyshire JF, Saavedra JF, et al. Clorimetric methods for the determination of nitric oxide concentration in neutral aqueous. Methods. 1995;7:48–54.

Xu JB, Bao Y, Liu X, Liu Y, Huang S, Wang JC. Defective expression of transforming growth factor beta type II receptor (TGFBR2) in the large cell variant of non-small cell lung carcinoma. Lung Cancer. 2007;58(1):36–43. doi:10.1016/j.lungcan.2007.04.019.

Bajracharya D, Shrestha B, Kamath A, Menon A, Radhakrishnan R. Immunohistochemical correlation of matrix metalloproteinase-2 and tissue inhibitors of metalloproteinase-2 in tobacco associated epithelial dysplasia. Dis Markers. 2014;2014:197813. doi:10.1155/2014/197813.

Newell P, Villanueva A, Friedman SL, Koike K, Llovet JM. Experimental models of hepatocellular carcinoma. J Hepatol. 2008;48(5):858–79. doi:10.1016/j.jhep.2008.01.008.

Yang W, Wang C, Lin Y, Liu Q, Yu LX, Tang L, et al. OV6(+) tumor-initiating cells contribute to tumor progression and invasion in human hepatocellular carcinoma. J Hepatol. 2012;57(3):613–20. doi:10.1016/j.jhep.2012.04.024.

Yang W, Yan HX, Chen L, Liu Q, He YQ, Yu LX, et al. Wnt/beta-catenin signaling contributes to activation of normal and tumorigenic liver progenitor cells. Cancer Res. 2008;68(11):4287–95. doi:10.1158/0008-5472.CAN-07-6691.

Wu K, Ding J, Chen C, Sun W, Ning BF, Wen W, et al. Hepatic transforming growth factor beta gives rise to tumor-initiating cells and promotes liver cancer development. Hepatology. 2012;56(6):2255–67. doi:10.1002/hep.26007.

Li R, Qian N, Tao K, You N, Wang X, Dou K. MicroRNAs involved in neoplastic transformation of liver cancer stem cells. J Exp Clin Cancer Res CR. 2010;29:169. doi:10.1186/1756-9966-29-169.

Alvarez Mde L, Quiroga AD, Parody JP, Ronco MT, Frances DE, Carnovale CE, et al. Cross-talk between IFN-alpha and TGF-beta1 signaling pathways in preneoplastic rat liver. Growth Factors. 2009;27(1):1–11. doi:10.1080/08977190802547357.

Abdullah LN, Chow EK. Mechanisms of chemoresistance in cancer stem cells. Clin Transl Med. 2013;2(1):3. doi:10.1186/2001-1326-2-3.

Mishra L, Derynck R, Mishra B. Transforming growth factor-beta signaling in stem cells and cancer. Science. 2005;310(5745):68–71. doi:10.1126/science.1118389.

Bierie B, Moses HL. Tumour microenvironment: TGFbeta: the molecular Jekyll and Hyde of cancer. Nat Rev Cancer. 2006;6(7):506–20. doi:10.1038/nrc1926.

Nguyen LN, Furuya MH, Wolfraim LA, Nguyen AP, Holdren MS, Campbell JS, et al. Transforming growth factor-beta differentially regulates oval cell and hepatocyte proliferation. Hepatology. 2007;45(1):31–41. doi:10.1002/hep.21466.

Mamiya T, Yamazaki K, Masugi Y, Mori T, Effendi K, Du W, et al. Reduced transforming growth factor-beta receptor II expression in hepatocellular carcinoma correlates with intrahepatic metastasis. Lab Investig J Tech Methods Pathol. 2010;90(9):1339–45. doi:10.1038/labinvest.2010.105.

Thenappan A, Li Y, Kitisin K, Rashid A, Shetty K, Johnson L, et al. Role of transforming growth factor beta signaling and expansion of progenitor cells in regenerating liver. Hepatology. 2010;51(4):1373–82. doi:10.1002/hep.23449.

Guido M, De Franceschi L, Olivari N, Leandro G, Felder M, Corrocher R, et al. Effects of interferon plus ribavirin treatment on NF-kappaB, TGF-beta1, and metalloproteinase activity in chronic hepatitis C. Mod Pathol Off J US Can Acad Pathol Inc. 2006;19(8):1047–54. doi:10.1038/modpathol.3800592.

Bitzer M, von Gersdorff G, Liang D, Dominguez-Rosales A, Beg AA, Rojkind M, et al. A mechanism of suppression of TGF-beta/SMAD signaling by NF-kappa B/RelA. Genes Dev. 2000;14(2):187–97.

Zelivianski S, Cooley A, Kall R, Jeruss JS. Cyclin-dependent kinase 4-mediated phosphorylation inhibits Smad3 activity in cyclin D-overexpressing breast cancer cells. Mol Cancer Res MCR. 2010;8(10):1375–87. doi:10.1158/1541-7786.MCR-09-0537.

Wendling J, Marchand A, Mauviel A, Verrecchia F. 5-fluorouracil blocks transforming growth factor-beta-induced alpha 2 type I collagen gene (COL1A2) expression in human fibroblasts via c-Jun NH2-terminal kinase/activator protein-1 activation. Mol Pharmacol. 2003;64(3):707–13. doi:10.1124/mol.64.3.707.

Kitisin K, Ganesan N, Tang Y, Jogunoori W, Volpe EA, Kim SS, et al. Disruption of transforming growth factor-beta signaling through beta-spectrin ELF leads to hepatocellular cancer through cyclin D1 activation. Oncogene. 2007;26(50):7103–10. doi:10.1038/sj.onc.1210513.

Sanchez A, Nagy P, Thorgeirsson SS. STAT-3 activity in chemically-induced hepatocellular carcinoma. Eur J Cancer. 2003;39(14):2093–8.

Schrader J, Herkel J. Chronic liver inflammation dominated by interferon-gamma can prevent hepatocarcinogenesis. Oncoimmunology. 2012;1(2):222–3. doi:10.4161/onci.1.2.18114.

Yi H, Cho HJ, Cho SM, Jo K, Park JA, Kim NH, et al. Blockade of interleukin-6 receptor suppresses the proliferation of H460 lung cancer stem cells. Int J Oncol. 2012;41(1):310–6. doi:10.3892/ijo.2012.1447.

Chang CT, Ho TY, Lin H, Liang JA, Huang HC, Li CC, et al. 5-Fluorouracil induced intestinal mucositis via nuclear factor-kappaB activation by transcriptomic analysis and in vivo bioluminescence imaging. PLoS ONE. 2012;7(3):e31808. doi:10.1371/journal.pone.0031808.

Zhao Y, Bao Q, Renner A, Camaj P, Eichhorn M, Ischenko I, et al. Cancer stem cells and angiogenesis. Int J Dev Biol. 2011;55(4–5):477–82. doi:10.1387/ijdb.103225yz.

Wang CJ, Xiao CW, You TG, Zheng YX, Gao W, Zhou ZQ, et al. Interferon-alpha enhances antitumor activities of oncolytic adenovirus-mediated IL-24 expression in hepatocellular carcinoma. Mol Cancer. 2012;11(1):31. doi:10.1186/1476-4598-11-31.

Toiyama Y, Inoue Y, Hiro J, Ojima E, Watanabe H, Narita Y, et al. Paclitaxel inhibits radiation induced VEGF secretion and enhances radiosensitizing effects in human colon cancer cell HT29. Cancer Ther. 2009;7:123–32.

Sandau KB, Zhou J, Kietzmann T, Brune B. Regulation of the hypoxia-inducible factor 1alpha by the inflammatory mediators nitric oxide and tumor necrosis factor-alpha in contrast to desferroxamine and phenylarsine oxide. J Biol Chem. 2001;276(43):39805–11. doi:10.1074/jbc.M107689200.

Tejedo JR, Tapia-Limonchi R, Mora-Castilla S, Cahuana GM, Hmadcha A, Martin F, et al. Low concentrations of nitric oxide delay the differentiation of embryonic stem cells and promote their survival. Cell Death Dis. 2010;1:e80. doi:10.1038/cddis.2010.57.

Jiang J, Liu J, Zhu J, Yang C, Zhang A. Mechanism of apoptotic effects induced by 5-fluorouracil on human liver carcinoma Bel7402 cell line. Chin Med J. 2002;115(7):968–71.

Sato T, Suzuki E, Yokoyama M, Semba J, Watanabe S, Miyaoka H. Chronic intraperitoneal injection of interferon-alpha reduces serotonin levels in various regions of rat brain, but does not change levels of serotonin transporter mRNA, nitrite or nitrate. Psychiatry Clin Neurosci. 2006;60(4):499–506. doi:10.1111/j.1440-1819.2006.01538.x.
Acknowledgments
The present study was completely funded by Cairo University.
Conflicts of interest
None
About this article
Cite this article
Motawi, T.K., El-Boghdady, N.A., El-Sayed, A.M. et al. Comparative study of the effects of PEGylated interferon-α2a versus 5-fluorouracil on cancer stem cells in a rat model of hepatocellular carcinoma. Tumor Biol. 37, 1617–1625 (2016). https://doi.org/10.1007/s13277-015-3920-2
Received:

Accepted:

Published:

Issue Date:

DOI: https://doi.org/10.1007/s13277-015-3920-2
Keywords