Abstract
Glioblastoma stem cells (GSCs) are the initiating cells in glioblastoma multiforme (GBM) and contribute to the resistance of GBM to chemotherapy and radiation. In the present study, we investigated the effects of cardamonin (3,4,2,4-tetrahydroxychalcone) on the self-renewal and apoptosis of GSCs, and if its action is associated with signal transducer and activator of transcription 3 (STAT3) pathway. CD133+ GSCs, a kind of GSCs line, was established from human glioblastoma tissues. Cardamonin inhibited the proliferation and induced apoptosis in CD133+ GSCs. The proapoptotic effects of temozolomide (TMZ) were further enhanced by cardamonin in CD133+ GSCs and U87 cells in vitro. For in vivo study, injection of 5 × 105 cells of CD133+ GSCs subcutaneously (s.c.) into nude mice, 100 % of large tumors were developed within 8 weeks in all mice; in contrast, only one out of five mice developed a small tumor when 5 × 105 cells of CD133− GMBs cells were injected. Cardamonin also inhibited STAT3 activation by luciferase assay and suppressed the expression of the downstream genes of STAT3, such as Bcl-XL, Bcl-2, Mcl-1, survivin, and VEGF. Furthermore, cardamonin locked nuclear translocation and dimerization of STAT3 in CD133+ GSCs. Docking analysis confirmed that cardamonin molecule was successfully docked into the active sites of STAT3 with a highly favorable binding energy of −10.78 kcal/mol. The study provides evidence that cardamonin is a novel inhibitor of STAT3 and has the potential to be developed as a new anticancer agent targeting GSCs. This study also reveals that targeting STAT3 signal pathway is an important strategy for the treatment of human GBM.
Access options
Buy single article
Instant access to the full article PDF.
USD 39.95
Price excludes VAT (USA)
Tax calculation will be finalised during checkout.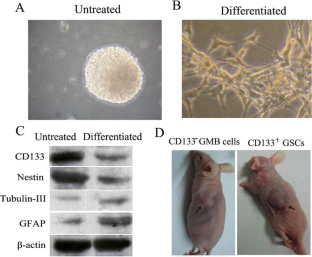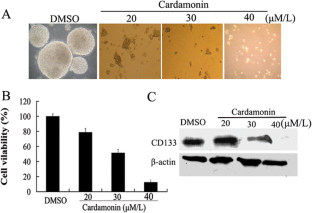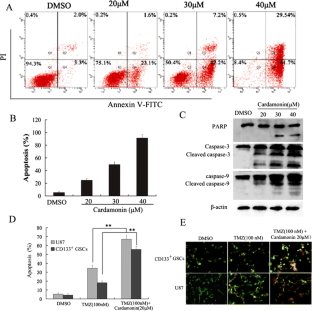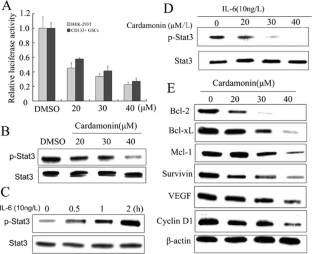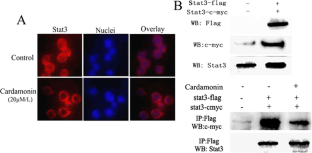 References
Bleeker FE, Molenaar RJ, Leenstra S. Recent advances in the molecular understanding of glioblastoma. J Neurooncol. 2012;108:11–27.

Furnari FB, Fenton T, Bachoo RM, Mukasa A, Stommel JM, et al. Malignant astrocytic glioma: genetics, biology, and paths to treatment. Genes Dev. 2007;21:2683–710.

Alifieris C, Trafalis DT. Glioblastoma multiforme: Pathogenesis and treatment. Pharmacol Ther. 2015.

Bexell D, Svensson A, Bengzon J. Stem cell-based therapy for malignant glioma. Cancer Treat Rev. 2013;39:358–65.

Reya T, Morrison SJ, Clarke MF, Weissman IL. Stem cells, cancer, and cancer stem cells. Nature. 2001;414:105–11.

Singh SK, Clarke ID, Terasaki M, Bonn VE, Hawkins C, et al. Identification of a cancer stem cell in human brain tumors. Cancer Res. 2003;63:5821–8.

Xu Q, Yuan X, Yu JS. Glioma stem cell research for the development of immunotherapy. Adv Exp Med Biol. 2012;746:216–25.

Massard C, Deutsch E, Soria JC. Tumour stem cell-targeted treatment: elimination or differentiation. Ann Oncol. 2006;17:1620–4.

Matsuda T, Nakamura T, Nakao K, Arai T, Katsuki M, et al. STAT3 activation is sufficient to maintain an undifferentiated state of mouse embryonic stem cells. EMBO J. 1999;18:4261–9.

Sherry MM, Reeves A, Wu JK, Cochran BH. STAT3 is required for proliferation and maintenance of multipotency in glioblastoma stem cells. Stem Cells. 2009;27:2383–92.

Takeda K, Noguchi K, Shi W, Tanaka T, Matsumoto M, et al. Targeted disruption of the mouse Stat3 gene leads to early embryonic lethality. Proc Natl Acad Sci U S A. 1997;94:3801–4.

Bromberg JF, Wrzeszczynska MH, Devgan G, Zhao Y, Pestell RG, et al. Stat3 as an oncogene. Cell. 1999;98:295–303.

Turkson J, Jove R. STAT proteins: novel molecular targets for cancer drug discovery. Oncogene. 2000;19:6613–26.

Lin L, Liu AG, Peng ZG, Lin HJ, Li PK, et al. STAT3 is necessary for proliferation and survival in colon cancer-initiating cells. Cancer Res. 2011;71:7226–37.

Sulaiman MR, Zakaria ZA, Mohamad AS, Ismail M, Hidayat MT, et al. Antinociceptive and anti-inflammatory effects of the ethanol extract of Alpinia conchigera rhizomes in various animal models. Pharm Biol. 2010;48:861–8.

Ko H, Kim YJ, Amor EC, Lee JW, Kim HC, et al. Induction of autophagy by dimethyl cardamonin is associated with proliferative arrest in human colorectal carcinoma HCT116 and LOVO cells. J Cell Biochem. 2011;112:2471–9.

Heng LK, Abas F, Alitheen NBM, Shaari K, Israf DA. Cardamonin (2 ',4 '-Dihydroxy-6 '-Methoxychalcone) Attenuated Pma-Stimulated Mmp Activities and Inflammatory Genes Expression through Blockage of Nf-Kb Pathway in Synovial Fibroblast Cells. Inflamm Res. 2011;60:277.

Israf DA, Khaizurin TA, Syahida A, Lajis NH, Khozirah S. Cardamonin inhibits COX and iNOS expression via inhibition of p65NF-kappa B nuclear translocation and I kappa-B phosphorylation in RAW 264.7 macrophage cells. Mol Immunol. 2007;44:673–9.

Qin Y, Sun CY, Lu FR, Shu XR, Yang D, et al. Cardamonin exerts potent activity against multiple myeloma through blockade of NF-kappaB pathway in vitro. Leuk Res. 2012;36:514–20.

Tang Y, Fang Q, Shi D, Niu P, Chen Y, et al. mTOR inhibition of cardamonin on antiproliferation of A549 cells is involved in a FKBP12 independent fashion. Life Sci. 2014;99:44–51.

Park MK, Jo SH, Lee HJ, Kang JH, Kim YR, et al. Novel suppressive effects of cardamonin on the activity and expression of transglutaminase-2 lead to blocking the migration and invasion of cancer cells. Life Sci. 2013;92:154–60.

Chow YL, Lee KH, Vidyadaran S, Lajis NH, Akhtar MN, et al. Cardamonin from Alpinia rafflesiana inhibits inflammatory responses in IFN-gamma/LPS-stimulated BV2 microglia via NF-kappaB signalling pathway. Int Immunopharmacol. 2012;12:657–65.

Wu N, Xiao L, Zhao XZ, Zhao J, Wang JP, et al. miR-125b regulates the proliferation of glioblastoma stem cells by targeting E2F2. Febs Letters. 2012;586:3831–9.

Turkson J, Bowman T, Garcia R, Caldenhoven E, De Groot RP, et al. Stat3 activation by Src induces specific gene regulation and is required for cell transformation. Mol Cell Biol. 1998;18:2545–52.

Sherman W, Day T, Jacobson MP, Friesner RA, Farid R. Novel procedure for modeling ligand/receptor induced fit effects. J Med Chem. 2006;49:534–53.

Tropepe V, Coles BL, Chiasson BJ, Horsford DJ, Elia AJ, et al. Retinal stem cells in the adult mammalian eye. Science. 2000;287:2032–6.

Ollero A, Marquez-Rivas J, Ramirez G, Quiroga E, Gimenez-Pando J, et al. Long-term survival of a pediatric patient with glioblastoma multiforme (Gbm) following multiple treatments with carmustine (Bcnu) wafers and temozolomide (Tmz). Neuro-Oncology. 2008;10:1084–5.

Hodge DR, Hurt EM, Farrar WL. The role of IL-6 and STAT3 in inflammation and cancer. Eur J Cancer. 2005;41:2502–12.

Sinibaldi D, Wharton W, Turkson J, Bowman T, Pledger WJ, et al. Induction of p21WAF1/CIP1 and cyclin D1 expression by the Src oncoprotein in mouse fibroblasts: role of activated STAT3 signaling. Oncogene. 2000;19:5419–27.

Wurth R, Barbieri F, Florio T. New molecules and old drugs as emerging approaches to selectively target human glioblastoma cancer stem cells. Biomed Res Int. 2014;2014:126586.
Acknowledgments
We are grateful to Dr. Kuan Hu for the technical assistance. This study was supported by the grants from the National Natural Science Foundation of China (No. 41306157 and No. 81273550) and Basic research projects of Qingdao Science and Technology plan (12-1-4-8-(4)-jch).
Conflicts of interest
The authors have no conflicts of interest to declare.
Contributions
Ning Wu, Shousong Cao, Dayong Shi, and Xiukun Lin designed the research study and wrote the manuscript;
Ning Wu, Jia Liu, and Xiangzhong Zhao performed the experiments;
Jia Liu and Lijun Wang analyzed the data;
Zhiyong Yan and Bo Jiang contribute to prepare the regents and materials.
Additional information
Highlights
1. Cadamonin, a promising anticancer agent, is proposed for treatment of glioblastoma by attacking its stem cells.
2. Cardamonin inhibits cell renewal and induces apoptosis by suppressing JAK/STAT pathway in the glioblastoma stem cell.
3. Cardamonin molecule is predicted to be docked into the active site of STAT3 and blocking the activation of STAT3.
4. Stat3 is a promising target for glioblastoma therapy.
Ning Wu and Jia Liu contributed equally to this work.
About this article
Cite this article
Wu, N., Liu, J., Zhao, X. et al. Cardamonin induces apoptosis by suppressing STAT3 signaling pathway in glioblastoma stem cells. Tumor Biol. 36, 9667–9676 (2015). https://doi.org/10.1007/s13277-015-3673-y
Received:

Accepted:

Published:

Issue Date:

DOI: https://doi.org/10.1007/s13277-015-3673-y
Keywords