Abstract
Zerumbone, a natural cyclic sesquiterpene, is known to exhibit selective toxicity toward various cancer cells. Sustained efforts to explore the potential of new agents for effective therapy are critical in the context of development of drug resistance especially in cancers like chronic myelogenous leukemia (CML). The present study evaluated the effect of zerumbone on CML-K562 cells. The cell viability of zerumbone-treated K562 cells was detected by MTT assay, and morphological changes were observed by light microscopy and scanning electron microscopy (SEM). Staining with Hoechst 33258, acridine orange/ethidium bromide, and AnnexinV-FITC were used to detect apoptosis. Intracellular reactive oxygen species (ROS), Ca2+, and changes in mitochondrial membrane potential were measured using Dichloro-dihydro-fluorescein diacetate (DCFH-DA), Fluo-3AM, and Rhodamine-123, respectively. Western blot analysis was carried out to detect key proteins involved in apoptosis. Zerumbone inhibited K562 cell proliferation with an IC50 value of 3.5 μg/mL and colony formation capability (P < 0.001). Interestingly, zerumbone did not affect the growth of normal human peripheral blood lymphocytes (hPBLs). Distinct morphological changes observed by light microscopy and fluorescent staining with Hoechst-33258, AO/EtBr, annexin V-FITC, and cytotoxicity evaluation by comet assay indicated induction of DNA damage and apoptosis. This was further confirmed by demonstration of pro-caspase-3, -9 activation and Poly(ADP-ribose) polymerase (PARP) cleavage on western blots. Apoptosis induction was found to be mitochondria mediated, involving increased free intracellular Ca2+, ROS, and upregulation of soluble histone H2AX. Our results suggest that zerumbone holds promise as a potential candidate drug for CML.
This is a preview of subscription content,
to check access.
Access this article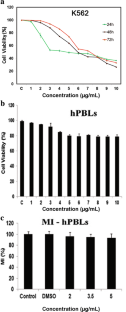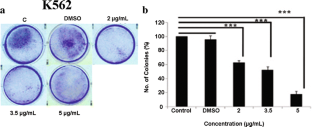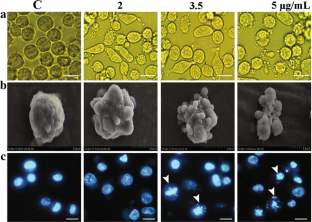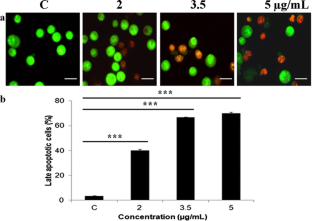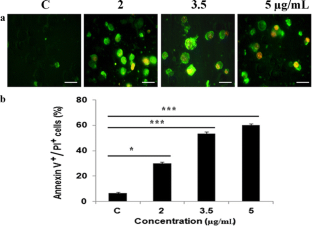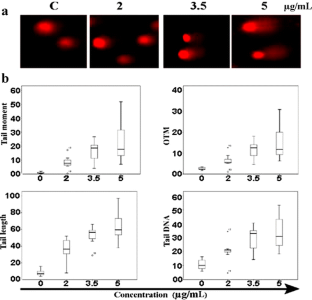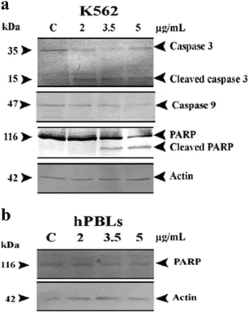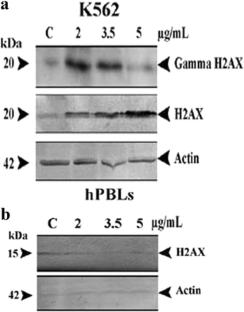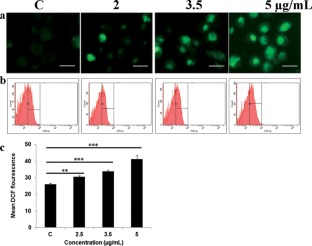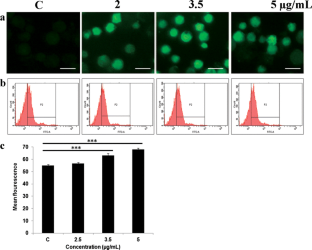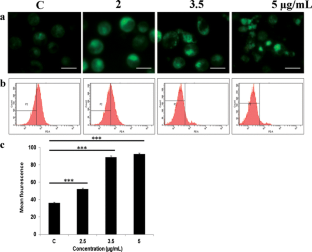 Similar content being viewed by others
References
Bunz F. Cancer genetics in the clinic. In: Principles of cancer genetics. New York: Springer; 2008.

Parker W, Yeoman A, Jamison B, Yeung D, Scott H, Hughes T, et al. BCR-ABL1 kinase domain mutations may persist at very low levels for many years and lead to subsequent TKI resistance. Br J Cancer. 2013;109:1593–8.

Cragg GM, Newman DJ. Plants as a source of anti-cancer agents. J Ethnopharmacol. 2005;100:72–9.

Cragg GM, Grothaus PG, Newman DJ. Impact of natural products on developing new anti-cancer agents. Chem Rev. 2009;109:3012–43.

Dillard CJ, German JB. Phytochemicals: nutraceuticals and human health. J Sci Food Agric. 2000;80:1744–56.

Prasannan R, Kalesh KA, Shanmugam MK, Nachiyappan A, Ramachandran L, Nguyen AH, et al. Key cell signaling pathways modulated by zerumbone: role in the prevention and treatment of cancer. Biochem Pharmacol. 2012;84:1268–76.

Huang GC, Chien TY, Chen LG, Wang CC. Antitumor effects of zerumbone from Zingiber zerumbet in P-388D1 cells in vitro and in vivo. Planta Med. 2005;71:219–24.

Zhang S, Liu Q, Liu Y, Qiao H, Liu Y. Zerumbone, a southeast Asian Ginger Sesquiterpene, induced apoptosis of pancreatic carcinoma cells through p53 signaling pathway. Evid Based Complement Alternat Med. 2012;2012:8.

Murakami A, Takahashi D, Kinoshita T, Koshimizu K, Kim HW, Yoshihiro A, et al. Zerumbone, a Southeast Asian ginger sesquiterpene, markedly suppresses free radical generation, proinflammatory protein production, and cancer cell proliferation accompanied by apoptosis: the α, β-unsaturated carbonyl group is a prerequisite. Carcinogenesis. 2002;23:795–802.

Eke D, Celik A. Genotoxicity of thimerosal in cultured human lymphocytes with and without metabolic activation sister chromatid exchange analysis proliferation index and mitotic index. Toxicol in Vitro. 2008;22:927–34.

Mosmann T. Rapid colorimetric assay for cellular growth and survival: application to proliferation and cytotoxicity assays. J Immunol Methods. 1983;65:55–63.

Franken NA, Rodermond HM, Stap J, Haveman J, Van Bree C. Clonogenic assay of cells in vitro. Nat Protoc. 2006;1:2315–9.

Singh NP, McCoy MT, Tice RR, Schneider EL. A simple technique for quantitation of low levels of DNA damage in individual cells. Exp Cell Res. 1988;175:184–91.

Subhashini J, Mahipal SV, Reddy MC, Mallikarjuna Reddy M, Rachamallu A, Reddanna P. Molecular mechanisms in C-Phycocyanin induced apoptosis in human chronic myeloid leukemia cell line-K562. Biochem Pharmacol. 2004;68:453–62.

Kasibhatla S, Amarante-Mendes GP, Finucane D, Brunner T, Bossy-Wetzel E, Green DR. Acridine orange/ethidium bromide (AO/EB) staining to detect apoptosis. Cold Spring Harb Protoc. 2006. doi:10.1101/pdb.prot4493.

Huang T, Lin J, Cao J, Zhang P, Bai Y, Chen G, et al. An exopolysaccharide from Trichoderma pseudokoningii and its apoptotic activity on human leukemia K562 cells. Carbohydr Polym. 2012;89:701–8.

Kim KY, Cho HJ, Yu SN, Kim SH, Yu HS, Park YM, et al. Interplay of reactive oxygen species, intracellular Ca2+ and mitochondrial homeostasis in the apoptosis of prostate cancer cells by deoxypodophyllotoxin. J Cell Biochem. 2012;114:1124–34.

Zhen X, Cen J, Li YM, Yan F, Guan T, Tang XZ. Cytotoxic effect and apoptotic mechanism of tanshinone A, a novel tanshinone derivative, on human erythroleukemic K562 cells. Eur J Pharmacol. 2011;667:129–35.

Liu MJ, Wang Z, Ju Y, Wong RNS, Wu QY. Diosgenin induces cell cycle arrest and apoptosis in human leukemia K562 cells with the disruption of Ca2+ homeostasis. Cancer Chemother Pharmacol. 2005;55:79–90.

Ausubel FM, Brent R, Kingston RE, Moore DD, Seidman J, Smith JA, et al. Short protocols in molecular biology. USA: Wiley; 1992. p. 10.8.1–10.8.23.

Fang L, Shen L, Fang Y, Hu Y, He Q, Yang B. MZ3 can induce G2/M-phase arrest and apoptosis in human leukemia cells. J Cancer Res Clin Oncol. 2008;134:1337–45.

Speit GN, Rothfuss A. The comet assay: a sensitive genotoxicity test for the detection of DNA damage and repair. In: Henderson DS, editors. DNA repair protocols. Totowa, New Jersy: Humana press; 2005. p. 79–90.

Bonner WM, Redon CE, Dickey JS, Nakamura AJ, Sedelnikova OA, Solier SP, et al. γH2AX and cancer. Nat Rev Cancer. 2008;8:957–67.

Liu Y, Parry JA, Chin A, Duensing S, Duensing A. Soluble histone H2AX is induced by DNA replication stress and sensitizes cells to undergo apoptosis. Mol Cancer. 2008;7:61.

Brookes PS, Yoon Y, Robotham JL, Anders M, Sheu SS. Calcium, ATP, and ROS: a mitochondrial love-hate triangle. Am J Physiol Cell Physiol. 2004;287:C817–33.

Gordeeva A, Zvyagilskaya R, Labas YA. Cross-talk between reactive oxygen species and calcium in living cells. Biochemistry (Moscow). 2003;68:1077–80.

Yan Y, Zhang WR, Cheng HP, Liu J. Cross-talk between calcium and reactive oxygen species signaling. Acta Pharmacol Sin. 2006;27:821–6.

Raj L, Ide T, Gurkar AU, Foley M, Schenone M, Li X, et al. Selective killing of cancer cells by a small molecule targeting the stress response to ROS. Nature. 2011;475:231–4.

Al-Zubairi AS, Abdul AB, Syam M. Evaluation of the genotoxicity of zerumbone in cultured human peripheral blood lymphocytes. Toxicol in Vitro. 2010;24:707–12.

Orrenius S, Zhivotovsky B, Nicotera P. Regulation of cell death: the calcium-apoptosis link. Nat Rev Mol Cell Biol. 2003;4:552–65.

Salido G. Oxidative stress, intracellular calcium signals and apoptotic processes. In: Salido GM, Rosasdo JA, editors. Apoptosis: involvement of oxidative stress and intracellular Ca2+ homeostasis. Netherlands: Springer; 2009. p. 1–16.

Sobhan PK, Seervi M, Deb L, Varghese S, Soman A, Joseph J, et al. Calpain and reactive oxygen species targets Bax for mitochondrial permeabilisation and caspase activation in zerumbone induced apoptosis. PLoS ONE. 2013;8, e59350.

Bauer S, Parry JA, Muhlenberg T, Brown MF, Seneviratne D, Chatterjee P, et al. Proapoptotic activity of bortezomib in gastrointestinal stromal tumor cells. Cancer Res. 2010;70:150–9.

Liu Y, Tseng M, Perdreau SA, Rossi F, Antonescu C, Besmer P, et al. Histone H2AX is a mediator of gastrointestinal stromal tumor cell apoptosis following treatment with imatinib mesylate. Cancer Res. 2007;67:2685–92.

Kang M, So E, Simons A, Spitz D, Ouchi T. DNA damage induces reactive oxygen species generation through the H2AX-Nox1/Rac1 pathway. Cell Death Dis. 2012;3, e249.
Acknowledgments
The authors wish to thank the Director, Rajiv Gandhi Centre for Biotechnology (RGCB), Thiruvananthapuram, for allowing the use of their FACS facility. Thanks are due to Dr. Ruby John Anto (RGCB) for gifting us with K562 cells, Mrs Indu Ramachandran (RGCB) for the technical help with FACS, and the National Institute of Technology, Calicut, for the SEM analysis. Financial assistance to JPR through Govt. of India—Dept of Biotechnology—BioCARe Scheme is gratefully acknowledged. Technical assistance by Ms. Soumya T. is also acknowledged.
Conflicts of interest
None.
About this article
Cite this article
Rajan, I., Jayasree, P.R. & Kumar, P.R.M. Zerumbone induces mitochondria-mediated apoptosis via increased calcium, generation of reactive oxygen species and upregulation of soluble histone H2AX in K562 chronic myelogenous leukemia cells. Tumor Biol. 36, 8479–8489 (2015). https://doi.org/10.1007/s13277-015-3583-z
Received:

Accepted:

Published:

Issue Date:

DOI: https://doi.org/10.1007/s13277-015-3583-z
Keywords