Abstract
Malignant glioma is the most common intracranial tumor with poor prognosis. It is well believed that glioma stem cells (GSCs) are responsible for the initiation and progression of glioma. Janus kinase/signal transducer and activator of transcription (Jak/STAT3) pathway plays a key role in the functions of GSCs. However, the regulatory mechanism of Jak/STAT3 pathway has not been completely elucidated. This study employed multidisciplinary approaches to investigate the upstream regulators of Jak/STAT3 signaling in GSCs. miR-30 was found to be overexpressed in the GSCs derived from U-87 MG and primary glioma cells, compared with non-stem-cell-like glioma cells and normal cells. Downregulation of miR-30 was able to suppress Jak/STAT3 pathway and reduce the tumorigenecity of GSCs. miR-30 decreased the expression of suppressor of cytokine signaling 3 (SOCS3) expression by targeting 3′UTR of its mRNA. The silencing of SOCS3 abolished the effect of miR-30 downregulation on GSCs. Collectively, there is a regulatory pathway consisting of miR-30, SOCS3, and Jak/STAT3 in GSCs, and targeting this pathway may be a promising strategy to treat glioma.
Access options
Buy single article
Instant access to the full article PDF.
USD 39.95
Price excludes VAT (USA)
Tax calculation will be finalised during checkout.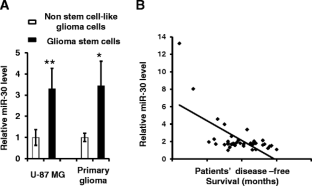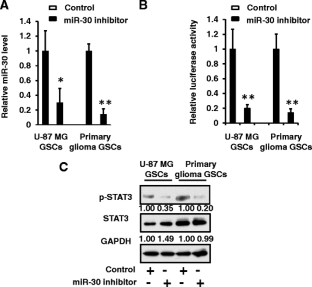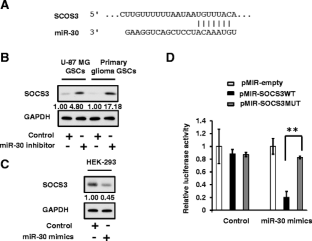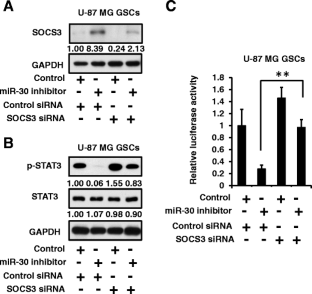 References
Ashizawa T, Miyata H, Iizuka A, Komiyama M, Oshita C, Kume A, et al. Effect of the STAT3 inhibitor STX-0119 on the proliferation of cancer stem-like cells derived from recurrent glioblastoma. Int J Oncol. 2013;43:219–27.

Bexell D, Svensson A, Bengzon J. Stem cell-based therapy for malignant glioma. Cancer Treat Rev. 2013;39:358–65.

Brower JV, Clark PA, Lyon W, Kuo JS. MicroRNAs in cancer: glioblastoma and glioblastoma cancer stem cells. Neurochem Int. 2014;77:68–77.

Cao Q, Li YY, He WF, Zhang ZZ, Zhou Q, Liu X, et al. Interplay between microRNAs and the STAT3 signaling pathway in human cancers. Physiol Genomics. 2013;45:1206–14.

Cao Y, Lathia JD, Eyler CE, Wu Q, Li Z, Wang H, et al. Erythropoietin receptor signaling through STAT3 is required for glioma stem cell maintenance. Genes Cancer. 2010;1:50–61.

Cardoso AL, Guedes JR, Pereira de Almeida L, Pedroso de Lima MC. miR-155 modulates microglia-mediated immune response by down-regulating SOCS-1 and promoting cytokine and nitric oxide production. Immunology. 2012;135:73–88.

Collins AS, McCoy CE, Lloyd AT, O'Farrelly C, Stevenson NJ. miR-19a: an effective regulator of SOCS3 and enhancer of JAK-STAT signalling. PLoS ONE. 2013;8:e69090.

Cui X, Liu J, Bai L, Tian J, Zhu J. Interleukin-6 induces malignant transformation of rat mesenchymal stem cells in association with enhanced signaling of signal transducer and activator of transcription 3. Cancer Sci. 2014;105:64–71.

Ehrmann J, Strakova N, Vrzalikova K, Hezova R, Kolar Z. Expression of STATs and their inhibitors SOCS and PIAS in brain tumors. In vitro and in vivo study. Neoplasma. 2008;55:482–7.

Furnari FB, Fenton T, Bachoo RM, Mukasa A, Stommel JM, Stegh A, et al. Malignant astrocytic glioma: genetics, biology, and paths to treatment. Genes Dev. 2007;21:2683–710.

Garner JM, Fan M, Yang CH, Du Z, Sims M, Davidoff AM, et al. Constitutive activation of signal transducer and activator of transcription 3 (STAT3) and nuclear factor kappaB signaling in glioblastoma cancer stem cells regulates the Notch pathway. J Biol Chem. 2013;288:26167–76.

Haftchenary S, Luchman HA, Jouk AO, Veloso AJ, Page BD, Cheng XR, et al. Potent targeting of the STAT3 protein in brain cancer stem cells: a promising route for treating glioblastoma. ACS Med Chem Lett. 2013;4:1102–7.

Kim E, Kim M, Woo DH, Shin Y, Shin J, Chang N, et al. Phosphorylation of EZH2 activates STAT3 signaling via STAT3 methylation and promotes tumorigenicity of glioblastoma stem-like cells. Cancer Cell. 2013;23:839–52.

Li GH, Wei H, Lv SQ, Ji H, Wang DL. Knockdown of STAT3 expression by RNAi suppresses growth and induces apoptosis and differentiation in glioblastoma stem cells. Int J Oncol. 2010;37:103–10.

Martini M, Pallini R, Luongo G, Cenci T, Lucantoni C, Larocca LM. Prognostic relevance of SOCS3 hypermethylation in patients with glioblastoma multiforme. Int J Cancer. 2008;123:2955–60.

Moffatt CE, Lamont RJ. Porphyromonas gingivalis induction of microRNA-203 expression controls suppressor of cytokine signaling 3 in gingival epithelial cells. Infect Immun. 2011;79:2632–7.

Natsume A, Kinjo S, Yuki K, Kato T, Ohno M, Motomura K, et al. Glioma-initiating cells and molecular pathology: implications for therapy. Brain Tumor Pathol. 2011;28:1–12.

Quintavalle C, Donnarumma E, Iaboni M, Roscigno G, Garofalo M, Romano G, et al. Effect of miR-21 and miR-30b/c on TRAIL-induced apoptosis in glioma cells. Oncogene. 2013;32:4001–8.

Reya T, Morrison SJ, Clarke MF, Weissman IL. Stem cells, cancer, and cancer stem cells. Nature. 2001;414:105–11.

Singh SK, Clarke ID, Terasaki M, Bonn VE, Hawkins C, Squire J, et al. Identification of a cancer stem cell in human brain tumors. Cancer Res. 2003;63:5821–8.

Starr R, Hilton DJ. SOCS: suppressors of cytokine signalling. Int J Biochem Cell Biol. 1998;30:1081–5.

Starr R, Willson TA, Viney EM, Murray LJ, Rayner JR, Jenkins BJ, et al. A family of cytokine-inducible inhibitors of signalling. Nature. 1997;387:917–21.

Wu N, Xiao L, Zhao X, Zhao J, Wang J, Wang F, et al. miR-125b regulates the proliferation of glioblastoma stem cells by targeting E2F2. FEBS Lett. 2012;586:3831–9.

Zhou M, Wang H, Zhou K, Luo X, Pan X, Shi B, et al. A novel EGFR isoform confers increased invasiveness to cancer cells. Cancer Res. 2013;73:7056–67.
About this article
Cite this article
Che, S., Sun, T., Wang, J. et al. miR-30 overexpression promotes glioma stem cells by regulating Jak/STAT3 signaling pathway. Tumor Biol. 36, 6805–6811 (2015). https://doi.org/10.1007/s13277-015-3400-8
Received:

Accepted:

Published:

Issue Date:

DOI: https://doi.org/10.1007/s13277-015-3400-8
Keywords
miR-30

SOCS3

Jak/STAT3

Glioma

GSC