Abstract
In the present study, we isolated and characterized a homogenous polysaccharide (GIAP1) from the alkaline extract of the roots of Glycyrrhiza inflata. The anti-tumor activity of GIAP1 toward human oral cancer SCC-25 cells and the underlying mechanisms were also examined in vitro. GIAP1 dose-dependently inhibited the proliferation of SCC-25 cells via inducing apoptosis. Moreover, GIAP1 downregulated Bax/Bcl-2 ratio, disrupted the mitochondrial membrane potential (MMP), and caused the release of cytochrome c to cytosol. Besides, GIAP1 triggered activation of capase-3 and caspase-9, as well as the degradation of poly (ADP-ribose) polymerase (PARP). In addition, the caspase-3 or caspase-9 inhibitor significantly inhibited GIAP1-induced apoptosis in SCC-25 cells. Collectively, we can conclude that the GIAP1 induces apoptosis in SCC-25 cells via a mitochondrial pathway.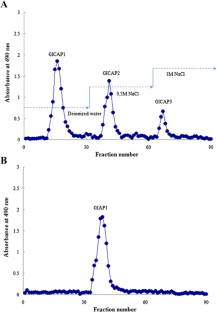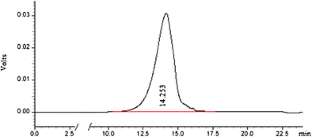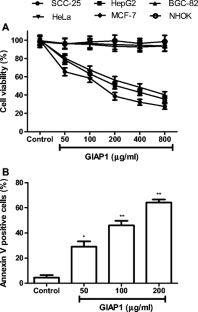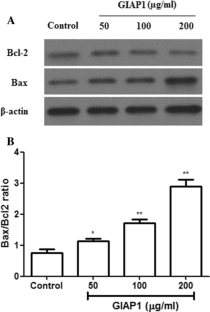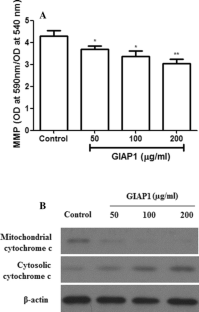 References
1.

Kumar A, Malik F, Bhushan S, Sethi VK, Shahi AK, Kaur J, et al. An essential oil and its major constituent isointermedeol induce apoptosis by increased expression of mitochondrial cytochrome c and apical death receptors in human leukaemia HL-60 cells. Chem Biol Interact. 2008;171:332–47.

2.

Effiom OA, Adeyemo WL, Omitola OG, Ajayi OF, Emmanuel MM, Gbotolorun OM. Oral squamous cell carcinoma: a clinicopathologic review of 233 cases in Lagos, Nigeria. J Oral Maxillofac Surg. 2008;66:1595–9.

3.

Scully C, Bagan J. Oral squamous cell carcinoma overview. Oral Oncol. 2009;45:301–8.

4.

Pentenero M, Gandolfo S, Carrozzo M. Importance of tumor thickness and depth of invasion in nodal involvement and prognosis of oral squamous cell carcinoma: a review of the literature. Head Neck. 2005;27:1080–91.

5.

Liou KT, Lin SM, Huang SS, Chih CL, Tsai SK. Honokiol ameliorates cerebral infarction from ischemia-reperfusion injury in rats. Planta Med. 2003;69:130–4.

6.

Feng G, Wang X, You C, Cheng X, Han Z, Zong L, et al. Antiproliferative potential of Artemisia capillaris polysaccharide against human nasopharyngeal carcinoma cells. Carbohydr Polym. 2013;92:1040–5.

7.

Wang H, Zhang X, Li Y, Chen R, Ouyang S, Sun P, et al. Antitumor activity of a polysaccharide from longan seed on lung cancer cell line A549 in vitro and in vivo. Tumour Biol. 2014;35:7259–66.

8.

Liu MJ, Wang Z, Li HX, Wu RC, Liu YZ, Wu QY. Mitochondrial dysfunction as an early event in the process of apoptosis induced by woodfordin I in human leukemia K562 cells. Toxicol Appl Pharmacol. 2004;194:141–55.

9.

Millan A, Huerta S. Apoptosis-inducing factor and colon cancer. J Surg Res. 2009;151:163–70.

10.

Wu B, Cui J, Zhang C, Li Z. A polysaccharide from Agaricus blazei inhibits proliferation and promotes apoptosis of osteosarcoma cells. Int J Biol Macromol. 2012;50:1116–20.

11.

Lee KH. Anticancer drug design based on plant-derived natural products. J Biomed Sci. 1999;6:236–50.

12.

Yu HJ, Shin JA, Nam JS, Kang BS, Cho SD. Apoptotic effect of dibenzylideneacetone on oral cancer cells via modulation of specificity protein 1 and Bax. Oral Dis. 2013;19:767–74.

13.

Guo X, Matsidik R, Ablise M, Sheng L, Abudula B. Anti-cancer activity of flavonoids from Xinjiang Glycyrrhiza inflata Licorice on proliferation, cytotoxicity and apoptosis in cervical carcinoma cells. J Med Plant Res. 2013;7:173–8.

14.

Furusawa J, Funakoshi-Tago M, Mashino T, Tago K, Inoue H, Sonoda Y, et al. Glycyrrhiza inflata-derived chalcones, Licochalcone A, Licochalcone B and Licochalcone D, inhibit phosphorylation of NF-κB p65 in LPS signaling pathway. Int Immunopharmacol. 2009;9:499–507.

15.

Cong YY, Kasimu R, Dai H, Abulizi P, Sheng P, Gao XM, et al. A neutral polysaccharide from Glycyrrhiza inflata. Chem Nat Compd. 2009;45:11–3.

16.

Staub AM. Removal of protein—Sevag method. Methods Carbohydr Chem. 1965;5:5–6.

17.

Dubois M, Gilles KA, Hamilton JK, Rebers PA, Smith F. Colorimetric method for determination of sugars and related substances. Anal Chem. 1956;28:350–6.

18.

Blumenkrantz N, Asboe-Hansen G. New method for quantitative determination of uronic acids. Anal Biochem. 1973;54:484–9.

19.

Bradford MM. A rapid and sensitive method for the quantitation of microgram quantities of protein utilizing the principle of protein binding. Anal Biochem. 1976;72:248–54.

20.

Jones TM, Albersheim P. A gas chromatographic method for the determination of aldose and uronic acid constituents of plant cell wall polysaccharides. Plant Physiol. 1972;49:926–36.

21.

Sun Y, Wang S, Li T, Li X, Jiao L, Zhang L. Purification, structure and immunobiological activity of a new water-soluble polysaccharide from the mycelium of Polyporus albicans(Imaz) Teng. Bioresour Technol. 2008;99:900–4.

22.

Li X, Zhao X, Wang H, Han J, Liu L. A polysaccharide from the fruiting bodies of Agaricus blazei Murill induces caspase-dependent apoptosis in human leukemia HL-60 cells. Tumour Biol. 2014;35:8963.

23.

Peng YR, Li YB, Liu XD, Zhang JF, Duan JA. Antitumor activity of C-21 steroidal glycosides from Cynanchum auriculatum Royle ex Wight. Phytomedicine. 2008;15:1016–20.

24.

Chiu CC, Liu PL, Huang KJ, Wang HM, Chang KF, Chou CK, et al. Goniothalamin inhibits growth of human lung cancer cells through DNA damage, apoptosis, and reduced migration ability. J Agric Food Chem. 2011;59:4288–93.

25.

Hsu YL, Chia CC, Chen PJ, Huang SE, Huang SC, Kuo PL. Shallot and licorice constituent isoliquiritigenin arrests cell cycle progression and induces apoptosis through the induction of ATM/p53 and initiation of the mitochondrial system in human cervical carcinoma HeLa cells. Mol Nutr Food Res. 2009;53:826–35.

26.

Li P, Nijhawan D, Budihardjo I, Srinivasula SM, Ahmad M, Alnemri ES, et al. Cytochrome c and dATP-dependent formation of Apaf-1/caspase-9 complex initiates an apoptotic protease cascade. Cell. 1997;91:479–89.

27.

Zhang Y, Sun S, Chen J, Ren P, Hu Y, Cao Z, et al. Oxymatrine induces mitochondria dependent apoptosis in human osteosarcoma MNNG/HOS cells through inhibition of PI3K/Akt pathway. Tumour Biol. 2014;35:1619–25.

28.

Sun Z, Huang K, Fu X, Zhou Z, Cui Y, Li H. A chemically sulfated polysaccharide derived from Ganoderma lucidum induces mitochondrial-mediated apoptosis in human osteosarcoma MG63 cells. Tumour Biol. 2014;35:9919–26.

29.

Hengartner MO. The biochemistry of apoptosis. Nature. 2000;407:770–6.

30.

Miao S, Mao X, Pei R, Miao S, Xiang C, Lv Y, et al. Lepista sordida polysaccharide induces apoptosis of Hep-2 cancer cells via mitochondrial pathway. Int J Biol Macromol. 2013;61:97–101.

31.

Wang X, Chen Y, Wang J, Liu Z, Zhao S. Antitumor activity of a sulfated polysaccharide from Enteromorpha intestinalis targeted against hepatoma through mitochondrial pathway. Tumour Biol. 2014;35:1641–7.
Conflicts of interest
None
Additional information
Guang Zeng and Huan Shen contributed equally to this work.
About this article
Cite this article
Zeng, G., Shen, H., Tang, G. et al. A polysaccharide from the alkaline extract of Glycyrrhiza inflata induces apoptosis of human oral cancer SCC-25 cells via mitochondrial pathway. Tumor Biol. 36, 6781–6788 (2015). https://doi.org/10.1007/s13277-015-3359-5
Received:

Accepted:

Published:

Issue Date:
Keywords
Glycyrrhiza inflata

Polysaccharide

Structure

Apoptosis

Human oral cancer

Mitochondria