Abstract
Breast cancer (BC) is the leading cause of cancer-related death among women in 2014. Methylenetetrahydrofolate reductase (MTHFR), methionine synthase (MTR), and MTR reductase (MTRR) are enzymes that play an important role in folate metabolism. The single nucleotide polymorphisms, MTHFR C677T, A1298C, MTR A2756G, and MTRR A66G, alter plasmatic folate and homocysteine concentrations, causing problems during the repairment, synthesis, and methylation of the genetic material. Therefore, it is essential to know how BC risk is associated with histopathological and immunohistochemical characteristics, genotype polymorphisms, and gene expression in a high altitude Ecuadorian mestizo population. DNA was extracted from 195 healthy and 114 affected women. Genotypes were determined by restriction enzymes and genomic sequencing. mRNA was extracted from 26 glandular breast tissue samples, both from cancerous tissue and healthy tissue adjacent to the tumor. Relative gene expression was determined with the comparative Livak method (2−ΔΔCT). We found significant association between the rs1801133 (A222V) genotypes and an increased risk of BC development: C/T (odds ratio [OR] = 1.8; 95 % confidence interval [CI] = 1.1–3.2; P = 0.039), T/T (OR = 2.9; 95 % CI = 1.2–7.2; P = 0.025), and C/T + T/T (OR = 1.9; 95 % CI = 1.1–3.3; P = 0.019). Regarding relative gene expression, we found significant mRNA subexpression between the combined genotypes C/T + T/T (rs1801133) and triple negative breast cancer (TNBC) (P = 0.034). In brief, the MTHFR gene and its protein could act as potential predictive biomarkers of BC, especially TNBC among the high altitude Ecuadorian mestizo population.
This is a preview of subscription content, log in to check access.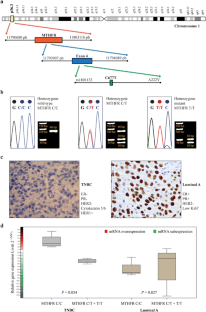 References
1.

Huang Y, Davidson N. Breast cancer. In: Marschall R, Patterson C, editors. Principles of molecular medicine. New Jersey: Humana; 2006. p. 728–35.

2.

Cancer Research UK. Worldwide cancer statistics. In: Cancer statistics. 2014. www.cancerresearchuk.org/cancer-info/cancerstats/world Accessed 24 Jun 2014

3.

Jemal A, Bray F, Center MM, Ferlay J, Ward E, Forman D. Global cancer statistics. CA Cancer J Clin. 2011;61(2):69–90.

4.

World Health Organization. International Agency for Research on Cancer. GLOBOCAN 2012: Estimated cancer incidence, mortality and prevalence worldwide in 2012. 2012. http://globocan.iarc.fr/Default.aspx Accessed 25 Jun 2014

5.

Kumar V, Abbas A, Aster J. Robbins basic pathology. 9th ed. Philadelphia: Saunders; 2012.

6.

National Cancer Institute at the National Institutes of Health. Histopathologic classification of breast cancer. In: Breast cancer treatment. 2014. http://www.cancer.gov/cancertopics/pdq/treatment/breast/healthprofessional/page2 Accessed 4 Dec 2014

7.

Kumar R, Sharma A, Tiwari R. Application of microarray in breast cancer: an overview. J Pharm Bioallied Sci. 2012;4(1):21–6.

8.

Banerji S, Cibulskis K, Rangel-Escareno C, Brown K, Carter S, Frederick A, et al. Sequence analysis of mutations and translocations across breast cancer subtypes. Nature. 2012;405–9.

9.

Dumitrescu R, Cotarla I. Understanding breast cancer risk—where do we stand in 2005? J Cell Mol Med. 2005;9:208–21.

10.

Honrado E, Osorio A, Palacios J, Benitez J. Pathology and gene expression of hereditary breast tumors associated with BRCA1, BRCA2 and CHEK2 gene mutations. Oncogene. 2006;25:5837–45.

11.

The Cancer Genome Atlas Network. Comprehensive molecular portraits of human breast tumours. Nature. 2012;490(7418):61–70.

12.

Bai J, Zheng M, Xia X, Ter-Minassian M, Chen Y, Chen F. MTHFR C677T polymorphism contributes to prostate cancer risk among Caucasians: a meta-analysis of 3511 cases and 2762 controls. Eur J Cancer. 2009;45:1443–9.

13.

Muslumanoglu M, Tepeli E, Demir S, Uludag A, Uzun D, Atli E, et al. The analysis of the relationship between A1298C and C677T polymorphisms of the MTHFR gene with prostate cancer in Eskisehir population. Genet Test Mol Biomarkers. 2009;13:641–5.

14.

Cicek M, Nock N, Li L, Conti D, Casey G, Witte J. Relationship between methylenetetrahydrofolate reductase C677T and A1298C genotypes and haplotypes and prostate cancer risk and aggressiveness. Cancer Epidemiol Biomarkers Prev. 2004;13:1331–6.

15.

Singal R, Ferdinand L, Das P, Reis I, Schlesselman J. Polymorphisms in the methylenetetrahydrofolate reductase gene and prostate cancer risk. Int J Oncol. 2004;25(5):1465–71.

16.

Michael S, Qamar R, Akhat F, Khan W, Ahmed A. C677T polymorphism in the methylenetetrahydrofolate reductase gene is associated with primary closed angle glaucoma. Mol Vis. 2008;14:661–5.

17.

López-Cortés A, Jaramillo-Koupermann G, Muñoz MJ, Cabrera A, Echeverría C, Rosales F, et al. Genetic polymorphisms in MTHFR (C677T, A1298C), MTR (A2756G) and MTRR (A66G) genes associated with pathological characteristics of prostate cancer in the Ecuadorian population. Am J Med Sci. 2013;346(6):447–54.

18.

Hubner R, Muir K, Lui J, Sellick G, Logan R, Grainge M, et al. Folate metabolism polymorphisms influence risk of colorectal adenoma recurrence. Cancer Epidemiol Biomarkers Prev. 2006;15(9):1607–13.

19.

Heijmans B, Boer J, Suchiman E, Cornelisse C, Westendorp R, Kromhout D, et al. A common variant of the methylenetetrahydrofolate reductase gene (1q36) is associated with an increased risk of cancer. Cancer Res. 2003;63:1249–53.

20.

Wilson A, Platt R, Wu Q, Leclerc D, Christensen B, Yang H, et al. A common variant in methionine synthase reductase combined with low cobalamin (vitamin B12) increases risk for spina bifida. Mol Genet Metab. 1999;67:317–23.

21.

Johansson M, Van Guelpen B, Hutdin J, Wiklund F, Adami H, Bälter K, et al. The MTHFR C677−− > T polymorphism and risk of prostate cancer: results from the CAPS study. Cancer Causes Control. 2007;18:1169–74.

22.

Ulvik A, Ueland P. Single nucleotide polymorphism (SNP) genotyping in unprocessed whole blood and serum by real-time PCR: application to SNPs affecting homocysteine and folate metabolism. Clin Chem. 2001;47:2050–3.

23.

Hobbs CA, Sherman SL, Yi P, Hopkins SE, Torfs CP, Hine RJ, et al. Polymorphisms in genes involved in folate metabolism as maternal risk factors for Down syndrome. Am J Hum Genet. 2000;67(3):623–30.

24.

Das P, Signal R. DNA methylation and cancer. J Clin Oncol. 2004;22:4632–42.

25.

Heifetz EM, Birk RZ. MTHFR C677T polymorphism affects normotensive diastolic blood pressure independently of blood lipids. Am J Hypertens. 2014. doi:10.1093/ajh/hpu152.

26.

Karabacak E, Aydin E, Ozcan O, Dogan B, Gultepe M, Cosar A, et al. Methylenetetrahydrofolate reductase (MTHFR) 677C > T gene polymorphism as a possible factor for reducing clinical severity of psoriasis. Int J Clin Exp Med. 2014;7(3):697–702.

27.

Rai V, Yadav U, Kumar P, Yadav SK, Mishra OP. Maternal methylenetetrahydrofolate reductase C677T polymorphism and Down syndrome risk: a meta-analysis from 34 studies. PLoS One. 2014. doi:10.1371/journal.pone.0108552.

28.

Hu CY, Qian ZZ, Gong FF, Lu SS, Feng F, Wu YL, et al. Methylenetetrahydrofolate reductase (MTHFR) polymorphism susceptibility to schizophrenia and bipolar disorder: an updated meta-analysis. J Neural Transm. 2014. doi:10.1007/s00702-014-1261-8.

29.

Zhu B, Wu X, Zhi X, Liu L, Zheng Q, Sun G. Methylenetetrahydrofolate reductase C677T polymorphism and type 2 diabetes mellitus in Chinese population: a meta-analysis of 29 case-control studies. PLoS One. 2014. doi:10.1371/journal.pone.0102443.

30.

Badiga S, Johanning GL, Macaluso M, Azuero A, Chambers MM, Siddiqui NR, et al. A lower degree of PBMC L1 methylation in women with lower folate status may explain the MTHFR C677T polymorphism associated higher risk of CIN in the US post folic acid fortification era. PLoS One. 2014. doi:10.1371/journal.pone.0110093.

31.

Ma C, Liu Y, Zhang W, Liu P. The association between MTHFR C677T polymorphism and ovarian cancer risk: a meta-analysis of 18,628 individuals. Mol Biol Rep. 2013;40(3):2061–8.

32.

Keld R, Thian M, Hau C, Sajid J, Kumar N, Ang Y. Polymorphisms of MTHFR and susceptibility to oesophageal adenocarcinoma in a Caucasian United Kingdom population. World J Gastroenterol. 2014;20(34):12212–6.

33.

Shi R, Zhao Z, Zhou H, Zhou J, Tan W. Lack of association between MTHFR Ala222Val and Glu429Ala polymorphisms and bladder cancer risk: a meta-analysis of case-control studies. Biomed Rep. 2014;2(3):396–403.

34.

Yilmaz M, Kacan T, Sari I, Kilickap S. Lack of association betweenthe MTHFRC677T polymorphism and lung cancer in a Turkish population. Asian Pac J Cancer Prev. 2014;15:6333–7.

35.

Lin J, Zeng RM, Li RN, Cao WH. Aberrant DNA methylation of the P16, MGMT, and hMLH1 genes in combination with the methylenetetrahydrofolate reductase C677T genetic polymorphism and folate intake in gastric cancer. Genet Mol Res. 2014;13:2060–8.

36.

Guo XP, Wang Y, Zhao H, Song SD, Zhou J, Han Y. Association of MTHFR C677T polymorphisms and colorectal cancer risk in Asians: evidence of 12,255 subjects. Clin Transl Oncol. 2014;16:623–9.

37.

Maltseva DV, Khaustova NA, Fedotov NN, Matveeva EO, Lebedev AE, Shkurnikov MU, et al. High-throughput identification of reference genes for research and clinical RT-qPCR analysis of breast cancer sample. J Clin Bioinforma. 2013. doi:10.1186/2043-9113-3-13.

38.

Livak KJ, Schmittgen TD. Analysis of relative gene expression data using real-time quantitative PCR and the 2(-Delta Delta C(T)) method. Methods. 2001;25(4):402–8.

39.

Schmittgen TD, Livak KJ. Analyzing real-time PCR data by the comparative C(T) method. Nat Protoc. 2008;3(6):1101–8.

40.

Engle LJ, Simpson CL, Landers JE. Using high-throughput SNP technologies to study cancer. Oncogene. 2006;25(11):1594–601.

41.

Fejerman L, Ahmadiyeh N, Hu D, Huntsman S, Beckman KB, Caswell JL, et al. Genome-wide association study of breast cancer in Latinas identifies novel protective variants on 6q25. Nat Commun. 2014. doi:10.1038/ncomms6260.

42.

Liew SC, Gupta ED. Methylenetetrahydrofolate reductase (MTHFR) C677T polymorphism: epidemiology, metabolism and the associated diseases. Eur J Med Genet. 2014. doi:10.1016/j.ejmg.2014.10.004.

43.

Lajin B, Alhaj Sakur A, Ghabreau L, Alachkar A. Association of polymorphisms in one-carbon metabolizing genes with breast cancer risk in Syrian women. Tumor Biol. 2012;33:1133–9.

44.

Vaĭner AS, Boiarskikh UA, Voronina EN, Selezneva IA, Sinkina TV, Lazarev AF, et al. Polymorphic variants of folate metabolizing genes (C677T and A1298C MTHFR, C1420T SHMT1 and G1958A MTHFD) are not associated with the risk of breast cancer in West Siberian Region of Russia. Mol Biol (Mosk). 2010;44(5):816–23.

45.

Bernardi R, Gianni L. Hallmarks of triple negative breast cancer emerging at last? Cell Res. 2014;24(8):904–5.

46.

Paz-y-Miño C, López-Cortés A, Muñoz MJ, Cabrera A, Castro B, Sánchez ME. Incidence of the L858R and G719S mutations of the epidermal growth factor receptor oncogene in an Ecuadorian population with lung cancer. Cancer Genet Cytogenet. 2010;196(2):201–3.

47.

Paz-y-Miño C, Muñoz MJ, López-Cortés A, Cabrera A, Palacios A, Castro B, et al. Frequency of polymorphisms pro198leu in GPX-1 gene and ile58thr in MnSOD gene in the altitude Ecuadorian population with bladder cancer. Oncol Res. 2010;18(8):395–400.

48.

Paz-y-Miño C, López-Cortés A, Muñoz MJ, Castro B, Cabrera A, Sánchez ME. Relationship of an hRAD54 gene polymorphism (2290 C/T) in an Ecuadorian population with chronic myelogenous leukemia. Genet Mol Biol. 2010;33(4):646–9.

49.

Quiñones LA, Lavanderos MA, Cayun JP, Garcia-Martin E, Agundez JA, Caceres DD, et al. Perception of the usefulness of drug/gene pairs and barriers for pharmacogenomics in Latin America. Curr Drug Metab. 2014;15(2):202–8.
Conflicts of interest
None
About this article
Cite this article
López-Cortés, A., Echeverría, C., Oña-Cisneros, F. et al. Breast cancer risk associated with gene expression and genotype polymorphisms of the folate-metabolizing MTHFR gene: a case-control study in a high altitude Ecuadorian mestizo population. Tumor Biol. 36, 6451–6461 (2015). https://doi.org/10.1007/s13277-015-3335-0
Received:

Accepted:

Published:

Issue Date:
Keywords
Breast cancer

MTHFR

Triple negative breast cancer

Livak method

Relative gene expression

Odds Ratio