Abstract
Radiotherapy and chemotherapy are targeted primarily at rapidly proliferating cancer cells and are unable to eliminate cancer stem cells in the G0 phase. Thus, these treatments cannot prevent the recurrence and metastasis of cancer. Understanding the mechanisms by which cancer stem cells are maintained in the dormant G0 phase, and how they become active is key to developing new cancer therapies. The current study found that the anti-cancer drug 5-fluorouracil, acting on the oral squamous cell carcinoma KB cell line, selectively killed proliferating cells while sparing cells in the G0 phase. Bisulfite sequencing PCR showed that demethylation of the Sox2 promoter led to the expression of Sox2. This then resulted in the transformation of cancer stem cells from the G0 phase to the division stage and suggested that the transformation of cancer stem cells from the G0 phase to the division stage is closely related to an epigenetic modification of the cell.
Access options
Buy single article
Instant access to the full article PDF.
USD 39.95
Price excludes VAT (USA)
Tax calculation will be finalised during checkout.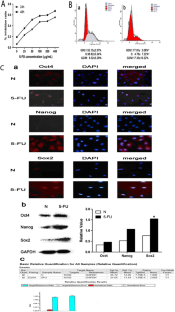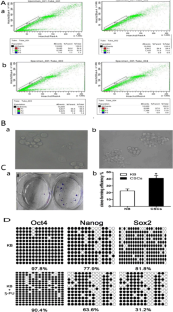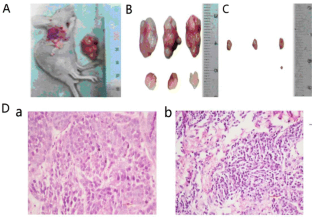 References
Winning TA, Townsend GC. Oral mucosal embryology and histology. Clin Dermatol. 2000;18:499–511.

Mackenzie I. Stem cells in oral mucosal epithelia. Oral Biosci Med. 2005;2:1–9.

Sen S, Sharma S, Gupta A, et al. Molecular characterization of explant cultured human oral mucosal epithelial cells. Invest Ophthalmol Vis Sci. 2011;52:9548–54.

Jones PH, Watt FM. Separation of human epidermal stem cells from transit amplifying cells on the basis of differences in integrin function and expression. Cell. 1993;73:713–24.

Hume WJ, Potten CS. Advances in epithelial kinetics—an oral view. J Oral Pathol Med. 1979;8:3–22.

Barrett AW, Selvarajah S, Franey S, et al. Interspecies variations in oral epithelial cytokeratin expression. J Anat. 1998;193:185–93.

Chen JS, Pardo FS, Wang-Rodriguez J, et al. EGFR regulates the side population in head and neck squamous cell carcinoma. Laryngoscope. 2006;116:401–6.

Zhang QZ, Nguyen AL, Yu WH, et al. Human oral mucosa and gingiva: a unique reservoir for mesenchymal stem cells. J Dent Res. 2012;91:1011–8.

Zhang Q, Shi S, Yen Y, et al. A subpopulation of CD133 + cancer stem-like cells characterized in human oral squamous cell carcinoma confer resistance to chemotherapy. Cancer Lett. 2010;289:151–60.

Ravindran G, Devaraj H. Aberrant expression of CD133 and musashi-1 in preneoplastic and neoplastic human oral squamous epithelium and their correlation with clinicopathological factors. Head Neck. 2012;34:1129–35.

Chiou SH, Yu CC, Huang CY, et al. Positive correlations of Oct3/4 and Nanog in oral cancer stem-like cells and high-grade oral squamous cell carcinoma. Clin Cancer Res. 2008;14:4085–95.

Niwa H, Miyazaki J, Smith AG. Quantitative expression of Oct-3/4 defines differentiation, dedifferentiation or self-renewal of ES cells. Nat Genet. 2000;24:372–6.

Szotek PP, Pieretti-Vanmarcke R, et al. Ovarian cancer side population defines cells with stem cell-like characteristics and Mullerian inhibiting substance responsiveness. Proc Natl Acad Sci U S A. 2006;103:11154–9.

Häyry V, Makinen LK, Atula T, et al. Bmi-1 expression predicts prognosis in squamous cell carcinoma of the tongue. Br J Cancer. 2010;102:892–7.

Köse O, Lalli A, Kutulola AO, et al. Changes in the expression of stem cell markers in oral lichen planus and hyperkeratotic lesions. J Oral Sci. 2007;49:133–9.

Chen YC, Hsu HS, Chen YW, et al. Oct-4 expression maintained cancer stem-like properties in lung cancer-derived CD133-positive cells. PLoS One. 2008;3:e2637.

Haraguchi N, Utsunomiya T, Inoue H, et al. Characterization of a side population of cancer cells from human gastrointestinal system. Stem Cells. 2006;24:506–13.

Pittenger MF. Multilineage potential of adult human mesenchymal stem cells. Science. 1999;284:143–7.

Nakagawa M, Koyanagi M, Tanabe K, et al. Generation of induced pluripotent stem cells without Myc from mouse and human fibroblasts. Nat Biotechnol. 2007;26:101–6.

Kiyosue T, Collins CA, Nascimento E, et al. Immunohistochemical location of the p75 neurotrophin receptor (p75NTR) in oral leukoplakia and oral squamous cell carcinoma. Int J Clin Oncol. 2013;18:154–63.

Levina V, Marrangoni AM, DeMarco R, et al. Drug-selected human lung cancer stem cells: cytokine network, tumorigenic and metastatic properties. PLoS One. 2008;3:e3077.

Ma XB, Jia XS, Liu YL, et al. Expression and role of notch signaling in the regeneration of rat tracheal epithelium. Cell Prolif. 2009;42:15–28.

Gidekel S, Pizov G, Bergman Y, et al. Oct-3/4 is a dose-dependent oncogenic fate determinant. Cancer Cell. 2003;4:361–70.

Tsai LL, Yu CC, Chang YC, et al. Markedly increased Oct4 and Nanog expression correlates with cisplatin resistance in oral squamous cell carcinoma. J Oral Pathol Med. 2011;40:621–8.

Cutright DE, Bauer H. Cell renewal in the oral mucosa and skin of the rat. I. Turnover time. Oral Surg Oral Med Oral Pathol. 1967;23:249–59.

Ichimura T, Watanabe S, Sakamoto Y, et al. Transcriptional repression and heterochromatin formation by MBD1 and MCAF/AM family proteins. J Biol Chem. 2005;280:13928–35.

Hussenet T, Dali S, Exinger J, Monga B, Jost B, et al. SOX2 is an oncogene activated by recurrent 3q26.3 amplifications in human lung squamous cell carcinomas. PLoS One. 2010;5:e8960.

Yuan P, Kadara H, Behrens C, et al. Sex determining region Y-Box 2 (SOX2) is a potential cell-lineage gene highly expressed in the pathogenesis of squamous cell carcinomas of the lung. PLoS One. 2010;5:e9112.

Patrawala L, Calhoun T, Schneider-Broussard R, et al. Side population is enriched in tumorigenic, stem-like cancer cells, whereas ABCG2+ and ABCG2-cancer cells are similarly tumorigenic. Cancer Res. 2005;65:6207–19.

Bickenbach JR. Identification and behavior of label-retaining cells in oral mucosa and skin. J Dent Res. 1981;60:1611–20.

Takeda T, Sugihara K, Hirayama Y, et al. Immunohistological evaluation of Ki-67, p63, CK19 and p53 expression in oral epithelial dysplasias. J Oral Pathol Med. 2006;35:369–75.

Tani H, Morris RJ, Kaur P. Enrichment for murine keratinocyte stem cells based on cell surface phenotype. Proc Natl Acad Sci U S A. 2000;97:10960–5.

Clay MR, Tabor M, Owen JH, et al. Single-marker identification of head and neck squamous cell carcinoma cancer stem cells with aldehyde dehydrogenase. Head Neck. 2010;32:1195–201.

Reya T, Morrison SJ, Clarke MF, et al. Stem cells, cancer, and cancer stem cells. Nature. 2001;414:105–11.

Mascré G, Dekoninck S, Drogat B, et al. Distinct contribution of stem and progenitor cells to epidermal maintenance. Nature. 2012;489:257–62.

Vescovi AL, Galli R, Reynolds BA. Brain tumour stem cells. Nat Rev Cancer. 2006;6:425–36.

Song N, Jia X-S, Jia L-L, et al. Expression and role of Oct3/4, Nanog and Sox2 in regeneration of rat tracheal epithelium. Cell Prolif. 2010;43:49–55.

Hajkovap, Anelin K, Waldmaa T, et al. Chromatin dynamice during epigenetic reproraning in the active DNA demethylation. J Cell. 2008;133:1145–8.

Delerba P, ChoR W, Larke MF. Cancer Stem Cell:Morels and Concests. J Annu Rev Med. 2007;58:267–84.

Squier CA, Kremer MJ. Biology of oral mucosa and esophagus. J Natl Cancer Inst Monogr. 2011;29:7–15.

Igarashi T, Shimmura S, Yoshida S, et al. Isolation of oral epithelial progenitors using collagen IV. Oral Dis. 2008;14:413–8.
Acknowledgments
This work was supported by the National Natural Science Foundation of China (Grant no. 81370100 to Xinshan Jia).
Conflicts of interest
None
About this article
Cite this article
Chen, X., Li, X., Zhao, B. et al. Dormancy activation mechanism of oral cavity cancer stem cells. Tumor Biol. 36, 5551–5559 (2015). https://doi.org/10.1007/s13277-015-3225-5
Received:

Accepted:

Published:

Issue Date:

DOI: https://doi.org/10.1007/s13277-015-3225-5
Keywords
Oral cancer

Cancer stem cells

Dormancy

Activation

Mechanism