Abstract
MicroRNAs (miRNAs) play a critical role in cancer development and progression. Aberrant expression of miR-15a has recently been reported in several cancers, but its role in non-small cell lung cancer (NSCLC) still remains obscure. We investigated the effects of miR-15a on proliferation, apoptosis, and metastasis in A549 cells. Eighteen paired NSCLC and adjacent non-tumor lung tissues were surgically removed and immediately snap frozen until total RNA was extracted and confirmed by two independent pathologists. The targets of miR-15a were predicted by bioinformatics tools. RNA isolation and quantitative real-time PCR (qRT-PCR), Western blot analysis, cell proliferation assay, cell cycle analysis, cell apoptosis assay, and migration and invasion assays were done. The wild type (WT) or mutant type (MT) 3′-untranslated region (UTR) vectors were co-transfected with miR-15a or negative control into A549 cells, and after 24 h of transfection, luciferase activity was measured using the Dual-Glo luciferase assay kit. Statistical analysis was performed using SPSS 13.0 software (SPSS, Chicago, IL, USA). P values of less than 0.05 were considered statistically significant. miR-15a was significantly downregulated in NSCLC than in adjacent non-cancerous tissues. miR-15a overexpression remarkably inhibited cell viability, invasion, and migration and promoted the apoptosis of NSCLC cells. Additionally, inhibition of miR-15a expression had the opposite effects on tumor progression, while cell cycle remained unaltered. Furthermore, we identified that BCL2L2 was a target of miR-15a and negatively regulated by miR-15a at the translational level. miR-15a acts as a tumor suppressor in NSCLC by directly targeting BCL2L2 and may serve as a potential diagnostic biomarker and therapeutic target for NSCLC.
This is a preview of subscription content, log in to check access.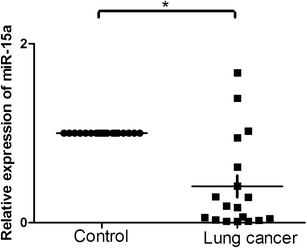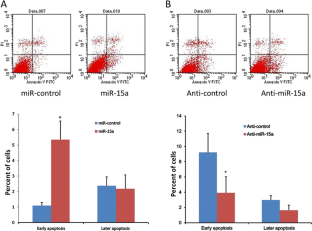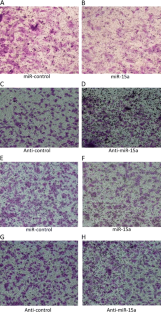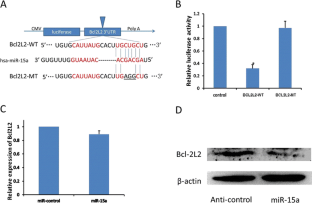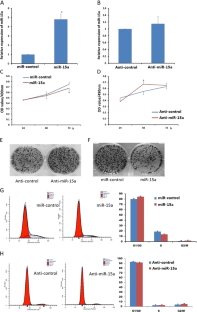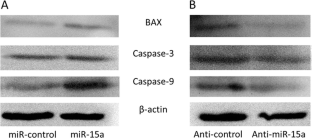 References
1.

Subramaniam S, Thakur RK, Yadav VK, Nanda R, Chowdhury S, Agrawal A. Lung cancer biomarkers: state of the art. J Carcinog. 2013;12:3.

2.

Verdecchia A, Francisci S, Brenner H, Gatta G, Micheli A, Mangone L, et al. Recent cancer survival in Europe: a 2000–02 period analysis of EUROCARE-4 data. Lancet Oncol. 2007;8:784–96.

3.

Funamizu N, Lacy CR, Parpart ST, Takai A, Hiyoshi Y, Yanaga K. MicroRNA-301b promotes cell invasiveness through targeting TP63 in pancreatic carcinoma cells. Int J Oncol. 2014;44:725–34.

4.

Hung PS, Liu CJ, Chou CS, Kao SY, Yang CC, Chang KW, et al. miR-146a enhances the oncogenicity of oral carcinoma by concomitant targeting of the IRAK1, TRAF6 and NUMB genes. PLoS One. 2013;8:e79926.

5.

Wu X, Xi X, Yan Q, Zhang Z, Cai B, Lu W, et al. MicroRNA-361-5p facilitates cervical cancer progression through mediation of epithelial-to-mesenchymal transition. Med Oncol. 2013;30:751.

6.

Han Y, Liu Y, Zhang H, Wang T, Diao R, Jiang Z, et al. Hsa-miR-125b suppresses bladder cancer development by down-regulating oncogene SIRT7 and oncogenic long non-coding RNA MALAT1. Febs Lett. 2013;587:3875–82.

7.

Azizi M, Teimoori-Toolabi L, Arzanani MK, Azadmanesh K, Fard-Esfahani P, Zeinali S. MicroRNA-148b and microRNA-152 reactivate tumor suppressor genes through suppression of DNA methyltransferase-1 gene in pancreatic cancer cell lines. Cancer Biol Ther. 2014;15:419–27.

8.

Lages E, Ipas H, Guttin A, Nesr H, Berger F, Issartel JP. MicroRNAs: molecular features and role in cancer. Front Biosci (Landmark Ed). 2012;17:2508–40.

9.

Cai J, Wu J, Zhang H, Fang L, Huang Y, Yang Y, et al. miR-186 downregulation correlates with poor survival in lung adenocarcinoma, where it interferes with cell-cycle regulation. Cancer Res. 2013;73:756–66.

10.

Cirera-Salinas D, Pauta M, Allen RM, Salerno AG, Ramirez CM, Chamorro-Jorganes A, et al. Mir-33 regulates cell proliferation and cell cycle progression. Cell Cycle. 2012;11:922–33.

11.

Sun CY, She XM, Qin Y, Chu ZB, Chen L, Ai LS, et al. miR-15a and miR-16 affect the angiogenesis of multiple myeloma by targeting VEGF. Carcinogenesis. 2013;34:426–35.

12.

Shi L, Jackstadt R, Siemens H, Li H, Kirchner T, Hermeking H. p53-induced miR-15a/16-1 and AP4 form a double-negative feedback loop to regulate epithelial-mesenchymal transition and metastasis in colorectal cancer. Cancer Res. 2014;74:532–42.

13.

Musumeci M, Coppola V, Addario A, Patrizii M, Maugeri-Sacca M, Memeo L, et al. Control of tumor and microenvironment cross-talk by miR-15a and miR-16 in prostate cancer. Oncogene. 2011;30:4231–42.

14.

Bandi N, Vassella E. miR-34a and miR-15a/16 are co-regulated in non-small cell lung cancer and control cell cycle progression in a synergistic and Rb-dependent manner. Mol Cancer. 2011;10:55.

15.

Lee HW, Lee SS, Lee SJ, Um HD. Bcl-w is expressed in a majority of infiltrative gastric adenocarcinomas and suppresses the cancer cell death by blocking stress-activated protein kinase/c-Jun NH2-terminal kinase activation. Cancer Res. 2003;63:1093–100.

16.

Qu J, Zhao L, Zhang P, Wang J, Xu N, Mi W, Jiang X, Zhang C: MicroRNA-195 chemosensitizes colon cancer cells to the chemotherapeutic drug doxorubicin by targeting the first binding site of BCL2L2 mRNA. J Cell Physiol. 2015;230(3):535–45. doi:10.1002/jcp.24366.

17.

Wang F, Liu M, Li X, Tang H. MiR-214 reduces cell survival and enhances cisplatin-induced cytotoxicity via down-regulation of Bcl2l2 in cervical cancer cells. Febs Lett. 2013;587:488–95.

18.

Xu Y, Zhao F, Wang Z, Song Y, Luo Y, Zhang X, et al. MicroRNA-335 acts as a metastasis suppressor in gastric cancer by targeting Bcl-w and specificity protein 1. Oncogene. 2012;31:1398–407.

19.

Bae IH, Park MJ, Yoon SH, Kang SW, Lee SS, Choi KM, et al. Bcl-w promotes gastric cancer cell invasion by inducing matrix metalloproteinase-2 expression via phosphoinositide 3-kinase, Akt, and Sp1. Cancer Res. 2006;66:4991–5.

20.

Kawasaki T, Yokoi S, Tsuda H, Izumi H, Kozaki K, Aida S, et al. BCL2L2 is a probable target for novel 14q11.2 amplification detected in a non-small cell lung cancer cell line. Cancer Sci. 2007;98:1070–7.

21.

Crawford M, Batte K, Yu LB, Wu X, Nuovo GJ, Marsh CB, et al. MicroRNA 133b targets pro-survival molecules MCL-1 and BCL2L2 in lung cancer. Biochem Biophys Res Commun. 2009;388:483–9.
Acknowledgments
This work was supported in part by a grant from Shaanxi Science and Technology Research Funds (Grant Number: 2011K12-15).
Conflicts of interest
None
About this article
Cite this article
Yang, T., Thakur, A., Chen, T. et al. MicroRNA-15a induces cell apoptosis and inhibits metastasis by targeting BCL2L2 in non-small cell lung cancer. Tumor Biol. 36, 4357–4365 (2015). https://doi.org/10.1007/s13277-015-3075-1
Received:

Accepted:

Published:

Issue Date:
Keywords
Non-small cell lung cancer

miR-15a

Apoptosis

Metastasis

BCL2L2