Abstract
Hyaluronic acid binding protein 1 (HABP1/gC1qR/p32), a ubiquitous multifunctional protein belonging to the hyaladherin family, has been implicated in the tumorigenesis, progression, invasion, and metastasis of several malignant tumors. However, the role of HABP1 in endometrial cancer has not yet been studied. This study aimed to detect the expression of HABP1 in endometrial cancer and explore its role in the clinicopathological features and prognosis of endometrial cancer. We analyzed HABP1 expression by immunohistochemistry in 188 endometrial cancer specimens, 43 benign endometrial lesion specimens, and 41 normal endometrium specimens and assessed using Western blot analysis. Statistical analysis showed that HABP1 was overexpressed in endometrial cancer and benign endometrial lesion compared with normal endometrium (P < 0.001 and P = 0.012, respectively). In addition, HABP1 expression was significantly higher in endometrial cancer than in benign endometrial lesion (P < 0.001). High HABP1 expression was significantly associated with advanced International Federation of Gynecology and Obstetrics stage (P = 0.019), higher histologic grade (P < 0.001), deep myometrial invasion (P = 0.013), lymphovascular space invasion (P = 0.010), lymph node metastasis (P = 0.015), and recurrence (P = 0.009). Patients with high HABP1 expression had a poorer overall survival (OS) and disease-free survival (DFS) than patients with low HABP1 expression (P = 0.015 and P = 0.012, respectively). Multivariate Cox regression analysis showed that the HABP1 expression status was an independent prognostic factor of OS and DFS (P = 0.025 and P = 0.022, respectively) in patients with endometrial cancer. Our results indicated that overexpression of HABP1 may serve as a new biomarker to predict the progression and prognosis of endometrial cancer.
This is a preview of subscription content, log in to check access.
Access options
Buy single article
Instant access to the full article PDF.
US$ 39.95
Price includes VAT for USA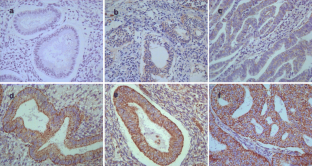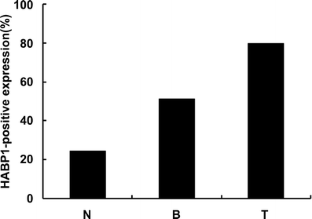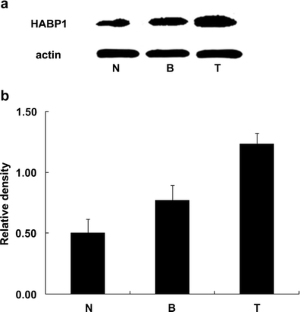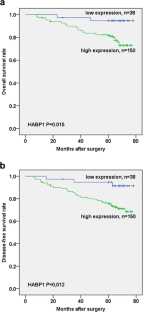 References
1.

Howlader N, Noone AM, Krapcho M, et al. SEER cancer statistics review, 1975–2011. 1st ed. Bethesda: National Cancer Institute; 2014.

2.

Siegel R, Naishadham D, Jemal A. Cancer statistics, 2012. CA Cancer J Clin. 2012;62:10–29.

3.

Creasman WT, Odicino F, Maisonneuve P, et al. Carcinoma of the corpus uteri. FIGO 26th annual report on the results of treatment in gynecological cancer. Int J Gynaecol Obstet. 2006;95:S105–43.

4.

Fowler W, Mutch D. Management of endometrial cancer. Womens Health (Lond Engl). 2008;4:479–89.

5.

Gupta S, Batchu RB, Datta K. Purification, partial characterization of rat kidney hyaluronic acid binding protein and its localization on the cell surface. Eur J Cell Biol. 1991;56:58–67.

6.

Krainer AR, Mayeda A, Kozak D, et al. Functional expression of cloned human splicing factor SF2: homology to RNA-binding proteins, U1 70K, and Drosophila splicing regulators. Cell. 1991;66:383–94.

7.

Majumdar M, Datta K. Assignment of cDNA encoding hyaluronic acid binding protein 1 to human chromosome 17 p 12–13. Genomics. 1998;51:476–7.

8.

Deb TB, Datta K. Molecular cloning of human fibroblast hyaluronic acid-binding protein confirms its identity with p-32, a protein co-purified with splicing factor SF2. Hyaluronic acid-binding protein as p-32 protein, co-purified with splicing factor SF2. J Biol Chem. 1996;271:2206–12.

9.

Ghebrehiwet B, Lim BL, Peerschke EI, et al. Isolation, cDNA cloning, and overexpression of a 33-kD cell surface glycoprotein that binds to the globular "heads" of C1q. J Exp Med. 1994;179:1809–21.

10.

Matthews DA, Russell WC. Adenovirus core protein V interacts with p32–a protein which is associated with both the mitochondria and the nucleus. J Gen Virol. 1998;79:1677–85.

11.

Dedio J, Jahnen-Dechent W, Bachmann M, et al. The multiligand-binding protein gC1qR, putative C1q receptor, is a mitochondrial protein. J Immunol. 1998;160:3534–42.

12.

Muta T, Kang D, Kitajima S, et al. p32 protein, a splicing factor 2-associated protein, is localized in mitochondrial matrix and is functionally important in maintaining oxidative phosphorylation. J Biol Chem. 1997;272:24363–70.

13.

Majumdar M, Meenakshi J, Goswami SK, et al. Hyaluronan binding protein 1 (HABP1)/C1QBP/p32 is an endogenous substrate for MAP kinase and is translocated to the nucleus upon mitogenic stimulation. Biochem Biophys Res Commun. 2002;291:829–37.

14.

Kamal A, Datta K. Upregulation of hyaluronan binding protein 1 (HABP1/p32/gC1qR) is associated with Cisplatin induced apoptosis. Apoptosis. 2006;11:861–74.

15.

Ghebrehiwet B, Peerschke EIB. Structure and function of gC1q-R: a multiligand binding cellular protein. Immunobiology. 1998;199:225–38.

16.

Soltys BJ, Kang D, Gupta RS. Localization of P32 protein (gC1q-R) in mitochondria and at specific extramitochondrial locations in normal tissues. Histochem Cell Biol. 2000;114:245–55.

17.

Rao CM, Deb TB, Gupta S, et al. Regulation of cellular phosphorylation of hyaluronan binding protein and its role in the formation of second messenger. Biochim Biophys Acta. 1997;1336:387–93.

18.

Rao C, Deb TB, Datta K. Hyaluronic acid induced hyaluronic acid binding protein phosphorylation and inositol triphosphate formation in lymphocytes. Biochem Mol Biol Int. 1996;40:327–37.

19.

Zhang X, Zhang F, Guo L, et al. Interactome analysis reveals that C1QBP (complement component 1, q subcomponent binding protein) is associated with cancer cell chemotaxis and metastasis. Mol Cell Proteomics. 2013;12:3199–209.

20.

Chen YB, Jiang CT, Zhang GQ, et al. Increased expression of hyaluronic acid binding protein 1 is correlated with poor prognosis in patients with breast cancer. J Surg Oncol. 2009;100:382–6.

21.

Rubinstein DB, Stortchevoi A, Boosalis M, et al. Receptor for the globular heads of C1q (gC1q-R, p33, hyaluronan-binding protein) is preferentially expressed by adenocarcinoma cells. Int J Cancer. 2004;110:741–50.

22.

Parle-McDermott A, McWilliam P, Tighe O, et al. Serial analysis of gene expression identifies putative metastasis-associated transcripts in colon tumour cell lines. Br J Cancer. 2000;83:725–8.

23.

Ghosh I, Chowdhury AR, Rajeswari MR, et al. Differential expression of hyaluronic acid binding protein 1 (HABP1)/P32/C1QBP during progression of epidermal carcinoma. Mol Cell Biochem. 2004;267:133–9.

24.

Fogal V, Zhang L, Krajewski S, et al. Mitochondrial/cell-surface protein p32/gC1qR as a molecular target in tumor cells and tumor stroma. Cancer Res. 2008;68:7210–8.

25.

Yu H, Liu Q, Xin T, et al. Elevated expression of hyaluronic acid binding protein 1 (HABP1)/P32/C1QBP is a novel indicator for lymph node and peritoneal metastasis of epithelial ovarian cancer patients. Tumor Biol. 2013;34:3981–7.

26.

Yu G, Wang J. Significance of hyaluronan binding protein (HABP1/P32/gC1qR) expression in advanced serous ovarian cancer patients. Exp Mol Pathol. 2013;94:210–5.

27.

Kaul R, Saha P, Saradhi M, et al. Overexpression of hyaluronan-binding protein 1 (HABP1/p32/gC1qR) in HepG2 cells leads to increased hyaluronan synthesis and cell proliferation by up-regulation of cyclin D1 in AKT-dependent pathway. J Biol Chem. 2012;287:19750–64.

28.

Toole BP, Zoltan-Jones A, Misra S, et al. Hyaluronan: a critical component of epithelial-mesenchymal and epithelial-carcinoma transitions. Cells Tissues Organs. 2005;179:66–72.

29.

Meenakshi J, Goswami SK, Datta K. Constitutive expression of hyaluronan binding protein 1 (HABP1/p32/gC1qR) in normal fibroblast cells perturbs its growth characteristics and induces apoptosis. Biochem Biophys Res Commun. 2003;300:686–93.
Acknowledgments
We gratefully acknowledge all individuals who participated in this study, especially Qi Huang and Xiang Ban for their technical assistance.
Conflicts of interest
None.
About this article
Cite this article
Zhao, J., Liu, T., Yu, G. et al. Overexpression of HABP1 correlated with clinicopathological characteristics and unfavorable prognosis in endometrial cancer. Tumor Biol. 36, 1299–1306 (2015). https://doi.org/10.1007/s13277-014-2761-8
Received:

Accepted:

Published:

Issue Date:
Keywords
Hyaluronic acid binding protein 1

Endometrial carcinoma

Survival

Recurrence