Abstract
Nobiletin, a compound isolated from citrus fruits, is a polymethoxylated flavone derivative that was shown to have anti-inflammatory and anticancer activities in various solid tumors. The anticancer effect of nobiletin on nonsolid tumor remains unclear. Herein, the molecular mechanisms by which nobiletin exerts its anticancer effects on acute myeloid leukemia (AML) cells were investigated. The results showed that nobiletin suppressed cell proliferation in various types of AML cell lines. Moreover, nobiletin induced cell-cycle arrest of HL-60 AML cells at the G0/G1 phase by suppressing extracellular signal-regulated kinase (ERK) activity. Furthermore, nobiletin effectively induced apoptosis of HL-60 cells through caspase-8, caspase-9, and caspases-3 activation concomitantly with a marked induction of p38 mitogen-activated protein kinase (MAPK) activation, but without affecting expression levels of Bcl-2, Bax, or Bid. Taken together, our results suggest that nobiletin inhibited HL-60 cell proliferation through inducing cell-cycle arrest and apoptosis and could serve as a potential additional chemotherapeutic agent for treating AML.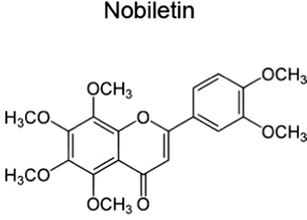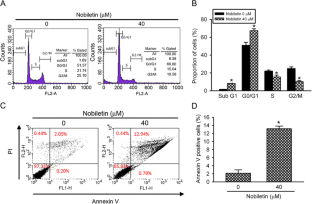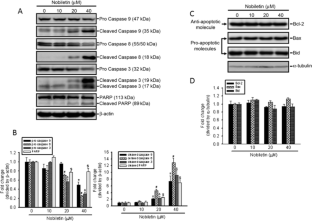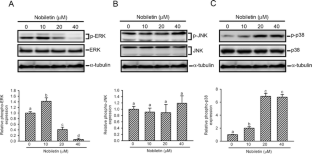 References
1.

Bishop JF. The treatment of adult acute myeloid leukemia. Semin Oncol. 1997;24:57–69.

2.

Tallman MS, Gilliland DG, Rowe JM. Drug therapy for acute myeloid leukemia. Blood. 2005;106:1154–63.

3.

Nogata Y, Sakamoto K, Shiratsuchi H, Ishii T, Yano M, Ohta H. Flavonoid composition of fruit tissues of citrus species. Biosci Biotechnol Biochem. 2006;70:178–92.

4.

Guo S, Qiu P, Xu G, Wu X, Dong P, Yang G, et al. Synergistic anti-inflammatory effects of nobiletin and sulforaphane in lipopolysaccharide-stimulated raw 264.7 cells. J Agric Food Chem. 2012;60:2157–64.

5.

Cui Y, Wu J, Jung SC, Park DB, Maeng YH, Hong JY, et al. Anti-neuroinflammatory activity of nobiletin on suppression of microglial activation. Biol Pharm Bull. 2010;33:1814–21.

6.

Nagase H, Yamakuni T, Matsuzaki K, Maruyama Y, Kasahara J, Hinohara Y, et al. Mechanism of neurotrophic action of nobiletin in pc12d cells. Biochemistry. 2005;44:13683–91.

7.

Onozuka H, Nakajima A, Matsuzaki K, Shin RW, Ogino K, Saigusa D, et al. Nobiletin, a citrus flavonoid, improves memory impairment and Abeta pathology in a transgenic mouse model of Alzheimer's disease. J Pharmacol Exp Ther. 2008;326:739–44.

8.

Nakajima A, Yamakuni T, Haraguchi M, Omae N, Song SY, Kato C, et al. Nobiletin, a citrus flavonoid that improves memory impairment, rescues bulbectomy-induced cholinergic neurodegeneration in mice. J Pharmacol Sci. 2007;105:122–6.

9.

Harada S, Tominari T, Matsumoto C, Hirata M, Takita M, Inada M, et al. Nobiletin, a polymethoxy flavonoid, suppresses bone resorption by inhibiting NFkappaB-dependent prostaglandin E synthesis in osteoblasts and prevents bone loss due to estrogen deficiency. J Pharmacol Sci. 2011;115:89–93.

10.

Morley KL, Ferguson PJ, Koropatnick J. Tangeretin and nobiletin induce G1 cell cycle arrest but not apoptosis in human breast and colon cancer cells. Cancer Lett. 2007;251:168–78.

11.

Yoshimizu N, Otani Y, Saikawa Y, Kubota T, Yoshida M, Furukawa T, et al. Anti-tumour effects of nobiletin, a citrus flavonoid, on gastric cancer include: antiproliferative effects, induction of apoptosis and cell cycle deregulation. Aliment Pharmacol Ther. 2004;20 Suppl 1:95–101.

12.

Ma X, Jin S, Zhang Y, Wan L, Zhao Y, Zhou L. Inhibitory effects of nobiletin on hepatocellular carcinoma in vitro and in vivo. Phytother Res. 2014;28:560–7.

13.

Aoki K, Yokosuka A, Mimaki Y, Fukunaga K, Yamakuni T. Nobiletin induces inhibitions of Ras activity and mitogen-activated protein kinase kinase/extracellular signal-regulated kinase signaling to suppress cell proliferation in c6 rat glioma cells. Biol Pharm Bull. 2013;36:540–7.

14.

Chen C, Ono M, Takeshima M, Nakano S. Antiproliferative and apoptosis-inducing activity of nobiletin against three subtypes of human breast cancer cell lines. Anticancer Res. 2014;34:1785–92.

15.

Miyamoto S, Yasui Y, Tanaka T, Ohigashi H, Murakami A. Suppressive effects of nobiletin on hyperleptinemia and colitis-related colon carcinogenesis in male ICR mice. Carcinogenesis. 2008;29:1057–63.

16.

Luo G, Guan X, Zhou L. Apoptotic effect of citrus fruit extract nobiletin on lung cancer cell line a549 in vitro and in vivo. Cancer Biol Ther. 2008;7:966–73.

17.

Lai CS, Li S, Chai CY, Lo CY, Dushenkov S, Ho CT, et al. Anti-inflammatory and antitumor promotional effects of a novel urinary metabolite, 3′,4′-didemethylnobiletin, derived from nobiletin. Carcinogenesis. 2008;29:2415–24.

18.

Murakami A, Nakamura Y, Torikai K, Tanaka T, Koshiba T, Koshimizu K, et al. Inhibitory effect of citrus nobiletin on phorbol ester-induced skin inflammation, oxidative stress, and tumor promotion in mice. Cancer Res. 2000;60:5059–66.

19.

Oshitari T, Okuyama Y, Miyata Y, Kosano H, Takahashi H, Natsugari H. Nobiletin metabolites: synthesis and inhibitory activity against matrix metalloproteinase-9 production. Bioorg Med Chem Lett. 2011;21:4540–4.

20.

Lee YC, Cheng TH, Lee JS, Chen JH, Liao YC, Fong Y, et al. Nobiletin, a citrus flavonoid, suppresses invasion and migration involving FAK/PI3K/Akt and small GTPase signals in human gastric adenocarcinoma AGS cells. Mol Cell Biochem. 2011;347:103–15.

21.

Chen MW, Hua KT, Kao HJ, Chi CC, Wei LH, Johansson G, et al. H3K9 histone methyltransferase G9a promotes lung cancer invasion and metastasis by silencing the cell adhesion molecule Ep-CAM. Cancer Res. 2010;70:7830–40.

22.

Khan N, Afaq F, Mukhtar H. Apoptosis by dietary factors: the suicide solution for delaying cancer growth. Carcinogenesis. 2007;28:233–9.

23.

McCubrey JA, Steelman LS, Chappell WH, Abrams SL, Wong EW, Chang F, et al. Roles of the Raf/MEK/ERK pathway in cell growth, malignant transformation and drug resistance. Biochim Biophys Acta. 2007;1773:1263–84.

24.

Chambard JC, Lefloch R, Pouyssegur J, Lenormand P. ERK implication in cell cycle regulation. Biochim Biophys Acta. 2007;1773:1299–310.

25.

Joo SS, Yoo YM. Melatonin induces apoptotic death in LNCaP cells via p38 and JNK pathways: therapeutic implications for prostate cancer. J Pineal Res. 2009;47:8–14.

26.

Xiao H, Yang CS, Li S, Jin H, Ho CT, Patel T. Monodemethylated polymethoxyflavones from sweet orange (Citrus sinensis) peel inhibit growth of human lung cancer cells by apoptosis. Mol Nutr Food Res. 2009;53:398–406.

27.

Fesik SW. Promoting apoptosis as a strategy for cancer drug discovery. Nat Rev Cancer. 2005;5:876–85.

28.

Carter BZ, Mak DH, Shi Y, Fidler JM, Chen R, Ling X, et al. MRx102, a triptolide derivative, has potent antileukemic activity in vitro and in a murine model of AML. Leukemia. 2012;26:443–50.

29.

Zhang S, Zhang Y, Zhuang Y, Wang J, Ye J, Zhang S, et al. Matrine induces apoptosis in human acute myeloid leukemia cells via the mitochondrial pathway and Akt inactivation. PLoS One. 2012;7:e46853.

30.

Gullett NP, Ruhul Amin AR, Bayraktar S, Pezzuto JM, Shin DM, Khuri FR, et al. Cancer prevention with natural compounds. Semin Oncol. 2010;37:258–81.

31.

Nagata S. Apoptotic DNA, fragmentation. Exp Cell Res. 2000;256:12–8.

32.

Thorburn A. Death receptor-induced cell killing. Cell Signal. 2004;16:139–44.

33.

Elmore S. Apoptosis: a review of programmed cell death. Toxicol Pathol. 2007;35:495–516.

34.

Wagner EF, Nebreda AR. Signal integration by JNK and p38 MAPK pathways in cancer development. Nat Rev Cancer. 2009;9:537–49.

35.

Chinen T, Nagumo Y, Watanabe T, Imaizumi T, Shibuya M, Kataoka T, et al. Irciniastatin a induces JNK activation that is involved in caspase-8-dependent apoptosis via the mitochondrial pathway. Toxicol Lett. 2010;199:341–6.

36.

Hsiao PC, Hsieh YH, Chow JM, Yang SF, Hsiao M, Hua KT, et al. Hispolon induces apoptosis through JNK1/2-mediated activation of a caspase-8, -9, and -3-dependent pathway in acute myeloid leukemia (AML) cells and inhibits AML xenograft tumor growth in vivo. J Agric Food Chem. 2013;61:10063–73.

37.

Bu HQ, Liu DL, Wei WT, Chen L, Huang H, Li Y, et al. Oridonin induces apoptosis in SW1990 pancreatic cancer cells via p53- and caspase-dependent induction of p38 MAPK. Oncol Rep. 2014;31:975–82.

38.

Sherr CJ. Cancer cell cycles. Science. 1996;274:1672–7.

39.

Yamamoto T, Ebisuya M, Ashida F, Okamoto K, Yonehara S, Nishida E. Continuous ERK activation downregulates antiproliferative genes throughout G1 phase to allow cell-cycle progression. Curr Biol. 2006;16:1171–82.

40.

Daksis JI, Lu RY, Facchini LM, Marhin WW, Penn LJ. Myc induces cyclin D1 expression in the absence of de novo protein synthesis and links mitogen-stimulated signal transduction to the cell cycle. Oncogene. 1994;9:3635–45.

41.

Shi MD, Liao YC, Shih YW, Tsai LY. Nobiletin attenuates metastasis via both ERK and PI3K/Akt pathways in HGF-treated liver cancer HepG2 cells. Phytomedicine. 2013;20:743–52.

42.

Milella M, Kornblau SM, Estrov Z, Carter BZ, Lapillonne H, Harris D, et al. Therapeutic targeting of the MEK/MAPK signal transduction module in acute myeloid leukemia. J Clin Invest. 2001;108:851–9.

43.

Kornblau SM, Milella M, Ball G, Qiu YH, Ruvolo P, Estrov Z, et al. ERK2 and phospho-ERK2 are prognostic for survival in AML and complement the prognostic impact of Bax and BCL-2. Blood. 2001;98:716a.

44.

Lunghi P, Tabilio A, Dall'Aglio PP, Ridolo E, Carlo-Stella C, Pelicci PG, et al. Downmodulation of ERK activity inhibits the proliferation and induces the apoptosis of primary acute myelogenous leukemia blasts. Leulemia. 2003;17:1783–93.
Acknowledgments
This work was supported by a research grant (no. 103 swf03) from Taipei Medical University-Wan Fang Hospital and a grant (TAFGH-103-29) from Taoyuan Armed Forces General Hospital and also supported by a grant (CSH-2014-C-020) from Chung Shan Medical University Hospital.
Conflicts of interest
None
Additional information
Pei-Ching Hsiao and Wei-Jiunn Lee contributed equally to this work.
About this article
Cite this article
Hsiao, PC., Lee, WJ., Yang, SF. et al. Nobiletin suppresses the proliferation and induces apoptosis involving MAPKs and caspase-8/-9/-3 signals in human acute myeloid leukemia cells. Tumor Biol. 35, 11903–11911 (2014). https://doi.org/10.1007/s13277-014-2457-0
Received:

Accepted:

Published:

Issue Date:
Keywords
Nobiletin

Apoptosis

G0/G1 arrest

Acute myeloid leukemia