Abstract
Several genomic regions are frequently altered and associated with the type, stage and progression of urinary bladder cancer (UBC). We present the characterization of 5637, T24 and HT1376 UBC cell lines by karyotyping, fluorescence in situ hybridization (FISH), array comparative genomic hybridization (aCGH) and multiplex ligation-dependent probe amplification (MLPA) analysis. Some cytogenetic anomalies present in UBC were found in the three cell lines, such as chromosome 20 aneuploidy and the loss of 9p21. Some gene loci losses (e.g. CDKN2A) and gains (e.g. HRAS, BCL2L1 and PTPN1) were coincident across all cell lines. Although some significant heterogeneity and complexity were detected between them, their genomic profiles exhibited a similar pattern to UBC. We suggest that 5637 and HT1376 represent the E2F3/RB1 pathway due to amplification of 6p22.3, concomitant with loss of one copy of RB1 and mutation of the remaining copy. The HT1376 presented a 10q deletion involving PTEN region and no alteration of PIK3CA region which, in combination with the inactivation of TP53, bears more invasive and metastatic properties than 5637. The T24 belongs to the alternative pathway of FGFR3/CCND1 by presenting mutated HRAS and over-represented CCND1. These cell lines cover the more frequent subtypes of UBC and are reliable models that can be used, as a group, in preclinical studies.
This is a preview of subscription content, log in to check access.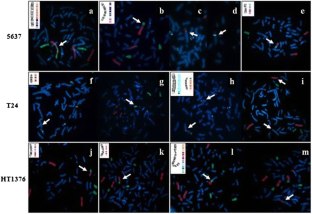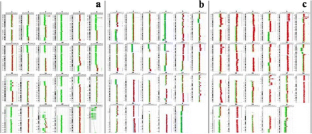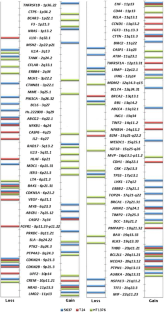 References
1.

Ismaili N, Amzerin M, Flechon A. Chemotherapy in advanced bladder cancer: current status and future. J Hematol Oncol. 2011;4:35.

2.

Höglund M. The bladder cancer genome; chromosomal changes as prognostic makers, opportunities, and obstacles. Urol Oncol. 2012;30(4):533–40.

3.

Escudero D, Shirodkar S, Lokeshwar V. Bladder carcinogenesis and molecular pathways. In: Lokeshwar VB, Merseburger AS, Hautmann SH, editors. Bladder tumours: molecular aspects and clinical management. Totowa: Humana; 2011. p. 29–32.

4.

Hatina J, Huckenbeck W, Rieder H, Seifert HH, Schulz WA. Bladder carcinoma cell lines as models of the pathobiology of bladder cancer. Review of the literature and establishment of a new progression series. Urologe A. 2008;47(6):724–34.

5.

Strefford JC, Lillington DM, Steggall M, Lane TM, Nouri AME, Young BD, et al. Novel chromosome findings in bladder-cancer cell lines detected with multiplex fluorescence in situ hybridization. Cancer Genet Cytogenet. 2002;135(2):139–46.

6.

Hurst CD, Fiegler H, Carr P, Williams S, Carter NP, Knowles MA. High-resolution analysis of genomic copy number alterations in bladder cancer by microarray-based comparative genomic hybridization. Oncogene. 2004;23(12):2250–63.

7.

Williams SV, Adams J, Coulter J, Summersgill BM, Shipley J, Knowles MA. Assessment by M-FISH of karyotypic complexity and cytogenetic evolution in bladder cancer in vitro. Genes Chromosomes Cancer. 2005;43(4):315–28.

8.

Schouten JP, McElgunn CJ, Waaijer R, Zwijnenburg D, Diepvens F, Pals G. Relative quantification of 40 nucleic acid sequences by multiplex ligation-dependent probe amplification. Nucleic Acids Res. 2002;30(12):e57.

9.

Lindgren D, Liedberg F, Andersson A, Chebil G, Gudjonsson S, Borg A, et al. Molecular characterization of early-stage bladder carcinomas by expression profiles, FGFR3 mutation status, and loss of 9q. Oncogene. 2006;25(18):2685–96.

10.

Tanaka T, Miyazawa K, Tsukamoto T, Kuno T, Suzuki K. Pathobiology and chemoprevention of bladder cancer. J Oncol. 2011;2011:528353.

11.

Netto GJ. Molecular biomarkers in urothelial carcinoma of the bladder: are we there yet? Nat Rev Urol. 2011;9(1):41–51.

12.

Gallucci M, Guadagni F, Marzano R, Leonardo C, Merola R, Sentinelli S. Status of the p53, p16, RB1, and HER-2 genes and chromosomes 3, 7, 9, and 17 in advanced bladder cancer: correlation with adjacent mucosa and pathological parameters. J Clin Pathol. 2005;58(4):367–71.

13.

Mitra AP, Datar RH, Cote RJ. Molecular pathways in invasive bladder cancer: new insights into mechanisms, progression, and target identification. J Clin Oncol. 2006;24(35):5552–64.

14.

Kompier LC, Lurkin I, van der Aa MN, van Rhijn BW, van der Kwast TH, Zwarthoff EC. FGFR3, HRAS, KRAS, NRAS and PIK3CA mutations in bladder cancer and their potential as biomarkers for surveillance and therapy. PLoS One. 2010;5(11):e13821.

15.

Lindgren D, Sjödahl G, Lauss M, Staaf J, Chebil G, Lovgren K. Integrated genomic and gene expression profiling identifies two major genomic circuits in urothelial carcinoma. PLoS One. 2012;7(6):e38863.

16.

Fujii T, Shimada K, Anai S, Fujimoto K, Konishi N. ALKBH2, a novel AlkB homologue, contributes to human bladder cancer progression by regulating MUC1 expression. Cancer Sci. 2013;104(3):321–7.

17.

Ying L, Huang Y, Chen H, Wang Y, Xia L, Chen Y, et al. Downregulated MEG3 activates autophagy and increases cell proliferation in bladder cancer. Mol Biosyst. 2013;9(3):407–11.

18.

Ewald JA, Downs TM, Cetnar JP, Ricke WA. Expression microarray meta-analysis identifies genes associated with Ras/MAPK and related pathways in progression of muscle-invasive bladder transition cell carcinoma. PLoS One. 2013;8(2):e55414.

19.

Qi Y, Chang L, Li H, Yu G, Xiao W, Xia D, et al. Over-expression of LRIG3 suppresses growth and invasion of bladder cancer cells. J Huazhong Univ Sci Technolog Med Sci. 2013;33(1):111–6.

20.

Karkoulis PK, Stravopodis DJ, Konstantakou EG, Voutsinas GE. Targeted inhibition of heat shock protein 90 disrupts multiple oncogenic signaling pathways, thus inducing cell cycle arrest and programmed cell death in human urinary bladder-cancer cell lines. Cancer Cell Int. 2013;13(1):11.

21.

Pinto-Leite R, Arantes-Rodrigues R, Palmeira C, Gaivão I, Cardoso ML, Colaço A, et al. Everolimus enhances gemcitabine-induced cytotoxicity in bladder-cancer cell lines. J Toxicol Environ Health A. 2012;75(13–15):788–99.

22.

Chiong E, Dadbin A, Harris LD, Sabichi AL, Grossman HB. The use of short tandem repeat profiling to characterize human bladder-cancer cell lines. J Urol. 2009;181(6):2737–48.

23.

Masters JR. Cell-line authentication: end the scandal of false cell lines. Nature. 2012;492(7428):186.

24.

Vasconcelos-Nóbrega C, Pinto-Leite R, Arantes-Rodrigues R, Ferreira R, Brochado P, Cardoso ML, et al. In vivo and in vitro effects of RAD001 on bladder cancer. Urol Oncol. 2011;31(7):1212–21.

25.

Arantes-Rodrigues R, Pinto-Leite R, Ferreira R, Neuparth MJ, Pires MJ, Gaivão I, et al. Meloxicam in the treatment of in vitro and in vivo models of urinary bladder cancer. Biomed Pharmacother. 2013;67(4):277–84.

26.

Shaffer LG, Slovak ML, Campbell LJ. ISCN: an International System for Human Cytogenetic Nomenclature: recommendations of the International Standing Committee on Human Cytogenetic Nomenclature. S. Karger. 2009.

27.

Bruch J, Schulz WA, Häussler J, Melzner I, Brüderlein S, Moller P, et al. Delineation of the 6p22 amplification unit in urinary bladder carcinoma cell lines. Cancer Res. 2000;60(16):4526–30.

28.

Padilla-Nash HM, Heselmeyer-Haddad K, Wangsa D, Zhang H, Ghadimi BM, Macville M, et al. Jumping translocations are common in solid tumour cell lines and result in recurrent fusions of whole chromosome arms. Genes Chromosomes Cancer. 2001;30(4):349–63.

29.

Fadl-Elmula I, Kytölä S, Pan Y, Lui WO, Derienzo G, Forsberg L. Characterization of chromosomal abnormalities in uroepithelial carcinomas by G-banding, spectral karyotyping and FISH analysis. Int J Cancer. 2001;92(6):824–31.

30.

DSMZ. German collection of microorganisms and cell cultures. http://www.dsmz.de

31.

Gildea JJ, Golden WL, Harding MA, Theodorescu D. Genetic and phenotypic changes associated with the acquisition of tumourigenicity in human bladder cancer. Genes Chromosomes Cancer. 2000;27(3):252–63.

32.

Makridakis M, Gagos S, Petrolekas A, Roubelakis MG, Bitsika V, Stravodimos K. Chromosomal and proteome analysis of a new T24-based cell line model for aggressive bladder cancer. Proteomics. 2009;9(2):287–98.

33.

Hanahan D, Weinberg RA. Hallmarks of cancer: the next generation. Cell. 2011;144(5):646–74.

34.

da Silva GN, Evangelista AF, Magalhães DA, Macedo C, Búfalo MC, Sakamoto-Hojo ET, et al. Expression of genes related to apoptosis, cell cycle and signaling pathways are independent of TP53 status in urinary bladder cancer cells. Mol Biol Rep. 2011;38(6):4159–70.

35.

Chekaluk Y, Wu CL, Rosenberg J, Riester M, Dai Q, Lin S. Identification of nine genomic regions of amplification in urothelial carcinoma, correlation with stage, and potential prognostic and therapeutic value. PLoS One. 2013;8(4):e60927.

36.

Elder PA, Bell SM, Knowles MA. Deletion of two regions on chromosome 4 in bladder carcinoma: definition of a critical 750kB region at 4p16.3. Oncogene. 1994;9(12):3433–66.

37.

Tatarano S, Chiyomaru T, Kawakami K, Enokida H, Yoshino H, Hidaka H. miR-218 on the genomic loss region of chromosome 4p15.31 functions as a tumor suppressor in bladder cancer. Int J Oncol. 2011;39(1):13–21.

38.

Richter J, Beffa L, Wagner U, Schraml P, Gasser TC, Moch H, et al. Patterns of chromosomal imbalances in advanced urinary bladder cancer detected by comparative genomic hybridization. Am J Pathol. 1998;153(5):1615–21.

39.

Perucca D, Szepetowski P, Simon MP, Gaudray P. Molecular genetics of human bladder carcinomas. Cancer Genet Cytogenet. 1990;49(2):143–56.

40.

Knowles MA. What we could do now: molecular pathology of bladder cancer. Mol Pathol. 2001;54(4):215–21.

41.

Höglund M, Säll T, Heim S, Mitelman F, Mandahl N, Fadl-Elmula I. Identification of cytogenetic subgroups and karyotypic pathways in transitional cell carcinoma. Cancer Res. 2001;61(22):8241–6.

42.

Mitelman F, Johansson B, Mertens F. Mitelman database of chromosome aberrations in cancer. http://cgap.nci.nih.gov/Chromosomes/Mitelman. 2008; Accessed 25 January 2013.

43.

Baffa R, Letko J, McClung C, LeNoir J, Vecchione A, Gomella G. Molecular genetics of bladder cancer: targets for diagnosis and therapy. J Exp Clin Cancer Res. 2006;25(2):145–60.

44.

Forbes SA, Tang G, Bindal N, Bamford S, Dawson E, Cole C, et al. COSMIC (the catalogue of somatic mutations in cancer): a resource to investigate acquired mutations in human cancer. Nucleic Acids Res. 2010;38:D652–7.

45.

Sanchez-Carbayo M, Socci ND, Charytonowicz E, Lu M, Prystowsky M, Childs G, et al. Molecular profiling of bladder cancer using cDNA microarrays: defining histogenesis and biological phenotypes. Cancer Res. 2002;62(23):6973–80.

46.

Sheahan S, Bellamy CO, Dunbar DR, Harrison DJ, Prost S. Deficiency of G1 regulators P53, P21Cip1 and/or pRb decreases hepatocyte sensitivity to TGFbeta cell cycle arrest. BMC Cancer. 2007;7:215.

47.

Green DR, Kroemer G. Cytoplasmic functions of the tumour suppressor p53. Nature. 2009;458(7242):1127–30.

48.

Foulkes WD, Flanders TY, Pollock PM, Hayward NK. The CDKN2A (p16) gene and human cancer. Mol Med. 1997;3(1):5–20.

49.

Valastyan S, Reinhardt F, Benaich N, Calogrias D, Szász AM, Wang ZC. A pleiotropically acting microRNA, miR-31, inhibits breast cancer metastasis. Cell. 2009;137(6):1032–46.

50.

Ivanov SV, Goparaju CM, Lopez P, Zavadil J, Toren-Haritan G, Rosenwald S, et al. Pro-tumorigenic effects of miR-31 loss in mesothelioma. J Biol Chem. 2010;285(30):22809–17.

51.

Di Benedetto M, Bièche I, Deshayes F, Vacher S, Nouet S, Collura V, et al. Structural organization and expression of human MTUS1, a candidate 8p22 tumor suppressor gene encoding a family of angiotensin II AT2 receptor-interacting proteins, ATIP. Gene. 2006;380(2):127–36.

52.

Wang T, Chen YH, Hong H, Zeng Y, Zhang J, Lu JP, et al. Increased nucleotide polymorphic changes in the 5′-untranslated region of delta-catenin (CTNND2) gene in prostate cancer. Oncogene. 2009;28(4):555–64.

53.

Medeiros M, Zheng X, Novak P, Wnek SM, Chyan V, Escudero-Lourdes C, et al. Global gene expression changes in human urothelial cells exposed to low-level monomethylarsonous acid. Toxicology. 2012;291(1–3):102–12.

54.

Safran M, Dalah I, Alexander J, Rosen N, Iny Stein T, Shmoish M, et al. GeneCards version 3: the human gene integrator. Database (Oxford). 2010;2010:baq020.

55.

Mo L, Zheng X, Huang HY, Shapiro E, Lepor H, Cordon-Cardo, et al. Hyperactivation of Ha-ras oncogene, but not Ink4a/Arf deficiency, triggers bladder tumourigenesis. J Clin Invest. 2007;117(2):314–25.

56.

Blaveri E, Brewer JL, Roydasgupta R, Fridlyand J, DeVries S, Koppie T, et al. Bladder cancer stage and outcome by array-based comparative genomic hybridization. Clin Cancer Res. 2005;11(19 Pt 1):7012–22.

57.

Wu XR. Urothelial tumourigenesis: a tale of divergent pathways. Nat Rev Cancer. 2005;5(9):713–25.

58.

Staub E, Gröne J, Mennerich D, Röpcke S, Klamann I, Hinzmann B, et al. A genome-wide map of aberrantly expressed chromosomal islands in colorectal cancer. Mol Cancer. 2006;5:37.

59.

Kanehisa M, Goto S, Sato Y, Furumichi M, Tanabe M. KEGG for integration and interpretation of large-scale molecular data sets. Nucleic Acids Res. 2011;40:D109–14.

60.

Hurst CD, Tomlinson DC, Williams SV, Platt FM, Knowles MA. Inactivation of the Rb pathway and overexpression of both isoforms of E2F3 are obligate events in bladder tumours with 6p22 amplification. Oncogene. 2008;27(19):2716–27.

61.

Halling-Brown MD, Bulusu KC, Patel M, Tym JE, Al-Lazikani B. canSAR: an integrated cancer public translational research and drug discovery resource. Nucleic Acids Res. 2012;40:D947–56.

62.

Hoffmann R. A wiki for the life sciences where authorship matters. Nat Genet. 2008;40(9):1047–51.

63.

Song T, Zhang X, Zhang L, Dong J, Cai W, Gao J, et al. miR-708 promotes the development of bladder carcinoma via direct repression of caspase-2. J Cancer Res Clin Oncol. 2013;139(7):1189–98.

64.

Brait M, Munari E, Lebron C, Noordhuis MG, Begum S, Michailidi C, et al. Genome-wide methylation profiling and the PI3K-AKT pathway analysis associated with smoking in urothelial cell carcinoma. Cell Cycle. 2013;12(7):1058–70.

65.

Thompson PA, Brewster AM, Kim-Anh D, Baladandayuthapani V, Broom BM, Ederton E, et al. Selective genomic copy number imbalances and probability of recurrence in early-stage breast cancer. PLoS One. 2011;6(8):e23543.

66.

Orlando C, Sestini R, Vona G, Pinzani P, Bianchi S, Giacca M, et al. Detection of c-erbB-2 amplification in transitional cell bladder carcinoma using competitive PCR technique. J Urol. 1996;156(6):2089–93.

67.

Hedrich CM, Crispin JC, Rauen T, Ioannidis C, Apostolidis SA, Lo MS, et al. cAMP response element modulator α controls IL2 and IL17A expression during CD4 lineage commitment and subset distribution in lupus. Proc Natl Acad Sci U S A. 2012;109(41):16606–11.

68.

Rosenberg E, Baniel J, Spector Y, Faerman A, Meiri E. Predicting progression of bladder urothelial carcinoma using microRNA expression. BJU Int. 2013;112(7):1027–34.

69.

Gregory SG, Barlow KF, McLay KE, Kaul R, Swarbreck D, Dunham A, et al. The DNA sequence and biological annotation of human chromosome 1. Nature. 2006;441(7091):315–21.
Acknowledgments
The authors express their deepest appreciation to Célia Carvalho of the Instituto de Medicina Molecular, Lisboa, Portugal, for review of the manuscript.
Conflicts of interest
None
About this article
Cite this article
Pinto-Leite, R., Carreira, I., Melo, J. et al. Genomic characterization of three urinary bladder cancer cell lines: understanding genomic types of urinary bladder cancer. Tumor Biol. 35, 4599–4617 (2014). https://doi.org/10.1007/s13277-013-1604-3
Received:

Accepted:

Published:

Issue Date:
Keywords
Urinary bladder cancer

Urinary bladder cancer cell lines

Genomic

Chromosome

aCGH

MLPA