Abstract
The pathogenesis of gastric cancer is characterized by excessive proliferation, abnormal differentiation, and reduced apoptosis. Ursolic acid, extracted from traditional Chinese medicine bearberry, inhibits cell growth and induces apoptosis in gastric cancer. However, the mechanism of the proapoptotic effect of ursolic acid on gastric cancer cells needs further investigation. In our present study, we found in apoptotic gastric cancer BGC-823 cells induced by ursolic acid that a translocation of cofilin-1 protein from the cytoplasm to the mitochondria promoted the release of cytochrome c from the mitochondria to the cytoplasm, thereby activating the caspase cascade and finally inducing gastric cancer cell apoptosis. These results implied that the mitochondrial translocation of cofilin-1 might play a crucial role in the promotion of apoptosis and might be a key target for future treatment of human gastric cancer.
Access options
Buy single article
Instant access to the full article PDF.
USD 39.95
Price excludes VAT (USA)
Tax calculation will be finalised during checkout.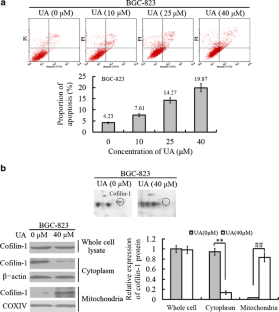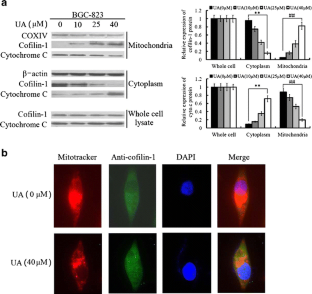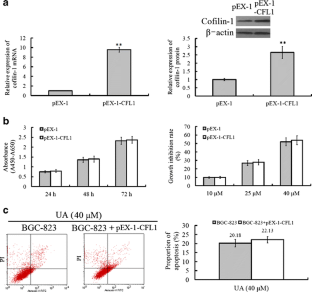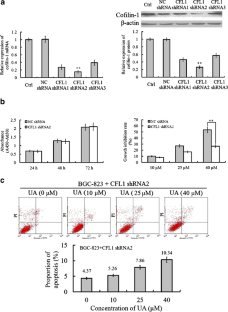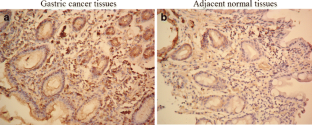 References
Sugimura T, Kawachi T. Abnormal differentiation of human gastric epithelium. Dev Growth Differ. 1975;17:299–300.

Aizawa K, Ueki K, Suzuki S, Yabusaki H, Kanda T, Nishimaki T, et al. Apoptosis and Bcl-2 expression in gastric carcinomas: correlation with clinicopathological variables, p53 expression, cell proliferation and prognosis. Int J Oncol. 1999;14:85–91.

Ikeda M, Shomori K, Endo K, Makino T, Matsuura T, Ito H. Frequent occurrence of apoptosis is an early event in the oncogenesis of human gastric carcinoma. Virchows Arch. 1998;432:43–7.

Ajani JA, Barthel JS, Bekaii-Saab T, Bentrem DJ, D'Amico TA, Das P, et al. Gastric cancer. J Natl Compr Canc Netw. 2010;8:378–409.

Ma CM, Cai SQ, Cui JR, Wang RQ, Tu PF, Hattori M, et al. The cytotoxic activity of ursolic acid derivatives. Eur J Med Chem. 2005;40:582–9.

Wang X, Zhang F, Yang L, Mei Y, Long H, Zhang X, et al. Ursolic acid inhibits proliferation and induces apoptosis of cancer cells in vitro and in vivo. J Biomed Biotechnol. 2011;2011:419343.

Pathak AK, Bhutani M, Nair AS, Ahn KS, Chakraborty A, Kadara H, et al. Ursolic acid inhibits STAT3 activation pathway leading to suppression of proliferation and chemosensitization of human multiple myeloma cells. Mol Cancer Res. 2007;5:943–55.

Anderson D, Liu JJ, Nilsson A, Duan RD. Ursolic acid inhibits proliferation and stimulates apoptosis in HT29 cells following activation of alkaline sphingomyelinase. Anticancer Res. 2003;23:3317–22.

Shishodia S, Majumdar S, Banerjee S, Aggarwal BB. Ursolic acid inhibits nuclear factor-kappaB activation induced by carcinogenic agents through suppression of IkappaBalpha kinase and p65 phosphorylation: correlation with down-regulation of cyclooxygenase 2, matrix metalloproteinase 9, and cyclin D1. Cancer Res. 2003;63:4375–83.

Liu X, Guo DA. Application of proteomics in the mechanistic study of traditional Chinese medicine. Biochem Soc Trans. 2011;39:1348–52.

Cho WC. Application of proteomics in Chinese medicine research. Am J Chin Med. 2007;35:911–22.

Li N, Guo R, Li W, Shao J, Li S, Zhao K, et al. A proteomic investigation into a human gastric cancer cell. Carcinogenesis. 2006;27:1222–31.

Pope BJ, Zierler-Gould KM, Kühne R, Weeds AG, Ball LJ. Solution structure of human cofilin: actin binding, pH sensitivity, and relationship to actin-depolymerizing factor. J Biol Chem. 2004;279:4840–8.

Gillett GT, Fox MF, Rowe PS, Casimir CM, Povey S. Mapping of human non-muscle type cofilin (CFL1) to chromosome 11q13 and muscle-type cofilin (CFL2) to chromosome 14. Ann Hum Genet. 1996;60:201–11.

Mosmann T. Rapid colorimetric assay for cellular growth and survival: application to proliferation and cytotoxicity assays. J Immunol Methods. 1983;65:55–63.

Estaquier J, Vallette F, Vayssiere JL, Mignotte B. The mitochondrial pathways of apoptosis. Adv Exp Med Biol. 2012;942:157–83.

Zhou J, Wang Y, Fei J, Zhang W. Expression of cofilin 1 is positively correlated with the differentiation of human epithelial ovarian cancer. Oncol Lett. 2012;4:1187–90.

Jang I, Jeon BT, Jeong EA, Kim EJ, Kang D, Lee JS, et al. Pak1/LIMK1/cofilin pathway contributes to tumour migration and invasion in human non-small cell lung carcinomas and cell lines. Korean J Physiol Pharmacol. 2012;16:159–65.

Popow-Woźniak A, Mazur AJ, Mannherz HG, Malicka-Błaszkiewicz M, Nowak D. Cofilin overexpression affects actin cytoskeleton organization and migration of human colon adenocarcinoma cells. Histochem Cell Biol. 2012;138:725–36.

Chua BT, Volbracht C, Tan KO, Li R, Yu VC, Li P. Mitochondrial translocation of cofilin is an early step in apoptosis induction. Nat Cell Biol. 2003;5:1083–9.

Wang CH, Zhou GL, Vedantam S, Li P, Field J. Mitochondrial shuttling of CAP1 promotes actin- and cofilin dependent apoptosis. J Cell Sci. 2008;121:2913–20.

Polachini GM, Sobral LM, Mercante AM, Paes-Leme AF, Xavier FC, Henrique T, et al. Proteomic approaches identify members of cofilin pathway involved in oral tumorigenesis. PLoS One. 2012;7:e50517.

Elam WA, Kang H, De la Cruz EM. Biophysics of actin filament severing by cofilin. FEBS Lett. 2013;587:1215–9.

Fass J, Gehler S, Sarmiere P, Letourneau P, Bamburg JR. Regulating flopodial dynamics through actin-depolymerizing factor/cofilin. Anat Sci Int. 2004;79:173–83.

Ghosh M, Song X, Ouneimne MG, Sidani M, Lawrence DS, Condeelis JS. Cofilin promotes actin polymerization and defines the direction of cell motility. Science. 2004;304:743–6.

Dawe HR, Minamide LS, Bamburg JR, Cramer LP. ADF/cofilin controls cell polarity during fibroblast migration. Curr Biol. 2003;13:252–7.

Pradelli LA, Bénéteau M, Ricci JE. Mitochondrial control of caspase-dependent and caspase-independent cell death. Cell Mol Life Sci. 2010;67:1589–97.

Mayer B, Oberbauer R. Mitochondrial regulation of apoptosis. News Physiol Sci. 2003;18:89–94.

Kartsogiannis V, Ng KW. Cell lines and primary cell cultures in the study of bone cell biology. Mol Cell Endocrinol. 2004;228:79–112.
Acknowledgments
This work was supported by the Program of Shanghai Municipal Education Commission (2012JW67), Shanghai Municipal Health Bureau (20114037), Shanghai Committee of Science and Technology, China (no. 114119b3100), Putuo District Committee of Science and Technology, Shanghai China (no. 201102), and Construct Program of the Key Discipline of State Administration of Traditional Chinese Medicine of People's Republic of China.
Conflicts of interest
None
Additional information
Qing Ji contributed equally to this work.
About this article
Cite this article
Tang, Q., Ji, Q., Tang, Y. et al. Mitochondrial translocation of cofilin-1 promotes apoptosis of gastric cancer BGC-823 cells induced by ursolic acid. Tumor Biol. 35, 2451–2459 (2014). https://doi.org/10.1007/s13277-013-1325-7
Received:

Accepted:

Published:

Issue Date:

DOI: https://doi.org/10.1007/s13277-013-1325-7
Keywords