Abstract
Human oxoguanine glycosylase 1 (OGG1) is an important part of the base excision repair pathway in the DNA repair. Numerous epidemiological studies have evaluated the association between OGG1 rs1052133 polymorphism and the risk of colorectal cancer, but the results of these studies from the Caucasian population were conflicting. To derive a more precise assessment on the association between OGG1 rs1052133 polymorphism and risk of colorectal cancer in Caucasian population, we performed a meta-analysis. The odds ratios (OR) with 95 % confidence intervals (CI) were used to assess the strength of the association. Thirteen case–control studies with a total of 4,103 cases and 5,400 controls were finally included into the meta-analysis. Meta-analysis of all 13 studies showed that OGG1 rs1052133 polymorphism was significantly associated with the risk of colorectal cancer in Caucasian population (Cys versus Ser OR = 1.20, 95 % CI = 1.03–1.39, P = 0.02; CysCys versus SerSer OR = 1.44, 95 % CI = 1.04–2.00, P = 0.03; CysCys versus SerSer/SerCys OR = 1.39, 95 % CI = 1.15–1.67, P = 0.0005). In the sensitivity analysis, omitting each study one at a time had no obvious influence on the pooled OR, which confirmed the stability of meta-analysis. The meta-analysis suggests that OGG1 rs1052133 polymorphism is significantly associated with the risk of colorectal cancer in Caucasian population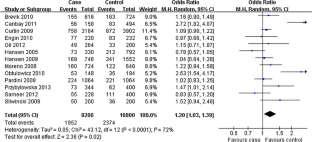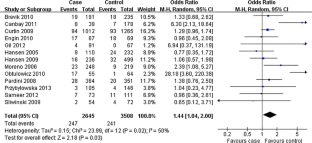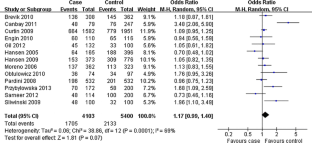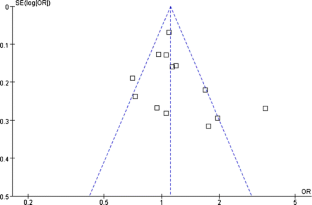 References
1.

Jemal A, Bray F, Center MM, Ferlay J, Ward E, Forman D. Global cancer statistics. CA Cancer J Clin. 2011;61:69–90.

2.

Bokemeyer C, Bondarenko I, Makhson A, Hartmann JT, Aparicio J, de Braud F, et al. Fluorouracil, leucovorin, and oxaliplatin with and without cetuximab in the first-line treatment of metastatic colorectal cancer. J Clin Oncol. 2009;27:663–71.

3.

Dahabreh IJ, Terasawa T, Castaldi PJ, Trikalinos TA. Systematic review: anti-epidermal growth factor receptor treatment effect modification by KRAS mutations in advanced colorectal cancer. Ann Intern Med. 2011;154:37–49.

4.

Cleary SP, Cotterchio M, Shi E, Gallinger S, Harper P. Cigarette smoking, genetic variants in carcinogen-metabolizing enzymes, and colorectal cancer risk. Am J Epidemiol. 2010;172:1000–14.

5.

Yeh CC, Lai CY, Hsieh LL, Tang R, Wu FY, Sung FC. Protein carbonyl levels, glutathione S-transferase polymorphisms and risk of colorectal cancer. Carcinogenesis. 2010;31:228–33.

6.

Zhong S, Yang JH, Liu K, Jiao BH, Chang ZJ. Quantitative assessment of the association between MTHFR c677t polymorphism and colorectal cancer risk in East Asians. Tumour Biol. 2012;33:2041–51.

7.

Hirano T. Repair system of 7, 8-dihydro-8-oxoguanine as a defense line against carcinogenesis. J Radiat Res. 2008;49:329–40.

8.

Karahalil B, Bohr VA, Wilson 3rd DM. Impact of DNA polymorphisms in key DNA base excision repair proteins on cancer risk. Hum Exp Toxicol. 2012;31:981–1005.

9.

David SS, O'Shea VL, Kundu S. Base-excision repair of oxidative DNA damage. Nature. 2007;447:941–50.

10.

Duan WX, Hua RX, Yi W, Shen LJ, Jin ZX, Zhao YH, et al. The association between OGG1 Ser326Cys polymorphism and lung cancer susceptibility: a meta-analysis of 27 studies. PLoS One. 2012;7:e35970.

11.

Zhang J, Zhou J, Zhang P, Wang W, Tao S, Wang M. A meta-analysis of the association between the hOGG1 Ser326Cys polymorphism and the risk of esophageal squamous cell carcinoma. PLoS One. 2013;8:e65742.

12.

Curtin K, Samowitz WS, Wolff RK, Ulrich CM, Caan BJ, Potter JD, et al. Assessing tumor mutations to gain insight into base excision repair sequence polymorphisms and smoking in colon cancer. Cancer Epidemiol Biomarkers Prev. 2009;18:3384–8.

13.

Hansen RD, Krath BN, Frederiksen K, Tjonneland A, Overvad K, Roswall N, et al. GPX1 Pro(198)Leu polymorphism, erythrocyte GPX activity, interaction with alcohol consumption and smoking, and risk of colorectal cancer. Mutat Res. 2009;664:13–9.

14.

Sliwinski T, Krupa R, Wisniewska-Jarosinska M, Pawlowska E, Lech J, Chojnacki J, et al. Common polymorphisms in the XPD and hOGG1 genes are not associated with the risk of colorectal cancer in a Polish population. Tohoku J Exp Med. 2009;218:185–91.

15.

Brevik A, Joshi AD, Corral R, Onland-Moret NC, Siegmund KD, Le Marchand L, et al. Polymorphisms in base excision repair genes as colorectal cancer risk factors and modifiers of the effect of diets high in red meat. Cancer Epidemiol Biomarkers Prev. 2010;19:3167–73.

16.

Engin AB, Karahalil B, Engin A, Karakaya AE. Oxidative stress, Helicobacter pylori, and OGG1 Ser326Cys, XPC Lys939Gln, and XPD Lys751Gln polymorphisms in a Turkish population with colorectal carcinoma. Genet Test Mol Biomarkers. 2010;14:559–64.

17.

Obtulowicz T, Swoboda M, Speina E, Gackowski D, Rozalski R, Siomek A, et al. Oxidative stress and 8-oxoguanine repair are enhanced in colon adenoma and carcinoma patients. Mutagenesis. 2010;25:463–71.

18.

Canbay E, Cakmakoglu B, Zeybek U, Sozen S, Cacina C, Gulluoglu M, et al. Association of APE1 and hOGG1 polymorphisms with colorectal cancer risk in a Turkish population. Curr Med Res Opin. 2011;27:1295–302.

19.

Gil J, Ramsey D, Stembalska A, Karpinski P, Pesz KA, Laczmanska I, et al. The C/A polymorphism in intron 11 of the XPC gene plays a crucial role in the modulation of an individual's susceptibility to sporadic colorectal cancer. Mol Biol Rep. 2012;39:527–34.

20.

Sameer AS, Nissar S, Abdullah S, Chowdri NA, Siddiqi MA. DNA repair gene 8-oxoguanine DNA glycosylase Ser326Cys polymorphism and colorectal cancer risk in a Kashmiri population. DNA Cell Biol. 2012;31:541–6.

21.

Przybylowska K, Kabzinski J, Sygut A, Dziki L, Dziki A, Majsterek I. An association selected polymorphisms of XRCC1, OGG1 and MUTYH gene and the level of efficiency oxidative DNA damage repair with a risk of colorectal cancer. Mutat Res. 2013;745–746:6–15.

22.

Cochran WG. The combination of estimates from different experiments. Biometrics. 1954;10:101–29.

23.

DerSimonian R, Laird N. Meta-analysis in clinical trials. Control Clin Trials. 1986;7:177–88.

24.

Mantel N, Haenszel W. Statistical aspects of the analysis of data from retrospective studies of disease. J Natl Cancer Inst. 1959;22:719–48.

25.

Hansen R, Saebo M, Skjelbred CF, Nexo BA, Hagen PC, Bock G, et al. GPX Pro198Leu and OGG1 Ser326Cys polymorphisms and risk of development of colorectal adenomas and colorectal cancer. Cancer Lett. 2005;229:85–91.

26.

Moreno V, Gemignani F, Landi S, Gioia-Patricola L, Chabrier A, Blanco I, et al. Polymorphisms in genes of nucleotide and base excision repair: risk and prognosis of colorectal cancer. Clin Cancer Res. 2006;12:2101–8.

27.

Pardini B, Naccarati A, Novotny J, Smerhovsky Z, Vodickova L, Polakova V, et al. DNA repair genetic polymorphisms and risk of colorectal cancer in the Czech republic. Mutat Res. 2008;638:146–53.

28.

Price BD, D'Andrea AD. Chromatin remodeling at DNA double-strand breaks. Cell. 2013;152:1344–54.

29.

Guo CL, Han FF, Wang HY, Wang L. Meta-analysis of the association between hOGG1 Ser326Cys polymorphism and risk of colorectal cancer based on case–control studies. J Cancer Res Clin Oncol. 2012;138:1443–8.
Conflicts of interest
None
About this article
Cite this article
Su, Y., Xu, A. & Zhu, J. The effect of oxoguanine glycosylase 1 rs1052133 polymorphism on colorectal cancer risk in Caucasian population. Tumor Biol. 35, 513–517 (2014). https://doi.org/10.1007/s13277-013-1072-9
Received:

Accepted:

Published:

Issue Date:
Keywords
Oxoguanine glycosylase 1

Polymorphism

Colorectal cancer