Abstract
The aim of this study was to investigate the expression of glutamine-metabolism-related proteins according to the histologic grade of phyllodes tumors (PTs) and to assess its clinical implication. We generated tissue microarrays of 224 PTs and performed immunohistochemical staining and western blot analysis of glutamine-metabolism-related molecules, including GLS1, GDH, and ASCT2. The associations between immunohistochemical results and clinicopathologic parameters were evaluated. The expression of GLS1 (p < 0.001), GDH (p < 0.001), and ASCT2 (p = 0.005) in stromal components significantly increased with worsening PT histological grade. GDH expression in epithelial components significantly increased in high-grade PT (p = 0.026). In western blot, stromal expression of GLS1, GDH, and ASCT2 increased as histologic grade increased. By univariate analysis, stromal GLS1 expression (p = 0.022) and stromal GDH expression (p = 0.009) were independent predictors of shorter DFS. Stromal GLS1 expression (p < 0.001) and stromal GDH expression (p < 0.001) were independent predictors of shorter OS. This study demonstrated that the stromal expression of the glutamine-metabolism-related proteins GLS1, GDH, ASCT2 increases with worsening histological PT grade.
Access options
Buy single article
Instant access to the full article PDF.
USD 39.95
Price excludes VAT (USA)
Tax calculation will be finalised during checkout.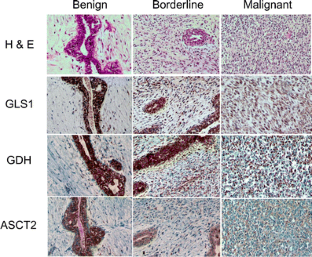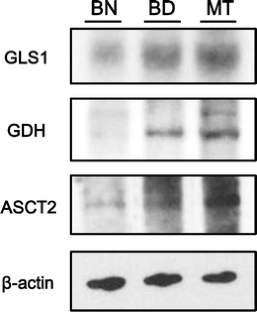 References
Warburg O. On the origin of cancer cells. Science. 1956;123:309–14.

DeBerardinis RJ, Cheng T. Q's next: the diverse functions of glutamine in metabolism, cell biology and cancer. Oncogene. 2010;29:313–24.

Collins CL, Wasa M, Souba WW, Abcouwer SF. Regulation of glutamine synthetase in human breast carcinoma cells and experimental tumors. Surgery. 1997;122:451–63. discussion 63–4.

Friday E, Oliver 3rd R, Welbourne T, Turturro F. Glutaminolysis and glycolysis regulation by troglitazone in breast cancer cells: relationship to mitochondrial membrane potential. J Cell Physiol. 2011;226:511–9.

McGivan JD, Bungard CI. The transport of glutamine into mammalian cells. Front Biosci. 2007;12:874–82.

Curthoys NP, Watford M. Regulation of glutaminase activity and glutamine metabolism. Annu Rev Nutr. 1995;15:133–59.

Dang CV. Glutaminolysis: supplying carbon or nitrogen or both for cancer cells? Cell Cycle. 2010;9:3884–6.

Tavassoli FA, Devilee P, International Agency for Research on Cancer (IAPS), World Health Organization. Pathology and genetics of tumours of the breast and female genital organs. Lyon: IAPS; 2003.

Alo PL, Visca P, Botti C, Galati GM, Sebastiani V, Andreano T, et al. Immunohistochemical expression of human erythrocyte glucose transporter and fatty acid synthase in infiltrating breast carcinomas and adjacent typical/atypical hyperplastic or normal breast tissue. Am J Clin Pathol. 2001;116:129–34.

Brown RS, Wahl RL. Overexpression of Glut-1 glucose transporter in human breast cancer. An immunohistochemical study. Cancer. 1993;72:2979–85.

Grover-McKay M, Walsh SA, Seftor EA, Thomas PA, Hendrix MJ. Role for glucose transporter 1 protein in human breast cancer. Pathol Oncol Res. 1998;4:115–20.

Stackhouse BL, Williams H, Berry P, Russell G, Thompson P, Winter JL, et al. Measurement of glut-1 expression using tissue microarrays to determine a race specific prognostic marker for breast cancer. Breast Cancer Res Treat. 2005;93:247–53.

Younes M, Brown RW, Mody DR, Fernandez L, Laucirica R. GLUT1 expression in human breast carcinoma: correlation with known prognostic markers. Anticancer Res. 1995;15:2895–8.

Yang C, Sudderth J, Dang T, Bachoo RM, McDonald JG, DeBerardinis RJ. Glioblastoma cells require glutamate dehydrogenase to survive impairments of glucose metabolism or Akt signaling. Cancer Res. 2009;69:7986–93.

Noguchi S, Motomura K, Inaji H, Imaoka S, Koyama H. Clonal analysis of fibroadenoma and phyllodes tumor of the breast. Cancer Res. 1993;53:4071–4.

Sawyer EJ, Hanby AM, Ellis P, Lakhani SR, Ellis IO, Boyle S, et al. Molecular analysis of phyllodes tumors reveals distinct changes in the epithelial and stromal components. Am J Pathol. 2000;156:1093–8.

Gao P, Tchernyshyov I, Chang TC, Lee YS, Kita K, Ochi T, et al. c-Myc suppression of miR-23a/b enhances mitochondrial glutaminase expression and glutamine metabolism. Nature. 2009;458:762–5.

Sawyer EJ, Poulsom R, Hunt FT, Jeffery R, Elia G, Ellis IO, et al. Malignant phyllodes tumours show stromal overexpression of c-myc and c-kit. J Pathol. 2003;200:59–64.

Kwon JE, Jung WH, Koo JS. The expression of metabolism-related proteins in phyllodes tumors. Tumour Biol. 2013;34:115–24.

Camp RL, Charette LA, Rimm DL. Validation of tissue microarray technology in breast carcinoma. Lab Invest. 2000;80:1943–9.

Aft RL, Zhang FW, Gius D. Evaluation of 2-deoxy-d-glucose as a chemotherapeutic agent: mechanism of cell death. Br J Cancer. 2002;87:805–12.

Morris DI, Robbins JD, Ruoho AE, Sutkowski EM, Seamon KB. Forskolin photoaffinity labels with specificity for adenylyl cyclase and the glucose transporter. J Biol Chem. 1991;266:13377–84.

Niculescu-Duvaz I. Glufosfamide (Baxter Oncology). Curr Opin Investig Drugs. 2002;3:1527–32.

Subbarayan PR, Wang PG, Lampidis TJ, Ardalan B, Braunschweiger P. Differential expression of Glut 1 mRNA and protein levels correlates with increased sensitivity to the glyco-conjugated nitric oxide donor (2-glu-SNAP) in different tumor cell types. J Chemother. 2008;20:106–11.
Acknowledgments
This research was supported by the Basic Science Research Program through the National Research Foundation of Korea (NRF), funded by the Ministry of Education, Science and Technology (2012R1A1A1002886).
Conflicts of interest
None
Electronic supplementary materials
Below is the link to the electronic supplementary material.
About this article
Cite this article
Kim, S., Jung, W.H. & Koo, J.S. The expression of glutamine-metabolism-related proteins in breast phyllodes tumors. Tumor Biol. 34, 2683–2689 (2013). https://doi.org/10.1007/s13277-013-0819-7
Received:

Accepted:

Published:

Issue Date:

DOI: https://doi.org/10.1007/s13277-013-0819-7
Keywords
Breast

Phyllodes tumor

Glutamine

Metabolism