Abstract
The aim of the study was to explore the clinical value of serum human epididymis secretory protein E4 (HE4) and CA125 in endometrial carcinoma. From January 2010 to April 2012, serum specimens were collected from consecutive cases of endometrial carcinoma and from cases of uterus benign disease (control group). The CA125 normal value is considered less than 35 U/mL. Two HE4 cutoff are considered: less than 70 pmol/L and less than 150 pmol/L. The specificity analysis was performed using the Mann–Whitney test for the CA125 and HE4 series. The level of statistical significance is set at p < 0.05. The sensitivity of CA125 in detecting endometrial cancer is 19.8 %, whereas the sensitivity of HE4 is 59.4 and 35.6 % for 70 and 150 pmol/L cutoff, respectively. Thus the specificity of HE4 is 100 % (positive predictive value = 100 %, negative predictive value = 71.52 and 61.31 % considering the two HE4 cutoff, respectively), whereas the CA125 specificity is 62.14 % (positive predictive value = 33.9 %, negative predictive value = 44.14 %) in detection of endometrial cancer. Combining CA125 and HE4, the sensitivity to detect endometrial cancer is 60.4 and 34.6 %, at HE4 cutoff of 70 and 150 pmol/L, respectively, with a specificity of 100 %. HE4 may be a new tool for preoperative evaluation and postoperative surveillance of endometrial cancer patients, with a positive predictive value = 100 %. HE4 at cutoff of 70 pmol/L yields the best sensitivity and specificity.
This is a preview of subscription content, log in to check access.
Access options
Buy single article
Instant access to the full article PDF.
US$ 39.95
Price includes VAT for USA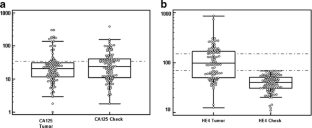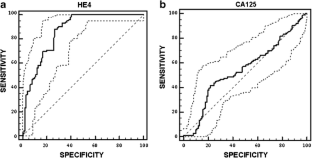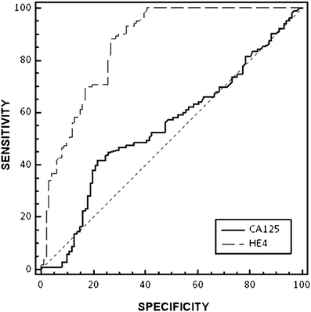 References
1.

Bray F, Dos Santos Silva I, Moller H, Weiderpass E. Endometrial cancer incidence trends in Europe: underlying determinants and prospects for prevention. Cancer Epidemiol Biomarkers Prev. 2005;14(5):1132–42.

2.

Jemal A, Siegel R, Ward E, Hao Y, Xu J, Thun MJ. Cancer statistics, 2009. CA Cancer J Clin. 2009;59(4):225–49.

3.

Creutzberg CL, van Putten WL, Koper PC, Lybeert ML, Jobsen JJ, Wárlám-Rodenhuis CC, et al. Surgery and postoperative radiotherapy versus surgery alone for patients with stage-1 endometrial carcinoma: multicentre randomised trial. PORTEC Study Group. Post Operative Radiation Therapy in Endometrial Carcinoma. Lancet. 2000;355(9213):1404–11.

4.

Papanikolaou A, Kalogiannidis I, Goutzioulis M, Misailidou D, Makedos A, Vergote I, et al. Pelvic lymphadenectomy as alternative to postoperative radiotherapy in high risk early stage endometrial cancer. Arch Gynecol Obstet. 2006;274(2):91–6.

5.

Smith-Bindman R, Weiss E, Feldstein V. How thick is too thick? When endometrial thickness should prompt biopsy in postmenopausal women without vaginal bleeding. Ultrasound Obstet Gynecol. 2004;24(5):558–65.

6.

Scambia G, Benedetti Panici P, Baiocchi G, Perrone L, Greggi S, Mancuso S. CA 15–3 as a tumor marker in gynecological malignancies. Gynecol Oncol. 1988;30(2):265–73.

7.

Moore RG, Brown AK, Miller MC, Badgwell D, Lu Z, Allard WJ, et al. Utility of a novel serum tumor biomarker HE4 in patients with endometrioid adenocarcinoma of the uterus. Gynecol Oncol. 2008;110(2):196–201.

8.

Bignotti E, Ragnoli M, Zanotti L, Calza S, Falchetti M, Lonardi S, et al. Diagnostic and prognostic impact of serum HE4 detection in endometrial carcinoma patiens. Br J Cancer. 2011;104:1418–25.

9.

Drapkin R, von Horsten HH, Lin Y, et al. Human epididymis protein 4 (HE4) is a secreted glycoprotein that is overexpressed by serous and endometrioid ovarian carcinomas. Cancer Res. Kobel M, Kalloger SE, Boyd N, et al. Ovarian carcinoma subtypes are different diseases: implications for biomarker studies. PLoS Med. 2008;5:e23.

10.

Plotti F, Capriglione S, Terranova C, Montera R, Aloisi A, Damiani P, Muzii L, Scaletta G, Benedetti-Panici P, Angioli R. Does HE4 have a role as biomarker in the recurrence of ovarian cancer? Tumour Biol. 2012 Aug 9.

11.

Duk IM. CA125: a useful marker in endometrial carcinoma. Am J Obstet Gynaecol Oncol. 1994;54(3):321–6.

12.

Gadducci A, Ferdeghini M, Caenaro GF, Prontera C, Malagnino G, Annichiarico C, et al. Immunoacid protein (IAP) as marker for cervical and endometrial carcinoma: alone and in comparison with CA 125 and SCC. Cancer J. 1992;5:272–8.

13.

Sawada M, Okudaira Y, Matsui Y, Shimizu Y. Immunosuppressive acidic protein in patients with gynecologic cancer. Cancer. 1984;54(4):652–6.

14.

Takeshima N, Shimizu Y, Umezawa S, Hirai Y, Chen JT, Fujimoto I, et al. Combined assay of serum levels of CA125 and CA19-9 in endometrial carcinoma. Gynecol Oncol. 1994;54(3):321–6.

15.

Scambia G, Gadducci A, Panici PB, Foti E, Ferdeghini M, Ferrandina G, et al. Combined use of CA 125 and CA 15–3 in patients with endometrial carcinoma. Gynecol Oncol. 1994;54(3):292–7.

16.

Cherchi PL, Dessole S, Ruiu GA, Ambrosini G, Farina M, Capobianco G, et al. The value of serum CA 125 and association CA 125/CA 19–9 in endometrial carcinoma. Eur J Gynaecol Oncol. 1999;20(4):315–7.

17.

Hareyama H, Sakuragi N, Makinoda S, Fujimoto S. Serum and tissue measurements of CA72-4 in patients with endometrial carcinoma. J Clin Pathol. 1996;49(12):967–70.

18.

Gadducci A, Ferdeghini M, Prontera C, Giordano P, Cristofani R, Bianchi R, et al. A comparison of pretreatment serum levels of four tumor markers in patients with endometrial and cervical carcinoma. Eur J Gynaecol Oncol. 1990;11(4):283–8.

19.

Hakala A, Kacinski BM, Stanley ER, Kohorn EI, Puistola U, Risteli J, et al. Macrophage colony-stimulating factor 1, a clinically useful tumor marker in endometrial adenocarcinoma: comparison with CA 125 and the aminoterminal propeptide of type III procollagen. Am J Obstet Gynecol. 1995;173(1):112–9.

20.

Peters-Engl C, Buxbaum P, Ogris E, Sevelda P, Medl M. TATI (tumor associated trypsin inhibitor) and cancer antigen 125 (CA 125) in patients with early-stage endometrial cancer. Anticancer Res. 1998;18(6B):4635–9.

21.

Ginath S, Menczer J, Fintsi Y, Ben-Shem E, Glezerman M, Avinoach I. Tissue and serum CA125 expression in endometrial cancer. Int J Gynecol Cancer. 2002;12(4):372–5.

22.

Sood AK, Buller RE, Burger RA, Dawson JD, Sorosky JI, Berman M. Value of preoperative CA 125 level in the management of uterine cancer and prediction of clinical outcome. Obstet Gynecol. 1997;90(3):441–7.

23.

Hsieh CH, ChangChien CC, Lin H, Huang EY, Huang CC, Lan KC, et al. Can a preoperative CA 125 level be a criterion for full pelvic lymphadenectomy in surgical staging of endometrial cancer? Gynecol Oncol. 2002;86(1):28–33.

24.

Beck EP, Wagner M, Anselmino L, Xu F, Bast Jr RC, Jaeger W. Is OVX1 a suitable marker for endometrial cancer? Gynecol Oncol. 1997;65(2):291–6.

25.

Carpenter PM, Gamboa GP, Dorion GE, Ramsinghani NS, Aïssi AM, Manetta A. Radiation-induced CA 125 production by mesothelial cells. Gynecol Oncol. 1996;63(3):328–32.

26.

Moore RG, Miller CM, Brown AK, Robison K, Steinhoff M, Lambert-Messerlian G. Utility of tumor marker HE4 to predict depth of myometrial invasion in endometrioid adenocarcinoma of the uterus. Int J Gynecol Cancer. 2011;21(7):1185–90.

27.

Kalogera E, Scholler N, Powless C, Weaver A, Drapkin R, Li J, et al. Correlation of serum HE4 with tumor size and myometrial invasion in endometrial cancer. Gynecol Oncol. 2012;124(2):270–5. Epub 2011 Oct 28.

28.

Kamei M, Yamashita S, Tokuishi K, Hashioto T, Moroga T, Suehiro S, et al. HE4 expression can be associated with lymph node metastases and disease-free survival in breast cancer. Anticancer Res. 2010;30:4779–83.
Conflicts of interest
None
About this article
Cite this article
Angioli, R., Plotti, F., Capriglione, S. et al. The role of novel biomarker HE4 in endometrial cancer: a case control prospective study. Tumor Biol. 34, 571–576 (2013). https://doi.org/10.1007/s13277-012-0583-0
Received:

Accepted:

Published:

Issue Date:
Keywords
CA125

HE4

Endometrial cancer