Abstract
Prognosis of patients with pancreas cancer is very poor. The aim of the study was to test the significance of laboratory parameters in the prognosis of patients with pancreas cancer. The studied group included 57 patients (31 men, 26 women, mean age 65 ± 9 years). Blood was collected at the time of diagnosis of pancreas cancer and basic laboratory parameters, including nutritional and inflammatory markers and tumour markers were measured. Patients were followed up until death (median survival 147 days). Ferritin, iron, albumin, prealbumin, cholinesterase, haemoglobin, C-reactive protein, alkaline phosphatase and carcinoembryonic antigen were significant for patients' prognosis in univariate analysis while CA 19-9, bilirubin, liver, pancreas and kidney tests and lipids were not. Multivariate Cox regression demonstrated ferritin, iron and albumin as independent mortality predictors (RR (95%CI), per standard deviation: ferritin 1.497(1.215–2.241), p = 0.002; albumin, 0.716(0.521–0.977), p = 0.035; iron, 0.678(0.504–0.915), p = 0.010). Iron correlated significantly with albumin (r = 0.397, p = 0.002) but neither iron nor albumin correlated with ferritin. Patients who survived 100 days had significantly lower ferritin (median 239 μg/l vs. non-survivors 435 μg/l, p = 0.014), significantly higher albumin but the difference in serum iron was not quite significant. ROC analysis for ferritin revealed AUC for 100 days survival of 0.710, p = 0.007 (and 0.725, p = 0.004 for 200 days survival). AUC for albumin for 100 days survival was not significant (p = 0.073). This study points out ferritin as an independent mortality predictor in patients with pancreas cancer. High serum levels of ferritin at the time of diagnosis of pancreas cancer indicate bad prognosis of the patient.
This is a preview of subscription content,
to check access.
Access this article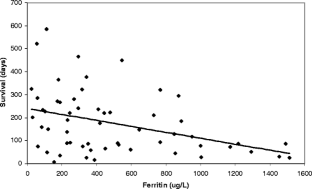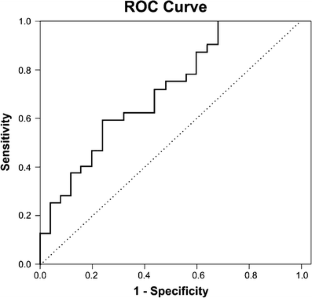 Similar content being viewed by others
Abbreviations
AUC:

Area under the curve

CA:

Cancer antigen

IQR:

Interquartile range

ROC:

Receiver operating characteristic

RR:

Relative risk

CI:

Confidence interval
References
Berrino F, De Angelis R, Sant M, Rosso S, Bielska-Lasota M, Coebergh JW, Santaquilani M, et al. Survival for eight major cancers and all cancers combined for European adults diagnosed in 1995–99: results of the EUROCARE-4 study. Lancet Oncol. 2007;8(9):773–83.

Key C. Cancer of the pancreas. In: Ries LAG, Young JL, Keel GE, Eisner MN, Lin ZD, Horner M-J, editors. SEER survival monograph: cancer survival among adults: US SEER program, 1988–2001, patient and tumor characteristic. Bethesda: National Center Institute; 2007.

Neoptolemos JP, Stocken DD, Dunn JA, Almond J, Beger HG, Pederzoli P, et al. Influence of resection margins on survival for patients with pancreatic cancer treated by adjuvant chemoradiation and/or chemotherapy in the ESPAC-1 randomized controlled trial. Ann Surg. 2001;234(6):758–68.

Bassi C, Stocken DD, Olah A, Friess H, Buckels J, Hickey H, et al. Influence of surgical resection and post-operative complications on survival following adjuvant treatment for pancreatic cancer in the ESPAC-1 randomized controlled trial. Dig Surg. 2005;22(5):353–63.

Pawlik TM, Gleisner AL, Cameron JL, Winter JM, Assumpcao L, Lillemoe KD, et al. Prognostic relevance of lymph node ratio following pancreaticoduodenectomy for pancreatic cancer. Surgery. 2007;141(5):610–8.

Sierzega M, Popiela T, Kulig J, Nowak K. The ratio of metastatic/resected lymph nodes is an independent prognostic factor in patients with node-positive pancreatic head cancer. Pancreas. 2006;33(3):240–5.

Berger AC, Watson JC, Ross EA, Hoffman JP. The metastatic/examined lymph node ratio is an important prognostic factor after pancreaticoduodenectomy for pancreatic adenocarcinoma. Am Surg. 2004;70(3):235–40.

Weber A, Kehl V, Mittermeyer T, Herberich E, Röthling N, Schmid RM, Prinz C. Prognostic factors for survival in patients with unresectable pancreatic cancer. Pancreas. 2010;39(8):1247–53.

Shimoda M, Katoh M, Kita J, Sawada T, Kubota K. The Glasgow Prognostic Score is a good predictor of treatment outcome in patients with unresectable pancreatic cancer. Chemotherapy. 2010;56(6):501–6.

Duffy MJ, Sturgeon C, Lamerz R, Haglund C, Holubec VL, Klapdor R, et al. Tumor markers in pancreatic cancer: a European Group on Tumor Markers (EGTM) status report. Ann Oncol. 2010;21(3):441–7.

Katz MH, Savides TJ, Moossa AR, Bouvet M. An evidence-based approach to the diagnosis and staging of pancreatic cancer. Pancreatology. 2005;5(6):576–90.

Balch CM, Fleming ID, Fritz A, Greene FL, Haller DG, Morrow M, et al. AJCC Cancer staging Handbook, sixth ed. Springer Verlag, New York; 2002

Giler S, Moroz C. The significance of ferritin in malignant diseases. Biomedicine. 1978;28(4):203–6.

Nitti D, Fabris C, Del Favero G, Farini R, Grassi F, Farini A, et al. Serum ferritin in pancreatic disease. An accurate test of malignancy? Digestion. 1982;25(4):258–62.

Fabris C, Farini R, Del Favero G, Grassi F, Nitti D, Piccoli A, et al. Combined evaluation of serum ribonuclease and ferritin: any advantages in pancreatic cancer diagnosis? Oncology. 1984;41(6):393–5.

Fabris C, Farini R, Piccoli A, Del Favero G, Panucci A, Plebani M, et al. CEA and ferritin in chronic pancreatic disease: a comparative evaluation. Hepatogastroenterology. 1985;32(3):146–8.

Plebani M, Fabris C, Basso D, Del Favero G, Angonese C, Leandro G, et al. Limits of CEA and ferritin in the diagnosis of pancreatic cancer. Int J Pancreatol. 1988;3 Suppl 1:S113–7.

Basso D, Fabris C, Del Favero G, Meggiato T, Panozzo MP, Vianello D, et al. Hepatic changes and serum ferritin in pancreatic cancer and other gastrointestinal diseases: the role of cholestasis. Ann Clin Biochem. 1981;28(Pt 1):34–8.

Morita R, Yoshii M, Nakajima K, Kohsaka T, Miki M, Torizuka K. Clinical evaluation of serum ferritin to iron ratio in malignant diseases. Eur J Nucl Med. 1981;6(7):331–6.

Kukulj S, Jaganjac M, Boranic M, Krizanac S, Santic Z, Poljak-Blazi M. Altered iron metabolism, inflammation, transferrin receptors, and ferritin expression in non-small-cell lung cancer. Med Oncol. 2010;27(2):268–77.

Baldi A, Lombardi D, Russo P, Palescandolo E, De Luca A, Santini D, et al. Ferritin contributes to melanoma progression by modulating cell growth and sensitivity to oxidative stress. Clin Cancer Res. 2005;11(9):3175–83.

Alkhateeb AA, Connor JR. Nuclear ferritin: a new role for ferritin in cell biology. Biochem Biophys Acta. 2010;1800(8):793–7.
Acknowledgments
This study was supported by research projects LM 2010004 BBMRI_CZ, MPO TIP FR-TI3/666 and by grant IGA MZ ČR NS 9769-4.
Conflicts of interest
None.
Additional information
Previous presentation of the manuscript: oral presentation at the 39th ISOBM Congress (Congress of the International Society of Oncology and Biomarkers) 15.10.–19.10.2011 Florence, Italy.
About this article
Cite this article
Kalousová, M., Krechler, T., Jáchymová, M. et al. Ferritin as an independent mortality predictor in patients with pancreas cancer. Results of a pilot study. Tumor Biol. 33, 1695–1700 (2012). https://doi.org/10.1007/s13277-012-0426-z
Received:

Accepted:

Published:

Issue Date:

DOI: https://doi.org/10.1007/s13277-012-0426-z
Keywords