Abstract
Background
Acinetobacter has emerged recently as one of the most challenging nosocomial pathogens because of its increased rate of antimicrobial resistance. The genetic complexity and genome diversity, as well as the lack of adequate knowledge on the pathogenic determinants of Acinetobacter strains often hinder with pathogenesis studies for the development of better therapeutics to tackle this nosocomial pathogen.
Objectives
In this study, we comparatively analyzed the whole genome sequence of a virulent Acinetobacternosocomialis strain NCTC 8102.
Methods
The genomic DNA of A. nosocomialis NCTC 8102 was isolated and sequenced using PacBio RS II platform. The sequenced genome was functionally annotated and gene prediction was carried out using the program, Glimmer 3. The phylogenetic analysis of the genome was performed using Mega 6 program and the comparative genome analysis was carried out by BLAST (Basic Local Alignment Search Tool).
Results
The complete genome analysis depicted that the genome consists of a circular chromosome with an average G + C content of 38.7%. The genome comprises 3700 protein-coding genes, 96 RNA genes (18 rRNA, 74 tRNA and 4 ncRNA genes), and 91 pseudogenes. In addition, 6 prophage regions comprising 2 intact, 1 incomplete and 3 questionable ones and 18 genomic islands were identified in the genome, suggesting the possible occurrence of horizontal gene transfer in this strain. Comparative genome analysis of A. nosocomialis NCTC 8102 genome with the already sequenced A. nosocomialis strain SSA3 showed an average nucleotide identity of 99.0%. In addition, the number of prophages and genomic islands were higher in the A. nosocomialis NCTC 8102 genome compared to that of the strain SSA3. 14 of the genomic islands were unique to A. nosocomialis NCTC 8102 compared to strain SSA3 and they harbored genes which are involved in virulence, multidrug resistance, biofilm formation and bacterial pathogenesis.
Conclusion
We sequenced the whole genome of A. nosocomialis strain NCTC 8102 followed by comparatively genome analysis. The study provides valuable information on the genetic features of A. nosocomialis strain and the data from this study would assist in further studies for the development of control measures for this nosocomial pathogen.
Access options
Buy single article
Instant access to the full article PDF.
US$ 39.95
Tax calculation will be finalised during checkout.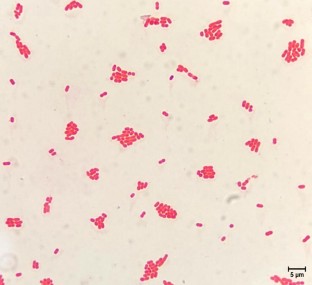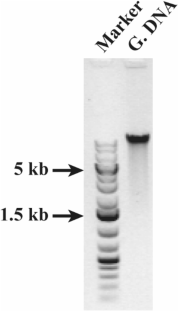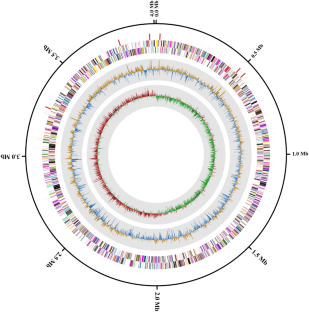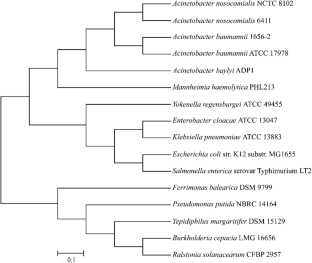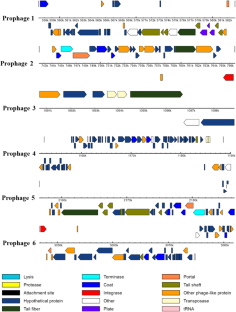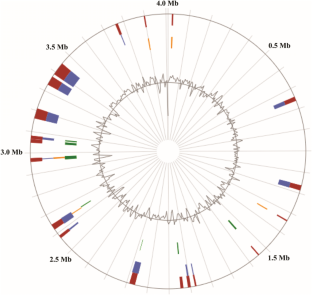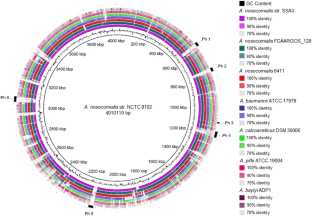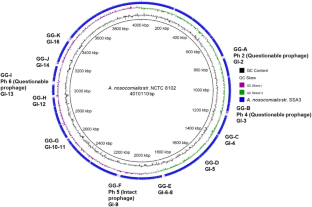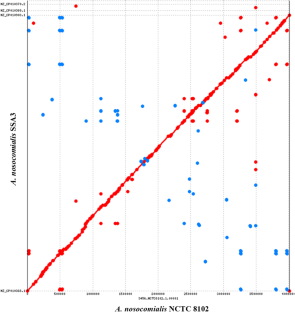 References
Adams MD, Goglin K, Molyneaux N, Hujer KM, Lavender H, Jamison JJ, MacDonald IJ, Martin KM, Russo T, Campagnari AA et al (2008) Comparative genome sequence analysis of multidrug-resistant Acinetobacter baumannii. J Bacteriol 190:8053–8064

Alikhan NF, Petty NK, Ben Zakour NL, Beatson SA (2011) BLAST ring image generator (BRIG): simple prokaryote genome comparisons. BMC Genom 12:402

Altschul SF, Gish W, Miller W, Myers EW, Lipman DJ (1990) Basic local alignment search tool. J Mol Biol 215:403–410

Aziz RK, Bartels D, Best AA, DeJongh M, Disz T, Edwards RA, Formsma K, Gerdes S, Glass EM, Kubal M et al (2008) The RAST server: rapid annotations using subsystems technology. BMC Genom 9:75

Cosgaya C, Marí-Almirall M, Van Assche A, Fernández-Orth D, Mosqueda N, Telli M, Huys G, Higgins PG, Seifert H, Lievens B et al (2016) Acinetobacter dijkshoorniae sp. nov., a member of the Acinetobacter calcoaceticus-Acinetobacter baumannii complex mainly recovered from clinical samples in different countries. Int J Syst Evol Microbiol 66:4105–4111

Delcher AL, Bratke KA, Powers EC, Salzberg SL (2007) Identifying bacterial genes and endosymbiont DNA with Glimmer. Bioinformatics 23:673–679

Dhillon BK, Laird MR, Shay JA, Winsor GL, Lo R, Nizam F, Pereira SK, Waglechner N, McArthur AG, Langille MG et al (2015) IslandViewer 3: more flexible, interactive genomic island discovery, visualization and analysis. Nucleic Acids Res 43:W104–108

Edgar RC (2004) MUSCLE: multiple sequence alignment with high accuracy and high throughput. Nucleic Acids Res 32:1792–1797

Espinal P, Seifert H, Dijkshoorn L, Vila J, Roca I (2012) Rapid and accurate identification of genomic species from the Acinetobacter baumannii (Ab) group by MALDI-TOF MS. Clin Microbiol Infect 18:1097–1103

Falagas ME, Karveli EA (2007) The changing global epidemiology of Acinetobacter baumannii infections: a development with major public health implications. Clin Microbiol Infect 13:117–119

Fournier PE, Vallenet D, Barbe V, Audic S, Ogata H, Poirel L, Richet H, Robert C, Mangenot S, Abergel C et al (2006) Comparative genomics of multidrug resistance in Acinetobacter baumannii. PLoS Genet 2:e7

Gordon NC, Wareham DW (2010) Multidrug-resistant Acinetobacter baumannii: mechanisms of virulence and resistance. Int J Antimicrob Agents 35:219–226

Grissa I, Vergnaud G, Pourcel C (2007) CRISPRFinder: a web tool to identify clustered regularly interspaced short palindromic repeats. Nucleic Acids Res 35:W52–57

Iacono M, Villa L, Fortini D, Bordoni R, Imperi F, Bonnal RJ, Sicheritz-Ponten T, De Bellis G, Visca P, Cassone A et al (2008) Whole-genome pyrosequencing of an epidemic multidrug-resistant Acinetobacter baumannii strain belonging to the European clone II group. Antimicrob Agents Chemother 52:2616–2625

Joly-Guillou ML (2005) Clinical impact and pathogenicity of Acinetobacter. Clin Microbiol Infect 11:868–873

Käll L, Krogh A, Sonnhammer EL (2007) Advantages of combined transmembrane topology and signal peptide prediction–the Phobius web server. Nucleic Acids Res 35:W429–432

Kurtz S, Phillippy A, Delcher AL, Smoot M, Schumway M, Antonescu C, Salzberg SL (2004) Versatile and open software for comparing large genomes. Genome Biol 5:R12

Lagesen K, Hallin P, Rødland EA, Staerfeldt HH, Rognes T, Ussery DW (2007) RNAmmer: consistent and rapid annotation of ribosomal RNA genes. Nucleic Acids Res 35:3100–3108

Lee YC, Huang YT, Tan CK, Kuo YW, Liao CH, Lee PI, Hsueh PR (2011) Acinetobacter baumannii and Acinetobacter genospecies 13TU and 3 bacteraemia: comparison of clinical features, prognostic factors and outcomes. J Antimicrob Chemother 66:1839–1846

Lowe TM, Eddy SR (1997) tRNAscan-SE: a program for improved detection of transfer RNA genes in genomic sequence. Nucleic Acids Res 25:955–964

Marchler-Bauer A, Derbyshire MK, Gonzales NR, Lu S, Chitsaz F, Geer LY, Geer RC, He J, Gwadz M, Hurwitz DI et al (2015) CDD: NCBI's conserved domain database. Nucleic Acids Res 43:D222–226

Marí-Almirall M, Cosgaya C, Higgins PG, Van Assche A, Telli M, Huys G, Lievens B, Seifert H, Dijkshoorn L, Roca I et al. (2017) MALDI-TOF/MS identification of species from the Acinetobacter baumannii (Ab) group revisited: inclusion of the novel A. seifertii and A. dijkshoorniae species. Clin Microbiol Infect 23:210 e211–210 e219

Mussi MA, Limansky AS, Viale AM (2005) Acquisition of resistance to carbapenems in multidrug-resistant clinical strains of Acinetobacter baumannii: natural insertional inactivation of a gene encoding a member of a novel family of beta-barrel outer membrane proteins. Antimicrob Agents Chemother 49:1432–1440

Nemec A, Krizova L, Maixnerova M, van der Reijden TJ, Deschaght P, Passet V, Vaneechoutte M, Brisse S, Dijkshoorn L (2011) Genotypic and phenotypic characterization of the Acinetobacter calcoaceticus-Acinetobacter baumannii complex with the proposal of Acinetobacter pittii sp. nov. (formerly Acinetobacter genomic species 3) and Acinetobacter nosocomialis sp. nov. (formerly Acinetobacter genomic species 13TU). Res Microbiol 162:393–404

Nemec A, Krizova L, Maixnerova M, Sedo O, Brisse S, Higgins PG (2015) Acinetobacter seifertii sp. nov., a member of the Acinetobacter calcoaceticus-Acinetobacter baumannii complex isolated from human clinical specimens. Int J Syst Evol Microbiol 65:934–942

Peleg AY, Hooper DC (2010) Hospital-acquired infections due to gram-negative bacteria. N Engl J Med 362:1804–1813

Peleg AY, Seifert H, Paterson DL (2008) Acinetobacter baumannii: emergence of a successful pathogen. Clin Microbiol Rev 21:538–582

Ravasi P, Limansky AS, Rodriguez RE, Viale AM, Mussi MA (2011) ISAba825, a functional insertion sequence modulating genomic plasticity and bla(OXA-58) expression in Acinetobacter baumannii. Antimicrob Agents Chemother 55:917–920

Seifert H, Baginski R, Schulze A, Pulverer G (1993) The distribution of Acinetobacter species in clinical culture materials. Zentralbl Bakteriol 279:544–552

Subhadra B, Kim J, Kim DH, Woo K, Oh MH, Choi CH (2018) Local repressor AcrR regulates AcrAB Efflux pump required for biofilm formation and virulence in Acinetobacter nosocomialis. Front Cell Infect Microbiol 8:270

Tamura K, Stecher G, Peterson D, Filipski A, Kumar S (2013) MEGA6: molecular evolutionary genetics analysis version 6.0. Mol Biol Evol 30:2725–2729

Tatusov RL, Koonin EV, Lipman DJ (1997) A genomic perspective on protein families. Science 278:631–637

Yoon EJ, Kim JO, Yang JW, Kim HS, Lee KJ, Jeong SH, Lee H, Lee K (2017) The blaOXA-23-associated transposons in the genome of Acinetobacter spp. represent an epidemiological situation of the species encountering carbapenems. J Antimicrob Chemother 72:2708–2714

Zhou Y, Liang Y, Lynch KH, Dennis JJ, Wishart DS (2011) PHAST: a fast phage search tool. Nucleic Acids Res 39:W347–352
Acknowledgements
This research was supported by Basic Science Research Program through the National Research Foundation of Korea (NRF) funded by the Ministry of Education (NRF-2016R1D1A1B03931010). This research was supported by a grant of the Korea Health Technology R&D Project through the Korea Health Industry Development Institute (KHIDI), funded by the Ministry of Health & Welfare, Republic of Korea (grant number: HI17C1657).
Ethics declarations
Conflict of interest
All authors declare that they have no conflict of interest.
Ethical approval
The article does not contain any studies with human participants performed by any of the authors.
About this article
Cite this article
Subhadra, B., Surendran, S., Lim, B.R. et al. Complete genome sequence and phylogenetic analysis of nosocomial pathogen Acinetobacter nosocomialis strain NCTC 8102. Genes Genom 41, 1063–1075 (2019). https://doi.org/10.1007/s13258-019-00834-6
Received:

Accepted:

Published:

Issue Date:
Keywords
Acinetobacter

Nosocomial pathogen

Genome annotation

Genome sequencing

Genomic islands

Pathogenic genes