Abstract
Background
Short hairpin RNAs (shRNAs) expressed from vectors have been used as an effective means of exploiting the RNA interference (RNAi) pathway in mammalian cells. Genome-scale screening with shRNA libraries has been used to investigate the relationship between genotypes and phenotypes on a large scale. Although several methods have been developed to construct shRNA libraries, their broad application has been limited by the high cost of constructing these libraries.
Objective
We develop a new method that efficiently constructs a shRNA library at low cost, using treatments with several enzymes and an oligonucleotide library.
Methods
The library of shRNA expression cassettes, which were cloned into a lentiviral plasmid, was produced through several enzymatic reactions, starting from a library of 20,000 different short oligonucleotides produced by microarray-based oligonucleotide synthesis.
Results
The NGS sequence analysis of the library shows that 99.8% of them (19,956 from 20,000 sequences) were contained in the library: 63.2% of them represent the correct sequences and the rest showed one or two base pair differences from the expected sequences.
Conclusion
Considering the ease of our method, shRNA libraries of new genomes and of specific populations of genes can be prepared in a short period of time for genome-scale RNAi library screening.
Access options
Buy single article
Instant access to the full article PDF.
USD 39.95
Price excludes VAT (USA)
Tax calculation will be finalised during checkout.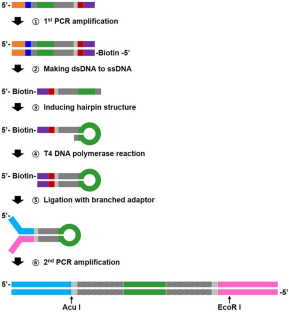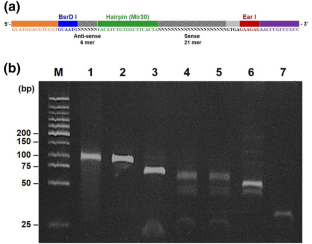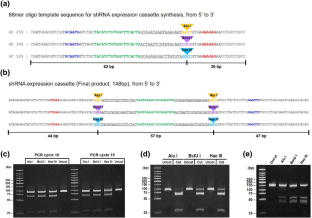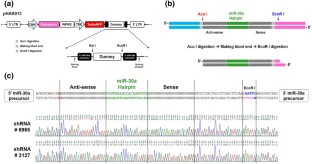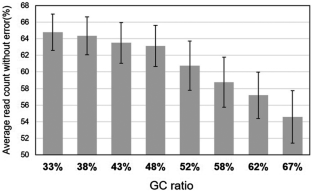 References
Baum JA, Bogaert T, Clinton W et al (2007) Control of coleopteran insect pests through RNA interference. Nat Biotechnol 25:1322–1326

Bernstein E, Caudy AA, Hammond SM, Hannon GJ (2001) Role for a bidentate ribonuclease in the initiation step of RNA interference. Nature 409:363–366

Castanotto D, Scherer L (2005) Targeting cellular genes with PCR cassettes expressing short interfering RNAs. Methods Enzymol 391:173–185

Catalanotto C, Azzalin G, Macino G, Cogoni C (2000) Gene silencing in worms and fungi. Nature 404:245

Donzé O, Picard D (2002) RNA interference in mammalian cells using siRNAs synthesized with T7 RNA polymerase. Nucleic Acids Res 30:46e–46

Dykxhoorn DM, Novina CD, Sharp PA (2003) Killing the messenger: short RNAs that silence gene expression. Nat Rev Mol Cell Biol 4:457–467

Elbashir SM, Harborth J, Lendeckel W et al (2001) Duplexes of 21 ± nucleotide RNAs mediate RNA interference in cultured mammalian cells. Nature 411:494–498

Fire A, Xu S, Montgomery MK et al (1998) Potent and specific genetic interference by double-stranded RNA in caenorhabditis elegans. Nature 391:806–811

Giering JC, Grimm D, Storm TA, Kay MA (2008) Expression of shRNA from a tissue-specific pol II promoter is an effective and safe RNAi therapeutic. Mol Ther 16:1630–1636

Liu H, Cottrell TR, Pierini LM et al (2002) RNA interference in the pathogenic fungus Cryptococcus neoformans. Genetics 160:463–470

Liu CG, Spizzo R, Calin GA, Croce CM (2008) Expression profiling of microRNA using oligo DNA arrays. Methods 44:22–30

Ma H, Wu Y, Dang Y et al (2014) Pol III promoters to express small RNAs: delineation of transcription initiation. Mol Ther Nucleic Acids 3:e161

Martinez J, Patkaniowska A, Urlaub H et al (2002) Single-stranded antisense siRNAs guide target RNA cleavage in RNAi. Cell 110:563–574

McCaffrey AP, Meuse L, Pham T-TT et al (2002) RNA interference in adult mice. Nature 418:38–39

Miyagishi M, Sumimoto H, Miyoshi H et al (2004) Optimization of an siRNA-expression system with an improved hairpin and its significant suppressive effects in mammalian cells. J Gene Med 6:715–723

Moore CB, Guthrie EH, Huang MTH, Taxman DJ (2010) Short hairpin RNA (shRNA): design, delivery, and assessment of gene knockdown. Methods Mol Biol 629:141–158

Opalinska JB, Gewirtz AM (2002) Nucleic-acid therapeutics: basic principles and recent applications. Nat Rev Drug Discov 1:503–514

Paddison PJ, Cleary M, Silva JM et al (2004) Cloning of short hairpin RNAs for gene knockdown in mammalian cells. Nat Methods 1:163–167

Rao DD, Vorhies JS, Senzer N, Nemunaitis J (2009) siRNA vs. shRNA: similarities and differences. Adv Drug Deliv Rev 61:746–759

Root DE, Hacohen N, Hahn WC et al (2006) Genome-scale loss-of-function screening with a lentiviral RNAi library. Nat Methods 3:715–719

Sims D, Mendes-Pereira AM, Frankum J et al (2011) High-throughput RNA interference screening using pooled shRNA libraries and next generation sequencing. Genome Biol 12:R104

Tomari Y, Zamore PD (2005) Perspective: Machines for RNAi. Genes Dev 19:517–529

Tuschl T (2002) Expanding small RNA interference. Nat Biotechnol 20:446–448

Xia XG, Zhou H, Ding H et al (2003) An enhanced U6 promoter for synthesis of short hairpin RNA. Nucleic Acids Res 31:e100

Yeung ML, Houzet L, Yedavalli VSRK, Jeang KT (2009) A genome-wide short hairpin RNA screening of Jurkat T-cells for human proteins contributing to productive HIV-1 replication. J Biol Chem 284:19463–19473

Yuan J, Wang X, Zhang Y et al (2006) shRNA transcribed by RNA Pol II promoter induce RNA interference in mammalian cell. Mol Biol Rep 33:43–49

Zhou H, Xia XG, Xu Z (2005) An RNA polymerase II construct synthesizes short-hairpin RNA with a quantitative indicator and mediates highly efficient RNAi. Nucleic Acids Res 33:1–8
Acknowledgements
We thank Dr. Sunghoon Kim at the Seoul National University for helping with the oligonucleotide library synthesis. This work was supported by the SGER Program through the NRF by the Ministry of Education to Y. Kee (Grant Number NRF-2015R1D1A1A02060346); by the Basic Science Research Program through the NRF by the Ministry of Education (Grant Number NRF-2015R1D1A3A01015641); by a Grant from the National R&D Program for Cancer Control, Ministry of Health & Welfare, Republic of Korea (Grant Number HA17C0035); and by a 2016 Research Grant from Kangwon National University to B.J. Hwang.
Ethics declarations
Conflict of interest
The authors declare no conflicts of interest.
Ethical approval
This article does not contain any studies with human participants or animals performed by any of the authors.
Additional information
Publisher's Note
Springer Nature remains neutral with regard to jurisdictional claims in published maps and institutional affiliations.
About this article
Cite this article
Park, S.K., Kee, Y., Ryu, T. et al. Enzymatic construction of shRNA library from oligonucleotide library. Genes Genom 41, 573–581 (2019). https://doi.org/10.1007/s13258-019-00800-2
Received:

Accepted:

Published:

Issue Date:

DOI: https://doi.org/10.1007/s13258-019-00800-2
Keywords
RNAi

ShRNA library

Oligonucleotide library

High-throughput screen