Abstract
Transposable elements (TEs) are mobile genetic sequences that comprise a large portion of vertebrate genomes. The olive flounder (Paralichthys olivaceus) is a valuable marine resource in East Asia. The scope of most genomic studies on the olive flounder is limited to its immunology as their focus is the prevention of mass mortality of this species. Thus, for a broader understanding of the species, its genomic information is consistently in demand. Transcripts sequences were acquired from transcriptome analysis using gill tissues of 12 olive flounders. Distribution of TEs inserted in exonic region of the olive flounder genome was analyzed using RepeatMasker (http://www.repeatmasker.org/). We found 1140 TEs in the exonic region of the genome and long interspersed nuclear elements (LINEs) and long terminal repeats (LTRs) insertions occurred with forward orientation preferences. Transposons belonging to the hAt, Gypsy, and LINE 1 (L1) subfamilies were the most abundant DNA transposons, LTRs, and long interspersed elements (LINEs), respectively. Finally, we carried out a gene ontology analysis to determine the function of TE-fused genes. These results provide some genomic information about TEs that is useful for future research on changes in properties and functions of genes by TEs in the olive flounder genome.
Access options
Buy single article
Instant access to the full article PDF.
USD 39.95
Price excludes VAT (USA)
Tax calculation will be finalised during checkout.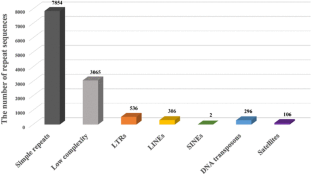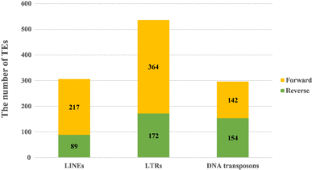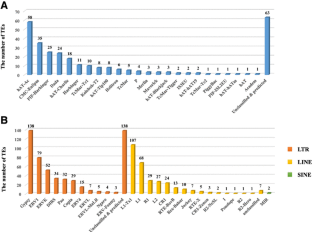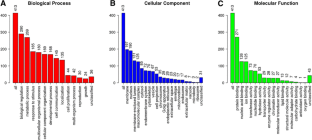 References
Ahn K, Bae JH, Gim JA, Lee JR, Jung YD, Park KD, Han K, Cho BW, Kim HS (2013) Identification and characterization of transposable elements inserted into the coding sequences of horse genes. Genes Genom 35:483–489

Almeida LM, Silva IT, Silva WA Jr, Castro JP, Riggs PK, Carareto CM, Amaral ME (2007) The contribution of transposable elements to Bos taurus gene structure. Gene 390:180–189

Baeck GW, Kim JH, Gomez DK, Park SC (2006) Isolation and characterization of Streptococcus sp. from diseased flounder (Paralichthys olivaceus) in Jeju Island. J Vet Sci 7:53–58

Berthelot C, Brunet F, Chalopin D, Juanchich A, Bernard M, Noël B, Bento P, Da Silva C, Labadie K, Alberti A et al (2014) The rainbow trout genome provides novel insights into evolution after whole-genome duplication in vertebrates. Nat Commun 5:3657

Boeke JD, Garfinkel DJ, Styles CA, Fink GR (1985) Ty elements transpose through an RNA intermediate. Cell 40:491–500

Böhne A, Brunet F, Galiana-Arnoux D, Schultheis C, Volff JN (2008) Transposable elements as drivers of genomic and biological diversity in vertebrates. Chromosome Res 16:203–215

Cha IS, Kwon J, Mun JY, Park SB, Jang HB, Nho SW, del Castillo CS, Hikima J, Aoki T, Jung TS (2012) Cathepsins in the kidney of olive flounder, Paralichthys olivaceus, and their responses to bacterial infection. Dev Comp Immunol 38:538–544

Chalopin D, Volff JN (2017) Analysis of the spotted gar genome suggests absence of causative link between ancestral genome duplication and transposable element diversification in teleost fish. J Exp Zool B 328:629–637

Chien TY, Liu LY, Charng YC (2013) Analysis of new functional profiles of protein isoforms yielded by ds exonization in rice. Evol Bioinform Online 9:417–427

Cho HK, Kim J, Moon JY, Nam BH, Kim YO, Kim WJ, Park JY, An CM, Cheong J, Kong HJ (2016) Microarray analysis of gene expression in olive flounder liver infected with viral haemorrhagic septicaemia virus (VHSV). Fish Shellfish Immunol 49:66–78

Clayton EA, Wang L, Rishishwar L, Wang J, McDonald JF, Jordan IK (2016) Patterns of transposable element expression and insertion in cancer. Front Mol Biosci 3:76

DeBarry JD, Ganko EW, McCarthy EM, McDonald JF (2006) The contribution of LTR retrotransposon sequences to gene evolution in Mus musculus. Mol Biol Evol 23:479–481

Gentles AJ, Wakefield MJ, Kohany O, Gu W, Batzer MA, Pollock DD, Jurka J (2007) Evolutionary dynamics of transposable elements in the short-tailed opossum Monodelphis domestica. Genome Res 17:992–1004

Gim JA, Nam GH, Kim WJ, Lee HE, Mishra A, Choe Y, Park CI, Kim DH, Choi YH, Cha HJ et al (2016) Detection of LINE RT elements in the olive flounder (Paralichthys olivaceus) genome and expression analysis after infection with S. parauberis. Genes Genom 38:1105–1110

Ha HS, Moon JW, Gim JA, Jung YD, Ahn K, Oh KB, Kim TH, Seong HH, Kim HS (2012) Identification and characterization of transposable element-mediated chimeric transcripts from porcine Refseq and EST databases. Genes Genom 34:409–414

Huang CR, Burns KH, Boeke JD (2012) Active transposition in genomes. Annu Rev Genet 46:651–675

Hwang SD, Asahi T, Kondo H, Hirono I, Aoki T (2010) Molecular cloning and expression study on Toll-like receptor 5 paralogs in Japanese flounder, Paralichthys olivaceus. Fish Shellfish Immunol 29:630–638

Jang YH, Subramanian D, Heo MS (2014) Efficacy of formalin-killed Pseudomonas anguilliseptica vaccine on immune gene expression and protection in farmed olive flounder, Paralichthys olivaceus. Vaccine 32:1808–1813

Jung YD, Huh JW, Kim DS, Kim YJ, Ahn K, Ha HS, Lee JR, Yi JM, Moon JW, Kim TO et al (2011) Quantitative analysis of transcript variants of CHM gene containing LTR12C element in humans. Gene 489:1–5

Kazazian HH Jr (2004) Mobile elements: drivers of genome evolution. Science 303:1626–1632

Kim YO, Hong S, Nam BH, Lee JH, Kim KK, Lee SJ (2005) Molecular cloning and expression analysis of two hepcidin genes from olive flounder Paralichthys olivaceus. Biosci Biotechnol Biochem 69:1411–1414

Kim YJ, Lee J, Han K (2012) Transposable Elements: No More 'Junk DNA'. Genomics Inform 10:226–233

Lander ES, Linton LM, Birren B, Nusbaum C, Zody MC, Baldwin J, Devon K, Dewar K, Doyle M, FitzHugh W et al (2001) Initial sequencing and analysis of the human genome. Nature 409:860–921

Llorens JV, Clark JB, Martínez-Garay I, Soriano S, de Frutos R, Martínez-Sebastián MJ (2008) Gypsy endogenous retrovirus maintains potential infectivity in several species of Drosophilids. BMC Evol Biol 8:302

Llorens C, Futami R, Covelli L, Domínguez-Escribá L, Viu JM, Tamarit D, Aguilar-Rodríguez J, Vicente-Ripolles M, Fuster G, Bernet GP et al (2011) The Gypsy Database (GyDB) of mobile genetic elements: release 2.0. Nucleic Acids Res 39(Database issue):D70–D74

Makałowski W, Mitchell GA, Labuda D (1994) Alu sequences in the coding regions of mRNA: a source of protein variability. Trends Genet 10:188–193

Medstrand P, van de Lagemaat LN, Mager DL (2002) Retroelement distributions in the human genome: variations associated with age and proximity to genes. Genome Res 12:1483–1495

Nam GH, Gim JA, Lee HE, Kim WJ, Jung H, Kim W, Kim HS (2016) Expression and promoter activity of endogenous retroviruses in the Olive flounder (Paralichthys olivaceus). Genes Genom 38:539–545

Nekrutenko A, Li WH (2001) Transposable elements are found in a large number of human protein-coding genes. Trends Genet 17:619–621

Park SI (2009) Disease control in Korean aquaculture. Fish Pathology 44:19–23

Roy-Engel AM (2012) LINEs, SINEs and other retroelements: do birds of a feather flock together? Front Biosci (Landmark Ed) 17:1345–1361

Shin GW, Palaksha KJ, Yang HH, Shin YS, Kim YR, Lee EY, Kim HY, Kim YJ, Oh MJ, Yoshida T et al (2006) Discrimination of streptococcosis agents in olive flounder (Paralichthys olivaceus). Bull Eur Ass Fish Pathol 26:68–79

Skall HF, Olesen NJ, Mellergaard S (2005) Viral haemorrhagic septicaemia virus in marine fish and its implications for fish farming—a review. J Fish Dis 28:509–529

Tang Z, Steranka JP, Ma S, Grivainis M, Rodić N, Huang CR, Shih IM, Wang TL, Boeke JD, Fenyö D et al (2017) Human transposon insertion profiling: analysis, visualization and identification of somatic LINE-1 insertions in ovarian cancer. Proc Natl Acad Sci USA 114:E733–E740

Tarailo-Graovac M, Chen N (2009) Using RepeatMasker to identify repetitive elements in genomic sequences. Curr Protoc Bioinform Chapter 4:Unit 4.10

Tempel S (2012) Using and understanding RepeatMasker. Methods Mol Biol 859:29–51

van de Lagemaat LN, Landry JR, Mager DL, Medstrand P (2003) Transposable elements in mammals promote regulatory variation and diversification of genes with specialized functions. Trends Genet 19:530–536

Wang J, Duncan D, Shi Z, Zhang B (2013) WEB-based GEne SeT AnaLysis Toolkit (WebGestalt): update 2013. Nucleic Acids Res 41(Web Server issue):W77–W83

Wang W, Wang J, You F, Ma L, Yang X, Gao J, He Y, Qi J, Yu H, Wang Z et al (2014) Detection of alternative splice and gene duplication by RNA sequencing in Japanese flounder, Paralichthys olivaceus. G3 (Bethesda) 4:2419–2424

Wang L, Fan C, Xu W, Zhang Y, Dong Z, Xiang J, Chen S (2017) Characterization and functional analysis of a novel C1q-domain-containing protein in Japanese flounder (Paralichthys olivaceus). Dev Comp Immunol 67:322–332

Waterston RH, Lindblad-Toh K, Birney E, Rogers J, Abril JF, Agarwal P, Agarwala R, Ainscough R, Alexandersson M, An P et al (2002) Initial sequencing and comparative analysis of the mouse genome. Nature 420:520–562

Wicker T, Sabot F, Hua-Van A, Bennetzen JL, Capy P, Chalhoub B, Flavell A, Leroy P, Morgante M, Panaud O et al (2007) A unified classification system for eukaryotic transposable elements. Nat Rev Genet 8:973–982

Yum SY, Lee SJ, Kim HM, Choi WJ, Park JH, Lee WW, Kim HS, Kim HJ, Bae SH, Lee JH et al (2016) Efficient generation of transgenic cattle using the DNA transposon and their analysis by next-generation sequencing. Sci Rep 6:27185
Acknowledgements
This research was a part of the project titled "Omics based on fishery disease control technology development and industrialization (20150242)," funded by the Ministry of Oceans and Fisheries, Korea.
Ethics declarations
Conflict of interest
Gyu-Hwi Nam declares that he has no conflict of interest. Jeong-An Gim declares that he has no conflict of interest. Anshuman Mishra declares that he has no conflict of interest. Kung Ahn declares that he has no conflict of interest. Suhkmann Kim declares that he has no conflict of interest. Do-Hyung Kim declares that he has no conflict of interest. Hee-Jae Cha declares that he has no conflict of interest. Yung Hyun Choi declares that he has no conflict of interest. Chan-Il Park declares that he has no conflict of interest. Heui-Soo Kim declares that he has no conflict of interest
Ethical approval
All experiments with the olive flounders in this study were carried out in accordance with the guidelines and regulation approved by Ethical Committee of Pukyong National University.
About this article
Cite this article
Nam, GH., Gim, JA., Mishra, A. et al. Identification of transposable elements fused in the exonic region of the olive flounder genome. Genes Genom 40, 707–713 (2018). https://doi.org/10.1007/s13258-018-0676-2
Received:

Accepted:

Published:

Issue Date:

DOI: https://doi.org/10.1007/s13258-018-0676-2
Keywords
Paralichthys olivaceus

Transcriptome analysis

Bioinformatics

Transposable elements

TE-fused genes