Abstract
Holstein is one among the dairy cattle which provide higher milk yields than most other cattle breeds. Lack of high-accuracy, reliable methods for early detection of cattle pregnancy reduces overall productivity and constitutes a high economic burden to the dairy industry. The circulating microRNAs (miRNAs) in exosomes could provide information and serve as potential biomarkers for livestock health and disease. However, the complexity of miRNA in response to cattle early pregnancy remains unknown. Hence, we collected blood samples of three healthy dairy cows of normal and 30 days of pregnancy, in order to further characterize the miRNA transcriptome profile. A high-throughput RNA-Seq approach detected 794 known and 2154 novel circulating miRNAs in six libraries. A total of 29 miRNAs in the 30 days of pregnancy group showed significant differences compared to the normal group. Further, bta-miR-450b, bta-miR-146b, bta-miR-26b and bta-miR-27b were up-regulated which shown to be involved in preeclampsia, immune response and mammary gland development. GO enrichment analysis showed these target genes were involved in the metabolic process, signal transducer activity, and membrane etc., while KEGG analysis showed that these genes were enriched in membrane trafficking, chromosome and associated proteins, exosome and G protein-coupled receptors pathways. These results provide an experimental basis to reveal the potential role of miRNAs as biomarkers in early diagnosis of pregnancy and other molecular functions.
Access options
Buy single article
Instant access to the full article PDF.
US$ 39.95
Tax calculation will be finalised during checkout.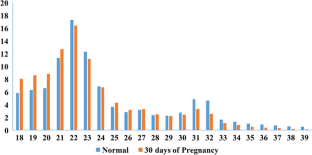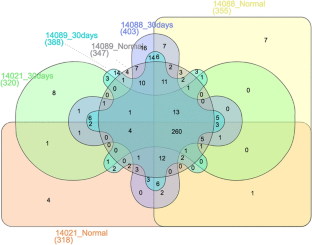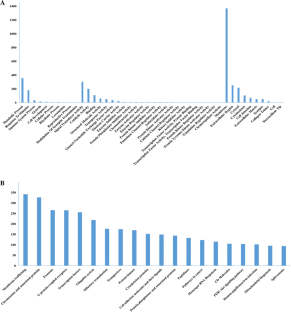 References
Anders S, Pyl PT, Huber W (2015) HTSeq: a Python framework to work with high-throughput sequencing data. Bioinformatics 31:166–169

Barkallah M, Gharbi Y, Hassena AB, Slima AB, Mallek Z, Gautier M, Greub G, Gdoura R, Fendri I (2014) Survey of infectious etiologies of bovine abortion during mid-to late gestation in dairy herds. PLoS ONE 9:e91549

Bushati N, Cohen SM (2007) MicroRNA functions. Annu Rev Cell Dev Bi 10:175–205

Cai M, Kolluru GK, Ahmed A (2017) Small molecule, big prospects: microRNA in pregnancy and its complications. J Pregnancy. https://doi.org/10.1155/2017/6972732

Chen L, Chamberlain AJ, Reich CM, Daetwyler HD, Hayes BJ (2017) Detection and validation of structural variations in bovine whole-genome sequence data. Genet Sel Evol 49:13

Cheng L, Sun X, Scicluna BJ, Coleman BM, Hill AF (2014) Characterization and deep sequencing analysis ofexosomal and non-exosomal miRNA in human urine. Kidney Int 86:433–444

Coffey E, Horan B, Evans R, Berry D (2016) Milk production and fertility performance of Holstein, Friesian, and Jersey purebred cows and their respective crosses in seasonal-calving commercial farms. J Dairy Sci 99:5681–5689

Etheridge A, Lee I, Hood L, Galas D, Wang K (2011) Extracellular microRNA: a new source of biomarkers. Mutat Res 717:85–90

Forde N, Duffy GB, McGettigan PA, Browne JA, Mehta JP, Kelly AK, Mansouri-Attia N, Sandra O, Loftus BJ, Crowe MA, Fair T (2012) Evidence for an early endometrial response to pregnancy in cattle: both dependent upon and independent of interferon tau. Physiol Genom 44:799–810

Fu G, Brkić J, Hayder H, Peng C (2013) MicroRNAs in human placental development and pregnancy complications. Int J Mol Sci 14:5519–5544

Gantier MP (2010) New perspectives in microRNA regulation of innate immunity. J Interferon Cytokine Res 30:283e9

Holley CL, Topkara VK (2011) An introduction to small non-coding RNAs: miRNA and snoRNA. Cardiovasc Drugs Ther 25:151e9

Ioannidis J, Donadeu FX (2016a) Circulating microRNA profiles during the bovine oestrous cycle. PLoS ONE 11:e0158160

Ioannidis J, Donadeu FX (2016b) Circulating miRNA signatures of early pregnancy in cattle. BMC Genom 17:184

Ishibashi O, Ohkuchi A, Ali MM, Kurashina R, Luo SS, Ishikawa T, Takizawa T, Hirashima C, Takahashi K, Migita M, Ishikawa G (2011) Hydroxysteroid (17-β) dehydrogenase 1 is dysregulated by Mir-210 and Mir-518c that are aberrantly expressed in preeclamptic. Placentas Hypertens 1:1–111

Kasimanickam V, Kastelic (2016) Circulating cell-free mature microRNAs and their target gene prediction in bovine metritis. Sci Rep 6:29509

Kim YK (2015) Extracellular microRNAs as biomarkers in human disease. Chonnam Med J 51:51–57

Kropp J, Salih SM, Khatib H (2014) Expression of microRNAs in bovine and human pre-implantation embryo culture media. Front Genet 5:91

Langmead B, Salzberg SL (2012) Fast gapped-read alignment with Bowtie 2. Nat Methods 9:357–359

Leidinger P, Backes C, Meder B, Meese E, Keller A (2014) The human miRNA repertoire of different blood compounds. BMC Genom 15:474

Lewis BP, Shih I-h, Jones-Rhoades MW, Bartel DP, Burge CB (2003) Prediction of mammalian microRNA targets. Cell 115:787–798

Li Z, Liu H, Jin X, Lo L, Liu J (2012) Expression profiles of microRNAs from lactating and non-lactating bovine mammary glands and identification of miRNA related to lactation. BMC Genom 13:731

Li Z, Wang H, Chen L, Wang L, Liu X, Ru C, Song A (2014) Identification and characterization of novel and differentially expressed microRNAs in peripheral blood from healthy and mastitis Holstein cattle by deep sequencing. Anim Genet 45:20–27

Mamo S, Mehta JP, McGettigan P, Fair T, Spencer TE, Bazer FW, Lonergan P (2011) RNA sequencing reveals novel gene clusters in bovine conceptuses associated with maternal recognition of pregnancy and implantation. Biol Reprod 85:1143–1151

Martin M (2011) Cutadapt removes adapter sequences from high-throughput sequencing reads. EMBnet J 17:10–12

Miura K, Miura S, Yamasaki K, Higashijima A, Kinoshita A, Yoshiura K-i, Masuzaki H (2010) Identification of pregnancy-associated microRNAs in maternal plasma. Clin Chem 56:1767–1771

Morales-Prieto DM, Ospina-Prieto S, Chaiwangyen W, Schoenleben M, Markert UR (2013) Pregnancy-associated miRNA-clusters. J Reprod Immunol 97:51–61

Prieto DMM, Markert UR (2011) MicroRNAs in pregnancy. J Reprod Immunol 88:106–111

Robinson MD, McCarthy DJ, Smyth GK (2010) edgeR: a bioconductor package for differential expression analysis of digital gene expression data. Bioinformatics 26:139–140

Schanzenbach CI, Kirchner B, Ulbrich SE, Pfaffl MW (2017) Can milk cell or skim milk miRNAs be used as biomarkers for early pregnancy detection in cattle? PLoS ONE 12:e0172220

Su L, Zhao S, Zhu M, Yu M (2010) Differential expression of microRNAs in porcine placentas on days 30 and 90 of gestation. Reprod Fertil Dev 22:1175–1182

Tesfaye D, Worku D, Rings F, Phatsara C, Tholen E, Schellander K, Hoelker M (2009) Identification and expression profiling of microRNAs during bovine oocyte maturation using heterologous approach. Mol Reprod Dev 76:665–677

The Bovine HapMap Consortium Genome-wide survey of SNP variation uncovers the genetic structure of cattle breeds. Science (2009) 324:528–532

Wang XP, Luoreng ZM, Zan LS, Raza SHA, Li F, Li N, Liu S (2016) Expression patterns of miR-146a and miR-146b in mastitis infected dairy cattle. Mol Cell Probes 30:342–344

Wetterstrand KA (2013) DNA sequencing costs: data from the NHGRI Genome Sequencing Program (GSP). http://www.genome.gov/sequencingcostsdata

Wicik Z, Gajewska M, Majewska A, Walkiewicz D, Osińska E, Motyl T (2016) Characterization of microRNA profile in mammary tissue of dairy and beef breed heifers. J Anim Breed Genet 133:31–42

Zhao K, Liang G, Sun X (2016) Comparative miRNAome analysis revealed different miRNA expression profiles in bovine sera and exosomes. BMC Genom 17:630
Acknowledgements
This research was supported by a Grant (PJ01199403) from the National Institute of Animal Science, Rural Development Administration, South Korea.
Ethics declarations
Conflict of interest
Kesavan Markkandan, Kung Ahn, Dong Jin Lee, Tae Il Kim, Changgwon Dang, Song-Eui Hong, Ho-Baek Yoon, Hyun-Joo Lim, and Chang Pyo Hong declare that they do not have conflict of interest.
Ethical approval
All animals were handled in strict accordance with good animal practice, as defined by the relevant national and/or local welfare bodies, and all animal work was approved by the Institutional Animal Care and Use Committee of the National Institute of Animal Science (No. 2012-C-005).
Electronic supplementary material
Below is the link to the electronic supplementary material.
About this article
Cite this article
Markkandan, K., Ahn, K., Lee, D.J. et al. Profiling and identification of pregnancy-associated circulating microRNAs in dairy cattle. Genes Genom 40, 1111–1117 (2018). https://doi.org/10.1007/s13258-018-0668-2
Received:

Accepted:

Published:

Issue Date:
Keywords
MicroRNA

Holstein

MicroRNA-sequencing

Exosome

Pregnancy