Abstract
Urinary tract infections (UTIs) are one of the most common types of bacterial infection in humans in various parts of the world and are caused mainly by uropathogenic Escherichia coli (UPEC). A total of 58 UPEC isolates from urine were characterized by serotyping and pulsed-field gel electrophoresis (PFGE). The majority of the UPEC strains belonged to serogroups O2 and O6. The UPEC strains were grouped under different pulsotypes and majority of them belonged to serogroups O2 and O6. Among the 14 virulence factors considered, 13 were present in various serogroups. The virulence genes fimH and sfa were present in all the isolates while none of the isolates carried lt-1. The strains exhibited 36 different virulence patterns, of which 11, referred to as UP (UPEC pattern) 1 to UP 11 were most common. Antibiotic resistance profiling of the UPEC isolates revealed that the serogroups O2 and O6 contain the highest number of resistant strains. The data from the current study depicting the distribution of UPEC strains among various serogroups and pulsotypes, and the occurrence of virulence genes and antibiotics resistance offer useful information on the epidemiological features of UPEC in Korea for the enhanced surveillance of potential emergence of UPEC.
Access options
Buy single article
Instant access to the full article PDF.
US$ 39.95
Tax calculation will be finalised during checkout.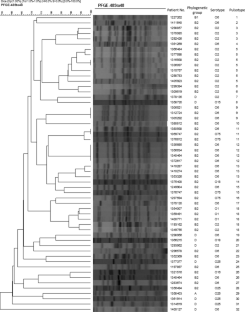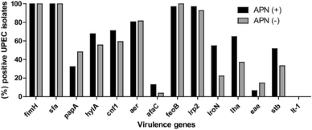 References
Abe CM, Salvador FA, Falsetti IN, Vieira MA, Blanco J, Blanco JE, Blanco M, Machado AM, Elias WP, Hernandes RT et al (2008) Uropathogenic Escherichia coli (UPEC) strains may carry virulence properties of diarrhoeagenic E. coli. FEMS Immunol Med Microbiol 52:397–406

Arabi S, Tohidi F, Naderi S, Nazemi A, Jafarpour M, Naghshbandi R (2012) The common fimbarie genotyping in Uropathogenic Escherichia coli. Ann Biol Res 3:4951–4954

Bergsten G, Wullt B, Svanborg C (2005) Escherichia coli, fimbriae, bacterial persistence and host response induction in the human urinary tract. Int J Med Microbiol 295:487–502

Bush K, Jacoby GA (2010) Updated functional classification of beta-lactamases. Antimicrob Agents Chemother 54:969–976

Clermont O, Johnson JR, Menard M, Denamur E (2007) Determination of Escherichia coli O types by allele-specific polymerase chain reaction: application to the O types involved in human septicemia. Diagn Microbiol Infect Dis 57:129–136

Dobrindt U, Blum-Oehler G, Hartsch T, Gottschalk G, Ron EZ, Fünfstück R, Hacker J (2001) S-Fimbria-encoding determinant sfa(I) is located on pathogenicity island III(536) of uropathogenic Escherichia coli strain 536. Infect Immun 69:4248–4256

Fatemeh E, Shohreh S, Mehdi K (2011) Relationship between O serotype and virulent genes in Escherichia coli causing urinary tract infections. Iran J Kidney Dis 5:234–237

Foxman B, Brown P (2003) Epidemiology of urinary tract infections: transmission and risk factors, incidence, and costs. Infect Dis Clin North Am 17:227–241

France D, Josee H, John MF, Pierre L (1994) Expression and detection of pap-, sfa-, and afa-encoded fimbrial adhesin systems among uropathogenic Escherichia coli. Can J Microbiol 40:286–291

Gautom RK (1997) Rapid pulsed-field gel electrophoresis protocol for typing of Escherichia coli O157:H7 and other gram-negative organisms in 1 day. J Clin Microbiol 35:2977–2980

Jauréguy F, Carbonnelle E, Bonacorsi S, Clec'h C, Casassus P, Bingen E, Picard B, Nassif X, Lortholary O (2007) Host and bacterial determinants of initial severity and outcome of Escherichia coli sepsis. Clin Microbiol Infect 13:854–862

Jerse AE, Yu J, Tall BD, Kaper JB (1990) A genetic locus of enteropathogenic Escherichia coli necessary for the production of attaching and effacing lesions on tissue culture cells. Proc Natl Acad Sci USA 87:7839–7843

Johnson JR (1991) Virulence factors in Escherichia coli urinary tract infection. Clin Microbiol Rev 4:80–128

Johnson JR, Stell AL (2000) Extended virulence genotypes of Escherichia coli strains from patients with urosepsis in relation to phylogeny and host compromise. J Infect Dis 181:261–272

Justyna B, Olga S, Przemyslaw B (2012) Role of uropathogenic Escherichia coli virulence factors in development of urinary tract infection and kidney damage. Int J Nephrol 2012:681473

Kammler M, Schön C, Hantke K (1993) Characterization of the ferrous iron uptake system of Escherichia coli. J Bacteriol 175:6212–6219

Kaper JB, Nataro JP, Mobley HL (2004) Pathogenic Escherichia coli. Nat Rev Microbiol 2:123–140

Kauffmann F (1947) The serology of the coli group. J Immunol 57:71–100

Koczura R, Kaznowski A (2003) The Yersinia high-pathogenicity island and iron-uptake systems in clinical isolates of Escherichia coli. J Med Microbiol 52:637–642

Kulkarni R, Dhakal BK, Slechta ES, Kurtz Z, Mulvey MA, Thanassi DG (2009) Roles of putative type II secretion and type IV pilus systems in the virulence of uropathogenic Escherichia coli. PLoS ONE 4:e4752

Landraud L, Gauthier M, Fosse T, Boquet P (2000) Frequency of Escherichia coli strains producing the cytotoxic necrotizing factor (CNF1) in nosocomial urinary tract infections. Lett Appl Microbiol 30:213–216

Le Bouguenec C, Garcia MI, Ouin V, Desperrier JM, Gounon P, Labigne A (1993) Characterization of plasmid-borne afa-3 gene clusters encoding afimbrial adhesins expressed by Escherichia coli strains associated with intestinal or urinary tract infections. Infect Immun 61:5106–5114

Lee JH, Subhadra B, Son YJ, Kim DH, Park HS, Kim JM, Koo SH, Oh MH, Kim HJ, Choi CH (2016) Phylogenetic group distributions, virulence factors and antimicrobial resistance properties of uropathogenic Escherichia coli strains isolated from patients with urinary tract infections in South Korea. Lett Appl Microbiol 62:84–90

Livermore DM (2009) Has the era of untreatable infections arrived? J Antimicrob Chemother 64(Suppl 1):i29-36

Magiorakos AP, Srinivasan A, Carey RB, Carmeli Y, Falagas ME, Giske CG, Harbarth S, Hindler JF, Kahlmeter G, Olsson-Liljequist B et al (2012) Multidrug-resistant, extensively drug-resistant and pandrug-resistant bacteria: an international expert proposal for interim standard definitions for acquired resistance. Clin Microbiol Infect 18:268–281

Mills M, Meysick KC, O'Brien AD (2000) Cytotoxic necrotizing factor type 1 of uropathogenic Escherichia coli kills cultured human uroepithelial 5637 cells by an apoptotic mechanism. Infect Immun 68:5869–5880

Mulvey MA (2002) Adhesion and entry of uropathogenic Escherichia coli. Cell Microbiol 4:257–271

Mulvey MA, Lopez-Boado YS, Wilson CL, Roth R, Parks WC, Heuser J, Hultgren SJ (1998) Induction and evasion of host defenses by type 1-piliated uropathogenic Escherichia coli. Science 282:1494–1497

Nemoy LL, Kotetishvili M, Tigno J, Keefer-Norris A, Harris AD, Perencevich EN, Johnson JA, Torpey D, Sulakvelidze A, Morris JG Jr et al (2005) Multilocus sequence typing versus pulsed-field gel electrophoresis for characterization of extended-spectrum beta-lactamase-producing Escherichia coli isolates. J Clin Microbiol 43:1776–1781

Orskov F, Orskov I (1992) Escherichia coli serotyping and disease in man and animals. Can J Microbiol 38:699–704

Rashki A, Ali Abdi H (2014) O-serotyping of Escherichia coli strains isolated from patient with urinary tract infection in southeast of Iran. Int J Enteric Pathog 2:e20968

Santo E, Macedo C, Marin JM (2006) Virulence factors of uropathogenic Escherichia coli from a university hospital in Ribeirão Preto, São Paulo, Brazil. Rev Instig Med Trop São Paulo 48:185–188

Sorsa LJ, Dufke S, Heesemann J, Schubert S (2003) Characterization of an iroBCDEN gene cluster on a transmissible plasmid of uropathogenic Escherichia coli: evidence for horizontal transfer of a chromosomal virulence factor. Infect Immun 71:3285–3293

Tabasi M, Karam MR, Habibi M, Mostafavi E, Bouzari S (2016) Genotypic Characterization of Virulence Factors in Escherichia coli Isolated from Patients with Acute Cystitis, Pyelonephritis and Asymptomatic Bacteriuria. J Clin Diagn Res 10:DC01-DC07

Takahashi A, Muratani T, Yasuda M, Takahashi S, Monden K, Ishikawa K, Kiyota H, Arakawa S, Matsumoto T, Shima H et al (2009) Genetic profiles of fluoroquinolone-resistant Escherichia coli isolates obtained from patients with cystitis: phylogeny, virulence factors, PAIusp subtypes, and mutation patterns. J Clin Microbiol 47:791–795

Tenover FC, Arbeit RD, Goering RV, Mickelsen PA, Murray BE, Persing DH, Swaminathan B (1995) Interpreting chromosomal DNA restriction patterns produced by pulsed-field gel electrophoresis: criteria for bacterial strain typing. J Clin Microbiol 33:2233–2239

Trifillis AL, Donnenberg MS, Cui X, Russell RG, Utsalo SJ, Mobley HL, Warren JW (1994) Binding to and killing of human renal epithelial cells by hemolytic P-fimbriated E. coli. Kidney Int 46:1083–1091

Wiles TJ, Kulesus RR, Mulvey MA (2008) Origins and virulence mechanisms of uropathogenic Escherichia coli. Exp Mol Pathol 85:11–19

Woodford N, Ward ME, Kaufmann ME, Turton J, Fagan EJ, James D, Johnson AP, Pike R, Warner M, Cheasty T et al (2004) Community and hospital spread of Escherichia coli producing CTX-M extended-spectrum beta-lactamases in the UK. J Antimicrob Chemother 54:735–743

Yamamoto S (2007) Molecular epidemiology of uropathogenic Escherichia coli. J Infect Chemother 13:68–73
Acknowledgements
This work was supported by research fund of Chungnam National University (2015). Also, this research was supported by Basic Science Research Program through the National Research Foundation of Korea (NRF) funded by the Ministry of Education (NRF-2014R1A6A1029617).
Ethics declarations
Conflict of interest
Dong Ho Kim, Bindu Subhadra, Hee Young Kang, Kyungho Woo, Jaeseok Kim, Yeo-Jin Son, Kyung Mok Sohn, Hwa-Jung Kim, Kyudong Han, Man Hwan Oh and Chul Hee Choi declare that they have no conflict of interest.
Ethical approval
The article does not contain any studies with human participants performed by any of the authors.
About this article
Cite this article
Kim, D.H., Subhadra, B., Kang, H.Y. et al. Virulence properties of uropathogenic Escherichia coli isolated from children with urinary tract infection in Korea. Genes Genom 40, 625–634 (2018). https://doi.org/10.1007/s13258-018-0664-6
Received:

Accepted:

Published:

Issue Date:
Keywords
Uropathogenic Escherichia coli

Serotype

Pulsed field gel electrophoresis

Antibiotic resistance

Virulence genes