Abstract
It is a fundamental challenge to discover the association of genetic traits with phenotypic traits. In this study, we aimed to identify possible genetic traits related to horse temperament. Based on previous findings, we selected 71 candidate genes related to temperamental trait and examined them in the human and horse reference genomes (hg38 and equCab2, respectively). We found 16 orthologous genes and, by comparing with the human reference genome, 17 homologous genes in the horse reference genome. We designed probes specific for the 33 horse genes. Using the probes, we built sequencing libraries of the genomic DNA samples from eight aggressive and eight docile horses, and sequenced the constructed libraries using the Illumina Hiseq2500 platform. Through the analysis of the targeted exome sequences, we identified single nucleotide polymorphisms (SNPs) in the genes. SNPs could be served as genetic markers to evaluate aggressive or docile levels of horses. To examine whether any genetic variants are associated with horse temperament, we performed genome-wide association study (GWAS) using the SNP data. GWAS analysis identified ten variants (p-value <0.05) which could be related to horse temperament. We validated the variants using Sanger sequencing. The most significant variants were found in MAOA (c.1164+41T>C) and AR (c.1047+27G>T) genes with 8.09 × 10−4 p-value. We suggest that the variants might be used to assess horse temperament and to determine superior horses for riding or racing.
Access options
Buy single article
Instant access to the full article PDF.
US$ 39.95
Tax calculation will be finalised during checkout.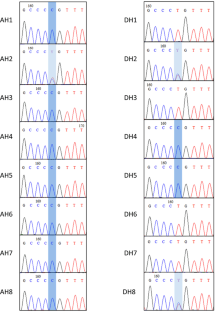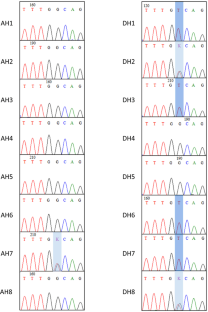 References
Aluja A, Garcia LF, Blanch A, Fibla J (2011) Association of androgen receptor gene, CAG and GGN repeat length polymorphism and impulsive-disinhibited personality traits in inmates: the role of short-long haplotype. Psychiatr Genet 21:229–239

Bamshad MJ, Ng SB, Bigham AW, Tabor HK, Emond MJ, Nickerson DA, Shendure J (2011) Exome sequencing as a tool for Mendelian disease gene discovery. Nat Rev Genet 12:745–755

Bower MA, McGivney BA, Campana MG, Gu J, Andersson LS, Barrett E, Davis CR, Mikko S, Stock F, Voronkova V et al (2012) The genetic origin and history of speed in the Thoroughbred racehorse. Nat Commun 3:643

Brunner HG, Nelen MR, van Zandvoort P, Abeling NG, van Gennip AH, Wolters EC, Kuiper MA, Ropers HH, van Oost BA (1993) X-linked borderline mental retardation with prominent behavioral disturbance: phenotype, genetic localization, and evidence for disturbed monoamine metabolism. Am J Hum Genet 52:1032–1039

Bush WS, Moore JH (2012) Chapter 11: genome-wide association studies. PLoS Comput Biol 8:e1002822

Chen CH, Chen CS, Moyzis R, Stern H, He QH, Li H, Li J, Zhu B, Dong Q (2011) Contributions of dopamine-related genes and environmental factors to highly sensitive personality: a multi-step neuronal system-level approach. PLoS ONE 6:e21636

Frazer KA, Murray SS, Schork NJ, Topol EJ (2009) Human genetic variation and its contribution to complex traits. Nat Rev Genet 10:241–251

Garai C, Furuichi T, Kawamoto Y, Ryu H, Inoue-Murayama M (2014) Androgen receptor and monoamine oxidase polymorphism in wild bonobos. Meta Gene 2:831–843

Goodwin S, McPherson JD, McCombie WR (2016) Coming of age: ten years of next-generation sequencing technologies. Nat Rev Genet 17:333–351

Hejjas K, Vas J, Topal J, Szantai E, Ronai Z, Szekely A, Kubinyi E, Horvath Z, Sasvari-Szekely M, Miklosi A (2007) Association of polymorphisms in the dopamine D4 receptor gene and the activity-impulsivity endophenotype in dogs. Anim Genet 38:629–633

Ijichi C, Collins LM, Creighton E, Elwood RW (2013) Harnessing the power of personality assessment: subjective assessment predicts behaviour in horses. Behav Processes 96:47–52

Inoue-Murayama M (2009) Genetic polymorphism as a background of animal behavior. Anim Sci J 80:113–120

Konno A, Inoue-Murayama M, Hasegawa T (2011) Androgen receptor gene polymorphisms are associated with aggression in Japanese Akita Inu. Biol Lett 7:658–660

Miknienė Z, Maslauskas K, Kerziene S, Kucinskiene J, Kucinskas A (2014) The effect of age and gender on blood haematological and serum biochemical parameters in Zemaitukai horses. Vet Med Zootec 65:7

Momozawa Y, Takeuchi Y, Kusunose R, Kikusui T, Mori Y (2005) Association between equine temperament and polymorphisms in dopamine D4 receptor gene. Mamm Genome 16:538–544

Momozawa Y, Takeuchi Y, Tozaki T, Kikusui T, Hasegawa T, Raudsepp T, Chowdhary BP, Kusunose R, Mori Y (2007) SNP detection and radiation hybrid mapping in horses of nine candidate genes for temperament. Anim Genet 38:81–83

Munafo MR, Clark TG, Moore LR, Payne E, Walton R, Flint J (2003) Genetic polymorphisms and personality in healthy adults: a systematic review and meta-analysis. Mol Psychiatry 8:471–484

Pinero J, Queralt-Rosinach N, Bravo A, Deu-Pons J, Bauer-Mehren A, Baron M, Sanz F, Furlong LI (2015) DisGeNET: a discovery platform for the dynamical exploration of human diseases and their genes. Database 2015:bav028

Purcell S, Neale B, Todd-Brown K, Thomas L, Ferreira MAR, Bender D, Maller J, Sklar P, de Bakker PIW, Daly MJ et al (2007) PLINK: a tool set for whole-genome association and population-based linkage analyses. Am J Hum Genet 81:559–575

Shih JC, Chen K, Ridd MJ (1999) Monoamine oxidase: from genes to behavior. Annu Rev Neurosci 22:197–217

Silberg JL, Miguel VF, Murrelle EL, Prom E, Bates JE, Canino G, Egger H, Eaves LJ (2005) Genetic and environmental influences on temperament in the first year of life: the Puerto Rico Infant Twin Study (PRINTS). Twin Res Hum Genet 8:328–336

Whelan S, Lio P, Goldman N (2001) Molecular phylogenetics: state-of-the-art methods for looking into the past. Trends Genet 17:262–272

Zitzmann M, Nieschlag E (2003) The CAG repeat polymorphism within the androgen receptor gene and maleness. Int J Androl 26:76–83
Acknowledgements
This work was supported by Korea Institute of Planning and Evaluation for Technology in Food, Agriculture, Forestry and Fisheries (IPET) through Agri-Bio industry Technology Development Program, funded by Ministry of Agriculture, Food and Rural Affairs (MAFRA)(316026).
Ethics declarations
Conflict of interest
Soyoung song declares that she has no conflict of interest. Dong-Yep Oh declares that he has no conflict of interest. Gil-Jae Cho declares that he has no conflict of interest. Dong Hee Kim declares that she has no conflict of interest. Yong-Soo Park declares that he has no conflict of interest. Kyuong Han declares that he has no conflict of interest.
Ethical approval
All research protocols and animal experiments in this study were reviewed and approved by the Institutional Animal Care and Use Committee (IACUC) in Gyeongsangbuk-do, Republic of Korea (Gyeongbuk IACUC-81).
Electronic supplementary material
Below is the link to the electronic supplementary material.
About this article
Cite this article
Song, S., Oh, DY., Cho, GJ. et al. Targeted next-generation sequencing for identifying genes related to horse temperament. Genes Genom 39, 1325–1333 (2017). https://doi.org/10.1007/s13258-017-0597-5
Received:

Accepted:

Published:

Issue Date:
Keywords
Genetic marker

GWAS analysis

Horse temperament

Targeted exome sequencing